Politics
Jake Auchincloss is introducing his first bill as a member of Congress
The focus? Debt collection protections for people going through foreclosure.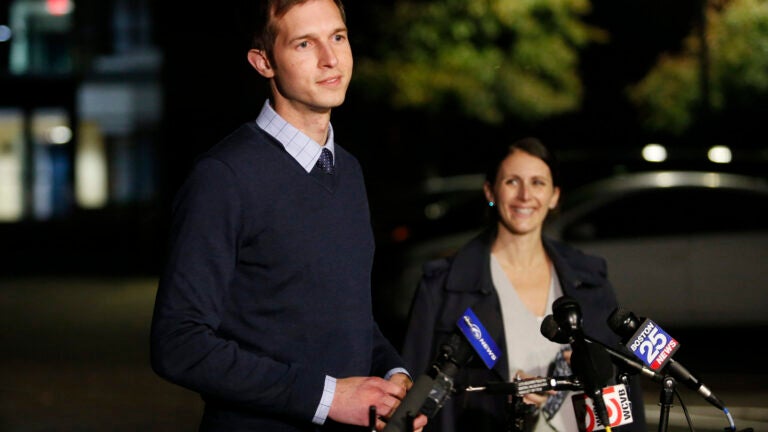 Exactly 100 days into his career in Congress, freshman Rep. Jake Auchincloss is slated to file his first bill Tuesday evening.
According to his office, the Massachusetts congressman is introducing the Non-Judicial Foreclosure Debt Collection Clarification Act, which would curtail the ability of third-party debt collectors to contact individuals going through foreclosure in states, like Massachusetts, where foreclosures are not required to go through the judicial process. Auchincloss says it would ensure that homeowners going through the foreclosure process "are treated with dignity."
"Debt collectors should not have the right to endlessly harass borrowers," the Newton Democrat said in a statement. "By creating a uniform foreclosure process, Congress will be protecting homeowners and eliminating third-party harassment."
His office says the legislation — which has been endorsed by consumer rights groups like the National Consumer Law Center, Americans for Financial Reform, and the Consumer Federation of America — will also directly benefit Massachusetts residents. Unlike the 21 states that require lenders to file a lawsuit in court to foreclose on a resident's home, Massachusetts is considered a "non-judicial state," meaning homeowners can lose their home to foreclosure without ever having an opportunity to go to court and contest the foreclosure, according to Greater Boston Legal Services.
While the bill wouldn't change that process, it would expand protections in the Fair Debt Collection Practices Act to apply to non-judicial foreclosure actions, so that creditors in those proceedings would have to follow rules against contacting individuals at work or between the hours of 9 p.m. and 8 a.m., among other restrictions. Rachel Gittleman, the outreach manager for the Consumer Federation of America's Financial Services, says the bill would "close an unintended gap" in the consumer protection law.
While the 33-year-old former Newton city councilor does not yet have any cosponsors, a spokesman for Auchincloss said he plans to use his position on the House Committee on Financial Services to guide the bill through the legislative process in a "timely fashion." In the wake of the pandemic, Auchincloss said consumer protections will be central to the economic recovery.
The legislation also picked up on the work of Auchincloss's predecessor representing the state's 4th District, former Rep. Joe Kennedy III, who often focused on improving legal protections for those going through eviction or foreclosure.
Auchincloss won the crowded Democratic primary race for Kennedy's seat last summer by roughly 2,000 votes.
Get Boston.com's browser alerts:
Enable breaking news notifications straight to your internet browser.