Politics
How Kim Janey wants to cut down Boston police overtime costs in her proposed $3.75 billion budget
"We're making an aggressive and realistic cut, and we're providing BPD with more tools in their tool belt," the city's budget director said.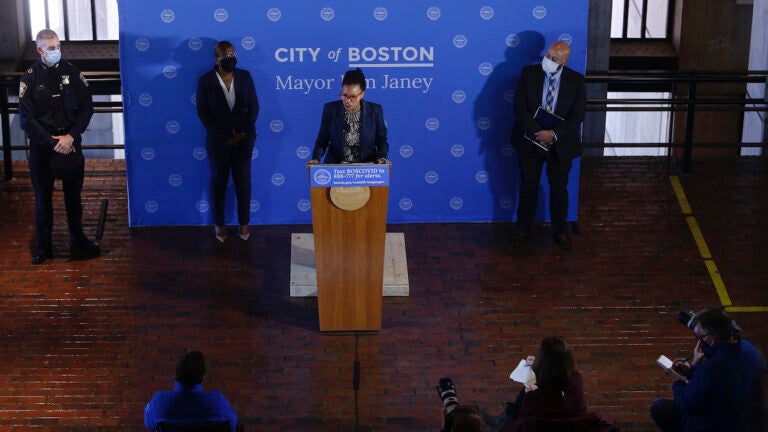 A proposed $3.75 billion city operating budget for fiscal year 2022 unveiled by acting Mayor Kim Janey Wednesday would continue to cut the Boston Police Department's overtime spending by about $21 million of what the agency is expected to spend this fiscal year.
The budget comes as the city works to roll out recommendations generated by a task force on how to reform its police department following the nationwide movement against police brutality and racial injustice last year.
The proposal furthers cuts to the department's overtime budget made by former Mayor Marty Walsh last year of $12 million, or roughly 20 percent, that was redirected to community programs.
However, city officials have struggled — and failed — to keep police overtime spending in line over the past year.
Last month, police officials told city councilors the department had already surpassed the number of anticipated overtime hours, projecting the overage to cost about $15 million. Police overtime expenses are legally allowed to surpass a budgeted amount.
Janey's administration, on a Zoom call with reporters Tuesday, maintained though the city could reach its desired 33 percent reduction in overtime spending in the 2022 fiscal year. The overall police department budget proposal comes in a little under $400 million.
"We've reduced the overtime number again because we think that we put real strategies in the '22 budget that will allow us to continue the trajectory that we have started in '21," said Emme Handy, the city's chief financial officer. "And the goal is to hit that number, just like the goal was to hit that number in '21."
The city's annual budget development process began in January under former Mayor Marty Walsh, who departed the office to serve as U.S. secretary of labor last month.
Justin Sterritt, director of the city's Budget Office, said Janey and her transition team were "intimately involved" in hearing department priorities and budget parameters before she took office in late March.
"We do very much think that this budget reflects her priorities," he said.
Overtime
Sterritt said factors such as police presence at many demonstrations and protests last year as well as a large number of retiring members — which resulted in the need to cover more, vacant shifts — drove overtime costs up.
Police officials have also said hundreds of officers were out sick during the COVID-19 pandemic at one point in the past year.
The pending budget calls for increasing the department's sworn force by 30 officers — boosting the ranks to a total of 2,288 — while also increasing the number of cadet recruits by 20 cadets, or 50 percent — avenues Sterritt said can reduce overtime spending. With more personnel to cover shift absences, the department will reduce the need to pay overtime to fill those shifts, he said.
Expanding the cadet program will also work to "cultivate a police force that reflects the diversity of our residents," Janey said at a press conference Tuesday.
"This program removes barriers for candidates of color and creates an inclusive pipeline of talent," she said.
Department officials told city councilors last summer that the return-to-work process for injured officers can be challenging for lowering overtime costs. Police have sought to boost their medical staff to help get injured officers back on the beat at a faster rate, and that's what the city is looking to do now, according to Sterritt's presentation.
The budget proposes increasing the department's "Medical Triage Unit" and clinicians to more frequently conduct health screenings of officers out on leave.
Janey said Wednesday the investments will help officers who are able to get back to work and will help those who are unable to go back to the line of duty "to retire with dignity."
"We're making an aggressive and realistic cut, and we're providing BPD with more tools in their tool belt, whether it's through more officers or through more medical staff to actually achieve that cut," Sterritt told reporters on Tuesday. "And we'll be working with them, you know, once the budget is passed to implement that in … an increasingly meaningful way."
Walsh's 2021 fiscal year budget budgeted $48 million for overtime costs, but the department is anticipated to spend around $65 million by the end of the fiscal year in June.
With that actual spending taken into account, Janey's proposed target of $43.9 million — or 675,000 overtime hours — for fiscal year 2022 is therefore a 33 percent reduction over the previous year, Sterritt said.
Accountability and other initiatives
Janey is also proposing $1 million to get the newly created Office of Police Accountability and Transparency up and running. The funding will provide for 10 staff members and technology to develop data dashboards and other needs.
On Tuesday, Janey announced Stephanie Everett, an attorney and community advocate, will serve as OPAT's inaugural executive director.
"I have spent my entire career fighting to give voice to those who are underrepresented, and that's exactly how I'll approach my work as the executive director of OPAT. I have tremendous respect for our police officers who carry out their duties with integrity, compassion and empathy for the people they serve. Ensuring that those values are the standard across the entire force and that any misconduct is brought to light and handled appropriately is OPAT's charge," Everett said in a statement. "I look forward to working with Mayor Janey, the Boston police and the community to bring about necessary reforms and enhance public trust and confidence."
Additionally, Janey's budget recommendations earmark $1.75 million for the Office of Health and Human Services to work with police, the public, and other stakeholders to develop a plan for bringing "alternative policing" models to Boston and to start training once a plan is formed.
According to Janey, that effort will focus on shifting mental health-related emergency calls from police purview to a specialized team. Such a change has been pushed by advocates nationwide over the past year, including by several city councilors.
Other law enforcement-related allotments in the budget include $1 million for racial equity training for Boston police and $2 million for additional Boston Emergency Service Team clinicians to help people experiencing mental health crises.
Janey: Budget 'dramatically reduces police overtime expenses'
The 2022 fiscal year overall police budget includes a reduction over the previous year.
But the cuts don't go as far as the 10 percent reduction a majority of city councilors, including Janey, supported last year.
Still, Janey said Tuesday the budget as proposed "dramatically reduces police overtime expenses" and defended her recommendations.
"This budget moving forward does call for an almost 5 percent cut," Janey said, adding that 10 percent of the police force is currently on sick leave. "To do much deeper than that would only exacerbate the overtime (costs) that people seek to eliminate."
The budget proposal will now head to public hearings for review until the City Council takes its vote in June.
Get Boston.com's browser alerts:
Enable breaking news notifications straight to your internet browser.