Politics
Ed Markey introduces bill to add four seats to the Supreme Court
Supporters say a 13-member Supreme Court is simply the "logical progression." But it's unclear if fellow Democrats, much less Republicans, have the appetite.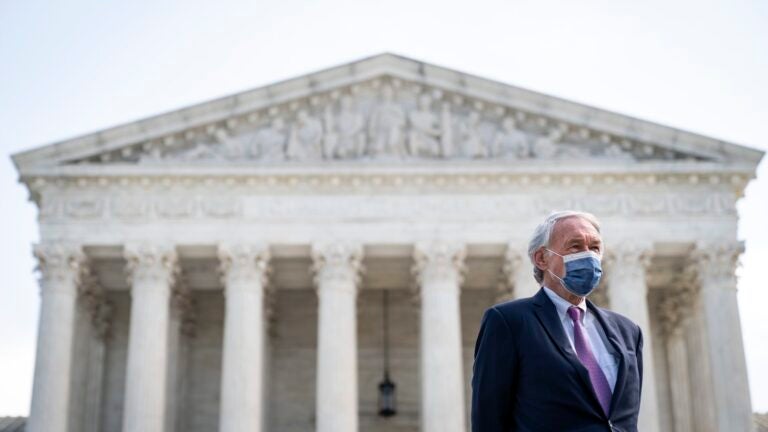 President Joe Biden has said he's "not a fan" of expanding the Supreme Court. House Speaker Nancy Pelosi said Thursday that she has "no plans" to bring any such legislation to the floor for a vote.
That isn't deterring Sen. Ed Markey.
The Massachusetts senator introduced legislation Thursday with Reps. Jerrold Nadler, Hank Johnson, and Mondaire Jones to create a 13-justice Supreme Court by adding four seats to the nation's highest judiciary body.
Markey — whose recent outspoken support for expanding the Supreme Court reportedly annoyed members of Biden's campaign ahead of the 2020 election — argued that the simple two-paragraph bill would "restore the Court's balance and public standing" after Republicans solidified its conservative majority with three new appointees during former president Donald Trump's term. The Malden Democrat said that they broke "historic norms" in doing so, by refusing to give former president Barack Obama's nominee (and now attorney general) Merrick Garland a hearing in 2016 under the purported rationale that it was an election year before quickly confirming Justice Amy Coney Barrett, a Trump nominee, weeks before the 2020 election.
"The court is broken," Markey said Thursday during a press conference outside the Supreme Court, adding that the bill would allow all four seats to be filled by Biden.
However, it's unclear if the president and other top Democrats are on board with that plan. The bill comes less than a week after Biden signed an executive order forming a bipartisan group of legal experts tasked with studying the general subject of Supreme Court reform and issuing a report with recommendations. White House Press Secretary Jen Psaki said Thursday afternoon that Biden wants to wait for the report before taking a stance on the issue, noting that potential expansion is something the commission will study.
"He believes that members of Congress have the right to put forward legislation on issues they support," Psaki said. "His view is that he wants to hear from this commission that has a range of viewpoints."
It's unlikely that Markey's bill would reach Biden's desk anytime soon, anyway.
Pelosi told reporters Thursday that expanding the Supreme Court was "not out of the question," but added that she has "no plans to bring it to the floor."
"I don't know that that's a good idea or a bad idea," Pelosi told reporters Thursday morning, according to CBS News. "I think that's an idea that should be considered, and I think the president is taking the right approach to study such a thing."
While she acknowledged that the growth of the country "might necessitate" expanding the court, Pelosi added that, "It's a big step."
Proponents of Supreme Court expansion have stressed that such a move wouldn't be unprecedented. The Constitution doesn't provide a specific number of Supreme Court justices. The number changed six times during the 19th century – ranging between five and 10 members — before settling on nine in 1869.
Nadler, who is the chair of the powerful House Judiciary Committee, argued Thursday that expanding the court to 13 members would be a "logical progression." For decades during the 19th century, the Supreme Court's size corresponded to the number of regional judicial circuits for appeals, which increased to six in 1801, seven in 1807, nine in 1837, and then 10 in 1855. However, while the Supreme Court stopped growing in 1869, the country did not. There are now 13 appellate courts, including 12 regional circuits and the Federal Circuit.
"Nine justices may have made sense in the 19th century, when there were only nine circuits," Nadler said. "Only a few hundred appeals were filed before the court every year. And so many of our most important laws — everything from civil rights to antitrust, the internet, financial regulation, health care, immigration, and white collar crime — simply did not exist as far as the court was concerned, and did not require adjudication by the Supreme Court."
Nadler said that "the logic behind having only nine justices is much weaker today when there are 13 circuit courts, thousands of cases filed before the court each year, and the full range of statutes and regulations that make our economy and our society work. And that's why — unlike through most of our history — the Supreme Court … accepts cases in a tiny, tiny fraction of cases."
Of course, calls to expand the court weren't accepted by Democratic lawmakers until the recent conservative appointments under Trump. And in the cases the court does accept, liberals are increasingly alarmed about the impact of the 6-3 conservative majority's decisions — from voting rights to partisan gerrymandering to future progressive agenda items.
"This court will go further than any other in modern American history to rig our democracy in favor of the far right and the special interests that bank roll them," Jones said. "In doing so, the far right, conservative majority will maintain minority rule for generations to come. That is, unless we stop them."
Nadler said Thursday that he believes Pelosi and others will "come along" if and when the current Supreme Court issues decisions "destructive" to things like abortion rights, climate laws, and civil liberties.
Still, critics, including some prominent members of the left, have raised concerns that simply adding members to the Supreme Court would simply result in Republicans adding additional members next time the party is in power. For example, Sen. Bernie Sanders has said expanding the court is "not the ultimate solution." Rather, he has floated ideas like term limits for Supreme Court justices or rotating judges from lower federal courts.
Additionally, any such Supreme Court reform would currently need to be 60-vote filibuster-proof to pass in the Senate. To expand the court, Markey argued that the Senate "must abolish the filibuster." However, several more moderate Democratic senators, as well as Biden, have stood against the outright repeal of the filibuster, though Biden has suggested smaller changes.
The sponsors of the bill Thursday acknowledged that they have work to do to convince fellow members. Markey repeatedly described the bill's introduction Thursday as the beginning of a three-phase process of "political education, political activation, political implementation."
"President Biden is operating on a separate track," Markey said. "And we await his commission, but we don't wait for the introduction of the solution."
Get Boston.com's browser alerts:
Enable breaking news notifications straight to your internet browser.