Politics
Natick Town Meeting voted to condemn the Jan. 6 attack on the Capitol. One of their members was there.
The town's resolution called the riot, which resulted in five deaths, "despicable." Sue Ianni, a Town Meeting member who faces charges for her involvement, says the non-binding opinion amounts to "political persecution."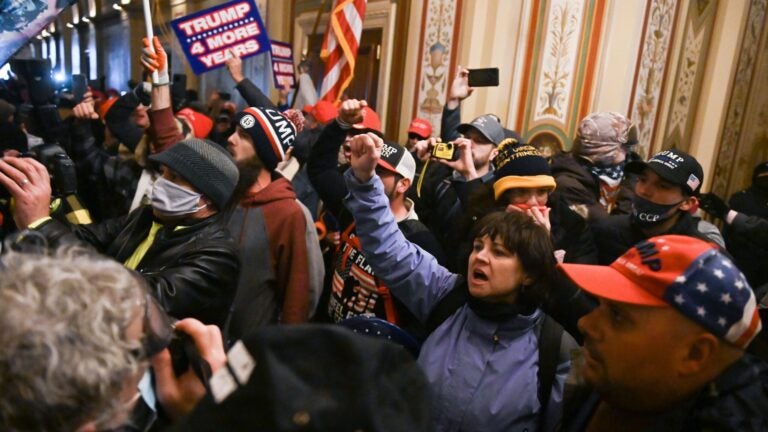 Natick Town Meeting overwhelmingly approved a resolution condemning the violent Jan. 6 riot by supporters of former president Donald Trump at the Capitol Building during the group's spring meeting this week.
The largely symbolic resolution was not unlike many similar resolutions passed by local governing boards across the country condemning the deadly Capitol attack.
The twist is that one of Natick's Town Meeting members was there.
Sue Ianni, a Town Meeting member who faces charges for entering the Capitol after Trump supporters broke into the building, told the MetroWest Daily News on Wednesday that she believes the non-binding resolution amounts to "political persecution of conservatives."
"They want to shut me up," Ianni told the newspaper.
The resolution — which was reportedly passed by a vote of 113-20, with seven abstentions — called the Jan. 6 riot a "despicable act," adding that Town Meeting members "condemn the actions of any and all persons who took part in this heinous act, and declare that they in no way represent the sentiments of this body, or of the Town of Natick." It did not name Ianni.
The final version of the resolution removed a line characterizing those who did not speak out against the riot as "complicit."
Still, Ianni called the language generally condemning the riot, which resulted in the deaths of five people, "inflammatory."
"The inflammatory language they use is based on hateful fantasies that puts my family in danger," Ianni told the Daily News, referring to condemnation she faced on social media.
Ianni has said she organized 11 buses that transported Trump supporters from Massachusetts to see Trump's speech on Jan 6, during which the former Republican president — citing repeatedly debunked claims of illegal voting — encouraged supporters to march on the Capitol Building, where lawmakers were certifying the results of the 2020 election. There, rioters beat and sprayed chemicals at a Capitol Police officer who later died, a Trump supporter was shot and killed by a guard inside the Capitol, and three others died from various medical incidents.
Get Boston.com's browser alerts:
Enable breaking news notifications straight to your internet browser.