Politics
Here's how the candidates for Boston mayor graded Charlie Baker's COVID-19 response
"We have a lot more work to do."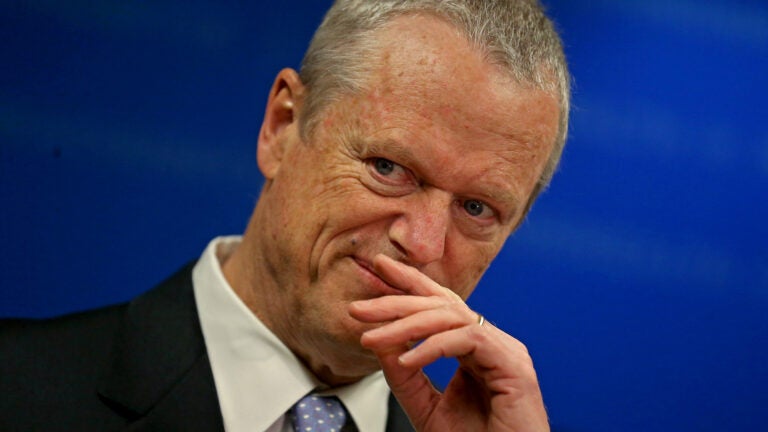 The candidates to be Boston's next mayor are running for mayor — not governor.
And yet, during the first forum of the 2021 race Tuesday night, five of the candidates were asked for their assessments of Gov. Charlie Baker's response to the COVID-19 pandemic — and what they would do better (acting Mayor Kim Janey withdrew from the event to respond to the murder conviction of former Minneapolis policer officer Derek Chauvin).
Here's how the all-Democratic field graded the Republican governor's handling of the pandemic.
Michelle Wu: C-
What she would do better?
"What we saw happening particularly at the state level, but through other levels as well, was that there was a managing of the political fallout — mitigating the political outrage step by step by step — and then sort of shifting to accommodate that, rather than digging in to make the hard decisions, follow the science, but to build and change underlying structural issues almost every step of the way.
"In this pandemic, we knew how it was going to play out. Structural racism visible and predictable every step, even through how this vaccination process started. And we're seeing some improvement now that community has really stepped up to push. And so we can't have band-aids on deep, long-standing challenges anymore. It is past the time to move with urgency. There's tremendous funding coming down right now. It has to be used to build capacity, solve our underlying structural challenges, and we have to be bold about setting forward a vision for how we'll get there."
Jon Santiago: C+
What he would do better:
"We have to be very honest here. I sit as the vice chair of the COVID-19 [oversight] committee where we do our best to hold government accountable. And the beginning was quite bumpy, the vaccination rollout was incredibly tough for a lot of people out there, so that C+ was very much merited.
"But we have to give him credit that things have improved. I would put him at almost a B right now. Now, there are still some deficits with respect to equity and that's why I got so frustrated with waiting around that I started an initiative with a couple of doctors and a couple of community groups to vaccinate low-income Black and brown people across the city of Boston. And we're up to 1,000. Again, this is what I bring to this race as someone who's a doer, as someone who's committed to getting things done, as someone who's willing to work with urgency, and we vaccinated 1,000 people. Those that are Black, brown, disabled, and otherwise would not have been vaccinated. Those are people that I would have seen in my emergency room intubated, hospitalized, and dead. So look, we've made some significant improvements. And I got to give a lot of credit to Gov. Baker and the Legislature. But we have a lot more work to do."
John Barros: B-
What he would do better: 
"The B- was really because we should have seen the resources that were available to the state move more disproportionately to places that were disproportionately impacted. It should have followed to communities of color that were hit hard. The numbers showing 33 percent of the deaths during the pandemic were from Black residents. We shouldn't see that kind of disparity and not have an immediate response. And we saw very early on. So we would have to make sure that we would have information in people's language immediately. We should make sure that we have — hopefully this never happens again — but we would have housing for people who are under-housed, because too many families in our neighborhoods who were poor didn't have enough space to quarantine. We should have more access and more mobile testing sites early on. There's historic distrust, and so we should have had partnerships with community very early on as well."
Andrea Campbell: "I hate these things… C+"
What she would do better?
"I gave a low grade because it was a rocky start when it came to vaccinating communities of color, low-income communities, testing sites, opening testing sites, and getting them online.
"But I want to take this in a very different direction, because the thing that has not been addressed, where I would give an F, is the other public health crisis that is going on in the city of Boston and that is the opioid crisis, what we're seeing at Mass. and Cass and in some of our downtown neighborhoods. I sent a letter to the governor and our former mayor months ago, pushing forward for ideas on ways in which the city of Boston could respond more impactfully, effectively to the opioid crisis, along with pushing the governor to have a regional approach to helping the city of Boston deal with this public health crisis. I've continued to work on this issue. I'm the only candidate with a plan to respond to this issue and sent that to the administration, sent it to the former mayor, sent it to candidate Janey, because this is the other public health crisis that we need to get under wraps. It is a travesty when you have people laying on the ground and you don't know if they're dead or alive in the city of Boston. Absolutely unacceptable."
Annissa Essaibi George: B-
"But I do think, depending on where you are in the state and what your life circumstances are and what community you come from and what your income is, that grade would vary certainly across the board. We've seen too many of our communities, especially our lower income communities, our Black and brown communities, miss out on the testing opportunities, the vaccine opportunities, the economic opportunities, and have really been injured over this time. And then some communities have had access to all sorts of resources. So I'd say, you know, overall it's a B-. But I think that there's some communities [where] it would be a D and some communities that it would be an A. And that's really unfortunate that we've seen the disparities across our Commonwealth, but in particular across the city of Boston, laid out over this last year."
What she would do better:
"I hope as mayor that I never see this pandemic again. But I do know, as mayor, we will be in the midst of — because it's already started — a mental health pandemic, a crisis of mental health across all of our communities, for sure in our schools. It's why I've worked over the last few years and doubled those efforts to make sure that we have mental health providers full time in all of our schools, the way I worked to make sure that we had a full-time nurse in all of our schools. We will continue on that effort. We've done some of that, especially in relationship with the district and the teachers' union, to make that a reality. But we need to make sure that we're able to respond to the needs and meet our residents where they are. I've advocated during this time of COVID and will do the same post-pandemic through the mental health crisis to make sure services are available through community health centers to meet, again, our residents where they are."
Get Boston.com's browser alerts:
Enable breaking news notifications straight to your internet browser.