Politics
From seat belts to traffic light cameras, here's what to know about Charlie Baker's new road safety bill
"These are entirely preventable tragedies."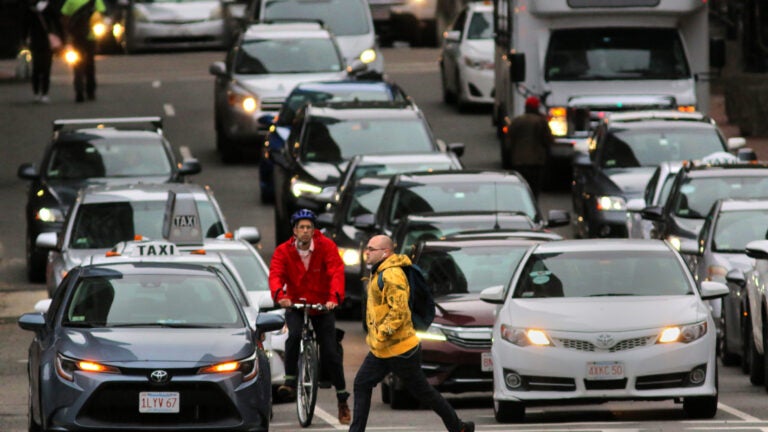 Even with empty roads for much of the year due to the COVID-19 pandemic, Massachusetts saw nearly the same number of roadway deaths in 2020 as the state saw in 2019.
And as more drivers return to the streets, Gov. Charlie Baker's administration is introducing a bill to reduce roadway deaths and update the state's traffic laws, and it goes well beyond cars.
The legislation ranges from a crackdown on seat belt scofflaws to red light cameras to new bike safety measures to a potential pathway forward for electric scooters.
Here's a look at all the proposals:
Buckle up
Perhaps the most noticeable part of the bill would be a change in how the state enforces its seat belt law.
Like nearly every state in the country, Massachusetts has rules in place requiring car passengers to wear seat belts, and fines for violations cost $25. However, the state's seat belt law is a "secondary law," meaning that police officers can't pull over drivers for not wearing a seat belt and they can only fine people for violations if they were pulled over for something else.
Baker's proposal would change that. His bill would make the state's seat belt law a "primary law," allowing officers to pull over motorists for not wearing a seat belt.
Jeff Larason, the director of the state's Highway Safety Division, noted that Massachusetts currently has one of the lowest rates of seat belt usage in the country, ranking 46th out of the 50 states.
"That's unfortunate," Larason said, adding that the National Highway Traffic Safety Administration estimates that seat belts saved 60 lives in Massachusetts in 2018 and that universal belting would save an additional 45 lives a year.
"Over half of the people who are killed on our roads in Massachusetts are unbelted, and these are entirely preventable tragedies," he said.
NHTSA data shows that the 34 states and Washington, D.C., with primary laws had a seat belt usage rate of 90 percent, while the 15 states with secondary enforcement laws had a 79 percent usage rate (New Hampshire is the only state in the country with no law requiring seat belts for people over the age of 18).
Baker also proposed switching to a primary seatbelt law in 2019. However, civil liberties advocates have some concerns about the change.
"Driving safety is an important issue, but policymakers must also address the presence of racial profiling on our streets and highways," Carol Rose, the executive director of the American Civil Liberties Union of Massachusetts, told Boston.com in a statement, noting that the recent police killing of Daunte Wright in Minneapolis came during a traffic stop related to registration tags.
Similar concerns about racial profiling delayed the passage of
the state's ban on handheld phone use while driving
, which was ultimately enacted last year with provisions requiring police officers to record data — including age, race, and gender — on individuals who are either ticketed or issued a written warning (departments found to be enforcing the law in a discriminatory manner are required to undergo implicit bias training).
A federal study in 2011 of states that moved to primary seat belt laws found no increase in the "percentage" of minorities ticketed. It also found an overall decrease across all races in the number of front-seat passenger traffic fatalities.
However, according to Rose, researchers have also found that "Black and Brown drivers are already significantly more likely to be stopped by police and have their vehicle searched, but less likely to be issued a citation." One study by the ACLU found that Black drivers in Florida were nearly twice as likely to be stopped under the state's primary seat belt law.
For his part, Baker expressed openness to addressing the concerns in a filing letter Monday to state lawmakers.
"While I believe this is essential to road safety, I am aware of concerns that such a law could be misused or misapplied and look forward to working together to address those concerns," he wrote.
A green light for red light cameras
The new bill also proposes giving Massachusetts cities and town the option to install so-called "red light cameras" at their intersections, as well as on local state-owned roads, with permission.
According to Lt. Gov. Karyn Polito, the cameras would take photos of the license plate of any car that runs a red light or makes an illegal turn during a red light. Communities could subsequently fine the registered owner of the car. According to the text of the legislation, those fines would be capped at a maximum of $25.
A similar proposal stalled out in the state Legislature early last year, amid concerns about privacy and disagreement about the scope of the program. Baker's bill would allow any city or town to install red light cameras, but no more than one per 2,500 residents.
"It's been shown in studies that red light cameras, which are used in over 300 communities across our country today, have been instrumental in reducing dangerous accidents and roadway deaths," Polito said.
The red light cameras are not to be confused with the traffic cameras to catch speeding drivers, such as what have been installed in Providence.
"That's not in this bill, no," Baker said during a press conference Monday, when asked about speed cameras.
More space for cyclists and pedestrians
After the number of bicyclists killed in crashes in Massachusetts increased last year, the bill also includes new protections aimed at those traveling on two wheels.
If passed, Massachusetts would join the majority of states that require drivers to provide at least three feet of space when passing a bicyclist. The law would also require drivers to go at a "reasonable" speed when passing a bicyclist or pedestrian when there's no physical separation, like a protected bike lane or curb.
Additionally, the bill would require all large, state-owned vehicles to have side guards, as well as crossover and convex mirrors, which have been shown to reduce bicyclist and pedestrian fatalities. The guards are designed to prevent cyclists and pedestrians from being swept under the vehicles when they make tight turns at intersections.
Boston and Cambridge already require city-owned trucks to have side guards. Baker's bill would require all state and municipal contractors to feature the side guards and mirrors by Jan. 1, 2024.
Larason said that a quarter of all roadway fatalities in Massachusetts from 2016 to 2020 were bicyclists and pedestrians.
The bill would also update the state's crash reporting requirements, which currently only call for reports on crashes involving serious damage or bodily injury. The legislation would expand those requirements to any crash involving "a vulnerable user," which includes pedestrians, bicyclists, workers, individuals on farm tractors, roller-skaters — basically anyone on the road.
Baker's office say the enhanced reporting will help local officials to better identify problem areas or emerging trends.
A pathway for the return of e-scooters
Shared electric scooters made their inaugural, if short-lived, debut in several Massachusetts communities in 2018 and 2019. However, many local officials rejected the new form of micro-mobility, citing a state law that technically makes the currently popular model of electric scooters illegal on public roads.
With the new bill, Baker is taking another shot at resolving the issue.
The legislation calls on the state's Department of Transportation to convene an advisory group of experts and local officials to recommend a new law to ensure the safe use of electric scooters and bicycles, while also encouraging the low-carbon transportation alternatives. Polito said Monday that the state expects to see more scooter and e-bikes return amid the recovery from the COVID-19 pandemic.
"While the pandemic slowed the growth of scooter sharing programs that were gaining in popularity, we expect the reopening of the Commonwealth to reignite interest in these kinds of mico-mobility options," Baker wrote in his filing letter.
License reforms
The state is also proposing stricter punishments for drivers who continue to drive after losing their license, potentially resulting in harm to others.
While the current law only includes penalties for driving with a suspended license, the new bill would layer on three additional penalties:
Driving negligently/recklessly with a suspended license: fine up to $1,000 and up to 5 years in prison
Causing "serious bodily injury" with a suspended license: fine up to $3,000 and up to 2.5 years in prison
Causing death with a suspended license: fine up to $5,000 and mandatory 2 years to a maximum of 10 years in prison
Baker said the provisions would build on a 2014 law — requiring the Register of Motor Vehicles to notify local police department of trouble drivers — named after Haley Cremer, a 20-year-old woman who was struck and killed by a man driving with a suspended license.
Her father, Marc Cremer, spoke emotionally at the press conference Monday, arguing that the "promise of formidable penalties shapes behavior."
"If enacting penalties commensurate with the recklessness and negligence of this behavior prevents one crash, and it will, we will save another family, more likely many families, from the horror my wife, daughter, and I live with every day, and this reform will be a success," Cremer said. "Driving a vehicle in Massachusetts is not a right, it's a privilege."
Baker is also refiling a proposal — originally put forth in 2019 following a deadly New Hampshire crash — that would raise the standards for commercial driver's licenses in Massachusetts above federal standards "to make sure that only safe and qualified drivers are able to operate some of the largest vehicles on the road."
In his letter to lawmakers, Baker noted that the state's Transportation Committee had moved forward on most of his proposed reforms, but that "time ran out to address the legislation" last year.
Get Boston.com's browser alerts:
Enable breaking news notifications straight to your internet browser.