Politics
Boston City Council votes again to put limits on police use of tear gas, rubber bullets after Walsh veto
The proposal now heads to acting Mayor Kim Janey, who is expected to sign it.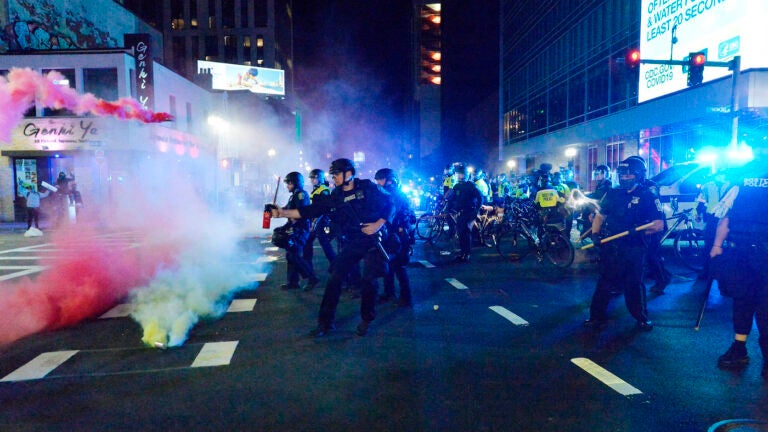 For the second time in just over five months, the Boston City Council voted Wednesday to narrowly support an ordinance that would restrict when Boston police are able to use crowd control agents such as tear gas, pepper spray, and rubber bullets.
The 7-5 vote arrived following a veto in January by former Mayor Marty Walsh, after police raised concerns that the measure would be difficult to adhere to in real time. Walsh said the law would interfere with the commissioner's distinct authority to discipline officers who violate protocols.
Councilors Ricardo Arroyo and Andrea Campbell, who is also a candidate for mayor, re-filed the measure in March.
Earlier this month, the Committee on Government Operations went "line by line" through the ordinance to hammer out tweaks, according to Arroyo, who has maintained the proposal is a compromise of sorts.
"I know there's councilors on this council, including myself, who would support a complete ban and this is not that," Arroyo said. "I do think this is an essential first step to protecting residents of Boston from indiscriminate, dangerous, and sometimes even fatal impacts of these devices, especially during lawful protests or demonstrations."
Councilors Kenzie Bok, Liz Breadon, Lydia Edwards, Julia Mejia, Michelle Wu, Arroyo, and Campbell backed the proposal Wednesday.
Any amendments made to the latest version of the ordinance failed to sway those in opposition. Frank Baker, Annissa Essaibi George, Michael Flaherty, Ed Flynn, and Matt O'Malley all voted against the proposal last year and again this week.
No one spoke out against it at Wednesday's council meeting.
Acting Mayor Kim Janey, who supported the measure as a city councilor in December's initial vote, intends to sign the ordinance into law, a spokesperson for Janey told Boston.com.
Arroyo and Campbell first filed the ordinance in June, weeks after Boston police deployed the tactics officials are now trying to regulate against crowds that gathered downtown on May 31 in response to the death of George Floyd.
Under the ordinance, Boston police would be prohibited from using chemical crowd control agents and kinetic impact projectiles on crowds of more than 10 people.
The exception to the rule is those weapons may be used only if an on-scene police supervisor personally witnesses acts of violence or property damage and has determined other methods of de-escalation will not work to quell the crowd.
Police must also give two separate warnings at least two minutes apart over a loudspeaker before deploying them.
Among the amendments councilors made this month is a new provision that requires that after officers use one of the weapons, Boston police must maintain and preserve any related body camera footage and must file it with any city and state police oversight agencies within 10 business days.
"This, obviously, is not a complete ban, and I understand for some people that will be disappointing," Arroyo said. "But I do believe that this is something that, through consensus, will protect the residents of Boston."
Get Boston.com's browser alerts:
Enable breaking news notifications straight to your internet browser.