Politics
Charlie Baker is at odds with some Democrats over the idea of a vaccine mandate for public employees
"I'm not gonna play that game."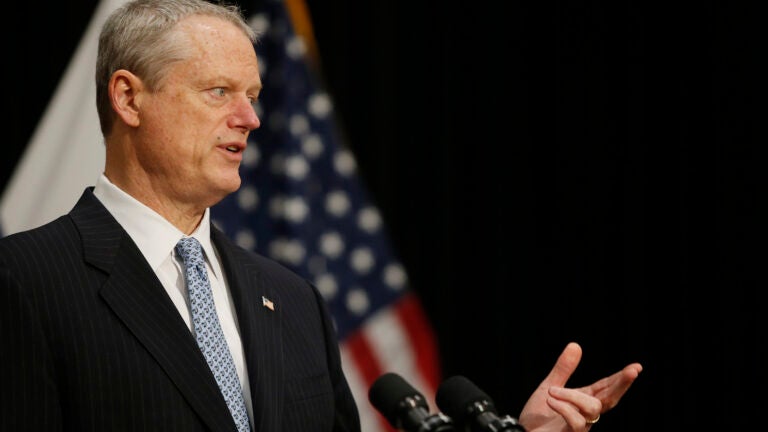 Several high-profile Democrats in Massachusetts have come out in support of making the COVID-19 vaccine mandatory for people employed by the state government.
However, the individual currently possessing the power to impose such a mandate — Gov. Charlie Baker — is standing firmly against the idea.
Toward the end of a press conference Monday, the Republican governor reiterated his opposition to making the COVID-19 vaccine a job requirement for public-sector employees, arguing that the state's strategy should focus on making appointments convenient and "creating positive incentives" for people to get vaccinated (for example, Baker has said Massachusetts could lift all COVID-19 restrictions if more residents are vaccinated).
"The idea that I would kick somebody out of a job — especially in a kind of economy we have now — because, quote unquote, they wouldn't get vaccinated right away on an [Emergency Use Authorization]-approved vaccine… No, I'm not gonna play that game," Baker said.
But according to Massachusetts Attorney General Maura Healey, the issue is "a matter of public safety."
"You're getting paid by the taxpayer — you have an obligation, whether it's delivering public health or public safety," Healey said during a GBH radio appearance last week. "You're interacting with the public. That's a part of your job, by definition."
Healey, a Democrat, had first spoke out in March in favor of a vaccine mandate for Massachusetts State Police and Department of Correction officers, after thousands of members — who were given early access to vaccine appointments — had passed up the opportunity to get a shot. Healey called the double-digit refusal rates "unacceptable." While she said there should be medical or religious exemptions, Healey added the reason for refusing vaccination "can't be because you don't believe in vaccines."
"You may have a right to refuse a vaccine," Healey said last week. "It may not, though, mean you have a right to a certain job if that job requires you to meet certain standards and qualifications."
As the state's top law enforcement official, Healey has said she isn't answering the question from a legal perspective, but "as a matter of what's right and practical." State laws suggest that any employer could require vaccines to ensure workplace safety, and Baker's administration briefly required the flu vaccine for Massachusetts students last year.
Now, the new question of whether Massachusetts state workers should be required to get the vaccine puts the two potential 2022 gubernatorial candidates at odds; Baker has not yet said if he will run for a third term, while Healey has stoked speculation that she'll launch a bid for the governor's office.
The sole already-declared 2022 gubernatorial candidate, Ben Downing, also said in March that the COVID-19 vaccine should be a work-requirement for public-facing government employees, like teachers, police, and other first responders. Sen. Ed Markey, a fellow Democrat, told Politico on Monday that he agreed.
"I think people who are interacting with the public in general should, in fact, be vaccinated," Markey said.
However, acting Boston Mayor Kim Janey sided with Baker's approach, when asked if city employees should be required to get the vaccine during an interview Monday afternoon on WBUR.
"I want to do everything possible to make sure that people can make informed decisions and that this isn't forced upon them," Janey said.
So far, roughly 70 percent of eligible residents in Massachusetts have gotten the COVID-19 vaccine, as the state shifts its distribution strategy to focus on the "last 30 percent." With survey data suggesting that a tiny fraction of Bay Staters say they "definitely" won't get vaccinated, state officials have said that most vaccine-hesitant residents are taking a wait-and-see approach. Baker says he expects more hesitant residents to get shots as appointments become more convenient and as they see their peers also getting vaccinated, in addition to mounting real-world data on the vaccines' effectiveness.
Polls show that overall vaccine hesitancy has continued to fall over the course of the year, even if public confidence was somewhat dented by the pause of the one-dose Johnson & Johnson vaccine.
Baker — whose administration is also trying to boost public awareness about the vaccines' safety utilizing trusted voices like doctors and local community members — said Monday that they'll need to overcome "very good reasons" for why people are hesitant.
"The idea that we would take those folks and basically make them choose between their rent and their food on the table and all the rest, when they have, in some cases, very legitimate reasons to be nervous about a government-run program that's going to put a shot in their arm, I'm not going there," the governor said. "I'm not going there."
Get Boston.com's browser alerts:
Enable breaking news notifications straight to your internet browser.