Politics
'Hell of a job': In call with Joe Biden, Charlie Baker says 74 percent of Massachusetts adults are at least partially vaccinated
Only Vermont has a higher proportion of adults with at least one COVID-19 shot.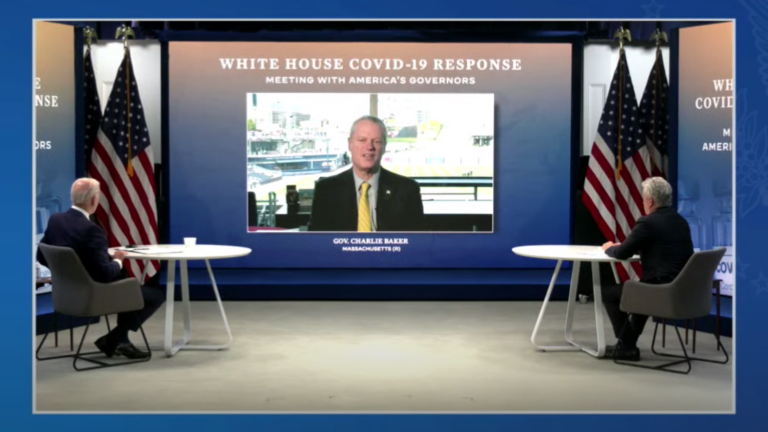 Massachusetts Gov. Charlie Baker got a national stage Tuesday afternoon to promote the state's progress vaccinating residents against COVID-19 — and, incidentally, showcase its newest minor league baseball stadium.
Appearing virtually from Polar Park in Worcester ahead of the Worcester Red Sox's inaugural home opener Tuesday afternoon, Baker was among a bipartisan group of governors who shared their states' strategies for distributing vaccines and overcoming hesitancy among some residents on the way to the White House's goal of getting 70 percent of American adults at least one shot by July 4.
Baker noted that Massachusetts has already surpassed that mark — with 74 percent of its adult population at least partially vaccinated — through its "mixed model" approach. The state began with a deliberately slow start to prioritize residents most at risk due to COVID-19, before pivoting to high-efficiency mass vaccination sites. Now, with demand easing, Baker's administration is shifting its supply of doses back toward local providers and offering widespread walk-in vaccinations in the hopes of making shots convenient for those who are less eager or have faced barriers to access.
Vermont is the only state in the country that has begun vaccinating a higher percentage of its adults, Baker noted.
"We're going to do all we can to catch up to them," he said.
Baker noted that Massachusetts is still working to address racial vaccination gaps that have persisted across the country. According to the state's latest weekly vaccination report, over 58 percent of all white residents have gotten at least one shot, compared to 37 percent of Black residents and 33 percent of Hispanic residents.
"We still have some work to do there, but we've made a lot of progress," Baker said.
According to Baker, transportation barriers have been "a big deal," and he said Biden's announcement during the event Tuesday that Uber and Lyft would provide free rides to vaccine sites across the country through July 4 "can make a big difference." The Republican governor — who expressed expectations that more hesitant individuals would get vaccinated as they see their friends and colleagues get shots — said walk-in vaccination opportunities were also making a "big difference."
"I've got three kids in their 20s. I'm well aware of how they feel about appointment scheduling," Baker said, getting a chuckle from Biden.
"As we move down the age quartiles here, being able to just make this available in a bunch of different locations and recognizing and understanding that everybody has to work off a calendar and a schedule is going to be a big part of getting this done," Baker added.
In response, Biden said that Baker was doing a "hell of a job." The Democratic president also jokingly teased Baker at the beginning of the event, when the governor teleconferenced into the event with Polar Park in the background, which caught the attention of other governors on the call.
"Charlie, are you getting ready to play?" Biden asked laughing, recalling how, as vice president, he had a Secret Service agent who was a Boston Red Sox fan.
"When [former New York Yankee Alex Rodriguez] gave me a bat, he would — he told me, he said he's not gonna let me put it in the car," Biden said.
Get Boston.com's browser alerts:
Enable breaking news notifications straight to your internet browser.