Politics
Elizabeth Warren and Ayanna Pressley bring back the Andrew Kearse Act, four years after his death in police custody
The bill would make it a crime for federal law enforcement officers to not obtain or provide medical care to individuals experiencing medical distress in their custody.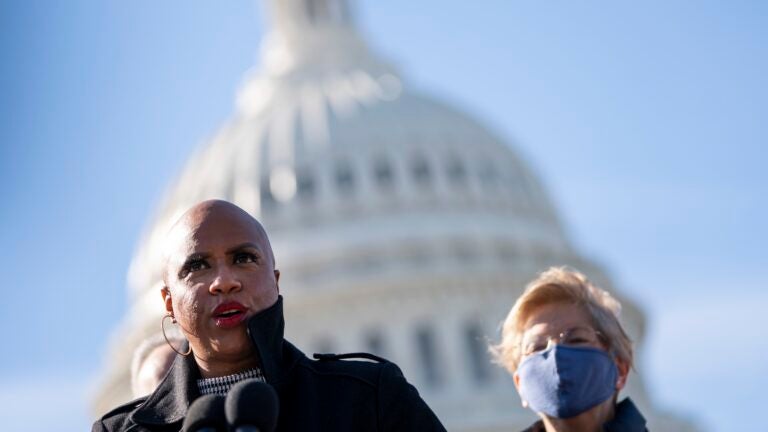 Before the words "I can't breathe" became a rallying cry in the wake of George Floyd's death, there was Andrew Kearse.
Kearse, a Black resident of New York City, died exactly four years ago — May 11, 2017 — from a heart attack in the back of a police cruiser, despite repeatedly pleading to officers for help. Dash camera footage showed the 36-year-old breathing heavily in the back of the car and repeatedly telling officers, "I can't breathe." In total, he asked for help 70 times over the course of 17 minutes before falling unconscious. Medical investigators later concluded Kearse would have likely survived if officers more quickly summoned medical assistance.
The City of Schenectady, New York, later paid Kearse's widow a $1.3 million settlement, though no officers ever faced charges for his death.
Now, Sen. Elizabeth Warren and Rep. Ayanna Pressley are pushing a bill to change that in case a similar scenario ever occurs again.
The two Massachusetts Democrats reintroduced the Andrew Kearse Act on Tuesday — legislation that would hold federal law enforcement officers criminally liable if they fail to obtain or provide medical care to individuals experiencing medical distress in their custody. The bill would also mandate medical assistance training for federal law enforcement officials and refer potential violations involving federal officers to the Department of Justice for prosecution.
"There can be no justice for Andrew Kearse or the many others who have died after being denied medical care while in custody," Pressley said in a statement Tuesday. "Justice would mean they'd still be alive today. There must, however, be accountability."
Warren and Pressley first introduced the bill last June, in the midst of the massive racial justice demonstrations in the wake of Floyd's death, whose pleas for medical assistance were similarly ignored. The police officer who knelt on his neck was ultimately convicted last month of second-degree unintentional murder, third-degree murder, and second-degree manslaughter.
According to Warren, the Andrew Kearse Act is just one small part of larger police reform efforts. In addition to creating a law to impose criminal liability for federal officers who fail to seek medical assistance for people experiencing health problems in their custody, the senator's office says there's also work needed to require similar requirements at the state level.
"Andrew Kearse died begging for help," Warren said in a statement, adding that the police officer driving the car — who told investigators he thought Kearse, who had tried to flee police, was faking in order to escape, citing the false perception that if someone can speak they aren't having breathing problems — "looked the other way" and "got off scot-free."
The legislation is also being cosponsored by fellow Democratic Sens. Ed Markey, Richard Blumenthal, Bernie Sanders, Kirsten Gillibrand, Mazie Hirono, and Jeff Merkley in the Senate. Reps. Adriano Espaillat and Alexandria Ocasio-Cortez are cosponsoring Pressley's companion legislation in the House.
"There is so much that has to be done to reimagine a criminal justice system that is fundamentally designed to dehumanize our communities," Ocasio-Cortez said. "The Andrew Kearse Act is a critical first step. Mr. Kearse's death was a direct result of that officer's actions and, yet, the officer faced no criminal charges. For Mr. Kearse, and so many others, we must demand accountability."
Kearse's widow, Angelique Negroni-Kearse, said in a statement that "ignorance and neglect are the true killers within our community," expressing hope that the words that "haunt my dreams" can be a catalyst for systemic reform.
"I want to strive for a future where the words 'I can't breathe' come from a place of laughter," she said, "not from a place of fear."
Get Boston.com's browser alerts:
Enable breaking news notifications straight to your internet browser.