Donald Trump
Donald Trump seems pretty unhappy about the newly approved wind project off Martha's Vineyard
"Martha's Vineyard, an absolutely wonderful place, will never be the same."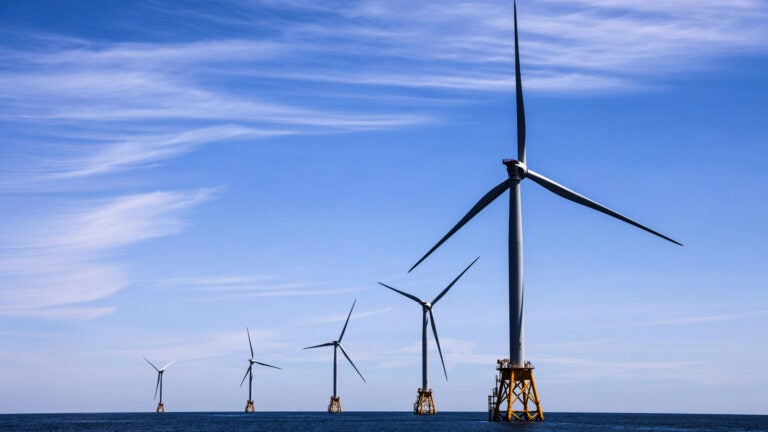 Donald Trump says Martha's Vineyard will "never be the same" after President Joe Biden's administration gave final approval to the country's first large-scale offshore wind project miles off the Massachusetts island's shores.
In a statement Tuesday night, the former Republican president — who has long railed against renewable energies like wind and solar — sarcastically congratulated Martha's Vineyard and repeated several misleading claims about the merits of wind power.
"Congratulations to Martha's Vineyard in Massachusetts for the privilege they will have in looking at massive windmills that have been approved by the Biden Administration and are being built, in China of course, as part of an extraordinarily large wind farm," Trump said. "Wind is an incredibly expensive form of energy that kills birds, affects the sea, ruins the landscape, and creates disasters for navigation. Liberals love it, but they can't explain why."
Fact checkers have said many of those claims are exaggerated. While onshore wind is more expensive than other mainstream energy sources, costs have trended downwards in recent years and are projected to drop further. The Vineyard Wind project is projected to save Massachusetts residents $1.4 billion in electricity rates over the first 20 years, in addition to reducing carbon emissions. Vineyard Wind also noted Tuesday that the layout of the farm, which includes a mile of spacing between each of the 62 turbines, was endorsed by the U.S. Coast Guard for transit, fishing, and navigational safety — though fishing businesses have opposed the project.
Wind turbines do kill birds, though far less than buildings, cars, or even cats (they do not cause cancer, as Trump has erroneously claimed). And federal officials saythe Vineyard Wind turbines, the nearest of which will be located 12 miles from Martha's Vineyard, will only affect the views in the area around Katama Bay.
"In any event, Martha's Vineyard, an absolutely wonderful place, will never be the same," Trump said in the statement, which was posted on his campaign website, since he has been kicked off major social media platforms for inciting the deadly Jan. 6 riot at the Capitol Building.
The Biden administration's approval was indeed cheered by liberal Democrats in Massachusetts, who touted how the wind farm would generate electricity for more than 400,000 homes in the state and create 3,600 jobs.
However, the new project was also applauded by Republican Gov. Charlie Baker's administration as well.
"This groundbreaking project will produce affordable, renewable energy, create jobs and prove Massachusetts developed a successful model for developing offshore wind energy," Baker said, expressing appreciation for the "federal government's partnership."
The swift approval Tuesday came after Trump's administration repeatedly delayed the project.
"What a difference today is from the last four years," Rep. Bill Keating said.
Newsletter Signup
Stay up to date on all the latest news from Boston.com