Politics
After recent Israel statement, Ed Markey is facing a backlash — from the Markeyverse
"We need him to prove his commitment to our movement of young people with his actions, not just words."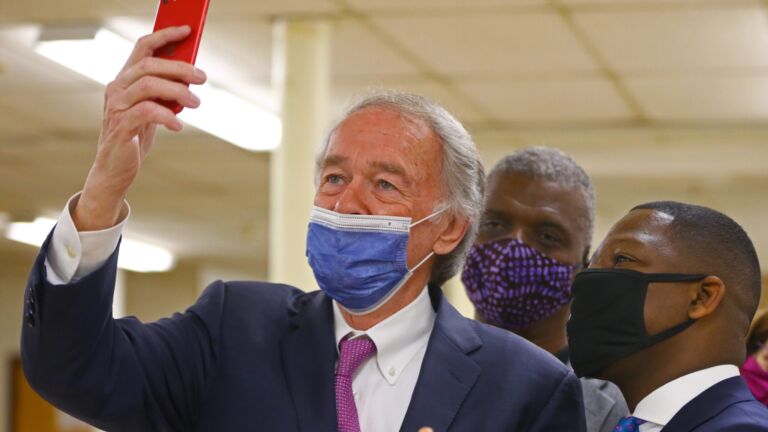 Sen. Ed Markey rode a wave of support from young, engaged progressives to win re-election last year to his second term in the Senate.
But now, after a statement on the recent violent conflicts between Israelis and Palestinians, the Massachusetts Democrat is facing backlash from hundreds of those same supporters, including dozens of former 2020 campaign members.
"We made hundreds of thousands of phone calls, raised millions of dollars, and dedicated years of our lives to re-elect Senator Markey because we believed justice was on the ballot in 2020," reads a statement signed by over 500 individuals and organizations, including the Sunrise Movement, state Rep. Erika Uyterhoeven, and several dozen former Markey campaign staffers and fellows.
The statement added that "as the young people, organizers, and advocates who are responsible for Senator Markey's victory, we are upset and disappointed" by the 74-year-old senator's statement this week on the recent violence in Israel, which was ignited by the latest efforts to evict families from a Palestinian neighborhood in East Jerusalem to make room for Israeli settlers.
Tensions over the eviction case, as well as local religious holidays, have escalated into violent street clashes and missile strikes by both the Israeli government and the militant Palestinian group Hamas. According to The New York Times, more than 50 Palestinians, including at least 14 children, have been killed since the violence erupted last week; seven people in Israel, including a 6-year-old, have also been killed.
In a series of tweets Tuesday night, Markey called for peace, writing that "the violence must stop and all sides must protect innocent civilians."
While the Malden native said Israeli officials' efforts to displace Palestinians from their homes "contributed" to the "spiral of violence," he also added that "Israel has the right to defend itself from indiscriminate rocket attacks."
"No one should fear being forcefully evicted from their homes," Markey said. "We need peace."
Still, his statement stood apart from responses from several of Markey's close progressive allies — from Sen. Elizabeth Warren and Rep. Ayanna Pressley in Massachusetts to national figures like Sen. Bernie Sanders and Rep. Alexandra Ocasio-Cortez — that squarely placed blame on the Israeli government, as many Democrats become increasingly willing to criticize the longtime U.S. ally's occupation of Palestinian territories. International human rights groups say the decades-long occupation has devastated the economy and living conditions in the Palestinian territories.
Markey's tweets Tuesday elicited dozens of critical rebukes from members of the so-called Markeyverse, who organized and campaigned on his behalf, calling the senator's response "a disgrace" and "an embarrassment for the progressive movement."
And in their statement Wednesday, the group suggested Markey "followed in the footsteps" of Republicans like Sen. Mitt Romney and Donald Trump "by saying it's a 'both sides issue,' which ignores the current and historical power imbalance between Israel and Palestine — and couldn't be farther from the truth."
They also requested that Markey, a member of the Senate Committee on Foreign Relations, take legislative action to stop U.S. arms and financial assistance to Israel from being deployed against Palestinian people, as well as organize a Senate letter — to parallel an effort by House Democrats — calling on President Joe Biden's administration to pressure Israel to stop the evictions.
Quoting the senator's primary victory speech last September, former Markey campaign fellow and Students for Markey organizer Cherilyn Strader said that "Senator Markey told us that young people would lead the way, and now it is time for him to listen to us and stand up for Palestinian lives."
In response, Markey's office did not address the group's request, but said the senator "welcomes debate on all issues, whether on the Senate floor or online."
"That's what our democracy must be about," Markey communications director Geoff Burgan said in a statement. "Transparency and accountability are core values for Senator Markey, and he stands by the commitment he made to this powerful movement of young people. We may not always agree, but it's important to uphold that commitment, to listen, to value and respect others."
Burgan added that Markey "will continue to call for peace and for an end to the violence against innocent Palestinian and Israeli children and families" and that the United States "must be fully engaged to help de-escalate the violence."
The Markeyverse, however, says that response is insufficient.
"We appreciate Senator Markey's response to our concerns, and we know he is listening — but this moment demands much more than just listening," Calla Walsh, one of the organizers of the statement, told Boston.com in an email.
"Palestinian children are being killed every hour, and the Nakba continues," Walsh said, adding that "While we may disagree" was an "unacceptable answer."
Walsh noted that Markey holds a "unique position," as both a Foreign Relations Committee member, longtime incumbent, and newfound standard-bearer of the progressive movement.
"We need him to prove his commitment to our movement of young people with his actions, not just words," she said.
Newsletter Signup
Stay up to date on all the latest news from Boston.com