Politics
Former Boston Police Commissioner William Gross to endorse Annissa Essaibi George for mayor
The retired commissioner was scheduled to join the candidate on a small business tour in Mattapan.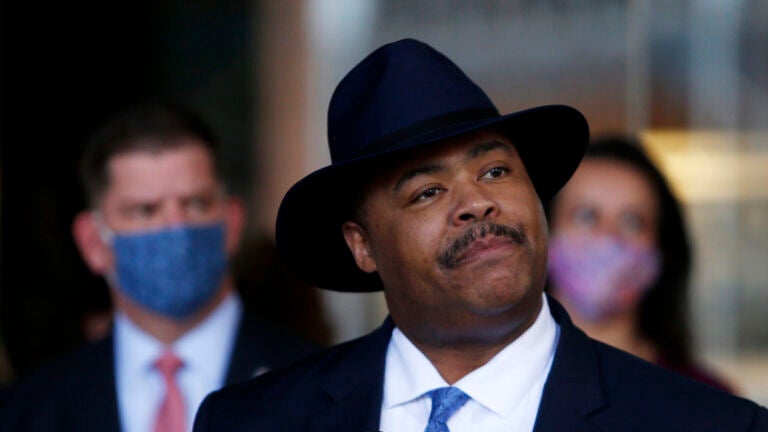 Former Boston Police Commissioner William Gross is expected to endorse City Councilor At-Large Annissa Essaibi George for mayor on Thursday.
Gross, the city's first Black police commissioner who retired from the post earlier this year after a 37-year career, was scheduled to join Essaibi George on a small business tour in Mattapan Thursday afternoon.
Gross had not released a statement about his support for the city councilor as of early Thursday morning, but for police matters on the campaign trail, Essaibi George has been a notable outlier.
As most other candidates have supported calls to reallocate money from the police budget to fund other city programs, Essaibi George opposes doing so.
At a candidate forum last month, Essaibi George said social programs need more funding, but that money should not come at the expense of the police budget.
"I do not support defunding the police," she said. "Chances are, if you're ending up in our justice system, it's so many of our other systems that have failed you along the way. And that's why we need to really invest in those community programs."
The city councilor at-large also called for decriminalizing substance use disorder, poverty, homelessness, and mental illness and suggested the city needs more officers on the street, since the department is projected to surpass its overtime budget by at least $15 million for this fiscal year.
"We need to work to make sure that our Boston Police Department is fully staffed and functioning," Essaibi George said.
Essaibi George last month also voted against a City Council ordinance that aims to place limits on when Boston police can use crowd control agents such as tear gas, pepper spray, and rubber bullets.
Former Mayor Marty Walsh vetoed the proposal in January following a vote late last year and concerns raised by Gross about how the measure would play out in practice.
Once considered a potential candidate himself, Gross announced in February he would not enter the race, citing a promise to his family for a planned retirement.
Walsh tapped Dennis White to serve as Gross' successor. But White has been on leave since February, when decades-old domestic violence allegations surfaced only days after his appointment.
Walsh ordered an investigation into the matter before he left office in March. Acting Mayor Kim Janey said last week her office received the completed probe but had not yet reviewed the full report.
Since Gross' departure, the department has also been embroiled in another scandal.
Patrick Rose, a retired patrolman and former police union president, remained on the force for decades after an internal investigation found sufficient evidence to support a 1995 allegation that Rose sexually assaulted a 12-year-old child. Rose now faces charges for allegedly molesting six other children.
Newsletter Signup
Stay up to date on all the latest news from Boston.com