Politics
Live blog: Updates on the Boston mayor's race
Here's the latest on the 2021 race.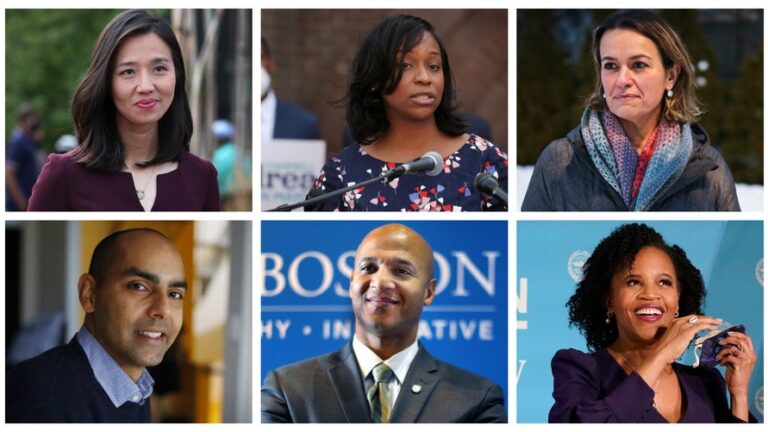 The election to choose the next mayor of Boston will take place Tuesday, Nov. 2, 2021, following a preliminary election on Tuesday, Sept. 14.
Declared candidates:
Read updates from after June 16, 2021, here.
Updates below:
Two of the candidates to be Boston's next mayor are speaking out in opposition to a proposal in front of the city's School Committee to replace the current admissions process for exam school — based on grades and test scores — with a lottery system.
City Councilor Annissa Essabi George and state Rep. Jon Santiago told The Boston Globe that they oppose making admission into the three elite high schools — Boston Latin Academy, Boston Latin School, and the John D. O'Bryant School of Math & Science — a matter of "chance."
The lottery system is being considered by the School Committee as part of an effort to give disadvantaged students a better shot against well-heeled families that can pay for things like private tutors and test preparation to help their children.
And while Essaibi George and Santiago expressed support for those goals, they said the city should stick with the exams process.
"While we certainly need to address diversity in our exam schools, our current school assignment process is concrete evidence that a lottery-based system to access a high quality school does a disservice to our kids and doesn't improve diversity or the growing opportunity and achievement gap for students of color," Essaibi George said.
Santiago expressed particularly strong disapproval.
"Exam schools are based on meritocracy — not chance," he said. "It is deeply problematic if Black and Latino students have to depend on a lottery ball for a chance at success. This is simply another distraction from the fact that BPS is failing too many students, especially those of color, who deserve a real opportunity — not luck — to attend an exam school."
According to the Globe, the four other candidates in the race, including Acting Mayor Kim Janey, did not immediately take a stance on the proposal.
The potential lottery system is among several ideas being proposed to the full School Committee during a meeting Wednesday by a task force formed to look at how to make the Boston's exam schools more reflective of the city's "racial, socioeconomic, and geographic diversity,'" while also maintaining their rigor.
The effort comes after the School Committee temporarily dropped admissions tests for exam schools during the COVID-19 pandemic, in favor of a process that used grades and zip codes — and ultimately increased the diversity of accepted applicants.
During a mayoral forum last month, only Janey and City Councilor Michelle Wu said they favored maintaining a similar plan going forward (though Wu says she'd keep an exam more "aligned with the BPS curriculum" and use more granular geographic data).
Annissa Essaibi George has picked up another endorsement from a union representing Boston's first responders.
The Boston Emergency Medical Services union endorsed the city councilor at-large in the mayoral race on Monday, according to her campaign.
"The EMTs, Paramedics, Lieutenants and Captains of Boston EMS are proud to stand with Annissa Essaibi George for Mayor of Boston," Michael MacNeil, president of the EMS Division of the Boston Police Patrolmen's Association, said in a statement. "She consistently demonstrates her commitment to our members and the safety of this city. She always checks in — on good days and bad. We need a leader that uplifts and utilizes our talented and dedicated workers and Annissa does, and will continue to do, just that. Boston's first responders and their families would be lucky to have her as their mayor."
Last month, Essaibi George notched endorsements from both the Boston firefighters union and former police commissioner William Gross. She has also been endorsed by the Massachusetts Nurses Association and the American Federation of State, County and Municipal Employees Council 93, which represents 1,700 of the city's professional and technical employees.
"No question, our city is home to a world-class EMS team," Essaibi George said in a statement. "They are always there when we need them — bravely providing care in the scariest and most vulnerable moments in our lives. This past year and a half has been especially hard for those on the frontlines fighting this pandemic. I want them to know that they are seen and heard and always will be throughout an Essaibi George Administration. I'm honored and grateful to have their support."
The union representing City of Boston employees and the country's oldest environmental advocacy group are weighing in on the Boston mayor's race.
In separate announcements Thursday morning, the local leaders of the American Federation of State, County and Municipal Employees endorsed City Councilor Annissa Essaibi George in the race, while the Massachusetts chapter of the Sierra Club backed fellow City Councilor Michelle Wu.
"AFSCME Council 93 is thrilled to back Annissa Essaibi George for Mayor of Boston," said Christopher "Tiger" Stockbridge, the co-chair of AFSCME Boston Presidents' Committee and president of Local 1631, which represents the city's professional and technical employees.
From school cafeteria workers to parks employees to librarians, AFSCME Council 93 has more than 1,700 members across 17 different departments and agencies, according to Essaibi George's campaign.
"As an organization whose membership is made up of those doing critical work for the City of Boston, we know how important it is to elect a mayor who has our backs—and Annissa is and will be that leader," Stockbridge said.
Meanwhile, during a press conference late Thursday morning, local Sierra Club members vigorously endorsed Wu in the race.
"Not only do we examine a candidate's platform, we investigate if the candidate is walking the talk that they're talking," said Rev. Vernon Walker, the chair of the Sierra Club's state political committee, citing Wu's work to promote climate change-resilient development and green infrastructure.
Walker also cited Wu's proposed Green New Deal for Boston, which he called an "ambitious policy roadmap for delivering the kinds of structural changes needed to provide a future for sustainable energy, good jobs, and healthy connected communities."
"She meets and exceeds our highest standards of climate and environmental justice," Walker said.
Boston convenience store owners want an audience with the city's six mayoral candidates to talk about the impacts of the state ban of menthol cigarettes.
The first-in-the-nation law that took hold last year removed the popular cigarettes and flavored tobacco from shelves of retailers — products youth anti-tobacco advocates argued tobacco corporations use to entice children and teens.
But retailers have vocally opposed the move, and argue the law is similar to the government's war on drugs that disproportionately impacted communties of color, the State House News Service reports.
Customers are now buying menthol cigarettes over the state line, from the black market, or are using other tobacco products instead, store owners say.
"Nobody has stopped smoking," wrote Humayun Morshed, secretary of the Boston Convenience Store Owners Association. "Now, kids have widely available access to menthol on the unregulated streets. And, the state has lost upwards of $140 million in tax and excise revenue — money that could be dedicated to tangibly improve higher priority public health issues in our communities which have been historically underserved."
The association plans to reach out to each candidate to discuss the matter, according to the News Service.
"This seems like a good time for you, as candidates seeking to serve the City of Boston to see through the myths, misinformation, half-truths, and white lies perpetuated by anti-tobacco crusaders," Morshed wrote. "We hope and expect that the new Mayor will have the courage to do something real to help our businesses and our communities."
Every candidate in the Boston mayoral race agreed that recently appointed Police Commissioner Dennis White could no longer lead the department following the resurfacing of decades-old domestic violence allegations.
There's less consensus on what happens next.
Acting Mayor Kim Janey announced Monday afternoon that she had fired White and plans to launch a nationwide search for his replacement "to be named toward the end of the year."
However, Janey's five rivals in the race for a full term say White's replacement should wait until the city has an elected mayor in November (as City Council president, Janey became acting mayor after Marty Walsh stepped down to become President Joe Biden's labor secretary).
Under Boston's city charter, acting mayors can only make temporary appointments. Still, the prospect of Janey making a potentially splashy announcement in the midst of a heated race this fall irked several candidates.
"A national search for police commissioner without an elected mayor is a charade," City Councilor Michelle Wu said in a statement Monday evening, adding that Janey's administration "should not use City resources on a search before the general election."
City Councilor Andrea Campbell blamed "this drawn-out legal battle between the former commissioner and the City," in addition to the multiple scandals engulfing the Boston Police Department, for eroding "trust" in the city's police force.
"For us to truly transform our police department with new standards of accountability and transparency and build trust, the Acting Commissioner must continue to lead our police department until the next elected mayor can conduct a rigorous and transparent search for a permanent commissioner to ensure the department can serve the diverse needs of our community," Campbell said.
City Councilor Annissa Essaibi George, former Boston economic development chief John Barros, and state Rep. Jon Santiago also think White's replacement should wait until the city has an elected mayor, according to their campaigns.
Boston Police Superintendent-in-chief Greg Long has been serving as acting commissioner since White was first suspended days after his initial appointment in February.
Asked about the pressure from the rest of the field of mayoral candidates, Janey's office said that she will "make a decision regarding interim leadership of the Boston Police Department in the coming weeks, including plans for a national search for a permanent replacement near the end of the year." The exact timing of the search in relation to the election remains somewhat unclear, though Janey said during her press conference that her administration will begin a community engagement process on the future of police leadership in the "coming weeks."
Aside from the disagreements over the replacement process, most candidates agreed with Janey's move to fire White. Santiago said he was glad to be "finally moving beyond the chaos" and called Monday "a win for the city."
"Now we must begin to rebuild public trust," he said.
"Those in our Boston Police Department and city institutions must be held to the highest standard," Essaibi George said. "Dennis White would not be a part of an Essaibi George Administration and I support his removal as Commissioner."
Campbell, who has been critical of Janey's handling of White's termination, said the saga was emblematic of the need for deeper police reforms.
"This has always been bigger than the Administration's failure to properly vet a candidate to lead our police department, but about the systemic lack of accountability and transparency in BPD," she said.
A super PAC is wading into the 2021 Boston mayoral race for the first time with ads highlighting City Councilor Andrea Campbell's unyielding advocacy for police reform.
However, the people behind the group also have another shared cause: Charter schools.
As The Boston Globe reported Thursday, the top donors to the political action committee, Better Boston, include a number of deep-pocketed charter school proponents, including Boston native and Netflix CEO Reed Hastings. According to the Globe, Better Boston aims to raise $2 million.
Campbell is one of two candidates in the six-person mayoral race, along with John Barros, who does not oppose the potential expansion of charter schools in Boston (though they're capped at the state level). In a recent candidate questionnaire, the Mattapan city councilor noted that the opportunities for students in some Boston neighborhoods to attend a high-quality public school were limited.
"As Mayor, I will fight for every student to have access to an excellent BPS education," she wrote. "However, the reality is some families, including in Mattapan, where I am raising my two boys, only have a 5% chance of getting into a high-quality BPS school compared to downtown families who have an 80% chance."
Campbell, who supported the 2016 ballot question to lift the cap on charter schools in Massachusetts, added that it "can be painful for parents" to explore options like METCO, charters, or private school scholarships for low-income families.
Better Boston's website describes itself as "a broad coalition of individuals across sectors who are committed to the Councilor's bold vision and creating a more inclusive, equitable Boston."
Hastings, a prolific Democratic donor and charter school supporter, also donated $12,000 to an effort in 2009 to expand charter schools in his home state of Massachusetts. According to the Globe, the group's top donors also include several other prominent Massachusetts-based charter school supporters.
Better Boston, which is legally prohibited from coordinating with any campaigns, first filed with state officials in March.
Campbell's campaign manager, Katie Prisco-Buxbaum, said Thursday that they have no involvement with Better Boston and "continue to be focused on growing our campaign with grassroots donations by people across this city who are passionate about building a more equitable Boston." Prisco-Buxbaum also noted that Campbell, a Boston Latin alum, has really in-depth policy visions for making the Boston Public School system more equitable.
"Andrea is a proud BPS graduate who knows firsthand how deeply inequitable that system is which is why her focus has always been on improving Boston Public Schools and she has released comprehensive plans to ensure every child in Boston has access to a quality Boston Public education," she said in a statement.
Boston Pride is postponing a mayoral forum that was planned for this coming Monday until June 14 after several candidates withdrew to participate in a simultaneous event staged by LGBTQ activists who have pushed for a boycott of the organization.
Following conversations with LGBT residents, city councilors Andrea Campbell, Annissa Essaibi George, and Michell Wu said Tuesday that they were pulling out of Boston Pride's virtual forum to attend a separate Zoom event Monday hosted by Mass NOW, Trans Resistance, the Transgender Emergency Fund, and the Massachusetts Transgender Political Coalition.
Their announcements come amid criticism from the coalition of LGBTQ groups that Boston Pride hasn't been sufficiently inclusive of Black and transgender members. Since last year, the groups have also been pressing Boston Pride, which organizes the city's largest pride parade, to diversify its board, which has no Black members.
"We are holding this forum at the same time as Boston Pride's forum for the same reason we're holding the Trans Resistance March on the same day as Boston Pride — to boycott Boston Pride until they transition leadership," said an invitation to the mayoral candidates, according to The Boston Globe.
Campbell, Essaibi George, and Wu subsequently accepted. In a statement, Essaibi George said the "decision is difficult for me because, for decades, Boston Pride has laid the groundwork here locally for so many to follow." But she added that it was clear that many in the LGBT community, especially those who are trans, Black, indigenous, or people of color, "are not being represented by this organization."
"That needs to be addressed both in the Boston Pride organization itself and the city at large," Essaibi George said.
In a separate statement, Campbell said she looked forward to "joining pride events that value and empower BIPOC queer and trans folx."
On its website, Boston Pride — which has hired a diversity consultant to help "institute transformational change" — said it was pushing its forum back a week "out of respect" for the groups hosting the rival event.
"The issues facing the LGBTQIA+ and BIPOC communities are critical to moving the City of Boston forward and by having our Boston Mayoral Candidates Forum at another time, we are giving more space for the candidates to discuss these issues," their website said.
Boston's public school system is getting a one-time infusion of $400 million in federal COVID-19 relief funds to spend over the next three years. Andrea Campbell is proposing to put roughly a third of the money into the hands of BPS families to use for various student supports.
In a press release Thursday, the Boston city councilor and mayoral candidate called on the district to provide each BPS student $3,000 for "Student Acceleration Accounts" that could be used to pay for things like tutoring from school staff, homework help, afterschool and summer programs, counseling, and other student supports in the wake of the pandemic.
According to Campbell, the menu of options would be available through either a simple web portal or paper form. Schools could customize which supports they offer, and teachers would provide input to families on each student's needs.
"As a mother, I know this pandemic has taken a huge toll on our children, and that parents know best what supports their children need to make up for the tremendous learning disruption over the past year," Campbell said, noting that the $400 million in relief funds breaks down to over $9,000 per student.
BPS Superintendent Brenda Cassellius announced a commission last month to advise how to best spend the new federal money. The group is scheduled to present a plan at its final meeting on July 1.
Campbell is calling for her proposed student acceleration accounts, which she also dubbed "BPS Bucks," to be part of that final plan.
"Of course there will be a role for centrally-run programs as well, but we also need to trust the adults closest to our students to know what's best for each child," she said.
John Barros became the latest Boston mayoral candidate to release a plan for "Mass. and Cass," as addressing addiction and homelessness in the neighborhood known for being the center of the regional opioid crisis became a point of contention in the six-way race Wednesday.
In his three-part plan, Barros said he would immediately appoint a "Special Advisor for Mental Health and Substance Use Disorders" tasked with assembling a team of social workers and health care workers, as well as three liaisons to the mayor's Office of Neighborhood Service, to coordinate the provision of services to those struggling.
The second part of his plan calls for de-densifying services so that homeless shelters and addiction treatment centers are less concentrated in one single neighborhood. Barros says he would work to set up needle exchange programs in other parts of the city and explore "methadone home delivery systems" so that individuals don't need to travel to the Mass. and Cass area for methadone treatment. He also said he would urge other cities and towns, where some shelters require ID or proof of local residency, to "do their part" as well as explore how some services currently centered at Mass. and Cass could be broken up and moved elsewhere, either within or outside Boston.
Finally, the third part of Barros's plan calls for reestablishing recovery programs on Long Island, which continues to be ensnared in a legal battle with the City of Quincy.
In a statement, Barros said Mass. and Cass is "struggling under the weight of an overly dense concentration of services," calling on the city to implement his proposal to "strategically deliver quality, yet de-densified health care and services to those in need."
Barros isn't alone in calling for more dedicated resources and decentralized services; most other candidates in the race have released similar plans. And during a candidate forum earlier Wednesday, he and City Councilor Andrea Campbell pressed Acting Mayor Kim Janey to take more immediate action.
"In terms of decentralization, I don't see any communities raising their hand to say, 'Hey, we want services and treatment here,'" Janey responded, according to the State House News Service. "So a lot of people can point their fingers, I don't see anyone raising their hand to say, 'Yes, we want to embrace people who need support and services.' We've got a lot of work to do."
Janey also argued that a lot of work is already happening, noting that the city is reversing an average of four overdoses a day, as the State House News Service reported.
"This notion that nothing is happening, unfortunately, it's not true," she said. "I mean, people want to talk about that because people don't like what they see. And the truth is, this is a very complex issue. People are not magically getting well and getting jobs and getting housing. There is a plan in place."
City Councilor Annissa Essaibi George says she would create a new city department to advocate for workers if elected mayor, as part of a economic justice plan released by her campaign Wednesday.
According to the plan, the Department of Economic Justice & Workers' Rights would include a cabinet-level chief who reports directly to the mayor and evaluates the potential impact that policies might have on Boston's families.
The office would also be tasked with addressing racial discrimination, identifying "problem areas" in Boston, and launching economic initiatives, as well as investigating and penalizing workers' rights violations.
Essaibi George's plan, which calls out the stunning racial wealth gap in Boston, also says she would create more pathways to home ownership and access to capital for historically underserved communities, in addition to workforce development initiatives like increased investment in Boston's vocational schools.
As mayor, Essaibi George even says she'll explore direct cash payments as a means of assistance for the city's more vulnerable residents.
The second half of the plan focuses on workers' rights, pledging to give unions more say in the political process and to create a cabinet-level working group to "solely focus on promoting union organizing."
"For too long, our economy has neglected our hard-working residents, prioritized white wealth building over Black and Latinx, and ignored workplace health and safety," Essaibi George said in a statement. "Boston has the opportunity and responsibility to learn from our past, and not just rebuild our economy, but build a better economy that works for everyone."
Michelle Wu wants a big post-vax summer.
The Boston city councilor and mayoral candidate said Tuesday that Boston should close off scores of streets for pedestrians and create a micro-grant program so that "every neighborhood" can host supervised block parties featuring arts, food, music, and children's activities.
"As Boston reopens and recovers, it's time for a Summer of Play—using arts and culture to heal, connect, and inspire," Wu said in a statement Tuesday. "Imagine music and community events in every park, block parties in every neighborhood, and every bit of Boston's diversity reflected in the vibrancy on our open streets."
According to Wu's campaign, the idea is modeled after Philadelphia's decades-old Playstreets program, which closes off hundreds of small, one-way streets to traffic to provide children safe places to play during the summer. During a press conference Tuesday, Wu said that Boston should follow suit by easing the permitting process and providing funding for neighborhood events. She also touted the community-building effects of block parties in a 2019 opinion piece in The Boston Globe.
"We should move from having a culture of 'Prove that you can do this' to a default of 'Yes, let's find a way to make this happen that is safe and engaging,'" Wu said Tuesday.
In addition to open streets and parks, Wu also said the city should look to use public spaces like schools, community centers, libraries, and churches as performance venues.
Wu was joined Tuesday by WBUR radio announcer José Massó, who voiced support for the initiative as a "segue from what has been the last 15 months" during the COVID-19 pandemic to a "total embrace of arts and culture" in the coming years.
State Rep. Jon Santiago's bid to lead City Hall notched support Tuesday from Beacon Hill's top legislators.
During a press conference in the South End, Massachusetts House Speaker Ron Mariano, Majority Leader Claire Cronin, and more than a dozen other state representatives endorsed Santiago in the Boston mayor's race, adding to a growing list of State House colleagues who have rallied behind the second-term Democrat.
Mariano, a Quincy Democrat, noted that he's "seen a lot of people come in" during his 30 years at the State House.
"One of the things that constantly amazed me about Jon Santiago was the diversity of his talents, his work ethic, and his ability to understand how to get things done in the body of 160 people," Mariano said, adding that Santiago "understands how to compromise."
He also marveled at how Santiago continued to work as an emergency room doctor at Boston Medical Center and serve in the U.S. Army Reserves since his election in 2019.
"Jon has the unique talents to take this city by the neck and lift it, because he's a worker," Mariano said.
Cronin, an Easton resident, said that Santiago had "been on the front lines" of the response to the COVID-19 pandemic and had a "very significant role" in passing legislation on police reform and reproductive rights.
Santiago has also been endorsed by a handful of members of Boston's State House delegation, including North End Rep. Aaron Michlewitz. Asked how the new endorsements from outside the city help his campaign, Santiago said that he thinks "support from anywhere from every corner of the commonwealth is important."
"It's important that the mayor of Boston have strong relationships with Legislature," he said.
Even though Santiago joined the State House less than two years ago, Mariano said he was "so happy" about his decision to run for mayor.
"Even if he loses, the worst thing that happens is he comes back to me," Mariano said. "And I get to use his talents. And we will use his talents. But the city of Boston should know about these talents."
The union representing Boston's firefighters is backing Annissa Essaibi George in the race to be the city's next mayor, citing the city councilor's "unwavering support for Boston's first responders."
"From showing up at our firehouses with coffee, to picking up the phone to check in on our brave men and women, to advocating for investments in our health and safety, she has our backs and we have unanimously voted to have hers in this race," Boston Fire Lieutenant John Soares, the president of Local 718, said in a statement.
"As a little girl, my family home caught on fire, but we all made it out safely thanks to Boston's brave firefighters," Essaibi George said. "It's no surprise that I hold a special place in my heart for them. Their sacrifices and bravery keep our city and its residents safe. I'm honored to have their support."
The endorsement comes after former Boston police commissioner William Gross backed Essaibi George earlier this month. The Dorchester native, known as one of the more moderate candidates in the race, has also been endorsed by the Massachusetts Nurses Association.
Local 718 says it represents 1,500 active men and women firefighters, though the vast majority are men. The Boston Fire Department has also faced pressure to diversify its membership, which is nearly three-quarters white, in a city that is mostly people of color.
During a press conference Monday morning outside Florian Hall, Essaibi George reportedly agreed that the department has work to do. According to The Boston Globe, she said Boston needs to do "a much better job diversifying the firefighting force," starting with the department's cadet program.
"That work certainly starts with recruiting, especially from our city's kids," Essaibi George said. "We need to make sure that the kids of Boston see themselves reflected in the Boston Fire Department."
The impacts of the opioid epidemic on the area of the city known as "Mass and Cass" garnered new attention in the mayoral race this week.
On Wednesday, City Councilor Andrea Campbell issued a direct challenge to Acting Mayor Kim Janey, calling on her fellow candidate to release an action plan for the area within 30 days.
"We have incredible service providers doing heroic work in the area alongside city departments, yet they are overwhelmed and siloed," Campbell said in a statement. "We need a coordinated effort and response to increase our collective impact, and it is critical our city and state administrations take the lead in building that partnership. I'm calling on the Administration including Acting Mayor Janey to meet with advocates and leaders on the front lines of this issue, and publicly release an action plan by June 19th."
The COVID-19 pandemic has exacerbated the impacts of the opioid crisis in the city over the last year. But the crisis is the area surrounding Mass. Ave. and Melnea Cass Boulevard, where shelters and services offer support to those dealing with addiction and homelessness, is not new.
Residents of the adjacent South End and Roxbury neighborhoods have been expressing concern and alarm about worsening conditions — including improperly discarded needles and individuals overdosing in alleys — in the area for years. But in recent years, community members have seen more people navigating substance use disorder, mental health issues, and homelessness arriving in the area to seek help from service providers clustered around the stretch of city blocks known disparagingly for years as "Methadone Mile."
Campbell, who has released her own plan for Mass. and Cass, is calling on Janey to implement steps from her own roadmap to address the crisis by creating and appointing a "Mass. and Cass Chief," establishing a dedicated first responder unit for the area, finalizing a plan to decentralize services, and taking steps toward reopening a recovery campus on Long Island in Boston Harbor.
A day after Campbell issued the challenge to Janey, mayoral candidate and state Rep. Jon Santiago announced his own plan for addressing the crisis. During a press conference Thursday, the Boston Medical Center emergency room doctor and South End resident called the situation around Mass. and Cass a "full-blown crisis."
"We are in desperate need of leadership," Santiago said. "We need a bold plan, and a tremendous amount of urgency. But most of all, we need action. And a commitment to get things done at Mass and Cass and for the many people suffering from addiction all across Boston. Because this summer will no doubt prove to be the most difficult for Mass and Cass. And while last year was very challenging, this year, given the improving weather, the release from social isolation, the rising rates of mental health illness and drug use, I fear for the worst."
The state representative said under his plan for addressing the nexus of substance use, mental health illness, and homelessness, he will "immediately" declare a public health emergency for the area, appoint a "Mass and Cass Director of Services," and focus on decentralizing, regionalizing, and modernizing services for substance use and homelessness.
Those efforts would kick off with an immediate moratorium on new public services within a one-mile radius of Mass. and Cass, with Santiago promising to build a "world class and accessible" recovery campus on Long Island, expanding supportive housing opportunities elsewhere in the city, and establishing a Regional Municipal Task Force to focus in partnership with other municipalities on a regional approach to issues related to substance use and homelessness.
"If decentralization and scaling up supportive housing are core tenets in how we begin to address Mass and Cass, regionalization is also paramount," he said. "This is of utmost importance as over half of Boston's shelter population comes from outside the city."
Right now, the politician and doctor said leadership on the issue of Mass. and Cass is "nowhere to be found" even as the crisis worsens.
"Our businesses need help," Santiago said. "And those suffering on Mass and Cass need a mayor who has their back and who's going to fight for them everyday like I do in the ER. And I look forward to leading the charge when elected mayor."
Two Boston mayoral candidates are getting support from some big names this week.
U.S. Sen. Tammy Duckworth, an Illinois Democrat, is joining City Councilor Michelle Wu at a virtual fundraiser at 6 p.m. Wednesday for the latter's mayoral campaign. The event is billed as a conversation between the two politicians.
"Senator Duckworth is a veteran and fearless voice for the Asian American and Pacific Islander community — and we're thrilled to have her joining Michelle and our team for this virtual event," Wu's campaign wrote in an email to supporters Tuesday.
Tickets start at $5 at the "guest" level and reach $500 and $1,000 for the "champion" and "maximum" levels, respectively. The event webpage also notes all of Wu's events are "open to everyone, regardless of ability to pay." Those who cannot contribute but would like to attend are asked to email the campaign, "no questions asked," the page says.
Meanwhile, actress and producer Ellen Pompeo, of "Grey's Anatomy," is joining acting Mayor Kim Janey at 7 p.m. Wednesday for a virtual "birthday celebration." Janey turned 56 years old on Sunday.
"Mayor Janey and Ellen plan on having some fun swapping stories about growing up in Roxbury and Everett," Janey's campaign wrote in a recent email to its supporters. "They will also talk about how Mayor Janey is tackling today's biggest issues in Boston."
Tickets begin at $56 and ascend to $500 and $1,000 at the "champion" and "host" levels, respectively. Those top donors will have access to a pre-event reception with Janey and Pompeo.
Guests can RSVP by either making a contribution online or emailing the campaign.
Boston's mayoral candidates called for transparency and accountability following acting Mayor Kim Janey's release of an independent report Friday, detailing decades-old domestic violence allegations against suspended Boston Police Commissioner Dennis White.
"Domestic violence is never OK," City Councilor Annissa Essaibi George told The Boston Globe. "This case speaks to the critical need for greater transparency and accountability in the Boston Police Department and our other city institutions. It is imperative that anyone appointed to high positions must be subjected to a rigorous vetting and thorough background checks. That clearly wasn't the case here."
White, 59, was placed on leave in February, but was soon suspended after the Globe raised questions over allegations from 1999 that he pushed and threatened to shoot his then-wife.
In the report, city-hired attorney Tamsin Kaplan found another assault allegation from 1993, in which a neighbor said they saw White slap his niece-in-law after she kicked him during an argument. White admitted he slapped her although the unidentified woman said it was a punch, according to the report.
Both filed assault charges against one another, but the charges were later dismissed. An internal police investigation did not sustain the allegation against White on the basis that his open-handed slap was a "reflexive self-defense response," according to the report.
The report also documented additional abuse allegations around the same time as the 1999 incident. Four witnesses told Kaplan that White mentally and physically abused his wife.
White has denied all of those allegations but told Kaplan there was "physical abuse in the relationship," which he said was limited to pushing, initiated by both he and his wife.
State Rep. Jon Santiago told the Globe the allegations detailed are "incredibly disturbing" and "disgusting." He said a "code of silence" within the Boston Police Department needs to be removed.
"[These allegations] represent a troubling pattern of behavior of a man in power against multiple women," Santiago said. "Survivors of domestic violence deserve better. They deserve decisive action from their leaders."
Janey said Friday she believes the city should have a new commissioner.
White has mounted a legal challenge to that, through filing a restraining order and preliminary injunction in Suffolk Superior Court. His attorney has argued Janey, as acting mayor, does not have the authority to fire White and removing any employee requires a hearing and a cause.
On Monday, Janey said she hopes the court will make a ruling sometime this week so a hearing can be held.
"My intent is to move the police department forward, and ultimately move our city forward," she said. "There is a lot of work that we have to do in our city, and we can't have the officers who are doing good work every day, wonder that if they speak up, that somehow there'll be some retaliation. We saw that there was a clear culture of fear and silence with this report, and we can't have that continue — nor can we have a culture, by which victims of domestic violence or sexual assault feel like they can't go to the police for help."
Some of Janey's fellow mayoral candidates criticized her for her handling of the situation.
"Instead of moving forward to tackle the systemic reforms the people of Boston want, Acting Mayor Janey is in a standoff with Dennis White — and it's not even clear who's currently leading our police department," City Councilor Andrea Campbell said in a statement Friday. "The city needs leadership that brings clarity and stability to this situation, not chaos and confusion."
John Barros, the city's former chief of economic development, said the public should have access to the complete internal affairs records related to the investigation, according to the Globe.
"Leadership matters and good management is essential. The residents of Boston and Commissioner White deserve transparency and clear reasoning around the decision to terminate without a hearing," Barros said. "Trust is rooted in transparency. Any progress around police and public safety reform cannot begin without that foundation."
City Councilor Michelle Wu, in a statement, said: "It's disappointing for Boston residents to continue to have no clarity about who will steer the Police Department over the next six months as interim commissioner until the next administration.
"As Mayor, I will lead a comprehensive, transparent process to fully vet and select a permanent Commissioner to guide the cultural and structural changes that we need across this department," she said. "But these changes must start right now through the ongoing police union contract negotiations, about which the public has had no information or transparency."
In a sudden course reversal, the City of Boston is dropping its defense of a Boston Police Department promotional exam criticized as racially discriminatory, bringing an end to a years-long legal fight.
Following a Boston Globe report Thursday morning on the ongoing court case and criticism from several 2021 mayoral candidates, Acting Mayor Kim Janey's office said Thursday afternoon that they will seek to settle the lawsuit brought by a group of Black sergeants, who said a previous version of the multiple-choice exam unfairly blocked them from promotions to lieutenant.
"Black officers in the Boston Police Department deserve a fair shot at promotions," Janey said in a statement.
"My administration will not waste tax dollars defending past department practices that created barriers to opportunity for people of color," she continued. "I have directed our legal team to resolve this matter, as we move forward with a new vision for public safety in our city."
Former Boston Police Commissioner William Gross endorsed City Councilor At-Large Annissa Essaibi George for mayor on Thursday.
Gross, the city's first Black police commissioner who retired from the post earlier this year after a 37-year career, was scheduled to join Essaibi George on a small business tour in Mattapan Thursday afternoon.
In a contest involving four of their colleagues, the other nine members of the Boston City Council have publicly remained neutral in this year's Boston mayoral race.
But for City Councilor Frank Baker, the stance apparently isn't a difficult decision.
"There's not a candidate for me," Baker told the Dorchester Reporter in an article Thursday announcing his own plans to run for a sixth term on the council.
A registered Democrat and self-described "extreme centrist," Baker has earned a reputation for standing apart from — and sometimes clashing with — his colleagues on the increasingly progressive City Council. Still, his comments come as a particularly direct rebuke of mayoral hopefuls and fellow Councilors Michelle Wu, Andrea Campbell, Annissa Essaibi George, and Kim Janey, who is now the city's acting mayor.
"It's a different council, and I have my personal opinions," Baker, a Dorchester resident who first took office in 2011, told the Reporter this week.
Baker added that "some of my colleagues have called me a racist" and claimed fellow city councilors "encouraged their supporters to call me and harass me" over his stances, such as voting against a measure to block evictions during the COVID-19 pandemic.
Baker also indicated that he would not be running for re-election if not for the pandemic.
"If Covid didn't hit, I would have felt like my job got wrapped up" Baker told the Reporter, adding, "But everything is up in the air, and I would feel incomplete."
Local elected officials of color are speaking out in force against the Boston Police Patrolmen's Association, after a dispute between the police union and City Councilor Andrea Campbell took a personal turn this week.
With Suffolk County District Attorney Rachael Rollins in the running to be the next U.S. attorney for Massachusetts, Richard Taylor reportedly had an idea.
CommonWealth magazine reported Thursday that Taylor, the state's transportation secretary under Gov. Bill Weld and a now prominent Black real estate developer, sent an email this week to supporters of Andrea Campbell's mayoral campaign arguing that the Boston city councilor should drop out of the race and instead bid to succeed Rollins as district attorney.
According to CommonWealth, Taylor argued the move would provide an easier path for Acting Mayor Kim Janey to win a full term this fall by ensuring that the Black vote wouldn't be split (there are currently three Black candidates in the race: Campbell, Janey, and John Barros). Taylor presented it as a "win-win."
One issue: Campbell is very much not onboard.
In a statement, Campbell campaign manager Katie Prisco-Buxbaum noted that the Mattapan city councilor launched her campaign in September when former mayor Marty Walsh was still expected to run for a third term, and said that "for some to imply she, as one of the frontrunners in this race, would be looking at another office now is both misinformed and insulting."
Early polling has shown that a plurality of voters remain undecided. And while Janey has received national attention for becoming the first Black person and first woman to lead Boston, campaign finance data shows that Campbell has raised the most money in the race this year, slightly outpacing fellow city councilor Michelle Wu.
There's also no guarantee that she would notch the district attorney position. If Rollins does get appointed as U.S. attorney, Republican Gov. Charlie Baker would pick her temporary replacement until the seat is up for re-election in 2022. And Campbell has never publicly signaled interest in being Suffolk district attorney.
"Andrea has never done anything because it was easy or politically convenient, but because she knows she has the leadership, lived experience, and vision to serve her community and transform our systems to be more equitable and create opportunity for all," Prisco-Buxbaum said. "She's running for mayor, and only mayor, to do just that."
The Boston City Council voted Wednesday to heed requests from the city's election officials and move up the preliminary municipal election one week to Sept 14.
The change will give the city's Election Department more time to print and distribute ballots to vote-by-mail voters following the election but ahead of the Nov. 2 general election, as Eneida Tavares, chair of the Boston Elections Commission, explained to councilors last week.
The preliminary election was initially set for Sept. 21.
State lawmakers opted last month to expand no-excuse-needed vote-by-mail options through June 30. Tavares said officials anticipate the practice — taken up last year amid the COVID-19 pandemic — could extend through city elections this fall.
The possibility became a bit more probable Wednesday: Councilor Ricardo Arroyo filed a home rule petition that, if passed, would make the practice permanent for city elections.
Both former Mayor Marty Walsh and Secretary of State William Galvin voiced support for the election date change. The council's Committee on Government Operations backed the switch as well.
No councilors voted in opposition to the change, although mayoral hopeful and City Councilor At-Large Annissa Essaibi George voted "present."
Andrew Yang won't be the only mayoral candidate campaigning on a basic income program.
During a forum Monday night on the audio-based social media app Clubhouse, John Barros pledged to bring a guaranteed income program to Boston, if he is elected mayor this fall.
"I am all in on guaranteed income," Barros said, adding that he had seen "promising results" from pilot programs in other cities, like Stockton, California, as well as smaller emerging initiatives in some neighboring Massachusetts cities.
"Frankly, what we've seen with the COVID relief money has shown us the fact that it is needed," Barros said, referring to the federal government's recent direct cash payments to low- and middle-income residents.
"And it is a good way to make sure that people have the basics that they need," he said. "And it's a way to make sure that certain people in our economy can continue to do work and not have to do two jobs, three jobs. At certain points, my parents had to do two to three jobs. It's not fair."
The city's former economic development chief, Barros said he's planning to release a guaranteed income plan on his website. However, he suggested that it wouldn't be a "universal" basic income plan.
According to Barros, the program would start out dedicated to "single heads of households,' targeting single mothers who have struggled particularly hard during the pandemic, in part due to a lack of affordable child care. He pointed at his work with a group called Family Independence Initiative, which provides direct cash assistance to low-income families, as well as opportunities for recipients to talk with each other about how they're using the money.
Barros said he favors a similar pilot for Boston, so that guaranteed income recipients "can make the right kinds of decisions."
"This is not about sustaining people," he said. "This is not about creating just the basics. This is about positioning people to be more productive in our society."
South Boston state Sen. Nick Collins announced Tuesday he will not enter the race to become Boston's next chief executive.
"After much encouragement and consideration and discussions with my family, I've decided I will not be a candidate for mayor," Collins said in a statement. "I remain dedicated to my job in the Massachusetts Senate and working with leadership and my colleagues on our shared priorities to help Boston and the Commonwealth grow and thrive. I look forward to working closely with City Hall to create a better Boston for all."
Collins, a Democrat, was considered a potential early contender after it became clear earlier this year that now former Mayor Marty Walsh would not seek a third term.
Last month, Collins faced some criticism after making a joke ahead of the city's annual St. Patrick's Day Breakfast aimed at Michelle Wu that suggested she is not "from Boston."
"What else do @BenAffleck and @wutrain have in common?" Collins wrote on Twitter, commenting on a video Wu posted that parodied viral moments of Affleck struggling to hold his Dunkin' order. "They both love acting like they're from Boston!"
The remarks came following a mass shooting that left eight people — six of them Asian women — dead in Atlanta and sparked a national dialogue on racism against Asian Americans.
Michelle Wu wants to make Boston's yellow buses a bit more green.
During a press conference Thursday afternoon outside one of the city's bus yards, Wu called for Boston to shift to an all-electric school bus fleet by 2030.
"This is not only an urgent and important goal, it is a doable one," Wu said, stressing the dual public health and environmental benefits.
The call comes on the heels of President Joe Biden's proposal to electrify at least 20 percent of the country's school buses as part of his infrastructure plan, given the harmful health impacts of air pollution and research showing that children on the diesel-fueled yellow buses face exposure to pollutants between five and 10 times higher than average levels.
"We are exposing our children, our bus monitors, our bus drivers to greater health risk, every single day," Wu said.
About half of Boston's 700 school buses run on diesel, accounting for 60 percent of all diesel fuel consumed by the city government. Wu noted that the city is set to enter a new bus contract negotiation in 2023, which she said must be "a moment to really seize on progress and to take advantage" of potential financing and support made available through Biden's infrastructure plan.
Wu noted that the electrification goal is just one part of her 52-page education plan. Fellow city councilor and mayoral candidate Andrea Campbell has also called for electrifying the city's school bus fleet as part of her transportation plan, though it does not include a target date.
Andrea Campbell is calling on acting Mayor Kim Janey to bring in the U.S. attorney's office to independently investigate the Boston Police Department in regards to the Patrick Rose Sr. case.
Rose, a retired police officer and former police union president, is accused of molesting six children.
Janey's administration on Tuesday released 13 pages of a long-sought-after internal affairs investigation file showing a department probe sustained a 1995 allegation Rose molested a 12-year-old child. But Rose eventually returned to full duty after the Boston Police Patrolmen's Association's attorney wrote a letter threatening to file a grievance over Rose's restricted duties during the investigation.
Campbell is also now calling on Janey to release the full file.
"Transparency in the Rose case is what Bostonians deserve but not what we got on Tuesday, when heavily redacted and incomplete internal affairs files were released within twenty minutes of the most anticipated national news of the week — the verdict in Derek Chauvin's trial for the murder of George Floyd," the city councilor said in a statement. "There are so many questions left unanswered by the Administration."
Campbell said the administration should seek the U.S. attorney's office "to conduct a full independent investigation."
"If BPD is refusing to release this information, the people deserve to know," she said.
City officials have said files were redacted to protect the identity of the victim involved in the allegations.
"In releasing a redacted version of former Boston Police Officer Patrick Rose's internal affairs file today, we seek to provide transparency and accountability around the internal affairs process in 1996, while upholding our legal obligation to protect the identities of victims of sexual violence and our moral responsibility to avoid retraumatizing them," Janey said in a statement released with the file. "In light of this goal, we are providing as much information to the public as possible about the circumstances surrounding the internal affairs investigation and how leadership at the time responded to the findings."
Janey has tapped Stephanie Everett, the incoming executive director of the newly formed Office of Police Accountability and Transparency, to investigate the process followed in the Rose case. Everett begins the job on May 3 and will have 45 days to "deliver a plan for review and, as necessary, for reform of the police department's internal affairs procedures," Janey said.
But Campbell is not the only one wanting more information to come to light.
In a joint statement Tuesday, Paul Evans, who served as the Boston police commissioner at the time of the first allegation against Rose, and former police Superintendent Ann Marie Doherty also called on the city to release the full file.
They said the complete report will show the department did all that it could to try to hold Rose accountable.
Boston City Councilor Annissa Essaibi George's mayoral campaign released a sweeping education reform plan Tuesday, drawing on her lifelong experience with the city's public school system.
"As a former Boston Public Schools (BPS) teacher, a BPS graduate, a mother to four BPS students, and the current Chair of Boston City Council's Committee on Education, I've held a front row seat to the challenges facing our students, families, educators, and public school system day in and day out," Essaibi George said in a statement.
The 22-page plan broadly cites inconsistencies and achievement gaps across the district's 125 schools and calls for more robust investments in child care and early education — including universal pre-kindergarten, something that former mayor Marty Walsh campaigned on. According to Essaibi George, she would seek to implement universal child care through "Commonwealth and community partnerships, City investment, federal block grants, social impact bonds, private providers and development funds."
Essaibi George says she would also keep entrance exams for Boston's three exam schools, but work to increase access to the schools, particularly for communities of color.
"Taking away the exam schools doesn't fix the disparities in Boston Public Schools and only delays getting to the real problem," Essaibi George said during a forum Tuesday night.
Her plan pledges to implement citywide literacy programs beginning at the pre-K level, as well as new district-wide curriculum standards that include more robust STEAM (science, technology, engineering, arts, and mathematics) programs and new standards for ethnic studies, art education, and civics.
The plan also proposes reforms to Boston's School Committee. While some councilors have suggested making the committee an elected body, Essaibi George says its members should still be appointed. However, she would give the City Council, in addition to the mayor, some appointing power. Essaibi George would also add two seats — including a voting student seat — to make it a nine-member committee.
Additionally, in the wake of the COVID-19 pandemic, Essaibi George called for increasing access to behavioral health and emotional wellness support in schools, including "universal behavioral health screenings" and district-wide staffing rules requiring a full-time psychologist, school counselor, and social worker in every school.
"I hope as mayor that I never see this pandemic again," she said Tuesday night. "But I do know, as mayor, we will be in the midst of — because it's already started — a mental health pandemic."
Citing the ongoing risks of COVID-19, nearly all the candidates in the Boston mayor's race are calling on state election officials to ease signature requirements to qualify for the September ballot.
In a letter Tuesday to Secretary of State Bill Galvin's office, as well as the co-chairs of the Legislature's Joint Committee on Election Laws, Sen. Barry Finegold and Rep. Daniel Ryan, five of the six mayoral candidates — as well as five at-large City Council candidates — urged officials to reduce the number of signatures that candidates need to file to qualify for the ballot, permit electronic collection of signatures, or allow the city itself to provide greater flexibility around "ballot access and signature collection requirements."
"Our ability to campaign for office and access the ballot in a manner consistent with public health is currently undermined by state laws requiring us to collect a high number of "in person signatures in order to appear on ballots in the City of Boston," read the letter, which was signed by John Barros, Andrea Campbell, Annissa Essaibi George, Kim Janey, and Jon Sanitago.
"While this is a statewide issue, we are most acutely burdened by the current laws, given the high number of signatures (3,000 for mayoral candidates, 1,500 for Council candidates) we need to collect to reach the ballot," the Boston candidates added.
One name that was notably absent among the signatories was Michelle Wu, the first candidate to declare their candidacy in the 2021 race.
While she voted in favor of a unanimously passed Boston City Council resolution last week that urged Galvin to reduce the number of required signatures and allow electronic collection, Wu told GBH that we "are very far into the campaign season."
"We are exactly one week away from getting the printed signature papers in hand to begin the process of getting on the ballot," Wu said. "This is five business days for the state Legislature and others to act."
Candidates have until May 18 to file the required number of signatures.
Just over a year ago, the Massachusetts Supreme Judicial Court slashed the number of signatures required for candidates for state and federal office by 50 percent, after a number of candidates sued the state, arguing that the pandemic made the traditional face-to-face, door-to-door method of collecting signatures potentially hazardous and unconstitutionally burdensome.
That decision, however, came amid slightly different circumstances. At the time, Massachusetts was in the midst of the first COVID-19 surge. But now, infection rates — both in Boston and across the state — are trending downward and hospitalizations are far lower than last spring, as vaccinations progress.
Still, the candidates' letter to Galvin argues that asking campaigns to "engage with large numbers of individuals at close quarters to collect signatures poses a public health risk and increases the likelihood of infection with the deadly virus."
"Last year, your efforts to allow candidates to collect signatures electronically placed the Commonwealth at the forefront of a movement to ensure our democracy remains fair and accessible during a pandemic," they wrote. "This year, we hope you will continue that legacy."
Boston city councilors are considering shifting the scheduled Sept. 21 municipal preliminary election up one week to give the city's Election Department more time to handle mail-in ballots.
Eneida Tavares, chair of the Boston Elections Commission, told councilors on Tuesday commissioners are seeking to move the election to Sept. 14 in anticipation of vote-by-mail expanding through the fall election cycle.
State lawmakers voted last month to extend the practice to all voters through June 30.
Should the Legislature opt to do so again, the city's Election Department "will be faced with a very tight turnaround" for printing and distributing ballots to voters between the September preliminary and November general elections, Tavares said.
Ballots cannot be sent out until after the results of the preliminary election are certified — currently scheduled to be completed by Sept. 27, barring any needed recounts, according to Tavares. The city would receive printed ballots between Oct. 7 and 12 ahead of the Nov. 2 general election.
"That leaves us with about three weeks to mail ballots to voters and for them to get back to the Election Department in enough time to be counted for the general election," Taveres said.
Former Mayor Marty Walsh, before leaving office to serve as U.S. secretary of labor last month, wrote to councilors urging them to make the shift.
According to city officials, the change does not require approval from state lawmakers.
Some councilors expressed hesitation over the switch.
Councilor Kenzie Bok said voters often don't begin tuning into an election until after Labor Day.
"That has been my experience, so I'm worried about us losing another week," she said.
Councilor Ricardo Arroyo asked if officials could consider pushing back the general election by one week.
"Why wouldn't we preserve sort of the maximum amount of time for people to actually, you know, engage with this ballot?" Arroyo asked.
Tavares said doing so would require a home rule petition, which would need approval from the state Legislature to take effect.
While state officials have not expanded vote-by-mail to include this fall's election, Taveres said the request aims to be proactive.
"We don't want to find ourselves in the position where vote-by-mail is expanded and then we're scrambling to get something moved, and it's probably not a good idea to change the date of the preliminary at the last minute either," she said.
Council President Pro Tempore Matt O'Malley backed the move.
"I support any efforts that we can employ to make sure that as many people are able to vote safely and efficiently, and if that means moving the date of the preliminary election, then I absolutely support it," he said.
Secretary of State William Galvin told The Boston Globe he also supports the change.
"From a public policy point of view it makes a lot of sense," he said.
Annissa Essaibi George says she opposes the controversial decision made last fall to temporarily suspend entrance tests typically required for Boston's three exam schools.
"I'm disappointed that we're breaking something that works," Essaibi George told WBZ's Jon Keller on Sunday. "We're breaking something that is an opportunity for so many of our kids, thousands of our kids, across the district."
The Boston School Committee voted unanimously in October to forgo the admissions test for incoming classes later this year. The move is intended to address racial disparities among the testing policies, as well as challenges raised by the coronavirus pandemic.
A student's eligibility for entrance to the schools will instead be based on grades, 2019 MCAS scores, and the student's zip codes.
On Thursday, a federal court judge upheld the new policy, ruling it does not discriminate against any students after the Boston Parent Coalition for Academic Excellence filed a lawsuit, alleging the policy was "wholly irrational," The Boston Herald reports.
"I think it was an important opportunity for us to think very creatively about how to uphold our commitment to our families and our kids across the district," Essaibi George, a former East Boston High School teacher, told WBZ. "I think it was also a missed opportunity to take a well-intentioned intellectual, smart group of people to look at some of the real problems that exist within our school system."
But she also told Keller that there are "real concerns around diversity" in the district, particularly that Black and brown students have access to a good education.
"The bigger problem is when a family does not gain admission to one of our three exam schools they feel left out, they feel left behind, and we have so much work to do when we think about all of our high schools across the district. …We have to create opportunities across the board," she added.
Almost half of Boston's registered voters aren't yet sure who they will be casting a ballot for in the mayor's race this fall, an early poll released Wednesday shows.
Approximately 46 percent of the 552 voters surveyed between April 7 and 11 by the MassINC Polling Group indicated they are undecided regarding who will get their vote. The poll, which carried a 5 percent margin of error, was sponsored by WBUR, The Dorchester Reporter, and The Boston Foundation.
Michelle Wu has so far garnered the most support among the field of candidates, with 19 percent of voters who were contacted indicating they would most likely support her in the race. Kim Janey followed with 18 percent, Annissa Essaibi George with 6 percent, and Andrea Campbell with 4 percent.
Jon Santiago and John Barros each received support from 3 percent of the voters surveyed.
The survey also indicated candidates lacked name recognition with sizable portions of the voters surveyed, with 57 and 50 percent of voters polled indicating they had not heard of Santiago and Barros, respectively. Likewise, Essaibi George and Campbell were unknown to 44 and 42 percent of those surveyed.
Wu was apparently the most familiar, with only 21 percent stating they had not heard of the city councilor at-large.
Notably, candidates still have quite some time to get their names out and build support. The Sept. 21 preliminary election is over five months away. The general municipal election is set for Nov. 2.
Some Boston mayoral candidates are calling for the release of internal affairs records regarding a former Boston police union president who is accused of molesting children over the course of three decades.
A Boston Globe report published Saturday detailed the allegations against Patrick M. Rose Sr., including one dating to 1995. A criminal complaint filed against him at the time for allegedly sexually assaulting a 12-year-old boy was dropped, but despite an internal affairs probe that concluded he probably committed a crime, he went on to serve another 21 years on the force, according to the newspaper.
Since October, the Globe has sought internal affairs documents for Rose, which the city has refused to provide even though the state's supervisor of public records said officials had failed to meet the legal requirements to retain the files.
Former Mayor Marty Walsh's administration maintained that the records could not be redacted in a manner that would meet a state law that requires the identities of victims of sexual assault and domestic abuse be protected.
Some of acting Mayor Kim Janey's fellow candidates and councilors are demanding she and other city officials make the files public.
Here's what they have said so far:
Andrea Campbell
"More than 24 hours after the Globe reported BPD covered up decades of alleged child molestation by a former officer and BPPA president, BPD and the Administration has yet to release or agree to release the records. This continued lack of transparency and accountability is unacceptable. Every minute of delay further erodes public trust and denies victims justice. Acting Mayor Janey should release these records immediately."
Annissa Essaibi George
"Release the records. The people who protect us should always be held to the highest possible standard. Our City institutions only work when they're transparent & held accountable. This cover-up culture must become a thing of the past."
Michelle Wu
"This is a horrific breach of the public trust—continuing to this day with the City's refusal to release internal affairs records for full transparency. Time to take action & dig in for accountability through ongoing police contract negotiations."
Acting Mayor Kim Janey announced $2 million in reallocated funding Wednesday as part of commitments made by former mayor Marty Walsh to increase supplier diversity, after a study found that a combined 11 percent of city contracts in recent years went to businesses owned by women or people of color.
The new goal, set by an executive order signed by Walsh, aims to direct 25 percent of contracts to businesses owned by women or people of color.
According to Michelle Wu, it's still not enough.
In a tweet Thursday, the at-large city councilor and mayoral candidate called the new goal — which aims to direct 10 percent of contracts to minority-owned businesses and 15 percent to women-owned businesses — "paltry."
The new goal would amount to a significant increase compared to past spending; the city-commissioned study last year found just 2.5 percent of the $2.1 billion in city contracts from 2014 to 2019 went to minority-owned businesses, while 8.5 percent of the contracts went to businesses owned by white women.
However, Wu noted that Black, Hispanic, and Asian residents make up more than half of the Boston population.
"It's simply not enough to stick with the paltry goal of 10% set by the last administration," Wu wrote in response to the news of the initiative launched by Janey, who announced this week that she would enter the race for a full term. "Time for bold action & real change."
Wu's campaign didn't provide a specific percentage when asked what goal Boston, which is 45 percent white, should set for increasing procurement diversity.
Sarah Anders, a spokeswoman for the campaign, said it should be "much higher" than 10 percent for minority-owned businesses. Anders noted that Philadelphia aims to fill at least 35 percent of all contracts through a minority-, woman-, or disabled-owned business (and the city — which is 63 percent Black, Hispanic, or Asian — has done so at a rate of between 30 and 36 percent in recent years). Atlanta, which is 48 percent Black, has also directed 23 percent of contracts to Black-owned businesses, and a combined 37 percent to businesses owned by minorities and white women.
"Boston should be setting the standard here and beating other cities, not falling well behind," Anders said.
Overall, 11.2 percent of businesses in Boston are owned by white women and 5.7 percent are owned by minorities, according to the city's recent study. However, critics say the city should overshoot in its procurement diversity goals to close "entrenched" disparities and support entrepreneurship in communities previously shut out of the process.
"We have to build the capacity of our businesses to be able to take advantage of these opportunities," Janey said during an appearance Thursday on GBH's "Boston Public Radio."
Her office announced "concrete actions" to advance that goal Wednesday, including a full-time, five-person team to develop inclusive procurement practices, monitor city contracts, provide technical assistance to businesses, and provide outreach to minority- and women-owned businesses.
"This is the taxpayers' dollars, and … we have a responsibility to spend them wisely," Janey said.
Jon Santiago is in the market for a new person to lead his mayoral bid, after his campaign manager, Victoria Williams, resigned six weeks into the job.
As the Boston Herald first reported Tuesday night, Williams "left the campaign to pursue other opportunities," according to Santiago's campaign.
"Thanks to her leadership, our organization has grown tremendously since launch day and is building citywide, neighborhood by neighborhood," the campaign said in a statement. "We're grateful for all that Victoria has done to lead us to this point."
Williams had previously spent half a decade in New Hampshire politics, working for Sen. Maggie Hassan for several years before becoming the state director for now-Tranportation Secretary Pete Buttigieg's presidential campaign.
Santiago's campaign is now in the process of hiring a new campaign manager.
With a call for bold leadership to address deep-rooted inequity as Boston climbs out of the COVID-19 pandemic, acting Mayor Kim Janey announced Tuesday she will seek a full term as the city's chief executive this fall.
"The work to address the challenges we face from COVID and racial inequalities that have been inherited from centuries of structural racism will take longer than a few months to change," Janey said at a press conference in Roxbury's Nubian Square. "It is going to take fearless leadership, bold action, and a commitment to doing the hard work to make Boston the equitable city our residents want, need, and deserve — and I am 100 percent committed to leading this change."
Cambridge Mayor Sumbul Siddiqui backs Andrea Campbell for mayor of Boston (April 5)
Andrea Campbell has picked up an endorsement from across the Charles River.
Cambridge Mayor Sumbul Siddiqui backed Campbell in the race to become Boston's next mayor, Campbell's campaign announced Monday.
Siddiqui became the first Muslim person to serve as mayor of a Massachusetts city when she was elected to the position by her fellow Cambridge city councilors last year. She has served on the City Council since 2018.
"I am proud to support Andrea Campbell for mayor of Boston, whose vision and plans to make Boston truly equitable for all will help our entire region," Siddiqui said in a statement. "Andrea cares deeply, leads authentically, and works collaboratively to address the inequities she experienced growing up in Boston that too many families in our communities still face."
Campbell said she is "humbled and proud to have the support of Mayor Siddiqui, whose own leadership I admire and whose partnership in the work to ensure equitable opportunity for all I am grateful for."
"From our higher education institutions, public transit, and local economy, collaborative leadership between the City of Boston and City of Cambridge is essential to creating an inclusive, equitable, thriving community for our residents, students, and workforce," Campbell said in a statement.
Siddiqui most recently served as honorary co-chair of Boston acting Mayor Kim Janey's transition committee.
Janey, who entered office late last month, has not yet revealed whether she will be entering the race to seek a full term. According to The Boston Globe, an announcement regarding Janey's intentions is expected this week.
Annissa Essaibi George unveiled a public health policy plan on Wednesday, calling for more support to better position community health centers as the backbone of the city's health care system.
"There's no question that this past year has amplified the conversation around the health and safety of our city and its residents. The pandemic has made it perfectly clear: our health care system, even in the world-class city of Boston, is broken. It has failed too many of our most vulnerable residents," Essaibi George said in a statement. "My plan will not only see our city through an immediate recovery, but gives us a long-term vision to help Boston through the next chapter and build a stronger, equitable health care system for all."
The plan lays out a vision for tackling some of the city's most pressing issues: recovering from the COVID-19 pandemic, access to substance use recovery services, availability of mental and behavioral health services, and addressing health care as it relates to violence and trauma.
Interwoven in that work should be more city-fostered partnerships with community health centers, according to the plan, which seeks to establish the centers as "the foundation of Boston's health care system."
"As Mayor, Annissa will give them the necessary support in order to continue providing the best possible care to our most vulnerable residents," the plan says. "These institutions have worked hard to build trust within the communities they serve and they will be critical partners in our work to increase access to care across all of Boston."
Specifically, Essaibi George pledged to dedicate city funding to support center initiatives; invest in "broader referral patterns between community health centers and city agencies;" create a public health care directory accessible through 311; and form a workforce development program with Boston Public Schools and higher education "to expand access to health care providers with racial, ethnic, and linguistic diversity," among other priorities.
The plan also calls for strengthening connections between the health centers and state initiatives and local nonprofit organizations to improve accessibility to mental health and behavioral health services.
According to Essaibi George's campaign, the local health care centers can also help bridge racial disparities in health care.
"Because along with a lack of coverage and care for too many, there are persistent racial inequities that plague our systems and everyday lives in this city – all leading to disparate health outcomes dependent on race, ethnicity, gender, immigration status, and the neighborhood in which you live," her campaign said in a statement. "As community led institutions, CHCs are uniquely positioned to combat these, provide culturally competent care, and improve the health of all Bostonians."
A "Restaurant Recovery Plan" released by Andrea Campbell this week seeks to set a cap on fees charged by third-party delivery companies to local eateries at 15 percent.
The provision is among several Campbell says is needed to support the city's restaurant industry as it works to survive and recover from the financial devastation brought on by the COVID-19 pandemic.
"Boston's restaurants ground us in the city's rich cultural diversity and international identity, and are a key part of why people choose to live in the City," Campbell said in a statement. "They are the site of our first date with our future partner, the places we gather with friends and family to celebrate milestones, and where co-workers become lifelong friends.
"The restaurant industry is also the nation's second largest private employer, creating low-barrier employment opportunities and driving economic activity in our neighborhoods," she added. "Boston must do more to support restaurants through the remainder of the pandemic, and to accelerate a rapid recovery of our restaurant industry as soon as the pandemic is over."
The plan was developed with and backed by several local chefs and restaurant owners, including Michael Serpa, chef and partner at Back Bay restaurants Select Oyster Bar and Grand Tour, and Atlántico in the South End, and Cassandria Campbell, founding partner of Fresh Food Generation in Roxbury, according to Campbell's campaign.
Campbell's vision calls for streamlining the city's permitting and inspection processes by creating a "Hospitality Division" at City Hall and for convening a 15-member "Hospitality Advisory Council" to advise officials on industry-related policies.
Campbell also wants the city to impose a cap on fees charged to restaurants by third-party companies such as GrubHub, Doordash, and UberEats.
As more customers opted for takeout at the onset of the pandemic last year, city councilors considered the 15 percent cap on fees after learning companies charge restaurants between 10 to 30 percent of the price of an order.
Restaurant owners said the measure was necessary to preserve their businesses while Grubhub pushed back on the effort, saying such a move would be government overstep. Other major companies did not take up invitations to testify before city officials.
"The Massachusetts Legislature has passed a bill to cap delivery fees at 15 percent, and the bill is on Gov. (Charlie) Baker's desk," Campbell's campaign website says. "Andrea will push for this to be implemented immediately to alleviate pressure on restaurants."
Other aspects of Campbell's plan call for reforming the city's process for granting liquor licenses. Campbell's campaign noted licenses can often fetch six figures and only "a handful of Boston's 1,100 liquor licenses are Black-owned."
Campbell also envisions expanding the city's "Open Streets" initiative across the city to promote small businesses through creating public gathering spaces.
For the first time next month, the candidates in the Boston mayor's race will gather — virtually — to take questions about how they would lead the city.
The Boston Ward 4 and Ward 5 Democratic Committees announced Thursday morning that they will host the first mayoral forum of the 2021 race on April 20 from 6:30-8:30 p.m. on Zoom. The event will also be livestreamed on Facebook and organizers are inviting the public to submit questions online.
The event, moderated by GBH host Callie Crossley, isn't a debate, so don't expect a frequent amount of back and forth between the candidates. But it's still an opportunity for mayoral hopefuls to highlight and contrast their platforms.
According to the forum hosts, all five currently declared candidates — John Barros, Andrea Campbell, Annissa Essaibi George, Jon Santiago, and Michelle Wu — have accepted invitations to participate. Additional candidates will be invited and announced as the field takes shape.
Acting Mayor Kim Janey, fresh off taking the oath of office on Wednesday, told reporters she will make a decision on whether to seek a full term and enter the mayoral race in the coming weeks.
"Right now, I'm focused on being mayor, but I will make a decision and an announcement in the coming weeks," Janey said during a press conference at City Hall Plaza.
Whether Janey, the District 7 city councilor, will enter the fray has been a major question mark since it became clear former mayor Marty Walsh would leave the job for the Department of Labor. Under the city charter, Janey — who, until this week, was the City Council president — was elevated to the mayor's seat through this fall's election.
Janey appears to be giving the possibility of a run some serious thought. The acting mayor is soliciting donations via her transition website, in emails to supporters, and during an event held via Zoom Tuesday night ahead of her swearing-in ceremony.
"We really want to grow our base," a Janey aide told supporters there, according to Politico. "If she does decide to run, we want to be able to have her make that decision, not because of what is in the bank account."
Janey, a former education advocate, was first elected to the City Council in 2017.
Although Marty Walsh is no longer the sitting mayor of Boston as of Monday night, he has no apparent plans to wade into the escalating race to choose his elected successor.
The Dorchester Democrat, who was off to Washington D.C. on Tuesday to serve as President Joe Biden's labor secretary, told reporters he will not endorse a candidate in this election cycle.
"I will not be playing a role in the mayor's race," he said at a press conference shortly after the U.S. Senate confirmed his nomination to his new post. "It is not right for me to play a role in the mayor's race."
Walsh said he personally knows all of the declared candidates to date, pointing to how one candidate grew up on the same street as him and others either worked for him or alongside him.
"It's no place for me to be involved," he said.
Still, Walsh acknowledged the historic nature of the race which boasts a diverse field of candidates — the majority of them women — made up entirely of minorities.
"I think that the person who follows me as mayor, potentially will be a first — and that's a good thing for the city," he said.
Walsh's departure to the federal government blew open the mayoral race set for this fall, stoking rumors about who would enter the fray and who would sit it out.
While several candidates launched campaigns when it became clear the popular incumbent would no longer be on the ballot, city councilors Michelle Wu and Andrea Campbell both declared their candidacies before a "Secretary Walsh" became probable.
And Walsh, for his part, had planned to take them on in a bid for a third term, he said Monday.
"I had a whole team of people and consultants and the whole deal. We ordered new bumper stickers, too," Walsh said. "So if you want a bumper sticker we can do a good price on an old Marty Walsh bumper sticker. There's like, two on cars right now."
Asked whether he'll run for office sometime again, Walsh said he wasn't sure.
"God only knows. I didn't expect to be secretary of labor so I don't know what's gonna happen," he said. "I mean, I'm not gonna rule anything out but trust me, it's not top of mind right now … I just want to do the best job I can do for the American people. There's lots of work to do in Washington D.C."
After resigning from her post as Boston's first equity chief earlier this month, Karilyn Crockett says she won't be entering the mayor's race — at least not this year.
"The timing is not right for me to make a run this round, but I remain grateful and energized by our collective fight to make Boston a better, stronger and more equitable city for all of us every single day," Crocket said in a Facebook post Sunday.
The announcement comes after GBH reported that the 47-year-old Dorchester native was thinking about joining the increasingly crowded field against established candidates who had already built sizable political organizations.
In her post Sunday, she thanked "everyone who reached out and encouraged" her to consider the race.
"As a born and raised Dot girl, dreaming big for the city that raised me is one of my heart's greatest joys," Crockett wrote.
Jon Santiago received two more endorsements Thursday from fellow Massachusetts state representatives from Boston.
Reps. Mike Moran and Kevin Honan — two longtime Allston-Brighton legislators — backed Santiago in the Boston mayor's race, calling the South End Democrat a "crisis leader" who would best lead the city's recovery from the pandemic.
Moran, the assistant House majority leader, cited Santiago's work as an emergency room physician and efforts to distribute vaccines. Honan, the longest-serving House member and former Housing Committee chairman, said he had watched Santiago grow into "a convener, collaborator and doer who has become a leading voice on equity and opportunity for our city."
Santiago said he was honored to have the support of the two local "fixtures." The news Thursday gives Santiago three supporters among Boston's House delegation, following Ways and Means Chairman Rep. Aaron Michlewitz's endorsement earlier this month.
Andrea Campbell puts forward a transportation plan that embraces everything (except cars) (March 12)
Andrea Campbell's mayoral campaign released a sweeping transportation plan this week focused on creating "15-minute neighborhoods" and calling for increased investment in all modes of transit infrastructure — with the exception of cars.
"Past decisions about street design and priorities emphasized moving cars through our neighborhoods as quickly as possible," the plan says. "Now, it is time to prioritize movement of everyday residents within our neighborhoods."
Campbell's plan goes onto embrace everything from more pedestrian-friendly streets to increased bike lanes to the legalization of electric scooters and e-bikes to ambitious expansions of the region's train and ferry systems.
"With city-led investments, intentional zoning, and mixed-use, transit-oriented development, residents can have everything they need — grocery stores, schools, parks, small businesses — within 15 minutes of their doorsteps," the plan says.
The 15-minute neighborhood concept is an idea that has increasingly been adopted by mayoral candidates in other cities across the country.
Campbell's plan includes hiring more planning staff to further accelerate projects, while also investing in community engagement and adding a "Safety Impact Review" layer to the approval process to assess the effect of developments on sidewalks and streets, as well as expanding pilot programs to replace street parking with outdoor dining and other walkable spaces.
She also calls for eliminating fares on the MBTA bus system — a plank that fellow city councilor and mayoral candidate Michelle Wu has championed — and increasing the number of bus-only lanes in Boston.
Campbell also pledges to advocate for the long-delayed MBTA link connecting the Red and Blue lines, and even the use of the T's Red Line test track to provide passenger service between the Dorchester, Roxbury, and Mattapan neighborhoods and the Seaport District.
Her plan also voices support for a "regional rail" network (as opposed to one focused on commuters) that better connects Boston residents to jobs, family members in other communities, and places outside the city. It also envisions a more robust MBTA ferry system that services East Boston and Dorchester.
"Boston has an historic opportunity to rebuild and reimagine our city's transportation system with safe and well-connected streets, better buses, and less traffic and air pollution," Campbell said.
Read the full plan here.
In the midst of the COVID-19 pandemic, Annissa Essaibi George is receiving the backing of the state's largest nurses' union.
The Massachusetts Nurse Association announced Wednesday that they're endorsing Essaibi George's mayoral campaign, citing her advocacy for public health and frontline workers long before the pandemic.
"Just as MNA nurses and healthcare professionals have always been on the frontlines of healthcare – during the COVID-19 pandemic and beyond – Annissa has long dedicated herself to improving public health by elevating and meeting the social, environmental and emotional needs of all Boston residents," Katie Murphy, the president of the 23,000-member union, said in a statement.
The MNA noted that Essaibi George was one of the three Boston city councilors that filed a resolution last year (which was approved unanimously) in support of a nurse protest of staffing levels at St. Elizabeth's Medical Center in Brighton, as well as her advocacy for addressing the opioid epidemic, homelessness, and insufficient mental health care in Boston.
The MNA also backed Marty Walsh in his victorious 2013 mayoral campaign. The group is known for its strong political advocacy and was the driving force behind the unsuccessful Question 1 statewide ballot measure in 2018.
"Nurses show up," Essaibi George said in a statement.
"Before, during, and after a global pandemic, they show up day after day, night after night, to keep our residents safe and healthy,' she said. "I'm proud to stand by their side as we continue to increase access to quality care, tackle health disparities, fight for workers' rights, address our mental and behavioral health crisis, and ensure a safe, happy, and healthy future for every single Bostonian."
Kim Janey hasn't said if she'll run for a full term as mayor of Boston.
However, the Boston City Council president and soon-to-be acting mayor's new "mayoral transition" website certainly has the looks of a campaign.
The refreshed website, which Janey announced Sunday, features webpages on the Roxbury native's biography, transition team, and press coverage, as well as a link to donate to her campaign committee, which is still registered as a city council candidate account. The site's search engine optimization headline simply states "Kim Janey | Mayor of Boston."
Janey has said she will seriously consider running for a full term as mayor, as she prepares to take over in the interim role in the wake of Mayor Marty Walsh's impending departure to become President Joe Biden's labor secretary.
According to the Boston Herald, the District 7 city councilor also sent out a fundraising email Saturday promoting the new site.
"From taking the bus to Charlestown as an 11-year-old girl, to taking the bus to City Hall as Boston's first Black, first woman mayor, Kim Janey will be a mayor for every Bostonian," reads the donation page.
After scrutiny, discussion, the strokes of pens from both Mayor Marty Walsh and Gov. Charlie Baker, and lengthy public hearings, the home rule petition to forgo a Boston special election this year is apparently now a moot point.
Last month, city officials signed off on the measure to nix an election required under the city charter to select Walsh's successor as he anticipates becoming the nation's next secretary of labor. Baker followed through with his own approval of the move just last week.
The charter mandated an election be held should Walsh vacate his current post by March 5 — this Friday.
Lawmakers, advocates, and others argued that with already scheduled preliminary and general elections this fall for the mayor's seat, additional contests would only threaten to disenfranchise, confuse, and risk the health of voters during the COVID-19 pandemic, not to mention the price tag for the city.
But as of Friday, the U.S. Senate had not confirmed Walsh to the post President Joe Biden tapped him to serve in, nor is there a vote scheduled, even nearly two months after the president officially nominated Walsh to his cabinet.
Biden first announced that Walsh, a former union leader from Dorchester, was his pick to helm the Department of Labor on Jan. 7.
The mayor was questioned by the U.S. Senate Committee on Health, Education, Labor, and Pensions in a rather mild hearing on Feb. 4, and that same committee voted 18-4 to advance Walsh's nomination to a Senate vote the following week.
The Senate, of course, had a busy February.
Federal lawmakers held an impeachment trial for former President Donald Trump and ultimately voted to acquit him of the charge of inciting the mob that stormed the U.S. Capitol on Jan. 6.
The Senate is now engaged in debate over Biden's proposed $1.9 trillion coronavirus relief bill, which would, in part, grant eligible Americans $1,400 stimulus payments if approved.
According to the Associated Press, Biden's cabinet is forming at "the slowest pace of any in modern history" with a little over a dozen nominees confirmed as of Tuesday.
That day, the Senate voted to confirm Rhode Island Gov. Gina Raimondo to serve as secretary of commerce. Raimondo was, notably, nominated by Biden on the same day as Walsh.
Karilyn Crockett, the city's first equity chief, is resigning from her post on Friday after just over eight months on the job. And according to GBH, which first reported Crockett's resignation, sources close to the 47-year-old Dorchester native say that she is weighing a run to be Boston mayor.
Crocket, who was on leave from her assistant professor position at MIT to lead the city's Office of Equity, did not immediately respond to a request for comment. An automatic reply from her city email Thursday said that she had "completed my service as Chief of Equity for the City of Boston but our work steadily continues."
Read the full story here.
After deciding against running for Boston mayor himself, state Rep. Aaron Michlewitz, a North End Democrat and chairman of the House Ways and Means Committee, announced Thursday that he's endorsing fellow state Rep. Jon Santiago in what's now a five-person race.
"Our city stands on the precipice of a new era of leadership and I know Jon's experience as a doctor, a veteran, a Peace Corps volunteer, and as a state representative make him the most qualified to lead us into that new era," Michlewitz said in a statement. "He will help us recover as a city and region."
The endorsement comes after Santiago announced Wednesday that his campaign had raised more than $274,000 in the month of February, after officially entering the race last Tuesday following weeks of speculation. The haul was, narrowly, the largest monthly fundraising total of any candidate in the Boston mayoral race (Michelle Wu and Andrea Campbell raised $267,130 and $272,288, respectively, in January).
Santiago said Thursday that he was "humbled" to receive Michlewitz's support.
"Having worked with Chairman Michlewitz on Beacon Hill to deliver urgently needed results for our city and state, I've seen firsthand how much he cares about our city and expanding opportunity for all," he said.
John Barros will launch his campaign to become Boston's next mayor Thursday morning, becoming the fifth candidate in what's shaping up to be a crowded race.
The announcement comes after weeks of speculation that the city's longtime economic development chief would run for the office, which was further fueled by his resignation last week from that post.
Read the full story here.
City Councilor and candidate for mayor Andrea Campbell on Monday released an environmental plan geared around climate justice, focusing in particular on communities of color that have disproportionately shouldered the impacts of climate change and other issues for decades.
"The climate crisis is a public health crisis and its impacts are visible everyday, from the flooding on Morrissey Boulevard to the devastating health disparities and COVID-19 mortality in communities of color due to higher rates of air pollution," Campbell said in a statement. "With plans that center environmental justice and equitably invest in climate resiliency, Boston can lead the nation in tackling the climate crisis while building an equitable, sustainable economy and improving public health."
Campbell's vision outlines five strategies, from putting environmental justice at the forefront and creating pathways to green economy jobs, to prioritizing sustainability and resiliency in public property, reducing traffic and transportation emissions, and rolling out more sustainable housing and development.
The District 4 city councilor vowed to work with communities of color "and those most vulnerable to climate-related disasters" to make certain that projects built in their neighborhoods are climate resilient and meet city environmental priorities.
Elsewhere in the proposal, Campbell eyed making city-owned buildings and vehicles carbon neutral by 2035, increasing energy efficiency in Boston Public Schools, and putting in place additional waste reduction strategies such as curbside composting as city-operated services, among other ideas.
The plan frames Boston's potential for being a national and global urban leader in cutting down carbon emissions and boosting the use of green technology.
"Today, more than half of the world's population lives in cities and those cities are responsible for over 70 percent of the world's energy-related carbon emissions," the plan says. "Because our national leaders have largely ignored this crisis, Boston must rise up and show how cities can indeed address the climate crisis by engaging all communities including communities of color, and in a way that makes cities and local economies more resilient, equitable, and sustainable."
Boston will avoid holding multiple mayoral elections (Feb. 26)
BOSTON (AP) — A measure aimed at eliminating the need for a special election in Boston if Mayor Marty Walsh steps down to become President Joe Biden's labor secretary was signed into law by Gov. Charlie Baker on Friday.
The home rule petition, which was approved by the Boston City Council and state lawmakers, aims to avoid the need to conduct a special election just months before holding the regular municipal election in the fall.
Both the special election and regular municipal election would have required holding preliminary and general elections — essentially four elections in Boston in the space of less than a year.
If Walsh is confirmed and steps down, current City Council President Kim Janey will assume the role of interim mayor until the fall election. She will be the first woman and first Black Bostonian to serve as mayor.
There are four declared candidates for the top City Hall post, including three women of color who are also all city councilors: Michelle Wu, Andrea Campbell and Annissa Essaibi George, and Democratic state Rep. Jon Santiago, who is Latino.
No woman and no person of color has served as mayor of Boston in the city's long history.
— Associated Press
Boston's economic development chief to step down ahead of potential mayoral run (Feb. 24)
After more than seven years as Boston's economic development chief, John Barros is stepping down this week.
Mayor Marty Walsh's office confirmed Wednesday that Barros submitted his resignation letter last Friday saying that this upcoming Friday, Feb. 26, will be his last day.
"John has been a valued member of my team, and we're grateful for all of his work on behalf of the people of Boston," Walsh said in a statement. "We wish him well as he starts this new chapter."
The letter, which was first reported Tuesday night by The Boston Globe, comes amid speculation that Barros will become the fifth candidate to enter the city's open mayoral race, in the wake of Walsh's expected confirmation as President Joe Biden's labor secretary.
Barros, who also ran for mayor in 2013, told the Globe earlier this month that he's having "really encouraging conversations across the city" about a potential campaign.
Andrea Campbell proposes $50 million cut to Boston police budget as part of sweeping reform plan (Feb. 24)
Boston city councilor and mayoral candidate Andrea Campbell is proposing to reallocate at least 10 percent of the Boston Police Department's budget — or roughly $50 million — to invest in public health, economic justice, and youth development strategies as part of a sweeping public safety plan released Wednesday.
"It's time we reimagine our approach to public safety to address root causes of violence and crime, and invest in strategies that support public health, economic justice, and youth development to heal and empower our communities and break cycles of generational poverty, trauma, and incarceration," Campbell, whose life has been deeply impacted by the criminal justice system, said in a statement.
The plan comes after Mayor Marty Walsh said in June that he would shift $12 million from the BPD's overtime budget to community programs aimed at reducing inequality in the city (though city councilors have questioned if the city will meet that goal).
To make another $50 million in cuts, Campbell is floating budget reforms such as eliminating the four-hour overtime minimum; transferring certain overtime jobs, such as construction details, to civilians; scaling back the Boston Regional Intelligence Center; and eliminating the department's gang and bike units to free up capacity for the city's busiest police districts.
Her wide-ranging plan also calls for a new "co-responder" system — a model that involves law enforcement officers and clinicians working together — to respond to non-violent 911 calls. It would also make direct investments in youth job and development programs and in revitalization initiatives in communities considered "hot spots." Additionally, Campbell's plan would remove police from Boston Public Schools by eliminating the role of school resource officer and using those funds to invest in more school counselors, nurses, and clinicians.
Campbell says she would also implement Boston's recently established police accountability office, as well as approve an ordinance to severely limit the use of military enforcement tactics like tear gas and rubber bullets by Boston police, which was vetoed last month by Walsh.
"As mayor, I will ensure our Boston Police Department is the most transparent and accountable in the nation, make Boston a leader in criminal justice reform and effective reentry, shift our school safety approach to a restorative justice model, and ensure all Bostonians feel safe in their communities," Campbell said.
Teamsters Local 25 endorses Michelle Wu for Boston mayor (Feb. 23)
Teamsters Local 25, the largest Teamsters union in New England, is endorsing Michelle Wu to be the next mayor of Boston.
"Michelle Wu is a strong leader who will stand-up for our members during this unprecedented time when greedy corporations are trying to expand profits at the expense of workers," Sean O'Brien, the Charlestown-based union's president, said in a statement Tuesday, calling the at-large city councilor a "relentless" fighter for better wages, health insurance, retirement benefits and improved working conditions.
"As the daughter of immigrants, Michelle shares our vision for the City of Boston, with an understanding that access to training and other neighborhood resources will help the working class that makes this city great," O'Brien said.
Local 25 is one of eight Massachusetts-based local Teamster chapters, and comprises more than half of the state's 23,000 Teamster members. The union also endorsed Mayor Marty Walsh in the city's last open mayor's race.
"Knowing that the 12,500 hardworking members of Teamsters Local 25 have my back in the race to become the next elected mayor of Boston is a great honor," Wu said Tuesday.
WAKANDA II looks to unite voters behind Black candidate for Boston mayor (Feb 23)
In 2018, the so-called Wakanda I initiative successfully helped rally Black voters around Rachael Rollins in the Suffolk County district attorney's race.
Now, community leaders are hoping for a sequel.
According to The Boston Globe, former state Sen. Dianne Wilkerson is spearheading an effort dubbed WAKANDA II, intended to unite the city's Black voters around a single candidate of color in the wide-open 2021 mayoral race. The effort may also expand to the up to four City Council seats that could open up this cycle.
"We have an opportunity here to upend and reshape the whole composition of the city government, and we're going to take it," Wilkerson told the Globe.
Currently, while all four candidates in the Boston mayor's race are people of color, only one, City Councilor Andrea Campbell, is Black. However, two other Black candidates may join the field: soon-to-be acting mayor Kim Janey, the City Council president, is considering running for a full term. And the city's economic development chief, John Barros, is also expected to run.
The effort comes after two white men, Marty Walsh and John Connolly, emerged from the 12-person preliminary mayoral field in 2013, in which half the candidates were Black or Hispanic. Boston has never elected a woman or person of color as mayor.
Wilkerson's effort does some have detractors in the Black community, who called such moves to coalesce support around one candidate at the expense of others "brutal" and "presumptuous." But Wilkerson says they're not asking anyone to drop out and that the group — which so far includes 150 people in the area — will make a decision based on a questionnaire sent to mayoral hopefuls with questions about issues like education, criminal justice reform, housing, and systemic racism.
"We expect people will make whatever decision that makes sense for them, but we will be clear that once we're settled on a candidate, we're going all in," she told the Globe.
Jon Santiago officially launches mayoral campaign (Feb. 23)
Jon Santiago is making it official.
The second-term Massachusetts state representative, who also serves as an emergency room physician at Boston Medical Center and as a captain in the U.S. Army Reserve, announced Tuesday that he is seeking a new job: mayor of Boston.
"The only reason I got into politics is because I wanted to have a bigger impact," Santiago told Boston.com in an interview, highlighting the stark inequalities that have only been deepened by the COVID-19 pandemic.
Read the full story of his campaign launch here.
Annissa Essaibi George releases first mayoral campaign video (Feb. 17)
Annissa Essaibi George released the first video of her 2021 mayoral campaign Wednesday, "Every Bostonian, Every Experience," in which the Dorchester native and first-generation American pledges to listen and learn from Boston residents across the city.
"It has to be every experience that informs the work," Essaibi George says, leaning on her own unique background.
The daughter of immigrants, Essaibi George, a city councilor, is the mother of four sons and the owner of a small sewing shop in Dorchester. But the video released Wednesday primarily highlights her experience as a teacher at East Boston High School.
"I know without a doubt I was elected because of my years in the classroom," she says in video, adding that she had "a front row seat" to the housing insecurity, food insecurity, and lack of economic opportunity that many students faced.
"To have a teacher in the mayor's office, leading with those experiences will have such an impact on our families across the city," she said. "I'm running for mayor, not just to get through this crisis. I want to be mayor of this city for its future, for this period of sustained recovery and rebirth."
Andrea Campbell calls for "Teacher Vaccination Week" to facilitate school reopening (Feb. 16)
Boston city councilor and mayoral candidate Andrea Campbell is calling on the city to hold a "Teacher Vaccination Week" in order to more quickly reopen schools for in-person learning.
While not fully formed, Campbell's campaign says the idea is intended to promote the mass vaccination of teachers in Boston, including vaccination sites specifically dedicated for the city's educators and school staff, when they become eligible under the state's three phase rollout.
"Many Boston families are desperate for their children to return to in-person learning, and I believe it's critical that all families have the opportunity to do so – safely – before the end of this school year," Campbell said in a press release Tuesday. "We also need to make sure that our teachers' health and safety is protected."
The idea headlines Campbell's long-term education plan, released less than two weeks before Boston Public Schools begins its phased return to in-person learning next month.
While a majority of states have allowed at least some teachers to get the COVID-19 vaccine, Massachusetts is not one of them. Currently, staffers from early education through high school are in the third group of Phase 2 of the state's vaccine rollout. It's unclear when that stage will begin.
Recently released federal guidelines are encouraging the mass vaccination of teachers as a strategy for reopening schools, though not necessarily as a prerequisite.
Andrea Campbell calls on state to rescind or revise new vaccine accompaniment policy (Feb. 11)
Andrea Campbell on Thursday urged state officials to either rescind or revise a new policy unveiled only one day earlier that allows people who accompany eligible, senior vaccine recipients to also receive vaccine doses.
The call comes as Craigslist advertisements from across the state have cropped up with offers for free rides to seniors ages 75 and older — the demographic that can receive the shot — in exchange for the opportunity to join them at their appointments.
"While it may have been well-meaning, it took less than 24 hours for this new state policy to be abused," Campbell said in a statement. "It's the wrong approach when those who need it most — seniors, essential workers, teachers, Black and brown residents in communities where infection rates are highest — are still waiting for their chance to be vaccinated."
Campbell noted that with health disparities, "Black people, especially Black men, often don't make it to 75."
State officials should either rescind the policy or limit who may accompany eligible patients to only Massachusetts residents who are 65 and older, "and immediately open up appointments to these other individuals," Campbell said.
Gov. Charlie Baker, on Thursday, said it was "pretty disturbing" that some were trying to take advantage of the program through those kinds of offers.
"If you're 75 years or older and you need assistance going through the vaccination process, you should only reach out to somebody that you know or trust to bring you as your companion," Baker said.
The policy is intended for someone like a child, spouse, neighbor, or caregiver to tag along, he said.
"Don't take calls or offers from people you don't know well or trust, and never share your personal information with anyone," Baker said. "If you're contacted by somebody soliciting to take you to a site, please report it to the authorities."
Ayanna Pressley's husband, Conan Harris, encouraging Boston's economic development chief to run for mayor (Feb. 8)
Boston's economic development chief, John Barros, is reportedly on the verge of launching a second campaign for mayor — and with the backing of the spouse of one of the city's most influential elected officials.
The Boston Globe reported Saturday that Conan Harris, the husband of Rep. Ayanna Pressley, has been encouraging Barros to enter the race to replace Mayor Marty Walsh, which currently consists of three of the Massachusetts congresswoman's former City Council colleagues.
"John is a Boston guy,'' Harris, who worked with Barros as a fellow member of Walsh's administration, told the Globe. "He grew up in Boston, he's attended Boston schools and he's worked in Boston."
The two men reportedly became close friends during their time together at City Hall. Harris served as Boston's deputy director of public safety and as the executive director of the city's My Brother's Keeper partnership for several years up until 2020 when he left to launch a private consulting firm.
Barros, who placed sixth in Boston's 2013 mayoral preliminary election, has been the city's chief of economic development since 2014. According to the Globe, supporters say the Roxbury native would provide continuity in the midst of a tumultuous year. Barros, who is 47, told the Globe that he is having ""really encouraging conversations across the city."
Pressley herself has yet to make any endorsements in what's currently a three-way race between councilors Michelle Wu, Andrea Campbell, and Annissa Essaibi George.
—Nik DeCosta-Klipa
Jon Santiago says his skillset 'lends itself' to being Boston's next mayor (Feb. 8)
State Rep. Jon Santiago isn't officially in the race to be Boston mayor, but the South End Democrat does think someone with his skillset would be well suited for the job.
"There's no doubt that this mayoral election will be, I would argue, the most consequential race in Boston's history," Santiago said during an appearance Sunday on WCVB's "On The Record."
"We have a virus that has upended our society, our schools, our economy, our health care system," he continued. "I think what I'm most worried about is what's the Boston that will come back from this. And I would argue that the next two, three, four years really needs to be rooted in equity and opportunity, and I think that my skills and track record — be it in my ER physician role, state representative role, or as serving in the United States military — really lends itself to address those issues and leading Boston through that crisis."
The interview comes after multiple outlets reported last week that Santiago has privately decided to run. Santiago said Sunday that he's taking a "hard look" at the race, discussing the idea with family, friends, and colleagues both at Boston Medical Center and on Beacon Hill.
"My wife has veto power," he said, adding that he expects to announce a decision in the "next couple weeks."
—Nik DeCosta-Klipa
Boston state Rep. Jon Santiago reportedly on the verge of announcing mayoral run (Feb. 5)
And then there were four?
Massachusetts state Rep. Jon Santiago, a South End Democrat, is reportedly on the verge of entering the race to replace Boston Mayor Marty Walsh, joining the three city councilors who have already declared their candidacies.
According to a Politico report Friday morning, two sources who had spoken with Santiago said the South End Democrat has been privately telling allies and others that he's decided to run for mayor. The report comes after a Boston Globe article Thursday night similarly suggested that a decision has already been made:
One person who spoke to Santiago told the Globe the lawmaker called him late last week, saying he intends to run and asked for his support. Another person said the 38-year-old hasn't said he will launch a campaign, but that he is trying to gauge who he could include on a potential staff and finetune what his message would be.
According to the Globe, Santiago said he's still "seriously considering" a campaign.
An emergency room physician at Boston Medical Center and Army Reserve captain, Santiago defeated longtime state Rep. Byron Rushing to win his seat in 2018. He has also become a prominent voice since the beginning of the COVID-19 pandemic, using his Twitter account to provide a firsthand perspective of the virus's toll, especially on communities of color.
Santiago, who would also be the first man to enter the Boston mayoral race, also got a big shout out earlier this week from Red Sox President Sam Kennedy during a press conference at the new Fenway Park vaccination site.
"I call him Superman," said Kennedy, who has previously donated to Santiago's campaign. "He's on the frontlines dealing with the crisis at Boston Medical, he served his country overseas, helping us protect our troops. He's a great leader in our city."
—Nik DeCosta-Klipa
Boston mayoral candidates respond to allegations against new BPD commissioner (Feb. 4)
Boston city councilor and 2021 mayoral candidate Andrea Campbell characterized the emergence of a 1999 domestic violence allegation against newly appointed Police Commissioner Dennis White as a "failure to properly vet" the longtime cop by Mayor Marty Walsh's administration.
But she also said the issue is "bigger" than just that.
"The systemic lack of accountability for wrongdoing and transparency in BPD is a trend, from serious domestic violence allegations that are swept under the rug to BPD officers' potential participation in the attack on the U.S. Capitol, and complaints about the repeated use of excessive force against Black and brown people and peaceful protesters," Campbell said in a lengthy statement Thursday reacting to the news.
"Until we have this kind of public accountability and transparency, BPD will continue to struggle to properly serve, build trust with our communities, and create an internal culture that encourages officers to root out wrongdoing," she added. "This hurts residents as well as officers who show up every day to exercise their duties honorably."
White was sworn in as BPD commissioner on Monday after his predecessor, William Gross, abruptly announced last Thursday that he was retiring the following day. However, the city placed the 32-year veteran of the force on leave Wednesday, after The Boston Globe inquired about an allegation that White pushed and threatened to shoot his then-wife in 1999 and was later ordered to stay away from his family.
Campbell, who has called for a stronger police oversight board, said the incident was part of a "pattern." The surfacing of the allegations against White come after an investigation was launched into whether another officer attended the Jan. 6 riot at the Capitol, the emergence of footage of officers using force against nonviolent protesters, and revelations about an officer accused of sexual assault.
"I will continue to push the City to investigate this wrongdoing, and ensure the City immediately implements the Office of Police Accountability and Transparency along with other essential policing reforms," she said, to the city's recently created police oversight office.
Campbell's statement was echoed Thursday afternoon by fellow councilor and mayoral hopeful Michelle Wu.
"The City must investigate these very serious allegations, and I urge our next Commissioner to lead a complete overhaul of the culture and lack of transparency at BPD," Wu told Boston.com in a statement Thursday afternoon (Walsh appointed Boston Police Superintendent-in-Chief Gregory Long to serve as acting commissioner while the city investigates White).
The calls come after Councilor Annissa Essaibi George, who became the third candidate to enter the mayoral race last week, tweeted Wednesday night that she supported Walsh's move to place White on leave and launch an investigation.
"Every possible incident of domestic violence is a big deal," Essaibi George said. "There are no exceptions. We deserve to know that the leaders we trust to keep our community safe can live up to the highest possible standard in their own lives."
Michelle Wu eyes possibility of city-owned broadband network in 'digital equity' plan (Feb. 2)
Michelle Wu says if elected mayor, she would explore the possibility of creating a city-owned broadband network to bring affordable Internet access to every resident and business.
The at-large city councilor raised the idea in her five-part plan, "Building a Connected City: Digital Equity Through Boston's Recovery & Beyond," unveiled Tuesday. The agenda aims to strengthen the city's digital infrastructure, especially in light of the COVID-19 pandemic, which has exposed inequity in access to reliable Internet.
In Boston, almost 15 percent of households do not have an Internet subscription and over 32,000 households — primarily for Black, Latinx, and immigrant residents — do not have any Internet access, according to Wu's campaign.
"The pandemic has made it clear that the digital divide reinforces every inequity across our city. As we plan for Boston's recovery, we must urgently recognize Internet connectivity and hardware as critical infrastructure," Wu said in a statement. "It's time to build connected communities through digital equity across our neighborhoods."
A municipal broadband network is one avenue the city could explore, according to Wu.
Elsewhere in the plan, Wu calls for creating "digital resource and learning hubs" in schools, community centers, and libraries for students and families, seniors, job seekers, and aspiring entrepreneurs to use for accessing the Internet and various technology and learning digital skills.
The plan also outlines conducting an audit of public buildings to find ways to upgrade infrastructure and remove barriers to affordable and reliable Internet service.
"Given the expense of home Internet plans, approximately 8 percent of households in Boston access the Internet exclusively through a smartphone plan, constantly monitoring data usage to remain within their monthly data limit, for fear of incurring burdensome fees or losing service altogether," the plan says. "While the City works with partners to expand affordability and access to home Internet options, digital tools should meet residents where they are as they move throughout the city. The MBTA has already extended WiFi to the commuter rail, but we need City leadership to close gaps through an equity lens."
To do that, the city should use its resources to install free and secure public WiFi at bus stops and along routes, and work with the MBTA to receive federal and state funding to expand WiFi to subway stations, according to Wu's plan.
Other points in the agenda call for a need to strengthen access to telemedicine beyond the pandemic. Wu suggests creating dedicated spaces for city employees to use for telehealth appointments and encouraging private employers to follow suit.
"Telemedicine by phone or video can dramatically expand access to physical and mental healthcare services – even outside of the pandemic," the plan says. "But we must continue working swiftly to address the digital gaps that act as a barrier to accessing care. With City leadership, telemedicine can equitably connect our residents with and remove barriers to essential health services."
Wu's latest plan comes on the heels of a major fundraising month for the campaign.
In January, Wu took in over $267,000 with almost 1,800 individual donors — the most Wu has raised in a single month since declaring her candidacy in September, according to an email sent to supporters on Tuesday.
Fellow city councilor and mayoral hopeful Andrea Campbell this week also reported January as her best fundraising month on the campaign trail to date.
The windfall arrived as Mayor Marty Walsh announced he accepted President Joe Biden's offer to serve as secretary of labor pending confirmation by the U.S. Senate, essentially ending the possibility Walsh would seek a third term.
Read Wu's full digital equity plan.
Andrea Campbell: Voters should place ongoing conversation on racism 'front and center' in election (Feb. 2)
City Councilor and mayoral hopeful Andrea Campbell says voters should keep Boston's history with and ongoing dialogue on race front of mind as they consider selecting the city's next mayor.
Campbell, in an appearance Sunday on MSNBC's "The Week with Joshua Johnson," said Boston has a "unique opportunity that we won't necessarily get (again) anytime soon … to confront our own painful history of racism, segregation."
"To do that we need leadership not only that is bold and courageous, but leadership that understands those inequities, and has lived them," Campbell said, when asked why voters should choose her.
The District 4 city councilor and Boston native launched her campaign in September, shortly after fellow City Councilor Michelle Wu announced her run.
Last week, City Councilor Annissa Essaibi George entered the race following news Mayor Marty Walsh was tapped by President Joe Biden to serve as secretary of labor.
"Boston has a lot of things to deal with, as does every major city," Johnson told Campbell on Sunday. "It's kind of why I love covering mayoral politics, because as mayor, you can't hide behind rhetoric, you have to get things done. You have to pave potholes…
"But where should Bostonians put this dialogue about race and gender and the city's history in their considerations along with paving potholes, improving the T, thinking through the city's future, vaccinating residents?" Johnson added. "How does that fit into the mix of how residents should pick their next mayor?"
Campbell responded: "It should be front and center."
She referenced how the nation experienced the death of George Floyd last year and the insurrection at the U.S. Capitol building last month.
"White supremacists and race and racism and marginalization, segregation — it is real," Campbell said. "And so this is our opportunity in the city of Boston to say if we're going to move forward and ensure that our city provides equitable access, not only of course, to testing and vaccines in the midst of COVID, but to opportunity generally, then we have to confront our painful history of race and racism, which allows persistent inequities in the city of Boston, whether in education, housing, policing, our criminal legal system, to persist.
"And if we are going to eradicate those inequities, we have to grapple with the root causes," she continued. "And we need a leader who is unafraid to do that, and I'm not afraid."
Campbell's campaign received a notable boost in January with news of Walsh's planned departure to Washington, D.C., pending his Senate confirmation.
On Monday, the campaign reported raising over $275,000 last month, with most of the cash pouring in after Walsh announced he accepted Biden's nomination.
The haul — of which just over $272,000 came from some 900-plus donors — is also the largest Campbell has raised in a single month to date. According to the campaign, Campbell has now brought in almost $600,000 since announcing her run — more than any other Black candidate for mayor has ever raised in Boston.
Watch the full MSNBC interview.
The state of the race so far (Feb. 2)
Boston is facing what is already shaping up to be a historic election year as city councilors Michelle Wu, Andrea Campbell, and Annissa Essaibi George are running to become the city's next mayor.
Never before have there been three women — all of them of color — at a single time seeking the city's top job, an office that has only been held by white men.
Each has offered how their lived experiences would serve to better address longstanding inequalities and disparities plaguing communities across the city.
Wu, 35, kicked off her campaign in September. The Chicago native and at-large councilor asserted that Boston needs "leadership that matches the scale and urgency of our challenges," from the ongoing COVID-19 pandemic to the push to tackle systemic racism.
"Business as usual has been failing Bostonians since well before the pandemic, and COVID-19 has exposed and exacerbated deep inequities across our city," Wu said at the time. "In this moment of crisis, it's not only possible but necessary to reimagine community-based leadership with the vision and conviction to act."
Campbell, 38, announced her run shortly after Wu last fall. The District 4 councilor, who grew up in Boston, has said she experienced the inequity of the city firsthand and has set her sights on addressing the stark contrast between lower-income Black and brown communities and the city's downtown economic centers.
"In this profound moment of reckoning for our country and our city, as people rise up to demand change, Boston needs leadership that not only understands, but has lived the systemic inequities facing our residents every day," Campbell said in a statement in September. "I'm running for Mayor to be that leader, to bring our city together to confront inequities head-on, and finally make Boston a City that works for everyone."
Since Wu's and Campbell's entrances to the race, however, the campaign landscape saw a major change-up in January when Mayor Marty Walsh was selected as President Joe Biden's nominee for labor secretary.
With the possibility of a popular incumbent no longer on the ballot, officials from across the city began pondering their own chances at becoming Walsh's successor.
So far, Essaibi George, 47, who announced her run last week, is the only candidate to have joined the race following news of Walsh's likely imminent departure.
The at-large city councilor outlined the work needed to bring the city out of the coronavirus pandemic, and set a focus on existing inequalities present in issues like housing and healthcare that have only been exacerbated by the health crisis.
"I'm running for mayor because I believe in a Boston that sees inequity, everyday injustices, the wrongs, and tackles them head on," Essaibi George said. "I believe in a Boston that lifts up every neighborhood and embraces all who call it home."
With a long road to go until the September primary election — presuming the City Council is successful in nixing a special election prior to that, an effort they're expected to vote on this week — voters should expect to see a few more names join the ballot.
Marty Martinez, the city's chief of health and human services, confirmed last month he is considering a possible mayoral campaign. City Councilor At-Large Michael Flaherty also indicated he has been weighing a run.
According to Politico, also on that list are: state Sen. Nick Collins, a South Boston Democrat; John Barros, Boston's chief of economic development; and state Rep. Jon Santiago, a Boston Democrat.
Speculation has also centered on City Council President Kim Janey, who would become acting mayor should Walsh be confirmed by the U.S. Senate.
Janey has not personally expressed interest in seeking a full term, although her friends told The Boston Globe they would be "surprised if she does not give it strong consideration."
Meanwhile, several other suspected, potential candidates have confirmed they will not seek Walsh's seat.
North End Democratic state Rep. Aaron Michlewitz and Suffolk County Sheriff Steve Tompkins announced last month they will not be entering the race.
Former Boston Police Commissioner William Gross, soon after announcing his retirement last week, also said that despite coming close to embarking on a campaign, he opted not to follow through.
"I follow my heart, and I made a promise to my family," Gross told WBZ. "We planned out retirement."
Newsletter Signup
Stay up to date on all the latest news from Boston.com