Politics
Deval Patrick kicks off effort to shape Biden administration's tech policy
The former Massachusetts governor's successor, Charlie Baker, called it a "a really tough act for you to pursue."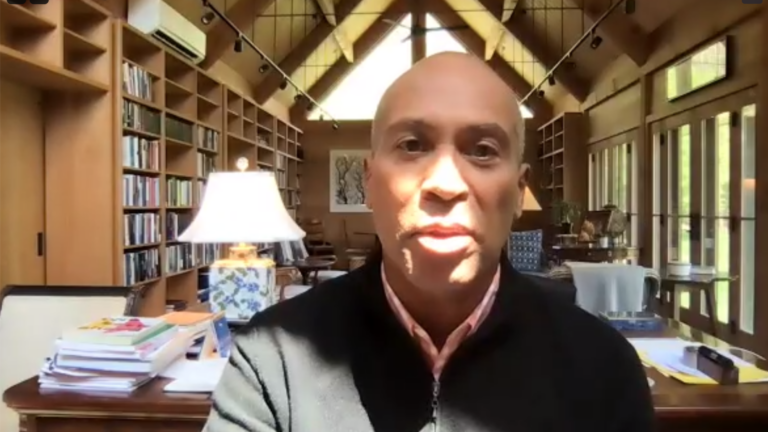 While Deval Patrick fell well short in his bid for president, the former Massachusetts governor is still working to influence policy coming out of the White House.
As the country emerges from the COVID-19 pandemic, Patrick is spearheading an effort to advise President Joe Biden's administration on the knotty and sweeping subject of technology as one of the three co-chairs of the newly formed Future of Tech Commission. The private, bipartisan group is planning to spend the next few months holding hearings with tech experts, with plans to release a "comprehensive blueprint for action" this summer.
"Tech, in various forms, is an evermore present and evermore essential tool in daily life," Patrick said during the group's first town hall Tuesday afternoon. "But it is not accessible to everyone, and it is not used responsibly by everyone."
The former Democratic governor and 2020 presidential candidate noted that the pandemic-induced shift toward virtual classes and meetings had "exposed" the lingering gaps in high-speed internet access in many rural parts of the country. At the same time, he said that "misinformation, disinformation, and hate spread through social media platforms has affected everything from the efficiency of vaccine distribution to confidence in our democracy itself."
Despite the fiercely polarized environment governing tech, Patrick said he hopes the group can screen out "the political background noise" and find consensus on "who should do what."
The Future of Tech Commission was formed following discussions between Biden administration officials and another group co-chair, Jim Steyer, the CEO of Common Sense Media and brother of former Democratic presidential candidate Tom Steyer. The third co-chair is Margaret Spellings, the former U.S. education secretary under Republican President George W. Bush.
The group's inaugural town hall Tuesday was also a bipartisan affair. And while held virtually, it featured top elected officials from Patrick's home state: Massachusetts Gov. Charlie Baker and Sen. Ed Markey.
Markey, a Democrat who has steeped himself in tech issues in Congress, said he believes the commission's work will "set the stage for significant progress" under Biden.
"The COVID-19 pandemic has taught us that we have to begin with connectivity," Markey said.
Biden has proposed investing $100 billion to expand broadband access as part of his $2 trillion infrastructure plan, noting that more than 35 percent of rural Americans lack access to internet at "minimally acceptable speeds." The plan also includes measures intended to increase internet competition and affordability, such as lifting barriers that prevent municipally-owned and affiliated providers from competing against big companies like Verizon and Comcast. Biden also suggests short-term subsidies to make internet service less expensive in the United States while working to find a long-term solution.
"We simply cannot allow the homework gap to become a larger opportunity gap for these kids," Markey said, noting that an estimated 12 million American students do not have high-speed internet access at home.
Baker also expressed support for expanding broadband, crediting his predecessor, Patrick, for beginning a project to expand broadband access in Western Massachusetts.
However, the Republican governor also gave a blunt, if supportive, assessment of the commission's work on other tech issues, which will include safety on platforms, privacy, market competition, and innovation.
Baker said that addressing emerging issues like cybersecurity and online speech presents "enormous" — an adjective he used nearly 10 times — challenges. And while congressional Democrats and Republicans have come to increasing agreement on the need to reign in "Big Tech" companies like Google, Facebook, and Amazon, the parties continue to mostly disagree on the solutions.
"This is going to be one of those debates and conversations where you'll have people at 180 degrees from each other who are both making perfectly good sense about why they're where they are," Baker said Monday. "But I think in the end, for this wonderful tool — and at the end of the day, that's kind of what it is — to be everything it's supposed to be and to minimize some of the things that are enormously difficult and challenging … That's a really tough act for you to pursue."
Newsletter Signup
Stay up to date on all the latest news from Boston.com