Politics
Why the Biden administration just cut ties with a controversial Massachusetts sheriff
"Every person has the right to dignity, safety, and due process."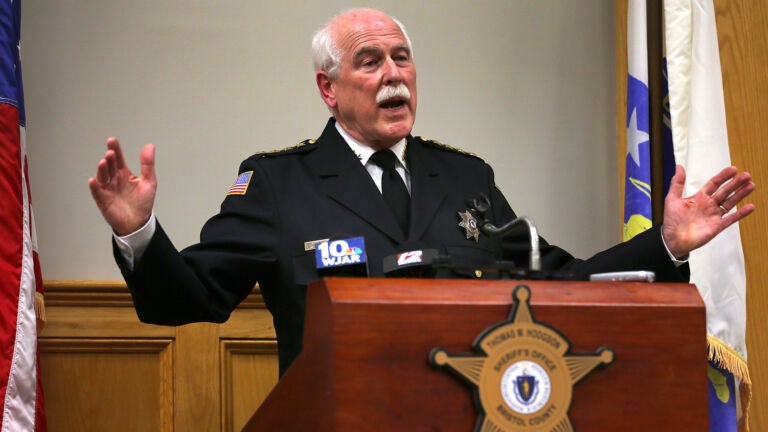 Bristol County Sheriff Thomas Hodgson has long been an outspoken voice on the subject of immigration.
But after a move Thursday by President Joe Biden's administration, Hodgson will no longer be involved in detaining immigrants himself.
In a letter Thursday morning, Homeland Security Secretary Alejandro Mayorkas ordered Immigration and Customs Enforcement to terminate contracts it had with Hodgson's office to house undocumented immigrants and perform some immigration enforcement duties, citing "unacceptable" treatment of detainees.
"Allow me to state one foundational principle: we will not tolerate the mistreatment of individuals in civil immigration detention or substandard conditions of detention," Mayorkas wrote.
The announcement, widely applauded by Massachusetts Democrats, ends a 21-year partnership between the federal government and Hodgson's office. And the longtime sheriff is decrying it as a "political hit job."
What led to this?
Hodgson, a Republican who has been Bristol County sheriff since 1997, has long stood out in deep-blue Massachusetts for his hardline immigration rhetoric and support for former president Donald Trump. He once offered his inmates for labor constructing Trump's southern border wall. Hodgson also recently led a coalition of several hundreds of sheriffs criticizing Biden's immigration policies and traveled to the southern border this spring.
But according to Mayorkas, the federal government is cutting ties with him for reasons more closer to home.
Last May, reports emerged of a violent clash between immigrant detainees and staff, including Hodgson, at the Bristol County jail in North Dartmouth.
According to a subsequent investigation by Massachusetts Attorney General Maura Healey's office, Hodgson got into a physical struggle with one detainee over a disagreement about COVID-19 testing, which led to a larger confrontation during which an officer released pepper spray into the room where a group of 10 detained individuals were being screened. A "handful" of detainees subsequently tried to barricade themselves in a room and spent roughly five minutes smashing walls and breaking mirrors, sinks, and tiles, among other destructive conduct.
The report, which was released this past December, said that the situation then calmed down for an hour.
But the period of calm was then followed by officers storming into the room, detonating flash bangs, firing dozens of rounds of pepper balls, and unleashing dogs on the detainees — not differentiating between those were involved in the initial melee and those who weren't. According to Healey's report, two detainees were hospitalized due to breathing problems and a third required "emergency chest compressions to be revived."
The report concluded that the "disproportionate and excessive" use of force violated the detainee's civil rights and that DHS should cut ties with Hodgson's office. This past February, nearly every member of the Massachusetts congressional delegation echoed that call in a letter to Biden's administration.
"We are highly concerned that the rights and health of people detained on behalf of ICE at the Bristol County House of Correction remain in jeopardy," they wrote.
What happens now?
In his letter Thursday, Mayorkas wrote that Bristol County's immigration detention center in Dartmouth, which is currently only housing seven people, is of "minimal operational significance" to ICE.
"Moreover, there is ample evidence that the Detention Center's treatment of detained individuals and the conditions of detention are unacceptable," he wrote, directing acting ICE Director Tae Johnson to discontinue use of the facility "as soon as possible."
Any detainees "whose continued detention is needed to achieve our national security, public safety, and border security mission" should be transferred to another facility in the area, Mayorkas wrote.
He also directed ICE to end its 287(g) program agreement with Hodgson's office, which allows local county officials to perform some enforcement duties of federal immigration agents.
Mayorkas also ordered ICE to cut ties Thursday with a private Georgia prison accused of mistreating female inmates.
In a statement Thursday afternoon, Hodgson accused the Biden administration of "putting politics over public safety" and said the decision would put residents "at greater risk of being victimized by criminal illegal aliens."
According to Syracuse University's Transactional Records Access Clearinghouse, about 73 percent of detained undocumented immigrants have no criminal records.
The decision Thursday was meanwhile commended by immigrant advocacy and civil rights groups, as well as Healey, who said Hodgson's office had a long history of abuse and neglect.
"Today's decision is a big step toward protecting immigrant detainees from further harm," the Democratic attorney general wrote.
"This is a just and humane step," members of the Massachusetts delegation — with the exception of Rep. Stephen Lynch — said in a statement Thursday, similarly praising Mayorkas's decision.
"Every person has the right to dignity, safety, and due process," they said.
Newsletter Signup
Stay up to date on all the latest news from Boston.com