Politics
Is the Dennis White controversy catching up with Marty Walsh in D.C.?
"If it turns out Secretary Walsh is lying, he should resign."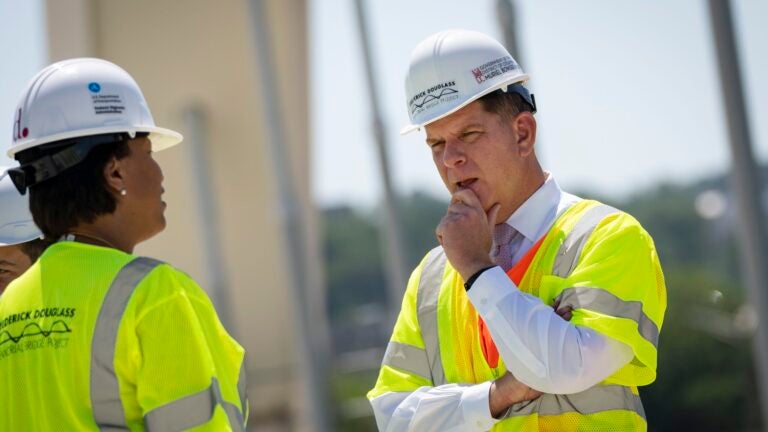 Washington, D.C., is no longer so silent about the controversy engulfing suspended Boston Police Commissioner Dennis White.
As a judge mulls whether Acting Mayor Kim Janey will be allowed to fire White over decades-old domestic violence allegations, an increasing level of scrutiny is turning toward the man who appointed White to lead Boston's police department: former mayor-turned-U.S. labor secretary Marty Walsh.
In a court affidavit filed earlier this week, former Boston police commissioner William Gross said that Walsh knew about the 1990s allegations that White physically abused his then-wife and niece-in-law when the mayor appointed the longtime cop as commissioner after Gross abruptly retired in late January.
White has denied most of the allegations, which were extensively detailed by an independent investigator last week, though he admitted that his relationship with his wife sometimes escalated into physical fighting.
According to Gross, Walsh would have been briefed on White's internal affairs file when the officer was up for a promotion to BPD leadership in 2014.
"There is no way anyone is brought onto the Command Staff without such a briefing to the Mayor and approval by the Mayor," Gross wrote.
Walsh, however, has denied knowing about the allegations against White until after the hurried appointment when they were raised by The Boston Globe. William Evans, who was BPD commissioner in 2014, also told WBUR that Gross's statement was "absolutely false."
Still, the ongoing controversy is now catching up to Walsh in Washington, D.C., where he's been working in President Joe Biden's cabinet.
The news of Gross's affidavit was picked up this week by national outlets like CNN and Politico, and Rep. Seth Moulton even told the Globe on Thursday that Walsh should resign as labor secretary if he did have knowledge of the allegations against White.
"We obviously need to know all the facts about his vetting," Moulton said. "If it turns out Secretary Walsh is lying, he should resign as well."
Sen. Elizabeth Warren said she wants to hear more information from Walsh.
"Let's get the information out there and find out exactly what happened," Warren told the Globe.
Back in Boston on Thursday evening, Walsh stood by his statement in an interview with Boston 25 News, reiterating that he had no knowledge of the allegations against White until after making the appointment.
"I've been pretty clear about," he said, adding that, "I put all my statements out there. I'll leave it at that."
Walsh also said that he personally talked to Moulton, who he said denied saying that Walsh should resign if he knew about the allegations.
"He said he didn't say that, so you'll have to ask him that," Walsh said.
Moulton's office didn't immediately respond to a request for comment.
Newsletter Signup
Stay up to date on all the latest news from Boston.com