Politics
Massachusetts House Speaker Ron Mariano apologizes for joke about car being stolen in Boston's South End
"I'm sorry and I regret my comments."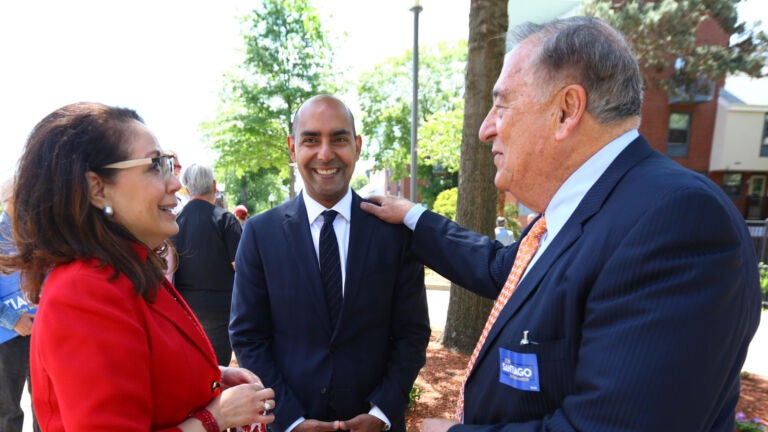 Ron Mariano may have been better off sticking to his notes.
Following a wave of criticism, the Massachusetts House speaker apologized Tuesday for an off-the-cuff joke that he was worried his car would get stolen while at an event in Boston's South End to endorse state Rep. Jon Santiago in the city's mayoral race.
"I'm sorry and I regret my comments," Mariano said in a statement. "It was a poorly delivered attempt to humor referencing my personal experience as a college student in the 60s when my car was stolen, which I had shared with folks at the event prior to the program."
Mariano and more than a dozen other Democratic state lawmakers, including several fellow members of the State House's leadership, had appeared at a press conference Tuesday morning at a housing complex in the South End to endorse Santiago, who lives in the neighborhood.
Ahead of his prepared remarks, Mariano noted that he attended school "right around the corner from here" at Northeastern University, muttering that he wouldn't "tell my story about my cars in this neighborhood."
Later in the event, Santiago thanked the 74-year-old Quincy lawmaker for "coming all the way to the South End." In response, Mariano joked that he was "afraid my car's gonna get stolen," earning chuckles from several of his colleagues.
"My intention was not to portray the neighborhood or the city in a negative light, but to endorse the candidate who I believe should be the next mayor of Boston," Mariano said in his statement Tuesday.
However, the quip was denounced by at least two other contenders in the Boston mayoral race and left-wing activists who have been critical of more moderate Democrats like Mariano and, to a lesser degree, Santiago. Some criticized the joke as an outdated and "racist" depiction of the city's historically diverse South End, which has increasingly become a higher-income neighborhood despite pockets of poverty.
John Barros, a fellow mayoral candidate and Boston's former economic development chief went so far as to call on Santiago to decline Mariano's endorsement over the "insulting" remark. He also criticized his opponent for not immediately condemning the joke.
"Representative Santiago said nothing, which speaks volumes to the lack of leadership we could expect from him if he were elected Mayor of Boston," Barros said. "Representative Santiago should decline the Speaker's endorsement and join me and the growing number of Bostonians who ask that the Speaker simply say he was wrong and he's sorry. "
In a statement, Santiago called Mariano's joke "disappointing," but added that he would not be rejecting the powerful lawmaker's endorsement over it and had accepted his apology.
"The Speaker is my friend, and success in expanding opportunity for our city means bringing everyone to the table who wants to be a part of it and having tough conversations," Santiago said.
"Shortly before our event, I was proudly showing him how much our community had changed since he was here as a student fifty years ago," he said. "He agreed. Friends are honest with each other and I've expressed my concern to him. He's said he's sorry and I accept the apology, but I reject the comment because it's emblematic of the kind of thinking we're trying to move beyond."
Mariano's joke also drew less direct criticism from other hopefuls in the six-way mayoral race.
Boston City Councilor Michelle Wu retweeted a post Tuesday by the Boston Ward 4 Democratic Committee, which includes part of the South End, and endorsed her in the mayor's race last week, calling Mariano's joke "racist."
"I'm proud to be endorsed by community members and leaders who love and believe in our city," Wu said in a statement. "I choose to stand with leaders I've worked alongside to advance our shared vision of a city that sees and values every resident and every community."
Meanwhile, City Councilor Annissa Essaibi George, a fellow mayoral hopeful, said it was time to move on from the incident, though she suggested Mariano's joke was "bad and inappropriate."
"When it comes to the South End, I worry about those suffering from addiction and homelessness on Mass. & Cass, the small businesses that have been struggling through the pandemic that are just now reopening, and bettering the life of every resident living in that neighborhood," Essaibi George said.
"I don't worry about bad and inappropriate jokes made by politicians," she continued. "The Speaker has apologized. Let's get back to focusing on the issues that matter."
During the endorsement event, Mariano praised Santiago for his talent, work ethic, and ability to compromise, joking that "even if he loses, the worst thing that happens is he comes back to me."
The speaker also made a point of departing from the notes that he said his staff had prepared for him, which he said would only be a "rehash" of the glowing remarks by earlier speakers.
"Sometimes I go better off script," Mariano said.
Newsletter Signup
Stay up to date on all the latest news from Boston.com