Politics
Gov. Baker joins calls for resignation of GOP State Committee member who made anti-gay remarks
Deborah Martell reportedly wrote in emails she was "sickened" by a Republican congressional candidate who adopted two children with his husband.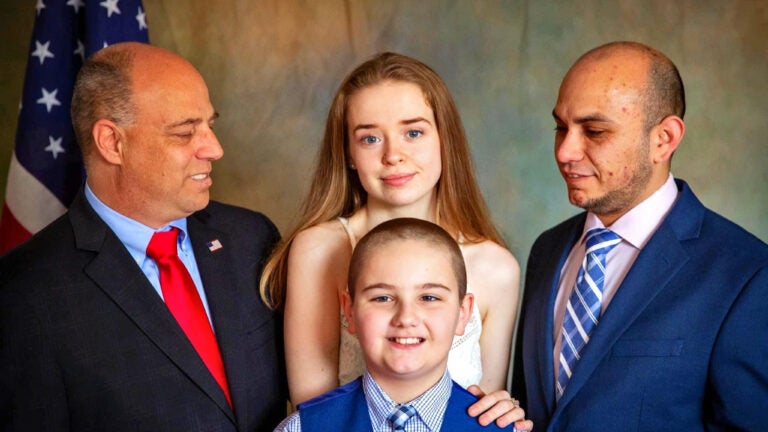 Gov. Charlie Baker has joined the calls for an elected member of the Republican State Committee to resign after it was revealed she made anti-gay comments about a GOP congressional candidate, the Boston Globe reports.
Deborah Martell has allegedly said repeatedly in emails that she is "sickened" by Jeffrey Sossa-Paquette, who has two adopted children with his husband, Julian, and is running for a Second Congressional District seat currently held by Democrat Rep. Jim McGovern.
"I heard he was a 'married' homosexual man, who adopted children," Martell wrote in a May 15 email, obtained by the Globe, to Republican colleagues. "I was sickened to hear this."
Sossa-Paquette told the newspaper that Martell, who represents Ludlow on the 80-member state committee, repeated the same remarks to him directly when he confronted her about the email, informing her of his plan to share her remarks publicly.
"I am a Catholic who loves God and His Ten Commandments," Martell wrote back to him on May 19, according to the Globe. "I wish the best for every person in the world, including you! What sickened me was that you adopted children. . . . Children deserve a mom and a dad. That's how God designed marriage and the family."
Several Republican leaders, including Baker and Lieutenant Governor Karyn Polito, are condemning Martell's words and calling for her resignation.
"Deborah Martell's comments about Jeffrey Sossa-Paquette and his family are abhorrent and have no place in public discourse and of course have no place in the leadership of a political party founded on protecting individual freedom," Baker said in a statement to the Globe.
While many Republicans are denouncing Martell's remarks, GOP Chairman Jim Lyons so far is not among them, the newspaper reports.
Sossa-Paquette said the rhetoric used by Martell doesn't represent the party he's "defended for the last 20 years" and he has reached out to Lyons, asking the chairman to direct her to resign from the committee.
"I'm not going to tolerate any bigotry coming out of my own party or the Democratic Party," he told the Globe. "It just doesn't belong. Anyone who does that should not be in office."
Read the full report at the Globe.
Note: This story has been updated to correct GOP State Committee member Deborah Martell's district.
Newsletter Signup
Stay up to date on all the latest news from Boston.com