Politics
To close persistent wage gaps, Maura Healey wants Massachusetts to make companies open up their books
The attorney general is backing a bill that would require businesses with more than 100 employees to disclose how they're paying men, women, and different racial groups.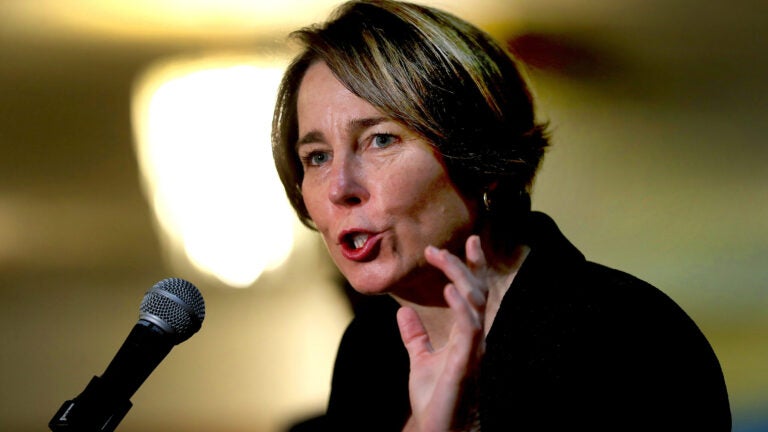 In the last 25 years, the gender pay gap in the United States has closed by just 8 cents.
At that rate, American women won't average the same salaries as men — for the same jobs — until 2059. In Massachusetts, it will take until 2056. And for women of color across the country, it could be another 100 to 200 years, according to recent projections.
To pick up the pace, Maura Healey says larger employers should have to provide a public breakdown of what they're paying men, women, and different racial groups.
During a forum hosted Wednesday morning by the Greater Boston Chamber of Commerce, the Massachusetts attorney general said she supports legislation that would require companies and nonprofits with more than 100 employees to make demographic wage data — including the breakdown for their 10 highest earners — public.
"You can't fix what you don't measure," Healey said.
"I think we need to be intentional at looking at what's actually happening within our workplaces, not from a place of defensiveness, but through a recognition that this is going to actually make us all better," she continued.
Currently, women in Massachusetts earn just 83 cents for every dollar men make, a disparity that widens to 59 cents for Black women and 51 cents for Latina women.
That data comes from the American Community Survey, a U.S. census program that randomly polls households across the country. The bill that Healey plugged Wednesday promises a more individualized look at how local companies are paying their employees.
Sponsored by Sen. Paul Feeney and Reps. Liz Miranda and Elizabeth Malia, the bill has been officially backed by the Black Economic Council of Massachusetts, the state chapter of the League of Women Voters, and nearly a quarter of all state representatives and senators. Other proponents include Amplify Latinx and the Wage Equity Now coalition, which is pushing to close wage gaps by 2030.
The legislation is modeled after a law that took effect in the United Kingdom in 2017 requiring private sector employers with more than 250 workers to report data on the relative earnings of their male and female employees.
However, the Massachusetts bill would dig a bit deeper.
It would apply to all businesses and nonprofits with more than 100 full-time employees. It would require those employers to also provide a breakdown of the average salaries for white, Black, Latino, Asian, Native American, and Pacific Islander workers.
That doesn't mean that every single employee at those companies would have their individual salaries published. Rather, it would require employers to report the number of employees and average salaries across those gender and racial groups.
It would also require companies to report the average salaries and the gender and racial makeup of their 10 highest-earning employees.
Then, each year, the state's Department of Labor and Workforce Development would be required to publish an alphabetical list of all the covered employers and their wage data.
Samuel Gebru, the director of policy and public affairs for the Black Economic Council of Massachusetts, said that by making the information public, the legislation would help hold employers' "feet to the fire," in addition to collecting measurable data. After the United Kingdom law took effect, media coverage focused on the companies with the worst disparities and the overall gender wage gap shrunk by a fifth, according to a recent report.
"It's holding these employers accountable," Gebru said. "And it's hopefully going to force employers in Massachusetts, of all sectors, to think and approach these issues around promotions and wage within a more thoughtful and equity centered manner."
Healey also pitched the move for more wage transparency as in businesses' self interest, challenging GBCC members to "run the numbers" and "look at your own racial and gender wage gaps."
"You know that equity and inclusion are critical for our region's economic growth and competitiveness," Healey said. "Studies show that employers with diverse leadership teams are more profitable, have lower turnover, and attract more qualified job applicants."
Widely viewed at a potential Democratic gubernatorial candidate in 2022, Healey declined to shed any light Wednesday on her future plans beyond her work as attorney general, but repeatedly stressed that she viewed the recovery from COVID-19 as a vehicle for creating a more inclusive economy — even if the pandemic disproportionately hit women and people of color.
"We're at this critical moment," she said. "Yes it's challenging, but I also think it's a real opportunity and an opportunity for Massachusetts to lead and to build back a more equitable economy."
Newsletter Signup
Stay up to date on all the latest news from Boston.com