Politics
The millionaire tax is now on the 2022 ballot in Massachusetts. Charlie Baker still opposes it.
"I don't think we should be raising taxes."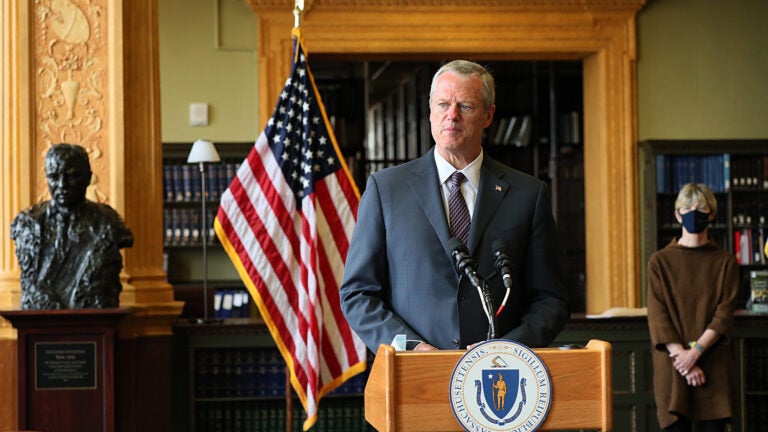 A day after Massachusetts lawmakers voted to put the so-called "millionaire tax" on the state's 2022 ballot, Gov. Charlie Baker suggested Thursday that he remains opposed to the proposed constitutional amendment, even in — or perhaps because of — the wake of the COVID-19 pandemic.
"We have hundreds of thousands of people who are looking for work, and we actually don't know exactly what the impact of the pandemic is going to be on how people think about where and how they work … and the nature of how organizations are going to set up and manage their organizations in the future," Baker said during a event in Boston, echoing the arguments of opponents of the ballot question who say the proposal — combined with the increased prevalence of remote work — could result in millionaires fleeing Massachusetts.
"I said before that I don't think we should be raising taxes," the Republican governor added.
Known as the "Fair Share Amendment," the ballot question would increase the state's income tax from 5 percent to 9 percent on the portion of an individual's income that exceeds $1 million. State officials have estimated that it would raise $1.6 billion to $2.2 billion in revenue for the state's education and transportation systems.
Baker, however, has repeatedly opposed raising broad-based taxes. And in 2019, before the Legislature first voted on the Fair Share Amendment, he told reporters thar "we have plenty of money and the ability to work within that framework to get things done."
During the event Thursday at Roxbury Community College, Baker noted that the state and local governments in Massachusetts have $10 billion in federal COVID-19 relief funds from the recent American Rescue Plan.
"We have $10 billion already in federal funds that we need to find a way to put to work," he said. "And I really think our focus ought to be on that."
Proponents of the millionaire tax note that those one-time federal funds will run out in a few years, and agencies like the MBTA are still grappling to address potential long-term funding challenges exacerbated by the pandemic.
"To grow our economy and make it work for everyone as we come out of the pandemic, we need to make long-term investments in transportation and public education," Andrew Farnitano, a spokesman for the Raise Up Massachusetts coalition, which is backing the Fair Share Amendment, said in a statement Thursday.
Farnitano added that those investments "will require a reliable funding source that doesn't ask the middle class to pay more."
Raise Up Massachusetts says the tax, even if it results in some millionaires leaving the state, would provide revenue that could help address economic and racial inequalities that have been heightened by the pandemic.
While he acknowledged Baker's "longstanding" opposition to the new taxes, Farnitano said the Fair Share Amendment is "the best way to fund necessary investments in our roads and bridges, our public schools and colleges, and our public transportation infrastructure."
Newsletter Signup
Stay up to date on all the latest news from Boston.com