Politics
MassGOP committee woman who made anti-gay statements: 'I do not intend to be bullied into resigning'
Chairman Jim Lyons said the party left a private meeting Wednesday united. Not everyone agrees.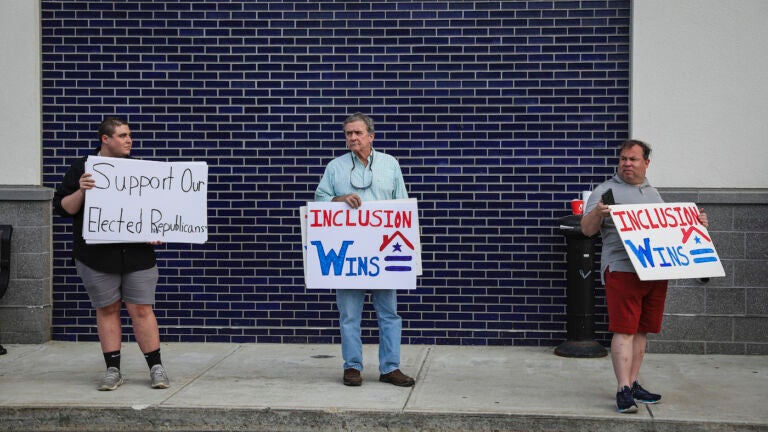 A Massachusetts Republican Party committee member says she will not step down from her position, despite calls from some of the party's top leaders, including Gov. Charlie Baker, after she made anti-gay statements directed at a candidate for Congress.
Deborah Martell, who represents Ludlow on the party's 80-member state committee, told party members at a closed-door meeting Wednesday that "I do not intend to be bullied into resigning," multiple people in attendance told The Boston Globe.
Martell, in emails and allegedly in conversation with Jeffrey Sossa-Paquette, who is running for the 2nd Congressional District seat, said she was "sickened" by his decision to adopt two children with his husband.
Party leaders, such as Vice Chairman Tom Mountain, swiftly denounced the remarks, although party Chairman Jim Lyons has come under attack for not joining them nor the calls for Martell to resign.
All but one of the party's State House delegation called on Lyons to either seek Martell's resignation or to resign himself.
"Members of the Massachusetts House Republican caucus are demanding that I force a woman of deep Catholic faith to resign from the Massachusetts Republican State Committee," Lyons said last week. "I acknowledge that she wrote in a manner that was offensive. However, Massachusetts Republican Party bylaws are clear: freedom of speech and religious liberty are values that are unbending and uncompromising."
Martell says she won't back down.
In Marlborough on Wednesday, Martell said her comments had been taken out of context. She insisted she will not back down.
Outside the meeting, Sossa-Paquette engaged with people who defended Martell and continued to lament Lyons has not done anything to defend him, according to the Globe.
"How is he possibly running the Republican Party and saying that [it] is an inclusive party … while turning his back on bigotry and hatred and intolerance?" Sossa-Paquette said.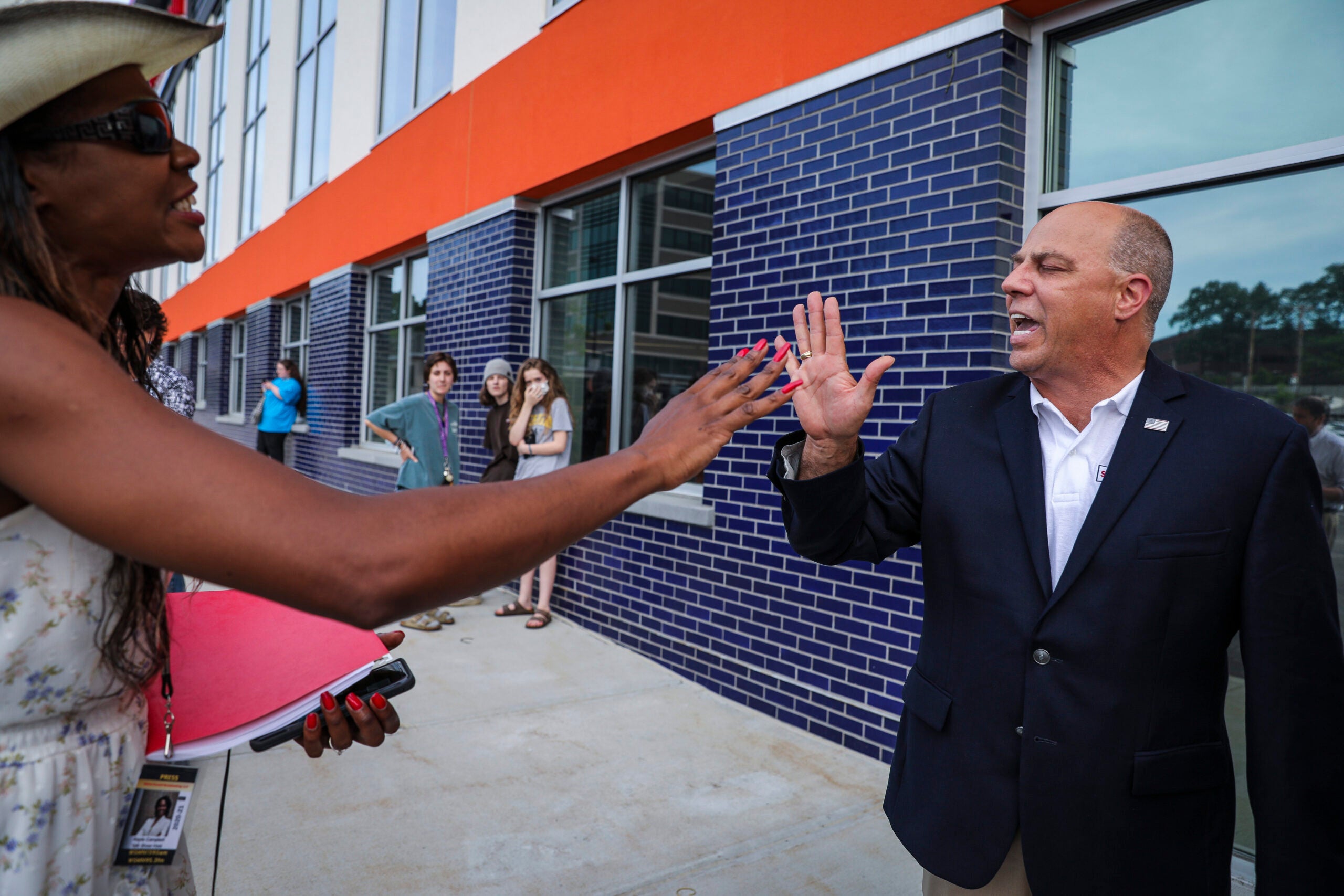 Mountain reiterated his condemnation of Martell's words.
"What she said reinforces every negative stereotype about Republicans, that we're backwards, we're intolerant, we don't accept people of other persuasions," he told NBC10 Boston.
Rayla Campbell, a Republican candidate for lieutenant governor, said Martell has the right to say what she wants, according to the news station.
"Those are her rights to be able to speak her opinion, it's protected," Campbell said. "It doesn't mean that we have to agree with it."
"We are all entitled to our free speech," Sossa-Paquette said. "What we're not entitled to is to take those free speech and then weaponize it to seek harm."
Committee members did ultimately support a resolution that noted intolerance and bigotry "have no place in the Republican Party of Massachusetts," but only after the committee hammered out a watered-down version, the Globe reported.
The resolution, penned by state Rep. Shawn Dooley, of Norfolk, initially stated that committee members who spew hateful ideology should get "swift condemnation" and be unable to receive endorsement or support from the state party, the newspaper reported.
Dooley lamented the changes, but noted the party's bylaws committee will review possibly adding penalties to offenseive statements moving forward.
"A resolution without any consequence is nothing but words," Dooley told the Globe. "'We don't believe in hate or racism or bigotry or anything like that, but if you do it, there's no consequence.' I don't think that sends a strong message to anybody."
Sossa-Paquette, in a Tweet referencing the resolution Thursday, wrote that Lyons "epically Failed to understand the foundation of the Republican Party."
"President Lincoln, if alive today, would be ashamed of Jim Lyons," he wrote. "Sad that we have to fight to simply return our Party to our foundation of Lincoln."
Lyons says the party is united. Others disagree.
The meeting was off-limits to the press and other non-committee members. According to the Globe, officials cited venue restrictions, although the venue's website says the space could hold over 600 people.
Mountain tried to let others attend, but Lyons declared him "out of order," several attendees told the newspaper. Sossa-Paquette also said Lyons himself prevented Sossa-Paquette's 19-year-old daughter from entering.
Lyons, according to attendees, raised his voice at members of the committee and called one person a "wise a**."
He also apparently complained about allegations that he discriminated against Asian Americans while filling two committee seats.
"I am damn tired of being called a racist!" Lyons said, according to multiple attendees.
The Globe did not get a response to a request for comment about the meeting it sent to a party spokesperson.
The committee tabled a Lyons-supported proposal that would have removed voting abilities on the executive committee from the governor, lieutenant governor, and other elected officials. The move could have also given the party a way to back a primary challenger against Baker, according to the Globe.
The committee instead only indicated early support for moving the authority to endorse a candidate from the executive committee to the 80-member committee, according to the newspaper.
"There are those that spend so much time trying to sow chaos within the Massachusetts Republican Party, as shown by recent media coverage, but I'm proud tonight to say that Massachusetts Republicans State Committee members found common ground on several positions that matter most," Lyons said in a statement.
As he left the meeting venue, Lyons told a Politico reporter that "it was a great night for Republicans in Massachusetts."
"We came out united tonight," he said.
But not all shared that sentiment — including even Mountain, the party's vice chairman.
"It went horribly," he told Politico. "Right now we're facing our biggest crisis in probably two decades on the state committee, because of the actions of one rogue committeewoman."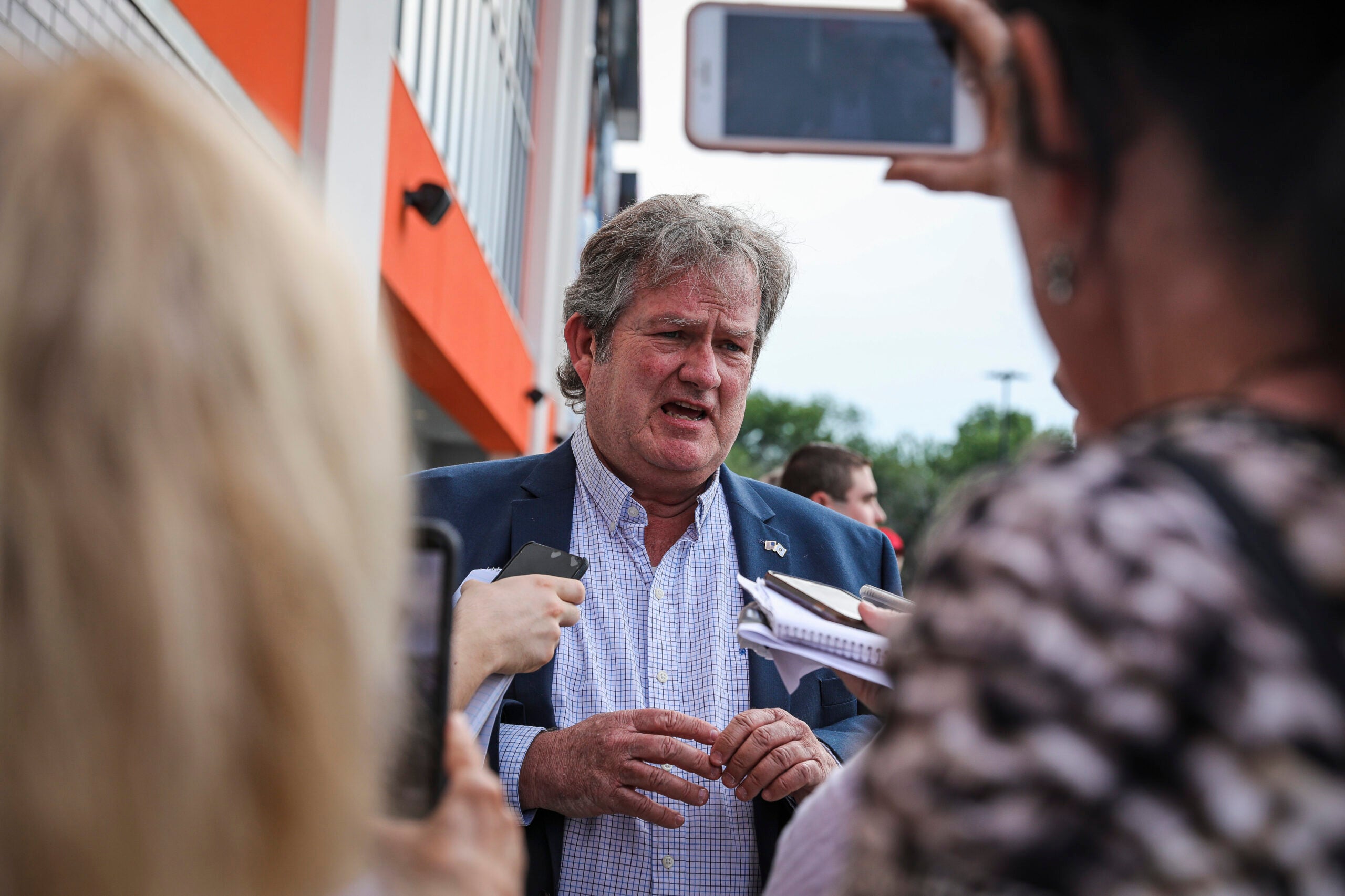 On Thursday, Lyons sent out an email to party supporters, taking aim at the 29 state House Republicans who called for his resignation, alleging that they "bowed to the woke mob."
"Now, I'm asking you to join us in making it clear to them: We are Republicans, we are defenders of the Bill of Rights and the United States Constitution, and we don't submit to poisonous woke cancel culture groupthink that seeks to silence, intimidate, and eliminate," Lyons wrote.
He added later, "Please join us in sending these elected Republicans a message."
Attached to his email was a letter penned by state committee members Jay Fleitman and Mary Lou Stuart addressed to the lawmakers now under fire from their own party.
The letter describes the lawmakers' correspondence to Lyons as "distressing and appalling."
"Not only did you all wave the white flag of surrender, but you all betrayed our fundamental principles," the letter reads. "In addition, it is unforgivable for Republicans to be giving left wing democrats ammunition to use against us: accepting their cancel culture tactics only emboldens them."
The pair go on to write that they found "it quite astounding that a group of Republicans would right this."
Standing outside Wednesday's committee meeting, longtime Republican Arete Pascucci told NBC10 Boston the party "is in shambles right now."
"It's beyond talking about," Pascucci said.
Newsletter Signup
Stay up to date on all the latest news from Boston.com