Politics
Live blog: Updates on the Boston mayor's race
Here's the latest on the 2021 race.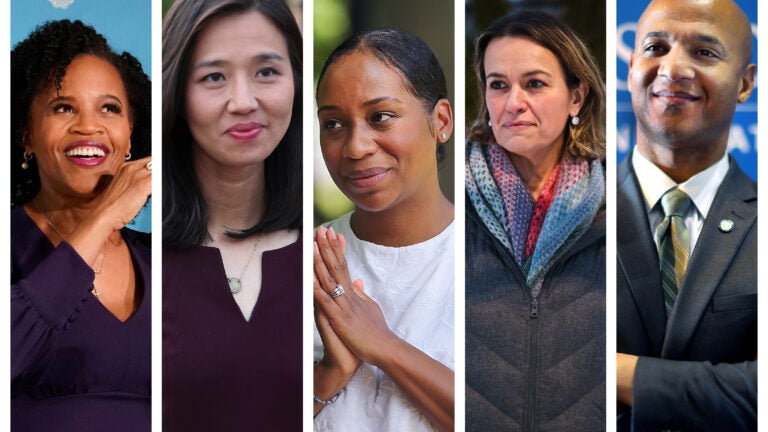 The election to choose the next mayor of Boston will take place Tuesday, Nov. 2, 2021, following a preliminary election on Tuesday, Sept. 14.
Declared candidates:
View updates from prior to June 17, 2021, here.
Latest updates below:
Boston mayoral candidate John Barros is hosting a free vaccine clinic at the intersection of Massachusetts Avenue and Melnea Cass Boulevard on Tuesday from 10 a.m. to 2 p.m. Barros is partnering with MetroWest Pharmacy and Finding Hope in God for the event, and, according to his campaign, during the clinic staff from those organizations will be handing out water, food, and information on resources for public health, mental health, and substance use disorder in the area.
The streets around the intersection, known as Mass. and Cass, have become the epicenter of the opioid epidemic in Boston. The conditions in the area, which sees the impacts of the overlapping crises of homelessness, mental health, and addiction, have been exacerbated by COVID-19 as services shuttered across the region and more people arrived in Boston seeking resources.
"With the Delta variant causing another COVID-19 surge, we need to make sure our most vulnerable residents are protected, vaccinated, and well-informed about the new virus dangers and information," Barros said in a statement.
"Boston should be doing everything we can to get ahead of rising cases and be vigilant about the health and safety of residents. This is also exemplary of the urgent strategic outreach and resource deployment the individuals and community need at Mass and Cass."
In his plan for addressing the issues around Mass. and Cass, Barros is calling for a 24-hour street outreach team, appointing a special advisor for mental health and substance use disorders, and declaring a public health emergency for the crisis.
A Boston Globe report published late Wednesday details several problems housing developer Douglas George, husband of Annissa Essaibi George, has run into with City Hall over the years as his wife now vies to be Boston's next chief executive.
The Globe investigation found city inspectors have filed at least four applications for criminal complaints in housing court against George or his organizations to try to get him to fix code violations, though each of the cases was later resolved and he was never charged.
Shortly before his wife announced her mayoral campaign in January, George also paid a total of $5,315 for 116 late payments brought on by failing to register apartments for at least seven years, according to the newspaper. George was also sent warning letters this month for failing to register another 14 apartments and renewing 20 others.
The report also details how George and his companies have tried to evict tenants with rents subsidized by the Boston Housing Authority voucher system.
In addition, it highlights an incident from March 2019 in which Essaibi George's stance against a development undergoing consideration by the Zoning Board of Appeal that neighbored one built by her husband may have violated the state's conflict of interest law.
George built a 24-unit luxury condominium building in South Boston that touted its views of the city skyline. And when a developer proposed an adjacent project that threatened those views, Essaibi George had a staffer attend a ZBA meeting to urge the board to reject the project, according to the newspaper.
Her office referenced the opposition of a civic association but failed to mention Essaibi George's husband was actively selling $1 million condos next door, the report says.
In a statement to the Globe, the campaign for Essabi George, who declined an interview with the newspaper, at first defended her role in the zoning hearing, offering that her office acted appropriately and that "this was not her husband's project."
But when the Globe highlighted the state's conflict of interest law that prohibits public employees from being involved in anything that affects their spouse's financial interests — including neighboring properties — the campaign issued a second statement: "Now that we are aware of this through your press inquiry, we have engaged with counsel on issues involving the Ethics Commission and are working to file any necessary disclosures."
In a statement, George, who also declined an interview with the newspaper, said, "I am proud of my work in Boston over the last 30 years. I have always treated others fairly and with respect. With this inquiry, the Boston Globe does not."
The ZBA ultimately approved the project, and George sued the board, the Globe reports.
But George also faced a lawsuit from the condo association, which alleged poor construction, and three condo buyers filed a separate lawsuit alleging they were misled about the impressive views.
The newspaper reports George refuted the charges. The case involving the condo buyers was closed in July 2020 with a confidential resolution.
According to the Globe, other candidates have connections to development-related businesses, including acting Mayor Kim Janey, whose cousin founded Janey Construction, and City Councilor Michelle Wu, whose husband works in commercial real estate for East Boston Savings Bank.
Former economic development chief John Barros was sent warning letters this month for not renewing or registering two rental properties, the Globe reports. Wu was also sent a warning letter for not registering the apartment her mother lives in as part of Wu's two-family home.
Read the full Boston Globe report.
Mayoral candidate John Barros hosted his third Black and Brown Men's Roundtable on Wednesday night which was live streamed on Facebook.
"This is the third time we have gotten together with Black men in Boston to just talk about the city and the city's future," Barros said. "The reason we did it is because I know everywhere I went as I was talking to brothers people were saying, 'Where are we? Where are we in Boston? Where are we in the conversations? Really, are we in the conversation?'"
Barros hosted the event at his restaurant and said the event was not for his campaign, but rather to include Black men in these conversations and make a platform for "Black men to talk about Boston and Boston's future."
"We have a space that we can talk to each other to begin to build, so this is really about that," Barros said. "What this is not is a campaign event. And this definitely is not an endorsement of my canvas."
The event included Black men from across the city, including entrepreneurs, lawyers, and teachers. The men drew on their previous experiences to talk about current issues they see in the city, such as financial literacy, education in Black and brown neighborhoods, racial wealth disparities, and homeownership in Boston.
In the race to be Boston's next mayor, Acting Mayor Kim Janey is celebrating the endorsement of SEIU Local 888 — the same public service labor union that filed a complaint against her administration just last month.
"I am proud of them and honored to have earned their support," Janey said Tuesday.
SEIU 888, which represents 1,600 City of Boston workers, had filed an unfair labor practices complaint against Janey in June, amid complaints that the mayor's earlier-than-expected order for employees who had been working remotely during the COVID-19 pandemic to return to City Hall this summer did not provide flexibility to those in need of child care.
The union dropped its complaint in July after Janey's administration agreed to let some workers delay their return to in-person work on a case-by-base basis. And that response helped win over the union's support, according to SEIU 888 President Tom McKeever.
"Our members who work for the City have seen first-hand the careful listener and compassionate leader she is as mayor," McKeever said in a statement first reported by Politico.
In an interview with the Boston Herald, he added that Janey "was very amenable to working with us," noting that the acting mayor agreed to various changes to help members who had young children, elderly relatives, and autoimmune issues.
"We look forward to ensuring that she wins a full term so she can finish the great work she has started — whether around affordable housing, equity and excellence in our schools, or simply making sure Boston works for its people," McKeever said in his statement Tuesday.
SEIU 888 represents more than 8,500 state, municipal, and education workers in Massachusetts.
"I want to thank the members of SEIU Local 888 — yes, for their endorsement — but, more importantly, for their tireless commitment to serving our City," Janey said.
The Boston Election Commission announced the ballot positions for the preliminary municipal elections, at City Hill on Friday. The preliminary elections taking place Tuesday, Sept. 14, will include the candidates for mayor, city councilor at-large, and district councilor in Districts 4, 6, 7, and 9.
The order of the ballot for mayor is as follows:
Annissa Essaibi George
Richard Spagnuolo
Andrea Campbell
Kim Janey
Michelle Wu
John Santiago
Robert Cappucci
John Barros
The preliminary election will narrow down the mayoral field to two, with the top two candidates moving onto the Nov. 2 election.
Despite being acting mayor, Kim Janey will not be listed as an "incumbent" on the ballot, according to the Boston Herald. Jon Santiago also remains on the ballot despite announcing the end of his candidacy July 12.
Bostonians will also have the chance to vote for up to four city councilors at-large from the pool of 17 candidates, in order to narrow down the ballot to eight for November. Those in Districts 4, 6, 7, and 9 will be able to vote for their district councilor as well to narrow those races down to two candidates for November.
City Councilor Lydia Edwards on Wednesday officially backed her colleague, Michelle Wu, to serve as Boston's next mayor.
The District 1 councilor from East Boston in a video shared on Twitter said Wu "has proven she is grace under fire, but she's got fight in her."
Edwards described having a front row seat to Wu's work, even before Edwards herself was on the council.
In 2014, Wu brought Edwards, then a domestic workers activist, into City Hall and collaborated with her to sponsor a resolution in support of the "Domestic Workers Bill of Rights," which the council ultimately passed.
Later that year, Gov. Deval Patrick signed a bill of rights into law.
"I've watched (Michelle Wu) fight for domestic workers, seniors, immigrants, and families struggling to pay rent in gentrifying neighborhoods," Edwards wrote in a tweet on Wednesday. "I'm proud to stand with her in this fight and help make her innovative, hopeful, excited vision for the future a reality."
Wu, in a tweet, wrote: "From protecting workers' rights, to keeping people in their homes—I know when I'm in the fight with @LydiaMEdwards, we're building a powerful coalition to get it done. So proud to have your support."
Edwards and Wu were slated to formally announce the endorsement at 10:30 a.m. on Wednesday at LoPresti Park in East Boston.
On Wednesday night, Wu also scooped up the endorsement of the Boston Ward 5 Democratic Committee, which spans Back Bay, Beacon Hill, Fenway, and Bay Village.
The Service Employees International Union has endorsed acting Mayor Kim Janey for a full term.
32BJ SEIU is the largest property services union in Boston, representing between 5,000 and 6,000 security officers, janitors, maintenance and custodial workers, and window cleaners who are city residents, according GBH. Members are mostly Latino.
Vice President Roxana Rivera told the radio station Janey was selected because her life's story has given her a better understanding of the issues facing the union's members and the policies she has put forward show she is dedicated to acting on that lived experience.
"Like our members, she has experienced racism, sexism and prejudice throughout her life, and she has used that lived experience to fight for justice," Rivera said.
Janey could stand to financially gain should the union develop a super PAC, which Rivera indicated members are considering. The union currently has approximately $3 million in its state PAC, GBH reports.
"We're still talking through that," Rivera said when asked how much Janey could receive. "We also are going to be most likely looking at doing an [independent expenditure] campaign as well."
The endorsement comes after Janey won support from Suffolk County Register of the Probate Felix Arroyo, City Councilor Ricardo Arroyo, and Boston Democratic state Rep. Nika Elugardo in recent days.
With former mayor Marty Walsh serving as U.S. labor secretary and housing a central issue in the race to replace him, a coalition of developers and construction groups have come together to exert influence on the election to replace him.
However, while the field largely agrees on the need for development to address the area's housing shortage, some are pushing for a shift from Walsh's more development-friendly approach in order to prioritize residents who are increasingly struggling to afford the high costs of living in Boston.
"Responsible development, first and foremost, is about doing right by our people," Boston City Councilor Michelle Wu said during a forum last week.
Kim Janey and Michelle Wu have picked up some allies in the state Legislature.
State Rep. Nika Elugardo, a Boston Democrat, told Politico she is backing Janey and praised the acting mayor for being a leader on a number of issues, including police reform and economic development.
Electing Janey to a full term is a "once-in-a-lifetime opportunity" to show "Black and brown people from neighborhoods that have been typically disenfranchised … can move into the center of government," Elugardo said.
There is an opportunity to create an "intergernational, multicultural and socioeconomically diverse movement," she said.
"The progressive armies that we've got here in Jamaica Plain, in Roslindale, in West Roxbury and in the more affluent parts of Dorchester, among the educated elite everywhere across the city … those folks who are activated by progressive policy aren't going anywhere if Kim Janey wins," Elugardo said. "But if Kim Janey loses, I think we do lose the opportunity for mobilizing working-class progressives and people of all political hues who have been disenfranchised."
Meanwhile, North Andover Democratic state Rep. Tram Nguyen is endorsing Wu. Nguyen described the at-large city councilor as a "sister in service" who is a "strong advocate for public education, healthcare, our environment, and economic justice for all," according to Politico.
For Andrea Campbell, the city could be sitting on a viable option to tackle Boston's affordable housing problems — quite literally.
On Tuesday, the District 4 city councilor pitched her plan to transform vacant, city-owned lots into viable housing and multi-use developments. She said there are currently "thousands" of such properties, with concentrations in Roxbury, Mattapan, and Dorchester.
"We need to make it easier to build housing that is truly affordable for Bostonians and better utilize city assets that sit vacant in our communities," Campbell said in a statement. "As mayor, I will get creative, cut red tape and streamline development processes to accelerate the creation of affordable housing. And in my first 100 days, I will activate 100 vacant city lots for housing that will be affordable for those who live here, provide ownership opportunities, and create local jobs."
The idea is one Campbell has been working on since at least 2019.
As a councilor, she launched a vacant lot initiative, working with the city, local universities, and residents to develop housing, retail, and green space plans for publicly-owned vacant lots in Dorchester and Mattapan.
The work spurred a planning process for vacant lots under the Blue Hill Avenue Action Plan. As a result, there are now 30 active requests for proposals for properties on the corridor.
"These lots give us an opportunity to create critical mixed-use retail and residential development that will create local jobs and housing that's affordable so that employees can actually live in the communities in which they work," Campbell said during a press conference at one of the RFP sites.
The 100 days plan would expand on the scope outlined in the action plan, she said.
"I think — not think, I know I am the only candidate in this race that has a housing plan that is specific, that is practical, that is doable, that is creative, and frankly builds on a long record of accomplishment that is quite specific," she said.
Other components of Campbell's housing plan include streamlining the permitting and licensing processes to make them cheaper, more predictable, and easier. The councilor also wants to update the city's zoning code to allow for more transit-oriented developments and accessory dwelling units while also eliminating parking minimums for "deeply affordable housing projects," according to her campaign.
Annissa Essaibi George took to Twitter on Wednesday to lament how the changes approved to Boston's exam schools admissions process passed by the School Committee last night came to be.
In a thread of tweets, the at-large city councilor and former Boston school teacher decried the process as being rushed.
"With School Committee members missing, an interim Mayor who was not elected, and a school year of chaos and uncertainty, this process was a hasty one," she wrote.
The committee is currently down two members after recent resignations, and acting Mayor Kim Janey, now an opponent of Essaibi George, took office in March, all amid a school year unlike no other during the COVID-19 pandemic.
Still, the School Committee voted unanimously on Wednesday night to include students' socioeconomic backgrounds in admissions decisions to the Boston Latin School, Boston Latin Academy, and the O'Bryant School of Mathematics and Science.
The move institutes a permanent change to the admissions process after the committee voted in October to temporarily suspend the usually required entrance exam for one year amid the disruptions to the school system brought on by the health crisis.
"While the plan claims to level the playing field and create improved access, it has not," Essaibi George said on Twitter. "It is unclear, untested, and not informed by families across the city.
"We need to build trust between BPS and our communities, forge relationships, and create opportunity," she continued. "The task force should present a plan that is clear, understandable, and presented to the public prior to a vote."
Last month, a task force charged with recommending a policy change put forth a proposal that determined eligibility in part on the socioeconomic backgrounds of students, but also reserved 20 percent of seats for students who rank among the highest percentiles, regardless of other factors.
The group was initially considering a policy without the reserved slots but indicated members faced "political pressure" to include that portion.
The district was reportedly considering both options, and Superintendent Brenda Cassellius revealed, shortly ahead of the committee's vote, on Wednesday afternoon she would back the plan that did not set aside any seats.
Although the latest plan is different from the direction voted upon by the committee last fall, the temporary change was apparently effective for diversifying the student population at each of the three schools.
Data analysis in May showed the percentages of Black, Latino, and low-income students accepted to each school went up, according to The Boston Globe. Admission offers for white and Asian applicants, however, dropped.
Acting Mayor Kim Janey secured the endorsement of Suffolk County Register of Probate Felix Arroyo and his son, Boston City Councilor Ricardo Arroyo, her mayoral campaign announced Thursday.
"I first met Kim over 20 years ago when I was a member of the Boston School Committee, where I saw her advocacy for quality public schools for all students," the elder Arroyo said in a statement. "As a member of the Boston City Council and now as Mayor, Kim has continued to fight for justice and equity for all. I know Kim's heart and I know her values. She is the right person to lead our City, and I will be working hard to elect her to a full term."
Ricardo Arroyo praised Janey as a "strong progressive partner in our work to address racial and systemic inequities."
"I know she shares my values," he said. "As our Mayor, she has met the moment and shown a commitment to ensuring that Boston is a city that works for everyone — whether by increasing accountability and transparency at the Boston Police Department, joining forces with the Council to create a participatory city budget process or standing for equity in all of our public schools."
The endorsements come at a pivotal time in the race ahead of the Sept. 14 preliminary election. The support from the well-known and connected political family could help sway Latino voters towards Janey, just as the race's sole Latino candidate, state Rep. Jon Santiago, dropped out earlier this week.
The senior Arroyo was the first Latino to serve on the Boston School Committee and Boston City Council, and is the only Latino elected to a county office in Massachusetts.
Ricardo Arroyo is the first person of color elected to represent Boston's District 5.
"Felix is a legendary and groundbreaking leader who has, for decades, been a steadfast champion for every resident of the city," Janey said. "Ricardo has brought his passion, his commitment and his advocacy for those who are too often unseen and unheard in Boston to the City Council — fighting for them every single day.
"I thank them both for their service and their support of my campaign to build a more equitable, just and resilient Boston."
Acting Mayor Kim Janey and City Councilor Annissa Essaibi George recently returned donations from Anwar Faisal, one of the Boston area's largest — and most infamous — landlords for student apartments, their campaigns confirmed Thursday.
The returned donations were first reported Wednesday by the Boston Herald.
Campaign finance records show that Faisal, who has a long record of complaints for failing to address health and safety issues in the apartments he leased, gave $1,000 each during the last fundraising quarter to Janey and Essaibi George, who are leading the pack in donations from the real estate industry.
"Upon realizing who this was and what they stood for, Annissa returned the donation because it does not align with her values," Essaibi George's campaign told Boston.com in a statement Thursday.
Janey's campaign also confirmed that they returned the donation, but declined to elaborate.
Faisal, a major landlord in the Fenway and Allston neighborhoods, has been the subject of dozens of lawsuits and criminal complaints, as well as hundreds of code enforcement tickets, according to a 2014 Boston Globe Spotlight investigation. The complaints have ranged from rat and bedbug infestations, to broken locks, to leaks near electrical outlets, to dysfunctional heating systems.
A Boston magazine profile in 2013 dubbed him "Lord of the Sties." The city's former housing inspection commissioner called the issues they had with Faisal "systematic."
Official campaign swag is entering the Boston mayor's race, a little too early for some.
Acting Mayor Kim Janey's campaign recently launched a webstore selling T-shirts, hats, tote bags, buttons, and stickers in her distinctive purple and tangerine colors. Emblazoned with Janey's portrait and phrases like "Madam Mayor," the store is capitalizing on the city councilor's quick ascension to become the first woman and person of color to lead Boston, after former mayor Mary Walsh stepped down to become U.S. labor secretary, as The Boston Globe reported Wednesday.
Janey is the first candidate in the 2021 race to launch such an expansive store (Michelle Wu's campaign has a store offering a single item: buttons).
"The merch is beautiful," Janey said at the opening of her campaign headquarters in Jamaica Plain last weekend, according to the Globe. "I'm very proud of the merchandise. It's been received well."
Not by everyone.
In a tweet Wednesday afternoon, fellow mayoral candidate Andrea Campbell knocked Janey for "launching a merch store before a policy platform." Campbell, who has released a dozen detailed policy plans, ticked off schools, police reform, and the opioid crisis as higher priorities.
Janey says she is taking action on those subjects as well, as she recently detailed in a speech marking her first 100 days as acting mayor. However, beyond a one-page webpage outlining her vision, Janey's campaign has yet to release detailed policy proposals like her competitors.
The new webstore also comes after Janey recently debuted yellow Converse sneakers with her portrait and campaign logo (which aren't for sale in the store). After she took office this past spring, sneakerheads were quick to notice Janey's impressive array of Converse and Nike footwear.
At the time, Janey said her clothing and accessories gave her great pride and joy, while also noting that women in politics often face increased scrutiny for their appearance.
"I want to remind folks that it's also important to focus on the substance of the work that we are doing in the City of Boston for our recovery, reopening, and renewal," she said.
Upon launching his campaign to be Boston's next mayor, John Barros said that "all measures" were on the table to address the city's housing affordability crisis.
Well, there is one idea now off the table.
In an opinion piece Wednesday in CommonWealth magazine, Barros ripped rent control as a "disastrous" and "outdated housing strategy that would harm those who need relief the most" and "put an immediate damper" on the construction of new housing.
The former Boston chief of economic development pointed to cities like San Francisco, citing research showing that while rent control — which has been banned in Massachusetts since 1994 — limited the displacement of renters in the short term by protecting them from rent increases, it also led to long-term decreases in housing supply that ultimately drove up prices.
"Rent control would be great news for the highest-income Boston renters, who would avoid annual rent increases on their luxury apartments," Barros wrote.
"However, rent control would freeze rents at a level that is too high for most Bostonians; it's not a real solution for the many families in Boston who currently struggle to afford already too-high rents," he said. "It's not a real solution for future immigrants and other new arrivals in our city who would be stuck paying much higher rent when they arrive here."
The piece by Barros elicited a rebuke from Boston City Councilor Michelle Wu, the only candidate in the mayoral race who supports rent control.
"This not only misunderstands the policy tools of rent stabilization, but is disconnected from the reality across our neighborhoods—and the urgent displacement crisis that so many Boston families are facing," Wu told Boston.com in a statement, arguing that pursuing both rent control and policies to create more affordable housing could be done together.
Barros said the better option would be for the city to build new housing with deed restrictions requiring owners to keep their rents affordable, as well as more housing in general.
"Rather than pursuing a disastrous housing strategy that would reward some of our city's residents at the expense of others, with no consideration of who actually needs rental relief, we should focus on increasing housing production at all levels — affordable, middle-income, and market-rate — and on increasing opportunities for homeownership and wealth creation in our neighborhoods," Barros wrote, pivoting to his broader housing plan and record under former mayor Marty Walsh creating affordable housing.
While he did not mention Wu in the article, the essay by Barros leaning into the lightning rod debate comes as a direct rebuke of one of the city councilor's distinctive policies.
While fellow candidates Andrea Campbell, Annissa Essaibi George, and Kim Janey also oppose rent control, Wu argues the policy is necessary to provide short-term stability and relief to those at risk of being forced from their homes.
In response to Barros's opinion piece, Wu said Wednesday that "it insults Bostonians' intelligence to say that rent control will mean higher rents" at a time when rising prices are forcing families to move out of the city.
"Instead of the shortsighted view of new affordable housing and pathways to homeownership in opposition to other stabilization tools, we need to see them as connected policies to stop families from being pushed out of their homes," Wu said. "Boston deserves leadership that challenges shortsighted, tired approaches, and I stand with the supermajority of residents in supporting rent control as a tool to stabilize our families and build a Boston we can all afford to live in."
Jon Santiago, a South End state representative and a Boston Medical Center emergency room physician, has ended his campaign for mayor of Boston.
Tuesday's announcement, shared in a video posted to social media, came about five months after the Democrat and U.S. Army Reserve captain launched his bid to seek the city's top executive seat.
"I announced my campaign not far from here, along my walk home after shifts in the ER," Santiago said. "It was with a sincere desire to serve Boston in a greater capacity that I jumped in this race, and today, still filled with energy and optimism for Boston, I'm ending my campaign for mayor."
State Rep. Jon Santiago put forth his "Climate Change, Environmental Justice, and Resiliency" plan on Wednesday, vowing to bring Boston to carbon neutrality by 2050.
The candidate for mayor of Boston unveiled his vision while standing with supporters at the Chinatown Gate, where he cast a light on a neighborhood that faces significant health concerns exacerbated by climate change and carbon emissions from nearby highways.
"This is a neighborhood without adequate tree canopy. It is surrounded by highways and exhaust fumes, and it has heat islands on almost every corner," Santiago, a South End Democrat and emergency room doctor, said. "For the folks here, environmental justice is an issue that cannot wait.
"But this story isn't isolated to Chinatown," he contined. "What's happening here is reflective of what I see across the entire city of Boston."
Santiago called for getting Boston to carbon neutrality ahead of the deadline outlined under the Green New Deal in part through expanding public transportation options.
Creating more dedicated bus and bike lanes and encouraging micro-mobility options will help lower reliance on cars, he said. Electrifying city vehicles and providing more electric vehicle infrastructure will also help to meet the goal.
Santiago also set a goal of net zero emissions in new development by 2035. He said through a retrofit fund, the city could additionally "decarbonize current buildings, expand renewable energy sources, and support our small landlords who want to go green but can't because it's currently cost prohibitive."
"A part of these funds will be dedicated to supporting communities facing environmental justice issues," he said. "We must be sure that they have real access to capital, and take part in the Green Revolution."
Santiago's plan also seeks to launch climate-resilient standards for new development and make certain Boston is a "global green economic engine."
The city could partner with local schools to "create green credentialing programs for students, workforce retraining, and re-entering citizens," according to the proposal.
Santiago intends to address problems surrounding environtal justice and to reverse "decades of harmful policy decisions," his plan says.
"As mayor, I'll invest in our environmental justice communities and make sure that they are at the center of any discussion regarding new development that poses any environmental concern," Santiago said. "They must be at the table when decisions are being made because it is precisely from them not being there in the first place, nor in power, that we ended up with today's situation."
Acting Mayor Kim Janey brought in more cash than any other candidate seeking the mayor's seat last month.
According to the Boston Herald, Janey raised $257,065 over the course of June — far ahead of City Councilor Annissa Essaibi George, who followed Janey's amount with $182,194.
In June, Janey spent $77,941, primarily on consultants, legal advice, and staff payroll, and ended the month with $537,250 in savings, the newspaper reported.
Essaibi George, meanwhile, spent $86,915, mostly on consultants and staff, and was able to save $665,822.
City Councilor Michelle Wu, who changed banks last month, appeared to have raised $154,000, with $1,068,415 saved away. She spent approximately $130,000, largely on her staff, but also $40,900 on a poll, the Herald reported.
Here's what other candidates reported for June, according to the newspaper:
City Councilor Andrea Campbell: $100,295 raised; $111,356 spent; $1,024,881 saved
State Rep. Jon Santiago: $89,796 raised; $197,421 spent; $410,048 saved
Former Boston economic development chief Jon Barros: $59,972 raised; $81,932 spent; $319,868 saved
City Councilor Annissa Essaibi George and her husband have been late to pay property taxes on their Dorchester home every year since at least 2014, according to the Boston Globe.
The couple's taxes are currently up-to-date. But the newspaper reviewed eight years of property and motor vehicle tax records for the six leading mayoral candidates and found that while most had "relatively few" issues, Essaibi George and her husband had a pattern of late payments over the years.
In 2015, during her successful campaign for City Council, Essaibi George and her husband paid more than $30,000 to get their business and property taxes up to date after late payments, according to the Globe. In both 2018 and 2019, the couple did not pay their motor vehicle excise taxes on time, prompting two bills to eventually be sent to collections.
Essaibi George, who holds an at-large seat, declined an interview request with the Globe on Wednesday, according to the newspaper.
Read the full report at the Globe.
Michelle Wu has scooped up another endorsement.
Progressive West Roxbury/Roslindale, a local chapter of the grassroots organization Progressive Massachusetts, has backed the Roslindale resident and at-large city councilor, Wu's campaign told Boston.com on Thursday.
"I'm delighted and deeply moved to earn the endorsement of my friends, neighbors, and fellow organizers in Progressive West Roxbury/Roslindale," Wu said in a statement. "These incredible activists have helped reshape what's possible in Boston politics and policy. Now's the moment to organize for bold vision and urgent action, and I know this partnership will supercharge our grassroots momentum for City Hall and the mayor's office to be a platform for activism all across our city."
Formed in 2011, Progessive Massachusetts is a network of activists committed to pushing for "shared prosperity, racial and social justice, good government, and environmental sustainability in Massachusetts," according to its website. The group, which endorses candidates at various levels of government in select races, wants the Bay State to serve as a leader and laboratory for the nation when it comes to bold progressive initiatives and policies.
Rachel Poliner, chair of the Progressive West Roxbury/Roslindale Steering Committee, said candidates had to secure at least 60 percent of the vote from the chapter's voting members to gain the endorsement, which she noted was "very high in a multi-candidate race."
Wu received 80 percent, a campaign spokesperson confirmed.
"Michelle has been working to find solutions to Boston's challenges citywide for eight years, and has been a consistent voice for progress as a City Councilor At-Large," Poliner said in a statement. "She is the leader for this moment, with vision, practical and thorough plans, and she understands the interconnected and systemic nature of the challenges we face as a city."
Poliner added that Wu "has stood out as the candidate who does the research, builds the coalitions, and crafts the policies to address issues throughout Boston.
"No matter the issue we've raised, from schools to housing, racial equity to climate, transit to policing, we've found Michelle has thought about it, and has a plan," she said.
Thursday's announcement builds on a string of endorsements Wu has secured, including most recently from state Sen. Sal DiDomenico, assistant majority leader of the Massachusetts Senate, on Monday.
Michelle Wu and Kim Janey are the current frontrunners of Boston's mayoral race, according to the results of a new poll released Tuesday, June 29.
Only a few percentage points separate Wu, the 36-year-old at-large city councilor, and Janey, 56, who has served as acting mayor since March, a Suffolk University/Boston Globe survey of 500 likely voters shows.
Wu garnered support from 23.4 percent of those surveyed, while Janey amassed the backing of 21.6 percent. Notably, 21.6 percent of voters were still undecided, with about two-and-a-half months to go before the Sept. 14 preliminary election narrows the race to two final candidates.
But both Wu and Janey appear to be out ahead of their other opponents by a significant margin. Annissa Essaibi George, also an at-large city councilor, polled at 14.4 percent, followed by District 4 City Councilor Andrea Campbell at 10.8 percent.
Read the full story and see the complete poll here.
In the race to be Boston's next mayor, Michelle Wu picked up the endorsement Monday of one of the Senate's top leaders in the form of state Sen. Sal DiDomenico.
DiDomenico — an Everett Democrat whose district includes Charlestown, Allston, Brighton, and the West End — has been the Senate's assistant majority leader since 2018 and first assumed office in 2010, shortly before Wu was first elected as a Boston city councilor.
"Having served alongside her for nearly a decade, I know Michelle always shows up in the community and stands up for working families with a bold vision and a track record of getting things done," DiDomenico said in a statement released by Wu's campaign. "She'll be the leader we need to support our public schools, make Boston more affordable, and create opportunity in every neighborhood."
In a press release, Wu's campaign pointed to DiDomenico's work on community development, education, children's health, economic development, social and human services, and food insecurity. Wu is also the only candidate in the mayor's race who supports legislation backed by DiDomenico to remove the statewide prohibition on rent control.
"Sal has been a friend and partner for many years in the fight against poverty and to deliver change across the Commonwealth through showing up for the constituents and values we share," Wu said Monday.
Jon Santiago wants City Hall to back mortgages for some first-time homebuyers (June 24)
The City of Boston has a pretty good credit rating — AAA for seven straight years.
Now, Boston mayoral candidate and state Rep. Jon Santiago wants to leverage that credit — and the city's resources — to help residents buy their first home.
As part of a sweeping housing plan released Thursday, the South End Democrat pledged to create an apparently first-in-the-nation program in which City Hall would act as a mortgage guarantor for low-income, first-time homebuyers.
Read the full story here.
Boston's mayoral candidates are committed to empowering resident voices in the development process and establishing robust planning to streamline that process.
From environmental justice and homelessness to historic preservation and affordable housing, the five present candidates covered a lot of ground at the June 22 Downtown Neighborhoods Mayoral Candidate Forum hosted by several civic organizations. Acting Mayor Kim Janey was absent — apparently double booked — and City Councilors Michelle Wu and Annissa Essaibi George were present for only part of the event.
Candidates noted a number of institutional changes they would implement within the Boston Planning and Development Agency.
"I would reorient the BPDA, reorganizing it to make sure it serves our neighborhoods and not just private development," said John Barros, former city economic development chief. "Planning needs to be — in the new hierarchy of the BPDA — running the agency, and development needs to respond to planning, not the other way around."
City Councilor Andrea Campbell and Essaibi George committed to increasing transparency.
"We should be putting out information on when the meetings are, the proposals, the development plans…release this information proactively," said Campbell. "I also have in my plan establishing a civic engagement office — we don't do that well and need human capital to do a better job of that.
Wu advocated for an overhaul of the zoning code and emphasis on long-term planning.
"We need to move away from a system when we're deciding things on a one-off, case-by-case basis, negotiations parcel by parcel…we need to get to a place where we have true planning in the city of Boston," she said.
State Rep. Jon Santiago proposed three specific changes he'd make to ensure powerful engagement in the development process.
"I'm committed to overhauling the whole process, it has to be modernized and we have to provide for better public engagement," he said. "I'll do three things: I want to make sure we finally codify public engagement will be a part of it, I want to implement pre-file requirements to make sure developers are engaging with communities before filing, and I want to establish a determined, defined permitting processes to lay out the transparent benchmarks."
Though each candidate noted there's work to be done across the board, they all had a different answer for the question: "Which city department needs the most improvement?"
Wu: Boston Public Schools
Barros: Inspectional Services Department
Campbell: Boston Police Department
Santiago: Boston Planning and Development Agency
The moderator followed up by asking how soon each would commit to making changes in these departments, and all four candidates present said that work would begin "immediately" or within the first 100 days.
Andrea Campbell will vote against acting Mayor Kim Janey's proposed $3.76 billion operating budget for the 2022 fiscal year, which, she said Tuesday, falls short of adequately addressing key issues, notably reforming Boston's police force.
"What matters the most is that we're putting forth a budget that not only aligns with our values, but is responsive to what we've been hearing from our constituents," Campbell said during a press conference. "And right now, this budget is not responsive to the thousands of emails and calls that we've gotten with respect to policing reform.
"And if anything, this is more important now than it was before given all of the issues that continue to come out of this department," she added.
As she submitted her initial budget proposal in April, Janey said she would roll back police overtime spending by about $21 million of what the agency is expected to spend this year. The department has struggled to keep costs down as the department's officers battled COVID-19, saw a large number of retirements, and worked extra shifts to cover numerous protests in a year of civic unrest, officials have said.
Janey's plan calls for increasing the department's sworn force by 30 officers while also increasing the number of cadet recruits by 20, which officials have said will help curb overtime spending by reducing the need to pay other officers to work longer hours to cover empty shifts.
Janey's resubmitted proposal also earmarks $1.3 million for the city's new Office of Police Accountability and Transparency, $1.75 million to study alternative policing models, and more funding to support officers on sick and injured leave, according to her office.
Both Janey and Campbell were among the minority that voted against last year's budget submitted by then-Mayor Marty Walsh, amid calls for more drastic cuts to police budgets and more sizable investments in anti-violence and public health initiatives.
"The council is being asked to consider a police budget that does not look a whole lot different," Campbell said Tuesday.
Janey's budget "provides no strategy whatsoever to actualize … promised reductions to overtime" and "does not answer the calls for change and I still feel and hear every single day," Campbell said.
The calls have gained urgency lately as Boston police have faced a growing number of controversies that have continued to erode public trust, she said.
Campbell instead called for reallocating and restructuring the department to provide "adequate coverage" in the city's neighborhoods and for "major changes" to the union contracts that govern the city's police force.
Her platform seeks to cut $50 million from the police department budget and funnel those savings into economic justice, public health, and youth programs necessary to tackle the "root causes of violence," she said.
On Tuesday, Campbell also expressed frustration over being met with silence from Janey's office regarding letters she sent and ideas she raised around several issues, including on how the city responds to the concerns and problems in the Massachusetts Avenue and Melnea Cass Boulevard area.
"Every time I meet with constituents, we're doing the work with respect to Mass. and Cass, we're putting forth ideas on how to respond to the rising uptick in sexual assaults and human trafficking we're seeing, and other public safety, public health concerns, I have gotten zero response" Campbell said.
Annissa Essaibi George's mayoral campaign released a sweeping housing platform Tuesday, with a focus on increasing homeownership to close Boston's racial wealth gap.
The plan calls for greater investment in local homebuyer assistance programs, such as the city's Boston Home Center and the Massachusetts Affordable Housing Alliance's STASH program, as well as other "innovative efforts to specifically target and engage communities impacted by Boston's history of discriminatory homeownership policies."
A recent analysis by Zillow found that the homeownership among Black residents in Boston is less than half the rate for the city's white residents.
Essaibi George's plan also includes measures to ramp up housing production, particularly affordable units. Among other actions, her campaign is pledging to create an expedited zoning approval process for projects centered on increased affordability, increase the required number of income-restricted units in large developments from 13 percent to 20 percent, and offer incentives to lenders and developers involved with the creation of larger affordable units.
"Increasing our housing stock, prioritizing affordable housing, and building generational wealth are all critical components to ensure we don't just recover from the past year but work towards a stronger, more resilient, more equitable city for all," Essaibi George said in a statement.
The at-large city councillor also said she would create an additional planning office — independent of the current Boston Planning and Development Agency — that would be "dedicated to the forward-thinking and inclusive development of our city."
The plan Tuesday also pledges to marshal resources to address homeslessness in Boston, including investments of social support services, preference for families experiencing homelessness in the city's housing programs, and more robust data collection on the state of homelessness in Boston.
Read the full plan here.
State Rep. Jon Santiago wants to return the Boston School Committee to its roots.
During a press conference Thursday morning, Santiago became the first and only candidate in the Boston mayoral race Thursday to declare support for a fully elected School Committee, calling for more "accountability" in the governing body of the city's public schools.
"It will no longer be a rubber stamp for City Hall," Santiago told reporters outside the Blackstone School in the South End.
"Over the past few weeks in conversations with families all across the city, it has been clear that BPS families do not feel heard, do not feel engaged, do not feel taken seriously," he said. "Overcoming this lack of trust is central if we're ever going to create real change for our students. And therefore, let me say adamantly that the days of the appointed school committee are over."
Santiago's call — as part of his larger education plan — comes after the resignations of three School Committee members within the last year over controversial remarks made during a meeting to temporarily change the admissions process for the city's exam schools. This week, acting Mayor Kim Janey kicked off the process of replacing the two most recently departed members.
Santiago would abolish that process, giving Boston residents a chance to again weigh in.
Boston did have a fully elected School Committee — like every other city in Massachusetts — up until 1992, when it move to appointing members following a home rule petition backed by then-Mayor Raymond Flynn (Flynn has since changed his mind and also wants to return to electing members).
Just as it did then, switching back to an elected School Committee system would require a home rule petition, meaning the City Council, State House, and the governor would also have to approve the change.
Recent polling has shown that a majority of Boston voters would support returning to the old way. However, most candidates in the race to be Boston's mayor aren't fully on board.
Santiago's new position puts him directly at odds with City Councilor Annissa Essaibi George, the only candidate in the mayoral race who is firmly behind keeping the appointed system. And the rest of the field has only gone so far as to say that they would explore a hybrid model, in which some School Committee members are appointed and others are elected. Until recently, that was Santiago's position, too.
But on Wednesday he said that the appointed School Committee "works to appease whatever the mayor wants to do."
"Their sole focus should be addressing the needs and desires of students and families," Santiago said.
In 2019, the Boston Herald found that the School Committee unanimously approved all 111 action items put before it that year, with a total of four abstentions and zero no votes.
From education and police reform to re-precincting and climate workforce development, all six mayoral candidates have plans for addressing systemic racism in Boston.
On June 16, Acting Mayor Kim Janey, Michelle Wu, Annissa Essaibi George, Andrea Campbell, John Barros, and Jon Santiago gathered at Boston's historic Museum of African American History for a forum on systemic racism hosted by the local Alpha Phi Alpha chapter.
While all candidates had the chance to answer the same audience questions at the end — each committed to supporting the re-precincting of Boston's neighborhoods — most candidates were asked individual questions.
Newsletter Signup
Stay up to date on all the latest news from Boston.com