Politics
Live blog: Updates on the Boston mayor's race
Here's the latest on the 2021 race.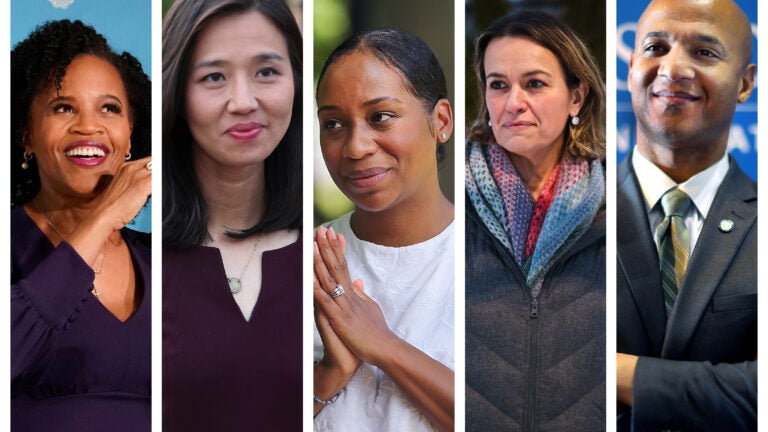 The election to choose the next mayor of Boston will take place Tuesday, Nov. 2, 2021, following a preliminary election on Tuesday, Sept. 14.
Declared candidates:
View a roundup of candidate Q&A's and prior race coverage here.
View updates from prior to June 17, 2021, here.
Latest updates below:
Acting Mayor Kim Janey is facing some flack after city employees handed out city-purchased pencils to students on the first day of school Thursday with her name on them, days ahead of Tuesday's contentious mayoral preliminary election.
"Our children don't need free pencils. They need their bus to show up on time," fellow candidate Andrea Campbell quipped at a press conference, referring to the numerous bus woes students and families faced that morning.
The Boston Herald reports the city spent $8,968 to buy 59,000 pencils with "Mayor Kim Janey" and "Boston Public Schools" stamped on them, and another $940 for 200 face masks with similar branding worn by volunteers — city employees who offer their time on the first day each year — who handed out the pencils, city records show.
However, the free pencils are handed out every year by the mayor, regardless of who is in office.
"There's a long tradition that the mayor of Boston has done for decades," Janey said of the pencils on Thursday. "I was glad to continue that tradition. It's a joyful marker of back to school, and I was happy to continue that tradition this year — particularly this year."
The increased criticism of the practice days before an election is also not new: former Mayor Marty Walsh was criticized by his opponent, then-City Councilor Tito Jackson, in 2017 for doing the same, particularly as 49 schools suffered budget cuts that year, according to the Herald.
Jackson, a Janey supporter, defended Janey this time around.
"Today is not the day to play politics with our students," he wrote in a Tweet. "It's like (Campbell) is rooting for BPS to fail."
Two more polls are showing an optimistic outlook for Michelle Wu in next week's preliminary election.
An Emerson College/7News poll of 600 likely Boston voters conducted between Sept. 6 and 8 found Wu ahead of the fray by double digits, with 30 percent of those polled indicating they'd throw their support behind the city councilor at-large.
The survey also provided yet another forecast for a close-to-the-finish race for second — a crucial position needed to secure a slot on the general election ballot in November.
City Councilor Annissa Essaibi George followed Wu with 18 percent, City Councilor Andrea Campbell with 17 percent, and acting Mayor Kim Janey with 16 percent.
All other candidates polled at 2 percent or lower. Fourteen percent of voters remained undecided. The margin of error was 3.9 percent.
"Since the last Emerson/7News poll in August, Wu has gained the most ground, 6 percent, while Campbell has gained 3 percent and Essaibi-George and Janey have stayed consistent," the pollsters said.
Also of note: Most undecided voters, or 36 percent, when asked which candidate they were leaning toward, backed Wu. Another 20 percent chose Campbell, with an additional 20 percent leaning toward Essaibi George and 16 percent toward Janey.
Wu was also the frontrunner of a Beacon Research poll conducted for the Better Boston independent expenditure PAC that's backing Campbell. It was obtained by Politico.
The survey, completed in the same timeframe as the Emerson College/7 News poll, compiled responses from people who had already cast their ballot, those who already backed a candidate, and those who were leaning toward one, according to the outlet.
Results from that poll shouled Wu with 33 percent, Campbell and Essaibi George tied at 19 percent, Janey with 15 percent, and John Barros, the city's former chief of economic development who has struggled to make a splash with voters throughout his campaign, polls have shown, with 3 percent.
Less than a week before the Sept. 14 preliminary election, state Rep. Jon Santiago is throwing his political weight behind former rival and acting Mayor Kim Janey for the position he was running for less than two months ago.
Santiago, who dropped out of the mayoral race in July, officially endorsed Janey during an event Wednesday morning in the state representative's South End neighborhood. In a statement, the Boston Medical Center emergency room physician and Army Reserve captain noted that he and Janey, a longtime education advocate who was elected to the Boston City Council in 2017, "spent most of our careers doing something other than politics."
"Now, as Mayor of Boston, Kim has shown tremendous compassion, determination and ability," Santiago said.
"She is leading Boston through the pandemic — helping ensure that 70% of residents have gotten at least one shot while implementing bold measures to take on the Delta variant," he continued. "She is delivering results to combat the housing crisis and doing so with empathy and resolve. And she is committed to a Boston that is both equitable and just."
The endorsement comes as his fellow members of Boston's State House delegation, many of whom had rallied behind Santiago, pick new candidates in the down-to-wire preliminary race.
Boston City Councilor Michelle Wu announced the endorsement Wednesday of state Rep. Aaron Michlewitz, a North End Democrat and chairman of the House Ways and Means Committee, who had previously endorsed Santiago.
"Michelle deeply understands the issues facing our downtown neighborhoods, especially the need for affordable housing, livable communities and high-quality city services for every Bostonian," Michlewitiz said in a statement first reported Wednesday morning by Politico, adding that Wu would "make a strong partner in City Hall."
Last month, Wu also picked up the endorsement of state Rep. Mike Moran, the House's assistant majority leader and a former Santiago supporter whose district covers the Allston-Brighton neighborhood. Meanwhile, over the weekend, state Rep. Kevin Honan, a fellow Allston-Brighton lawmaker and former Santiago supporter, announced his support for City Councilor Annissa Essaibi George.
For months, Boston City Councilor Andrea Campbell has criticized fellow mayoral candidate and Acting Mayor Kim Janey on every issue from Mass. and Cass to police reform to the city's budget to the COVID-19 response to campaign swag.
And in recent weeks, Campbell has seen her poll numbers rise in the wake of the pressure campaign, locking herself, Janey, and City Councilor Annissa Essaibi George in a three-way race for second to advance in next week's preliminary election.
Now, Janey supporters are punching back.
But Campbell says the broadside — a 30-second radio ad invoking her past support for expanding charter schools — goes too far.
Kim Janey often says the issue of housing is "personal" for her. It also got personal for another Boston mayoral candidate over the Labor Day weekend.
During an interview Sunday, the acting mayor fired back at City Councilor Annissa Essaibi George over criticism of her recent decision to impose a temporary ban on evictions in Boston.
After Janey announced the ban last week, Essaibi George criticized the acting mayor's "slow" distribution of federal COVID-19 rental relief funds and characterized the eviction moratorium as "a Band-Aid over a bullet hole." Asked about those comments on WCVB's "On the Record," Janey shot back.
"It is very disappointing to hear a candidate, particularly a candidate who has a track record of evicting tenants, be critical of an eviction moratorium," Janey said, alluding to Essaibi George's husband's record of filing more than a dozen eviction cases.
In late July, The Boston Globe reported that Essaibi George's husband, longtime developer and landlord Doug George, had a long record of clashes with city inspectors, tax collectors, and low-income tenants he pushed to evict.
In response to Sunday's comment, Essaibi George knocked Janey for deviating from the issues to make personal attacks.
"As the Acting Mayor has yet to put forth any housing plan of her own, and clearly could not find anything to criticize in Annissa's plan, it seems she found it more opportunistic to attack an opponent's family instead," the campaign said in a statement. "Personal attacks won't speak to voters, leadership will."
During the interview Sunday, Janey pointed to concrete actions she has taken as mayor, such as increasing the city's down-payment assistance for first-time homebuyers from $10,000 to $40,000.
Her office has also touted the city's efforts to distribute federal rental relief funds; while less than 40 percent — $19 million — of the $50 million the city has received to help renters during the pandemic has been distributed, that rate far exceeds the national average of 11 percent.
"I want to do everything to stabilize our communities to make sure that we are leading," Janey said Sunday. "Boston was in crisis long before the pandemic when it comes to housing, and so it is important that we're doing everything possible to keep people in their homes."
Yet another poll is showing voters favoring City Councilor Michelle Wu by a significant margin as the frontrunner in next week's preliminary mayoral election — and second place appears to be up for grabs.
A Suffolk University and Boston Globe poll published on Tuesday found 30.6 percent of 500 likely voters surveyed last week said they support Wu, some 10 percentage points higher than the second highest-polling candidate, acting Mayor Kim Janey, who garnered support from just over 20 percent of those polled.
"Her margin is bigger than the remaining undecideds and [the number of people refusing to take the survey]," David Paleologos, director of the Suffolk University Political Research Center, told the Globe about Wu. "This establishes her position, and it really makes the final week of the mayor's race about number two."
Only 7.6 percent of voters polled said they remain undecided.
While Wu's sizable lead falls outside the poll's 4.4 percent margin of error, Janey is among a pack of three candidates heading for a close second-place finish in the Sept. 7 election, according to the poll results.
City Councilors Annissa Essabi George and Andrea Campbell enjoyed support from 19 and 18 percent of voters surveyed, respectively. John Barros, the city's former chief of economic development, garnered 3 percent.
Campbell ranked high among voters' second choices, securing 23.4 percent of voters when they were asked about their preference for runner-up. Wu, meanwhile, garnered 21.7 percent; Janey, 14.4 percent; Barros, 8.1 percent; and Essaibi George, 6.4 percent. A little more than 20 percent of voters were undecided about their second choice.
Additionally, 43 percent of Wu supporters surveyed said Campbell was indeed their second choice, which could mean more votes for Campbell next week if some of those "soft Wu voters" are convinced Wu will advance to the two-candidate Nov. 2 ballot, even if they vote for Campbell, Paleogos told the newspaper.
Notably, the poll found 61 percent of those surveyed said they approve of how Janey has handled the job she stepped into in March. But voters' contentment with Janey does not appear to translate to more votes.
Boston's preliminary mayoral election on Sept. 14 is shaping up to be a down-to-the-finish race for second.
Another poll released Friday shows Boston City Councilor Michelle Wu pulling away from the five-way field, leaving an up-for-grabs race to be the second candidate to advance to the Nov. 2 general election in her wake.
Of the 453 registered Boston voters surveyed between Aug. 25 and Aug. 30 by MassINC Polling Group, 30 percent said they are supporting or leaning toward Wu, compared to 15 percent for acting Mayor Kim Janey, 13 percent for City Councilor Annissa Essaibi George, and 11 percent for City Councilor Andrea Campbell. Four percent said they support or are leaning toward John Barros, the city's former economic development chief, and 19 percent remain undecided.
With a 4.6 percent margin of error, the poll suggests a virtual tie for second among Janey, Essaibi George, and Campbell. Last week, a separate poll conducted by Emerson College found a similarly tight race for second.
"There are plenty of undecided voters left to change the outcome, and that cluster there in second place is very tight," said Steve Koczela, the president of the MassINC Polling Group.
The poll Friday also found that the composition of the electorate could have huge implications in determining who comes in second. Essaibi George surged to second place among the voters who are most likely to cast a ballot in municipal elections, while Janey came in second with less frequent voters. (Wu came in first among all turnout groups in the poll.)
Janey and Campbell, who are Black, also garnered the most support from Black voters, at 23 percent and 18 percent, respectively, while Wu and Essaibi George were the favorites of white voters at 31 percent and 19 percent.
Kozcela also noted that wealthy, white voters are disproportionately likely to participate in lower-turnout local elections.
"Even though the city has moved quite significantly towards becoming more diverse, lower turnout elections have still tended to be less diverse," he said, stressing that turnout really could be the difference maker later this month.
Another interesting dynamic found by the poll was that support for Campbell surged among voters who had been contacted by one of the mayoral campaigns. While she garnered less than 6 percent support among voters who hadn't been contacted, Campbell's support jumped to 15 percent among those who had gotten a call, mailer, or in-person visit from a campaign. None of the other candidates saw similar increases.
The Boston Globe editorial board has endorsed Andrea Campbell for mayor.
The newspaper's opinion writers say the 39-year-old city councilor from Mattapan has a unique and comprehensive vision for the city and works with the urgency needed to bring it to life for this moment.
"She radiates a sense of urgency, a palpable hunger to confront Boston's hardest, most politically fraught challenges — its uneven schools and a law enforcement system that has lost the trust of too many residents," the editorial board writes. "That drive, paired with her nuanced thinking about what can make the city more vibrant and equitable, is what distinguishes her from her opponents in this year's mayoral election — and why the Globe editorial board enthusiastically endorses her candidacy in the Sept. 14 preliminary election."
The editorial board shone a specific light on Campbell's plans for bettering Boston Public Schools and reforming Boston police — two issues, the writers say, former Mayor Marty Walsh fell short in amending.
"On the campaign trail, Campbell often talks about her twin brother, Andre. While Campbell thrived in the Boston Public Schools, her twin didn't catch the same educational breaks and became enmeshed in the criminal justice system before dying in custody, at age 29," the board writes. "When she talks about the inequities in the schools, the injustices of the criminal justice system, and the sheer precarity of systems that could send one sibling to the Ivy League and another to an early death, it is with the authority of someone who understands from personal experience just how far short from its potential this city still is. Boston can do so much more to lift its residents; it can also be a city that draws and keeps talented people here from diverse backgrounds, bent on making it even better. Campbell's own life story shows what is possible."
Polls have consistently shown Campbell ranking outside the top three among the five major candidates. Whatever sway the Globe endorsement will have on the race could very well be negligible, as studies have found newspaper endorsements typically have little impact in changing voter opinions. However, most research indicates that such endorsements carry more weight in local elections than at the national scale.
Boston.com and The Boston Globe are both owned by Boston Globe Media Partners. However, the Globe's editorial board operates independently from both newsrooms.
From equal pay and education to maternal and infant health, mayoral candidates joined the Massachusetts Women of Color Coalition to discuss issues impacting women and women of color in Boston.
On Wednesday, Annissa Essaibi George, Andrea Campbell, and John Barros attended a mayoral forum in honor of former Rep. Doris Bunte, the first African American woman elected to the State House, who died in February. Acting Mayor Kim Janey and City Councilor Michelle Wu did not participate in the discussion due to prior commitments.
Moderator Gail Jackson-Blount, past president and current board member of the Massachusetts Women's Political Caucus, asked candidates a number of questions, starting with how they will ensure City Hall sets an example with respect to equal pay.
All three candidates spoke about their diverse staff, commitment to hiring and promoting women and women of color, and transparency with the data.
"I will create the first ever department for economic justice and worker's rights in the city of Boston," Essaibi George said. "I establish an economic justice task force that will address discrimination and inequality, especially as it relates to our city's departments. We need to tackle the barriers to wealth building for communities of color."
Candidates shared a number of strategies to address health disparities and improve outcomes for women of color, especially around pregnancy.
"We can make sure every resident has access to healthcare services, reproductive services, and can expand the number of women eligible through MassHealth coverage system to not only be for pregnancy but the 21 month period after," Campbell said. "That's when we see most tragic deaths happen… and ensure coverage includes doula services, postpartum care…all of this we can push to be covered by insurance and be free."
Jackson-Blount asked candidates how they would use American Rescue Plan dollars to support Black and brown communities. Candidates all advocated for equity in the contract procurement process, and ensuring women and minority-owned businesses have a better shot.
"I am the only candidate who's worked with the state to make sure that we award contracts to women-owned and people-of-color-owned businesses," Barros said. "As soon as I got into government, I committed to doing a disparity study to make sure we got the legal tools to not only have goals but enforce goals."
Following a weekend that saw two homicides in Dorchester, Annissa Essaibi George reiterated her support for expanding community policing as she toured the neighborhood's Bowdoin Geneva area on Monday, GBH reports.
Generally, violent crime is down in the city, although certain pockets are still experiencing high levels of violence. This past weekend, police recorded several violent crimes: two non-fatal shootings and two non-fatal stabbings, in addition to the two murders near the Dorchester side of Franklin Park, according to the station.
Essaibi George, a city councilor, said there must be more community policing to combat what she classified as an "increase" in violence.
"We've seen an increase in shootings, we've seen an increase in shots fired, we've seen an increase in loss of life and we've got a lot of work to do to end violence in our city and to support those that are experiencing this trauma," Essaibi George said.
Police data shows the city as a whole has seen six less fatal shootings, 24 fewer non-fatal shootings, and 40 less shooting victims overall this year compared to last year, according to GBH.
In Dorchester, there have been six less homicides compared to 2020 and about two dozen non-fatal shootings, compared to 32 last year, the outlet reports.
Essaibi George, who has supported expanding the police force by 200 to 300 officers, is the only candidate for mayor who has opposed reallocating money from the police department to fund other community initiatives.
"My solutions include investment in community, investment in policing, investment in trust and building better relationships across the board," Essaibi George said. "The only way that we fulfill the promise of community policing is by making sure that our city's residents and community-based organizations that are doing incredible work are able to work in partnership with the Boston Police Department."
All five Boston mayoral candidates pledged Tuesday to achieve five specific goals that address some of the city's most pressing issues – including affordable housing, public housing, Mass and Cass, criminal justice, and education.
The candidates — acting Mayor Kim Janey, city councilors Michelle Wu, Andrea Campbell and Annissa Essaibi George, and John Barros, the city's former economic development chief — made these promises during a mayoral forum hosted on Zoom by the Greater Boston Interfaith Organization Inc. three weeks before the Sept. 14 primary election.
Each candidate was required to answer a question presented with either a yes or no response, followed by an explanation.
All candidates committed to:
Allocating $200 million of American Rescue Plan money to affordable rentals ($100 million) and affordable homeownership ($100 million);
Providing $50 million of American Rescue Plan money to address deferred maintenance in the Mildred C. Hailey Apartments in Jamaica Plain;
Adding 15 new street caseworkers on Mass and Cass, the epicenter of Boston's opioid crisis, in the first 100 days;
Increasing the allocation of the annual budget of the Mayor's Office of Returning Citizens to $1.9 million within the first 100 days;
Requiring at least one social worker for every 300 students in BPS and at least one designated social worker per school.
The mayoral candidates also agreed, if selected as one of the top two in the primaries, to attend a follow up forum on Oct. 21, before the final election. Every question asked received a yes response from all of the candidates.
One focus of Tuesday's debate was housing. Some of the candidates drew from their own struggles finding stable housing in the city while they were growing up.
Janey said she lived in subsidized housing and even a shelter for a time before eventually being able to purchase a home in the city.
"I certainly experienced housing insecurity," she said.
As acting mayor, Janey said she was able to set aside millions for rental relief and foreclosure prevention during the pandemic.
Campbell also said she grew up in public housing in the city before becoming a homeowner, an experience that has helped shape her views.
"Everything in my housing plan is about breaking" the cycle and helping others find a home, she said.
Barros said Boston has lost a significant portion of its Black population over the past decade because they have been priced out of the city.
"Boston is far too expensive for too many of our families," he said. "Many of us know neighbors who can't stay."
Wu said housing is about more than a place to live. She said it is also critical to the health of individuals and neighborhoods.
"Housing is the foundation of our recovery," she said.
Essaibi George said the city has to guarantee it's doing all it can to ensure future generations can still call Boston home, particularly helping those hoping to become the first in their family to buy a home.
"We have to be building more affordable housing and paths to homeownership," she said, adding that the city must also focus on creating affordable rental units.
All the candidates said they are committed to improving public housing in the city.
They also expressed support for increased mental health services in schools.
Wu, who helped raise her sisters while her mother struggled with mental illness, said students have wrestled with mental illnesses because of the coronavirus.
"This is going to be the ongoing pandemic after the pandemic," she said.
Essaibi George said she's pushed to make sure a full-time social worker is stationed in every school.
Campbell also said the city needs to make a stronger investment in school counselors.
"We have much work to do to transform the Boston Public Schools," she said.
The candidates also addressed concerns about the intersection of Massachusetts Avenue and Melnea Cass Boulevard, the area of the city sometimes referred to as "Mass and Cass." The area has become a symbol of the city's larger struggle with substance abuse.
Janey said her uncle died of an overdose in the 1980s.
"At the time everyone treated it as a criminal justice issue and not a public health issue," she said.
— Mia McCarthy & Associated Press
Suffolk County Sheriff Steve Tompkins is putting his support behind City Councilor Michelle Wu for mayor.
At a press conference in Roxbury on Tuesday morning, Tompkins recalled how he experienced first hand how Wu operates when the two worked together on Elizabeth Warren's U.S. Senate campaign in 2012.
"I was able to see just how hard she works," Tompkins said. "Let me tell you how hard: Her portfolio for Sen. Warren was huge, but at the same time she was planning her wedding and studying for the bar exam. So clearly this is an individual who can multitask. This is an individual who can get the job done.
"That's the kind of individual I invest in," he added.
Tompkins said he's been asked lately why he's endorsing a candidate only two weeks before the Sept. 14 preliminary election. He emphasized that he will bring his full resources and any influence he has to support any candidate who wins his approval.
Last week, Tompkins was mentioned in a Politico piece listing some of the local officials who haven't endorsed anyone in the race, telling the outlet he was "very close" to making his decision.
Tompkins also said at the time he was "perplexed" by the lack of public polls that typically give a sense of where candidates stand among voters.
On Tuesday, he acknowledged his close working relationships to the other four candidates, stating that they would "be good stewards for any part of this city."
"But Michelle is family," he said. "And I think that at the end of the day, to me, that was very important: that she's family but that she can also get the job done."
Wu, in a statement, said she was honored for the support.
"Sheriff Tompkins has worked for years to provide educational opportunities, economic development and reentry support for formerly incarcerated community members," Wu said. "I look forward to partnering with him in City Hall to ensure all our neighborhoods have the resources they need to be safe, supported and healthy."
After the federal eviction moratorium ended last week, Andrea Campbell on Monday called on acting Mayor Kim Janey to follow other cities in the region by instituting a moratorium to protect Boston renters as the COVID-19 crisis rages on.
The federal law, previously in place throughout the pandemic as a stopgap measure aimed at preventing the spread of the virus, effectively expired following the U.S. Supreme Court's rejection of the Biden Administration's moratorium extension.
Campbell, at a press conference, told reporters local advocates estimate around 100,000 households across the commonwealth are now at risk of eviction — possibly soon to add to the over 18,000 evictions recorded since the Massachusetts moratorium expired in October.
Some cities have taken matters into their own hands. Somerville, Malden, and Cambridge continue to have their own moratoriums — and Boston should do the same, Campbell said.
"As the … delta variant spreads, it must be our top priority to keep people in their homes," she said.
Campbell said city officials must also make money available to renters through the federal Emergency Rental Assistance Program more accessible to residents.
"While millions of dollars in relief funds are available, including over $50 million in Boston, it has been slow to reach families that qualify," she said.
So far, the city has only distributed $16 million in relief funds to over 3,000 families.
"This is not just about housing justice," Campbell said. "This is about racial justice. This is about economic justice. Thousands of Boston families are on the road to eviction because of the pandemic, and most of these families live in communities of color. And we know that COVID-19 infection rates have consistently been the highest and vaccination rates the lowest in communities of color."
Campbell also called for additional resources for the Office of Housing Stability and making the city's rental relief fund permanent, among other actions.
With less than three weeks until the preliminary election, a new poll shows Michelle Wu is holding onto her lead in Boston's contentious mayoral race, with a close contest for the No. 2 spot — necessary to advance to the general election this November.
Still, a sizable 25 percent of voters surveyed for the Emerson College/7News poll released Thursday remain undecided. (The margin of error is 3.9 percent.)
Of the 600 likely voters surveyed between Aug. 23 and 24, 24 percent said Wu, a city councilor, had their support. Another 18 percent backed City Councilor Annissa Essaibi George, 16 percent supported acting Mayor Kim Janey, 14 percent supported City Councilor Andrea Campbell, 2 percent supported former chief of economic development John Barros, and 1 percent of those polled backed state Rep. Jon Santiago, who ended his campaign last month.
Since the previous Emerson/7News poll in April, Wu picked up the most support from voters among the pack, scooping up another 8 percent.
"Wu has a sizable lead among the field with somewhat likely voters, where 35% plan to vote for her," the pollsters said. "However, among very likely voters, the race is tighter: 22% support Wu, 21% support Essaibi-George, 17% support Janey, and 15% support Campbell."
Most of the voters surveyed, about 19 percent, said housing is the most important issue they consider when deciding who to vote for, although 16 percent said education, 12 percent said crime, 10 percent said health care, 8 percent said jobs, and 6 percent said COVID-19. Police reform, the environment, and transportation each garnered 5 percent, while 13 percent of voters said something else was their top priority.
Read more of the poll results.
Michelle Wu joined local leaders Wednesday in East Boston's Eagle Square to call on city officials to do more to prioritize pedestrian safety, an issue that advocates say has gone overlooked in the neighborhood.
Local activist Celeste Ribeiro Hewitt said that speeding cars and a lack of lighting and crosswalks in Eagle Square have resulted in scenes that would be "comical if they weren't so dangerous." According to Hewitt, the intersection — where multiple thoroughfares converge diagonally — has been the site of dozens of car-on-car, car-on-pedestrian, and near-miss accidents. Wu's campaign noted that East Boston is "full of long, straight sections of roadway with nearly no traffic calming measures" like speed humps or flashing pedestrian lights.
"This is the epitome of what's wrong with transportation in our neighborhood," Hewitt said during the press conference Wednesday afternoon, as cars sped by in the background.
However, she said community leaders had been unable to get Eagle Square approved for the city's Slow Streets program, which looks to lower speeds and improves pedestrian safety on neighborhood streets with measures like speed humps, curb extensions, roundabouts, and crossing islands. In fact, of all of the city's Slow Streets projects, none are in East Boston, despite long-running advocacy efforts by local groups.
"This is the city's commitment and program to provide safety, and yet we are currently rationing it under a system where only a select few neighborhoods have a response in order to keep their streets open to all," Wu said.
"This is an area that needs a major redesign, and again it is within the power of the city to do something about," she later said.
Wu was joined during the press conference by City Councilor Lydia Edwards, who represents East Boston and is supporting Wu's mayoral campaign. Edwards called it "frustrating" that the safety issues in Eagle Square are "completely preventable."
"It's not for lack of requests to get it done," she said. "It's really lack of prioritization."
Andrea Campbell on Wednesday criticized Boston Public School leaders and acting Mayor Kim Janey for being too slow in making clear their back-to-school plans amid the COVID-19 pandemic.
The district presented its strategy during a virtual meeting Tuesday night — just over two weeks before students begin class once again on Sept. 9.
But Campbell was quick to point out at a press conference in Roxbury that the meeting was capped at 1,000 participants and was not broadcast live, locking out even Campbell, a city councilor whose own son will attend Boston schools for the first time this fall. (A recording of the hour-and-a-half-long meeting was available on the district's website on Wednesday morning.)
"Most teachers, families, and students still have no idea what the plan is for reopening, COVID safety measures, or what support is available to students to help them after more than a year of disrupted learning," Campbell said.
"This all should have been rolled out weeks ago," she added.
While Campbell said she is appreciative of certain steps the district is taking, such as requiring all people to wear masks in schools, pool testing of students and personnel, and the city's mandate that teachers be vaccinated or tested for the virus regularly, "most folks" Campbell has spoken with do not feel confident in sending their children back to school, she said.
"Some are questioning whether or not they're going to send their students to BPS at all," she said.
Campbell, instead, offered a "back to school checklist," which included calls for "basic air quality and temperature controls in every classroom," a system for tracking staff vaccinations, regular COVID testing of students, readily available personal protective equipment, and "clear, individualized plans to help every student recover from lost learning," among other points, she said.
Watch Andrea Campbell's full remarks.
In the waning weeks of campaigning before the Sept. 14 preliminary election, Michelle Wu received the backing of over 100 Latino leaders in the city, her campaign announced Wednesday.
The members of that group span occupations — radio show hosts, a retired judge, and entrepreneurs among them — and fields of expertise and advocacy, from mental health and education to housing, LGBTQ+ rights, and immigration, according to Wu's staff.
"I support Michelle because, since the beginning, she has been a respectful and efficient City Councilor At Large," Jovita Fontanez, the first Hispanic woman to lead the Boston Election Commission and to be elected to the state's Electoral College, said in a statement. "As the daughter of immigrants, she understands what it feels like to not be heard and be neglected by our government, and I trust that she will continue to uplift the voices of the marginalized people. Her work with the Puerto Rican veterans before she even became a politician is just one example of who she is as a leader: somebody who honors our voices."
Mario Paredes, a pro-immigrant attorney, said he is backing Wu "because she consistently promotes innovative and equitable policies that stem directly from the voices of Boston's diverse commnuity members."
"Moreover, she is repeatedly among the first MA policymakers to take bold and progressive positions on issues related to racial equity, housing, immigration, transportation, environmental justice, and non-punitive public safety," Paredes said in a statement.
Wu, in a statement of her own, said she is "so grateful to have the support of these leaders who have broken barriers and continue to push the doors wide open for the next generation."
"As the daughter of immigrants, I won't stop fighting for all of our voices to be heard, and for all our communities to be reflected in positions of power and decision-making," Wu said. "I look forward to continuing to organize alongside this incredible coalition not just until the election, but to deliver change in office. Let's go!"
Kim Janey and Michelle Wu are rallying behind John Barros, after WCVB decided to invite every Boston mayoral candidate — except for him — on its Sunday politics show "On the Record" ahead of the Sept. 14 preliminary election.
"Representation matters," Barros, the city's former economic development chief and sole Black man in the five-way race, tweeted Wednesday, adding that WCVB "has a responsibility to present all the major candidates, not set an arbitrary criteria to exclude entire groups of people."
"The voters get to decide," he said.
"On the Record" news producer Mike Cole referenced past poll numbers showing Barros's support in single digits, trailing the four women of color vying to move on to the Nov. 2 general election, according to The Boston Globe, which first reported on WCVB's decision.
"I want to have John on the show if John's a factor. I don't want to have John on the show if … we're doing it because he's on the ballot," Cole said. "We could devote the time to other issues in the race that might be more significant than his candidacy, if he's not connecting with voters at this point."
However, the most recent public polls were conducted in June and showed that a fifth of voters remained undecided. And while his overall fundraising trails well behind his opponents, the Barros campaign told the Globe that he has "the highest percentage of local donors."
After the Globe published its story, Janey tweeted that Barros " deserves to have his voice heard."
"This historic field, and every single candidate within, is a testament to how great our city is and how far we've come," Janey said.
Wu also tweeted at WCVB that Barros's "voice matters" and that "every candidate in this historic field should get airtime."
John Barros wants to make Madison Park, the only vocational school in Boston, the "crown jewel" of the city's education system.
In order to do that, he says the school should be broken out from under the Boston Public Schools system umbrella. As part of a plan released Tuesday to reform Madison Park, Barros is proposing to give the vocational school a separate budget and a separate school board.
"This structural change will catalyze the modernization of the school's programs to prepare students for the jobs of today and the future," Barros wrote in a Dorchester Reporter opinion column Tuesday.
While keeping it within the BPS organizational structure is more efficient, Barros's plan says independence would provide the school, which has historically underperformed and been plagued by leadership turnover, "the kind of focus and capacity it needs to address its unique mission and the ever changing dynamic of the workforce."
It's not the first time that granting independence to Madison Park has been proposed; state officials and former Boston mayor Ray Flynn also proposed doing so in the 1980s and 1990s.
While the school has improved in recent years, Madison Park still "lags far behind other Massachusetts vocational-technical schools" when it comes to the rate of students placed in paid positions with local employers, according to a recent Pioneer Institute report. Barros says a single school board overseeing the 44-year-old school could improve those outcomes.
"The successful Career/Vocational Schools in Massachusetts have both the autonomy and the responsibility to design their schools to best meet their student needs," his plan says. "Transparency in an independent budget would allow parents and partners to better understand and support the special programs at Madison Park. More school based control of its own budget will allow school leaders to make resource decisions related outcomes and improve their ability to fundraise."
Barros's plan also floats an MCAS exemption for graduating from Madison Park that instead allows students to "compile a portfolio of work that demonstrates their skills instead of taking the days-long standardized test." He also calls for spotlighting the school's strengths and improvements, while investing in trade industries of the future, like computer programming, clean energy construction, and advanced manufacturing.
"It's time that we significantly increase our investment in Madison Park, and give it the kind focus and attention it deserves in order to fully realize its potential," Barros said in a statement. "It's a diamond in the rough. Madison Park can and must shine just as bright as Boston Latin School."
Andrea Campbell, perhaps the most outspoken against acting Mayor Kim Janey's handling of a wide range of issues in the field of mayoral hopefuls, on Monday provided some clarity around her remarks on Janey's leadership.
Campbell, a city councilor, told GBH's "Boston Public Radio" her critiques are not personal against Janey, but that as acting mayor, Janey has made a number of "missteps or inaction of major crises."
"I am levying criticism not at the acting mayor but on issues, right, and looking to hold the administration, just as I did the previous one, accountable — and looking for action on the crises the city of Boston is dealing with right now," Campbell said. "That of course includes the public health crisis at Mass. and Cass, issues around policing reform, clearly the COVID-19 crisis we still have to grapple with, and so much more."
Campbell lamented that Janey took too long in deciding that city employees must either be vaccinated against COVID-19 or undergo weekly testing this fall.
"It would not have taken me weeks to make a decision that we should have made a long time ago," Campbell said.
And again, Campbell took aim at Janey for spreading misinformation about mandating vaccine passports at certain indoor public places, clarifying that despite Janey's claims, no one in support of such a rule, like Campbell, ever said the mandate would apply to grocery stores.
Hear what else Campbell had to say on GBH.
Acting Boston Mayor Kim Janey announced she is launching a new City Hall office for urban farming. The office will be named "Grow."
"We need to continue to expand, which is why I am creating a new office within the city of Boston, Janey said. "It takes public land. Many residents want to use public land for community gardens. Oftentimes, there's a big battle to develop the land and create some sort of building or structure but we're going to do more to make sure that we're creating access to food, bringing people together."
While Janey did not provide details about the office, she said "Grow" will be officially announced soon.
"This is how I started my neighborhood association in 2009 wanting to do a community farm, and we're going to do more of that throughout the city through the 'Grow' office," Janey said.
Janey also noted the office already has created some partnerships, including The Food Project, a non-profit that employs youth to work on farms. Janey said she hopes that in addition to decreasing food insecurity in Boston, it will create relationships throughout the city.
"This is particularly important as a way to bring neighbors together," Janey said. "To build relationships that are intergenerational from young children – who get a deeper appreciation for eating their vegetables when they grow them themselves – to our seniors in our community and so I'm really excited about using this as a way to expand access to healthy food."
The other candidates – Michelle Wu, Annissa Essaibi George, Andrea Campbell, and John Barros – also said they were in support of urban farming in Boston through farmers markets in vacant lots or more community gardens.
Janey also noted how this use of public land for farming would not worsen Boston's housing crisis – another pressing topic in the mayoral race.
"It is taking public land – obviously we still need public land for housing, we are in a housing crisis as well – but there is land that we can use to convert that into farmland to bring neighbors together," Janey said.
Last month, a Boston Globe report revealed three of Boston's mayoral candidates failed to register their rental apartments as required by the city.
Acting Mayor Kim Janey, a landlord herself who was also in violation of the law when the Globe's inquiry reached her office, however, was not among them.
Why? Janey quietly corrected her error while her administration simultaneously released records for the other candidates, unbeknownst to the newspaper at the time, according to a new Globe report published Sunday.
"It's not okay that the Acting Mayor is using her office to either obtain an inappropriate advantage over, or intentionally create hurdles for, her political opponents," City Councilor Annissa Essaibi George, one of Janey's opponents, said in a statement. "Our campaign believes this is part of a pattern in which acting Mayor Janey oversteps to undermine her fellow candidates' work, record, and character."
In a statement, Janey's administration told the newspaper that in hindsight, Janey should have been treated the same as her opponents but "the intentions were not political."
"Upon review, the Mayor believes that the appropriate action would have been for her to receive the same notice as the other candidates," the statement said.
According to the Globe, Janey owns two rental apartments that she did not register with City Hall for almost 10 years — until July 14, five days after the Globe requested records.
Janey appears to have benefited from her office in other ways, too, the newspaper reports.
At the Globe's request in July, the Janey administration released up to 18 months of office calendars for other mayoral candidates who worked in City Hall, but withheld Janey's calendars since she became acting mayor in March, according to the news outlet. (Past mayors have regularly released this information in response to information requests.)
The administration has also ignored the newspaper's records request for messages involving fundraising and this fall's election sent to and from Janey's city-managed email account. The messages were cited in a lawsuit filed against the city by the Globe earlier this month that alleges the city has failed to comply with state law in how it handled over two dozen public records requests.
For the last four years, Janey has also not acknowledged her two rental apartments — as part of her three-family home in Roxbury — on financial disclosures that city officials are required to file, according to the Globe.
In its statement, her administration said that Janey has not rented the units since 2017 and so she "did not list them as separate from her house in the Statement of Financial Interest."
Read the full Boston Globe report.
Mayoral Candidate and City Councilor At-Large Annissa Essaibi George said she opposes vaccine mandates for city workers during an interview with WBUR's Radio Boston on Thursday.
"I agree with pushing vaccination, and making sure that our city's residents and our city's employees have access to that vaccination," Essaibi George said. "I don't agree with a mandated vaccination, I think it's important to encourage it and to make sure that testing is available."
Essaibi George's declaration came only a few hours after acting Mayor Kim Janey enacted a vaccination requirement for city workers. Essaibi George said she worries a mandate could set a bad precedent.
"It's important for us to focus on encouraging our city's workers and our city's residents to get vaccinated, and to make sure that if they're not vaccinated, that they are regularly tested, especially those city employees that are in public-facing positions and dealing with the public," Essaibi George said. "But I think a mandate is a dangerous precedent to start, and we've got to be very careful about those mandates, we've got to be very careful about the messages we're sending to our city's employees, especially if we have not had conversations with them."
Essaibi George said she agrees with Janey's decision to require mask mandates in schools, though, so students can remain in the classrooms all year. She said masks in schools are a is vital for providing learning, emotional support, and social networks that come from attending school in person.
"I have absolutely no problem with the masks," Essaibi George said. "I think we certainly have to think about students who can't wear masks, or for various reasons, it makes it difficult for a child to engage in their academics when there is a mask required, but I don't have a problem with that. Kids need to be in school."
Essaibi George was also asked about recent allegations, first published by the Boston Globe, that her office violated the state's conflict of interest law. As City Councilor, Essaibi George reportedly opposed the construction of a building that would block the view of another building developed by the company of Essaibi George's husband.
Essaibi George said she was not aware of the conflict, since it was not her husband's project and said she opposed the construction because that is what the neighborhood wanted.
"We work with the neighborhood, we work with the civic associations, we work with our residents, and understand their position," Essaibi George said. "And in this case, they were opposed. And as the neighborhood was opposed, and the district counselor was opposed, my staff followed suit, as they always do, and also opposed that project."
Additionally, Essaibi George applauded a recent program that pays people in the Mass. and Cass area to collect and return syringes.
"We've got to pay attention to Mass and Cass. We've lost sight of that, especially over these last six months and to some degree over this last year and a half with COVID," Essaibi George said. "We've got work to do to help the most vulnerable."
Michelle Wu called on Wednesday for Boston to require patrons of high-risk indoor establishments to show proof of their COVID-19 vaccination, which she said is needed among more significant action from city government as the Delta variant of COVID-19 increases virus cases in Massachusetts.
Wu also vocalized support for requiring vaccinations for the city's 18,000 employees.
"Now is the moment for Boston to end this pandemic," Wu said at a press conference in Roxbury. "We have what we need. We have the life-saving vaccines, we have the resources to do outreach and to get that door to door and to people out in the community. But we also need to exercise strong leadership in ensuring that we are backing up our business owners, when it comes to keeping their establishments open, thriving, and safe for all."
So-called vaccine passports have broken out as a campaign issue in recent days after acting Mayor Kim Janey voiced her opposition to the idea and invoked a comparison to slavery-era freedom papers and birtherism.
On Monday, Wu's fellow candidate and city councilor Andrea Campbell spoke out against Janey's handling of the pandemic as of late, particularly her avoidance of issuing a mandate to require customers of restaurants and other crowded venues to show their vaccination status before entry.
Wu, joined by small business and restaurant owners on Wednesday, said city officials must step up to put in place and enforce such rules so that the burden of public safety doesn't fall on business owners.
"We need to be setting the parameters, and working with our business owners to get to the place where we have standards for proof of vaccination for high-risk indoor activities," Wu said. "And that could be anything from restaurants and dining indoors at a certain point in time. That could be movie theaters and gyms and many of the businesses that we have seen in various stages of the reopening and peeling back throughout the course of the pandemic, to make sure that we have for each category of those businesses, what makes sense and what is feasible for the city to step in and support enforcing."
Under those rules, showing vaccination proof would "become a daily reality," especially in the colder months, Wu said.
"We are in a race against the clock against the Delta variant and potentially others to follow," Wu said, warning that inaction now could potentially lead to more shutdowns. "Now is the moment for us to get all of that in order before it is too late and before we're already at the point where the weather is forcing us all indoors."
Boston state Rep. Chynah Tyler will support Andrea Campbell in next month's mayoral preliminary election, Tyler announced Wednesday.
"Today, I am proud to endorse Andrea Campbell as the next mayor of Boston because she represents a new generation of leadership and will continue to lead on issues of access, equity, and the betterment of all Bostonians," she said in a statement. "For years, as a district city councilor and council president, Andrea has led on issues that face everyday Bostonians and their families from across the city. Whether it was establishing pathways for workforce development, or ensuring public safety measures for our neighborhoods, Andrea has gone above and beyond for her constituents — refusing to simply maintain the status quo."
Tyler, a Democrat representing the 7th Suffolk District — which spans parts of Roxbury, Fenway, and the South End — said Campbell, a mother of two and a Boston Public Schools graduate, "recongizes the need for our city to be a place where all families and residents can prosper."
"Andrea is a leader who works with others to get things done," Tyler, the chair of the Black and Latino Caucus, said. "Throughout her tenure in office I have enjoyed collaborating with her to solve the big challenges facing our city, and I look forward to working with her as mayor to make our city the best Boston we can be."
Tyler's endorsement is the second that Campbell has scooped up from Boston's State House delegation. State Rep. Liz Malia, of Jamaica Plain, is also backing the city councilor in the five-way race.
"Chynah is a fierce and fearless champion for addressing structural inequities, including within our housing, public schools, policing and criminal legal systems, and has been a champion for Boston families throughout the COVID-19 pandemic. I am honored to have her support," Campbell said in a statement. "As daughters of Roxbury and sisters in the fight for equity, we share the same values and the same priorities to ensure everyone who lives in Boston has the opportunities they need to be successful."
Boston's mayoral candidates are ready to throw more support behind the city's businesses.
On Tuesday, Boston Main Streets hosted a mayoral forum to learn more about the candidate's positions on supporting neighborhood economies, from maintaining helpful COVID-era policies to committing more funds to small businesses.
Four candidates took the stage: former Boston economic development chief John Barros, Boston city councilors Andrea Campbell and Annissa Essaibi George, and Acting Mayor Kim Janey. Boston City Councilor Michelle Wu couldn't stay for the event, but moderator Bob Seay, of WGBH, said she'd be sending written responses to the organization.
If John Barros is elected mayor of Boston, he says he would ask the MBTA to upgrade the Fairmount Line by adding electric trains that would run as frequently as subways, plus free transfers to buses or the subway, among other improvements.
Barros announced his transportation plans Tuesday morning, stressing the need for upgrades to the Fairmount Line through Dorchester, Mattapan and Hyde Park, which saw increases in ridership in recent years.
"For decades, I've joined other advocates to demand investment in the MBTA's Fairmount Line because affordable, reliable transit in that corridor has enormous potential to connect people in historically marginalized neighborhoods to jobs," Barros said in a press release.
Along with Fairmount Line improvements, Barros's plan calls for:
Rapid transit along the Worcester Line through Allston-Brighton, Fenway/Kenmore, Back Bay, and the Seaport;
Having the Orange Line extend to Roslindale along the Needham Line;
Having a stop in Neponset along the Red Line between Savin Hill and North Quincy;
Adding a connection between the Red and Blue lines.
Barros also wants to consider a new station at Widett Circle, which could help with access to jobs. He also wants fare reform, and is calling for a free or reduced program for low-income riders.
"It makes no sense that riders in Hyde Park, Roslindale, West Roxbury are forced to pay nearly three times the fare that other Boston residents pay in order to get downtown," Barros said in the release. "My fare plan would equalize fares across our neighborhoods and ensure that every Boston resident can afford to take the train."
Activist, cannabis entrepreneur, former city councilor, and one-time mayoral candidate Tito Jackson on Tuesday endorsed acting Mayor Kim Janey as she seeks a full, four-year term.
"Mayor Janey has been doing a very solid job in guiding the city, and I think it's important in these difficult times that we have someone who understands what has happened in the city of Boston and understands the need for progress" in education, public safety, and closing the opportunity gap, among other issues, Jackson told Politico.
Jackson's public support follows a minor controversy for Janey last week in which she invoked slavery-era freedom papers and birtherism in response to a question about COVID-19 vaccine passports — statements she later said she regretted.
Jackson told Politico the remarks were "a mistake that was a distraction."
"If we were to go back on any elected official's record, including my record, I'm sure you have more than enough fodder in that area," he said. "I'm very confident in her ability to lead in particular on this issue. She's done a very good job in pushing folks to get vaccinated and is working to ensure our businesses open safely."
On Saturday, Janey also gained the endorsement of WAKANDA II, a group of Black Boston residents working to unify Black voters behind a single candidate for mayor.
"You are seeing momentum by Mayor Janey," Jackson said.
He added: "Having the experience and being mayor, even in the acting capacity, is an asset. And thinking about having potentially three mayors in one year, to me, is not the direction I'd like to go."
Andrea Campbell took aim at acting Mayor and fellow candidate Kim Janey over how her administration has responded to the latest developments of the COVID-19 pandemic, especially Janey's rejection of vaccine proof requirements for indoor spaces.
Last week, Janey caused small controversy when she invoked slavery-era freedom papers and birtherism in a response to a question about so-called vaccine passports.
Although she later expressed regret for her remarks, she reiterated her opposition to the idea, in part because she said it would have a "disproportionate impact on low-income families and communities of color."
Such rules would essentially lock out those residents who are unvaccinated from restaurants, gyms, and other venues, she said.
"That's ridiculous," Campbell said, firing back on Monday at a campaign press conference in Mattapan.
"This is about making sure that folks are safe and that those in the community and the larger community are also safe," she added. "We're in a public health crisis, and it requires us to respond with the appropriate measures to keep our residents safe."
Campbell asserted that Janey has been slow to take the necessary actions needed to protect the city as the pandemic gives way to the more contagious Delta variant of the coronavirus.
"It's taking too long, and if we take too long to respond in the way that is necessary to protect residents, we will start to see us go backwards," Campbell said.
Boston should follow New York Cty and require proof of vaccination to enter crowded public indoor spaces such as restaurants and concert venues, Campbell said. She also said the city should provide residents with a $100 cash incentive to get vaccinated, should reinstate mask requirements for indoor dining and large venues, and require all city employees to be vaccinated or get tested on a weekly basis, among other initiatives.
Janey, notably, said last week that she is "actively working toward" developing a requirement that all of the city's 18,000 employees get vaccinated.
Michelle Wu said she had to hold back tears while reading the new report from the Intergovernmental Panel on Climate Change.
On Monday, Boston City Councilor and mayoral candidate Wu talked to renowned author Bill McKibben about the dire call to action presented in the report.
McKibben, a leading environmentalist, called the IPCC reports a "great gift to the world."
"No matter what happens, the scientific community has done a good job of making sure nobody can say they weren't warned and given a clear sense of what was happening," he said.
Wu said the 2018 IPCC report made a real difference for her, and impressed upon her the rapidly closing window of time there was to take meaningful action.
"The waving of smoke signals, of every possible thing we're trying to do to pull back from the brink," she said. "Especially the sheer durability of the damage and force by which we're going to have to pull ourselves slowly back."
Having two young sons makes it hit home even harder, Wu said.
"Even in the best case of the five scenarios laid out we are still in trouble, and even if we did everything physically, technologically, and economically possible right now, we're still 20 years away from seeing some of that healing and stabilization of temperatures," she said. "Thinking what my boys will be like at that point…what we do right now, in this very moment, is what they will step into."
McKibben and Wu talked about what needs to be done at the city level, from converting to electric buses for the city and schools to increasing bike lanes and retrofitting buildings with all electric utilities. All while cultivating more renewable energy sources, of course.
"There is a trillion dollar industry that wants to keep us from taking the action we need to take," McKibben said. "You can see it at work across Massachusetts, town after town is trying to pass laws to do things like make sure all new construction come switch electricity not gas…but the utilities and fossil fuel guys are doing everything they can to stop it."
Wu sees an opportunity for significant work to begin at the city level.
"Climate change is not only the foundation for so many other challenges and harms we're facing down, but in fact solving it also solves all those challenges, we just need to push ourselves to think outside the box and move into that space that feels uncomfortable," she said. "That's why i think cities are so important because you can start with demonstrable proof of concept, innovation, moving quickly, to then drive momentum."
McKibben couldn't agree more.
"Cities are small enough to get things done but big enough to matter when things get done," he said. "That's an important sweet spot."
WAKANDA II, a group of Black Boston residents working to unify Black voters behind a single candidate for mayor, has endorsed acting Mayor Kim Janey for a full term.
"This is the candidate we think will be most responsive to the specific issues of concern to the Black and brown community of Boston," former state Sen. Dianne Wilkerson, who led the initiative, told GBH News on Saturday.
Members of WAKANDA II voted to back Janey after attending six months of weekly meetings, collecting surveys from 200 residents, and sifting through questionnaires sent to mayoral candidates, according to the news outlet.
"Acting mayor Kim Janey has done many positive things while she's been in office, I just think Black and brown constituents of Boston need to unite behind one candidate. She's there, she's in the office, she's the first Black woman mayor of the city, and I think we should put all of our efforts into making sure she has a successful campaign," Acia Adams-Heath, a Dorchester resident and affordable housing activist, told GBH News. "We need to support Black women. Period. That's it."
Wilkerson said advocates were particularly impressed with how Janey is "keenly zoning in" on Mattapan's COVID-19 vaccination rate, which is the lowest in the city.
"The City of Boston's public health commission has taken charge, at her direction, of coordinating a Mattapan community response. That to me is a refreshing change for Mattapan," said Wilkerson.
Janey told the radio station she is "honored and humbled" for the endorsement and spoke about racial equity through bringing Boston's communities of color to the center of policy discussions.
"From day one as mayor, I've led with millions of dollars investing into community groups that have relationships on the ground that can get more and more residents of Boston vaccinated," she said.
Janey faced criticism last week after she compared requiring so-called vaccine passports with freedom papers once carried by former slaves.
Wilkerson, who doesn't agree with the comparison, said the remarks were a "misspeak."
"She's gonna make other flubs, because that's what politicians do," Wilkerson said.
Janey is among three Black candidates for mayor, the other two being City Councilor Andrea Campbell and John Barros, the city's former chief of economic development.
"No candidate will win without a substantial level of support from Black Boston," WAKANDA II said in an email. "That's just a fact."
Group members, however, are not asking other candidates to withdraw from the race, according to GBH News.
On separate Zoom calls last month, the five major candidates for mayor sat down with Boston.com reporters to talk about a host of topics, from housing, education, and public safety to their favorite Boston movies and what they think of Boston's polarizing City Hall.
Candidates also answered questions submitted by Boston.com readers, who wanted to know more about their views on the city's exam schools, what they would do to raise awareness for climate change, and whether they would support a tax on junk food and soda, among other issues.
Read the full interviews and check out prior coverage of the race here.
Boston mayoral candidate John Barros is hosting a free vaccine clinic at the intersection of Massachusetts Avenue and Melnea Cass Boulevard on Tuesday from 10 a.m. to 2 p.m. Barros is partnering with MetroWest Pharmacy and Finding Hope in God for the event, and, according to his campaign, during the clinic staff from those organizations will be handing out water, food, and information on resources for public health, mental health, and substance use disorder in the area.
The streets around the intersection, known as Mass. and Cass, have become the epicenter of the opioid epidemic in Boston. The conditions in the area, which sees the impacts of the overlapping crises of homelessness, mental health, and addiction, have been exacerbated by COVID-19 as services shuttered across the region and more people arrived in Boston seeking resources.
"With the Delta variant causing another COVID-19 surge, we need to make sure our most vulnerable residents are protected, vaccinated, and well-informed about the new virus dangers and information," Barros said in a statement.
"Boston should be doing everything we can to get ahead of rising cases and be vigilant about the health and safety of residents. This is also exemplary of the urgent strategic outreach and resource deployment the individuals and community need at Mass and Cass."
In his plan for addressing the issues around Mass. and Cass, Barros is calling for a 24-hour street outreach team, appointing a special advisor for mental health and substance use disorders, and declaring a public health emergency for the crisis.
A Boston Globe report published late Wednesday details several problems housing developer Douglas George, husband of Annissa Essaibi George, has run into with City Hall over the years as his wife now vies to be Boston's next chief executive.
The Globe investigation found city inspectors have filed at least four applications for criminal complaints in housing court against George or his organizations to try to get him to fix code violations, though each of the cases was later resolved and he was never charged.
Shortly before his wife announced her mayoral campaign in January, George also paid a total of $5,315 for 116 late payments brought on by failing to register apartments for at least seven years, according to the newspaper. George was also sent warning letters this month for failing to register another 14 apartments and renewing 20 others.
The report also details how George and his companies have tried to evict tenants with rents subsidized by the Boston Housing Authority voucher system.
In addition, it highlights an incident from March 2019 in which Essaibi George's stance against a development undergoing consideration by the Zoning Board of Appeal that neighbored one built by her husband may have violated the state's conflict of interest law.
George built a 24-unit luxury condominium building in South Boston that touted its views of the city skyline. And when a developer proposed an adjacent project that threatened those views, Essaibi George had a staffer attend a ZBA meeting to urge the board to reject the project, according to the newspaper.
Her office referenced the opposition of a civic association but failed to mention Essaibi George's husband was actively selling $1 million condos next door, the report says.
In a statement to the Globe, the campaign for Essabi George, who declined an interview with the newspaper, at first defended her role in the zoning hearing, offering that her office acted appropriately and that "this was not her husband's project."
But when the Globe highlighted the state's conflict of interest law that prohibits public employees from being involved in anything that affects their spouse's financial interests — including neighboring properties — the campaign issued a second statement: "Now that we are aware of this through your press inquiry, we have engaged with counsel on issues involving the Ethics Commission and are working to file any necessary disclosures."
In a statement, George, who also declined an interview with the newspaper, said, "I am proud of my work in Boston over the last 30 years. I have always treated others fairly and with respect. With this inquiry, the Boston Globe does not."
The ZBA ultimately approved the project, and George sued the board, the Globe reports.
But George also faced a lawsuit from the condo association, which alleged poor construction, and three condo buyers filed a separate lawsuit alleging they were misled about the impressive views.
The newspaper reports George refuted the charges. The case involving the condo buyers was closed in July 2020 with a confidential resolution.
According to the Globe, other candidates have connections to development-related businesses, including acting Mayor Kim Janey, whose cousin founded Janey Construction, and City Councilor Michelle Wu, whose husband works in commercial real estate for East Boston Savings Bank.
Former economic development chief John Barros was sent warning letters this month for not renewing or registering two rental properties, the Globe reports. Wu was also sent a warning letter for not registering the apartment her mother lives in as part of Wu's two-family home.
Read the full Boston Globe report.
Mayoral candidate John Barros hosted his third Black and Brown Men's Roundtable on Wednesday night which was live streamed on Facebook.
"This is the third time we have gotten together with Black men in Boston to just talk about the city and the city's future," Barros said. "The reason we did it is because I know everywhere I went as I was talking to brothers people were saying, 'Where are we? Where are we in Boston? Where are we in the conversations? Really, are we in the conversation?'"
Barros hosted the event at his restaurant and said the event was not for his campaign, but rather to include Black men in these conversations and make a platform for "Black men to talk about Boston and Boston's future."
"We have a space that we can talk to each other to begin to build, so this is really about that," Barros said. "What this is not is a campaign event. And this definitely is not an endorsement of my canvas."
The event included Black men from across the city, including entrepreneurs, lawyers, and teachers. The men drew on their previous experiences to talk about current issues they see in the city, such as financial literacy, education in Black and brown neighborhoods, racial wealth disparities, and homeownership in Boston.
In the race to be Boston's next mayor, Acting Mayor Kim Janey is celebrating the endorsement of SEIU Local 888 — the same public service labor union that filed a complaint against her administration just last month.
"I am proud of them and honored to have earned their support," Janey said Tuesday.
SEIU 888, which represents 1,600 City of Boston workers, had filed an unfair labor practices complaint against Janey in June, amid complaints that the mayor's earlier-than-expected order for employees who had been working remotely during the COVID-19 pandemic to return to City Hall this summer did not provide flexibility to those in need of child care.
The union dropped its complaint in July after Janey's administration agreed to let some workers delay their return to in-person work on a case-by-base basis. And that response helped win over the union's support, according to SEIU 888 President Tom McKeever.
"Our members who work for the City have seen first-hand the careful listener and compassionate leader she is as mayor," McKeever said in a statement first reported by Politico.
In an interview with the Boston Herald, he added that Janey "was very amenable to working with us," noting that the acting mayor agreed to various changes to help members who had young children, elderly relatives, and autoimmune issues.
"We look forward to ensuring that she wins a full term so she can finish the great work she has started — whether around affordable housing, equity and excellence in our schools, or simply making sure Boston works for its people," McKeever said in his statement Tuesday.
SEIU 888 represents more than 8,500 state, municipal, and education workers in Massachusetts.
"I want to thank the members of SEIU Local 888 — yes, for their endorsement — but, more importantly, for their tireless commitment to serving our City," Janey said.
The Boston Election Commission announced the ballot positions for the preliminary municipal elections, at City Hill on Friday. The preliminary elections taking place Tuesday, Sept. 14, will include the candidates for mayor, city councilor at-large, and district councilor in Districts 4, 6, 7, and 9.
The order of the ballot for mayor is as follows:
Annissa Essaibi George
Richard Spagnuolo
Andrea Campbell
Kim Janey
Michelle Wu
John Santiago
Robert Cappucci
John Barros
The preliminary election will narrow down the mayoral field to two, with the top two candidates moving onto the Nov. 2 election.
Despite being acting mayor, Kim Janey will not be listed as an "incumbent" on the ballot, according to the Boston Herald. Jon Santiago also remains on the ballot despite announcing the end of his candidacy July 12.
Bostonians will also have the chance to vote for up to four city councilors at-large from the pool of 17 candidates, in order to narrow down the ballot to eight for November. Those in Districts 4, 6, 7, and 9 will be able to vote for their district councilor as well to narrow those races down to two candidates for November.
City Councilor Lydia Edwards on Wednesday officially backed her colleague, Michelle Wu, to serve as Boston's next mayor.
The District 1 councilor from East Boston in a video shared on Twitter said Wu "has proven she is grace under fire, but she's got fight in her."
Edwards described having a front row seat to Wu's work, even before Edwards herself was on the council.
In 2014, Wu brought Edwards, then a domestic workers activist, into City Hall and collaborated with her to sponsor a resolution in support of the "Domestic Workers Bill of Rights," which the council ultimately passed.
Later that year, Gov. Deval Patrick signed a bill of rights into law.
"I've watched (Michelle Wu) fight for domestic workers, seniors, immigrants, and families struggling to pay rent in gentrifying neighborhoods," Edwards wrote in a tweet on Wednesday. "I'm proud to stand with her in this fight and help make her innovative, hopeful, excited vision for the future a reality."
Wu, in a tweet, wrote: "From protecting workers' rights, to keeping people in their homes—I know when I'm in the fight with @LydiaMEdwards, we're building a powerful coalition to get it done. So proud to have your support."
Edwards and Wu were slated to formally announce the endorsement at 10:30 a.m. on Wednesday at LoPresti Park in East Boston.
On Wednesday night, Wu also scooped up the endorsement of the Boston Ward 5 Democratic Committee, which spans Back Bay, Beacon Hill, Fenway, and Bay Village.
The Service Employees International Union has endorsed acting Mayor Kim Janey for a full term.
32BJ SEIU is the largest property services union in Boston, representing between 5,000 and 6,000 security officers, janitors, maintenance and custodial workers, and window cleaners who are city residents, according GBH. Members are mostly Latino.
Vice President Roxana Rivera told the radio station Janey was selected because her life's story has given her a better understanding of the issues facing the union's members and the policies she has put forward show she is dedicated to acting on that lived experience.
"Like our members, she has experienced racism, sexism and prejudice throughout her life, and she has used that lived experience to fight for justice," Rivera said.
Janey could stand to financially gain should the union develop a super PAC, which Rivera indicated members are considering. The union currently has approximately $3 million in its state PAC, GBH reports.
"We're still talking through that," Rivera said when asked how much Janey could receive. "We also are going to be most likely looking at doing an [independent expenditure] campaign as well."
The endorsement comes after Janey won support from Suffolk County Register of the Probate Felix Arroyo, City Councilor Ricardo Arroyo, and Boston Democratic state Rep. Nika Elugardo in recent days.
With former mayor Marty Walsh serving as U.S. labor secretary and housing a central issue in the race to replace him, a coalition of developers and construction groups have come together to exert influence on the election to replace him.
However, while the field largely agrees on the need for development to address the area's housing shortage, some are pushing for a shift from Walsh's more development-friendly approach in order to prioritize residents who are increasingly struggling to afford the high costs of living in Boston.
"Responsible development, first and foremost, is about doing right by our people," Boston City Councilor Michelle Wu said during a forum last week.
Kim Janey and Michelle Wu have picked up some allies in the state Legislature.
State Rep. Nika Elugardo, a Boston Democrat, told Politico she is backing Janey and praised the acting mayor for being a leader on a number of issues, including police reform and economic development.
Electing Janey to a full term is a "once-in-a-lifetime opportunity" to show "Black and brown people from neighborhoods that have been typically disenfranchised … can move into the center of government," Elugardo said.
There is an opportunity to create an "intergernational, multicultural and socioeconomically diverse movement," she said.
"The progressive armies that we've got here in Jamaica Plain, in Roslindale, in West Roxbury and in the more affluent parts of Dorchester, among the educated elite everywhere across the city … those folks who are activated by progressive policy aren't going anywhere if Kim Janey wins," Elugardo said. "But if Kim Janey loses, I think we do lose the opportunity for mobilizing working-class progressives and people of all political hues who have been disenfranchised."
Meanwhile, North Andover Democratic state Rep. Tram Nguyen is endorsing Wu. Nguyen described the at-large city councilor as a "sister in service" who is a "strong advocate for public education, healthcare, our environment, and economic justice for all," according to Politico.
For Andrea Campbell, the city could be sitting on a viable option to tackle Boston's affordable housing problems — quite literally.
On Tuesday, the District 4 city councilor pitched her plan to transform vacant, city-owned lots into viable housing and multi-use developments. She said there are currently "thousands" of such properties, with concentrations in Roxbury, Mattapan, and Dorchester.
"We need to make it easier to build housing that is truly affordable for Bostonians and better utilize city assets that sit vacant in our communities," Campbell said in a statement. "As mayor, I will get creative, cut red tape and streamline development processes to accelerate the creation of affordable housing. And in my first 100 days, I will activate 100 vacant city lots for housing that will be affordable for those who live here, provide ownership opportunities, and create local jobs."
The idea is one Campbell has been working on since at least 2019.
As a councilor, she launched a vacant lot initiative, working with the city, local universities, and residents to develop housing, retail, and green space plans for publicly-owned vacant lots in Dorchester and Mattapan.
The work spurred a planning process for vacant lots under the Blue Hill Avenue Action Plan. As a result, there are now 30 active requests for proposals for properties on the corridor.
"These lots give us an opportunity to create critical mixed-use retail and residential development that will create local jobs and housing that's affordable so that employees can actually live in the communities in which they work," Campbell said during a press conference at one of the RFP sites.
The 100 days plan would expand on the scope outlined in the action plan, she said.
"I think — not think, I know I am the only candidate in this race that has a housing plan that is specific, that is practical, that is doable, that is creative, and frankly builds on a long record of accomplishment that is quite specific," she said.
Other components of Campbell's housing plan include streamlining the permitting and licensing processes to make them cheaper, more predictable, and easier. The councilor also wants to update the city's zoning code to allow for more transit-oriented developments and accessory dwelling units while also eliminating parking minimums for "deeply affordable housing projects," according to her campaign.
Annissa Essaibi George took to Twitter on Wednesday to lament how the changes approved to Boston's exam schools admissions process passed by the School Committee last night came to be.
In a thread of tweets, the at-large city councilor and former Boston school teacher decried the process as being rushed.
"With School Committee members missing, an interim Mayor who was not elected, and a school year of chaos and uncertainty, this process was a hasty one," she wrote.
The committee is currently down two members after recent resignations, and acting Mayor Kim Janey, now an opponent of Essaibi George, took office in March, all amid a school year unlike no other during the COVID-19 pandemic.
Still, the School Committee voted unanimously on Wednesday night to include students' socioeconomic backgrounds in admissions decisions to the Boston Latin School, Boston Latin Academy, and the O'Bryant School of Mathematics and Science.
The move institutes a permanent change to the admissions process after the committee voted in October to temporarily suspend the usually required entrance exam for one year amid the disruptions to the school system brought on by the health crisis.
"While the plan claims to level the playing field and create improved access, it has not," Essaibi George said on Twitter. "It is unclear, untested, and not informed by families across the city.
"We need to build trust between BPS and our communities, forge relationships, and create opportunity," she continued. "The task force should present a plan that is clear, understandable, and presented to the public prior to a vote."
Last month, a task force charged with recommending a policy change put forth a proposal that determined eligibility in part on the socioeconomic backgrounds of students, but also reserved 20 percent of seats for students who rank among the highest percentiles, regardless of other factors.
The group was initially considering a policy without the reserved slots but indicated members faced "political pressure" to include that portion.
The district was reportedly considering both options, and Superintendent Brenda Cassellius revealed, shortly ahead of the committee's vote, on Wednesday afternoon she would back the plan that did not set aside any seats.
Although the latest plan is different from the direction voted upon by the committee last fall, the temporary change was apparently effective for diversifying the student population at each of the three schools.
Data analysis in May showed the percentages of Black, Latino, and low-income students accepted to each school went up, according to The Boston Globe. Admission offers for white and Asian applicants, however, dropped.
Acting Mayor Kim Janey secured the endorsement of Suffolk County Register of Probate Felix Arroyo and his son, Boston City Councilor Ricardo Arroyo, her mayoral campaign announced Thursday.
"I first met Kim over 20 years ago when I was a member of the Boston School Committee, where I saw her advocacy for quality public schools for all students," the elder Arroyo said in a statement. "As a member of the Boston City Council and now as Mayor, Kim has continued to fight for justice and equity for all. I know Kim's heart and I know her values. She is the right person to lead our City, and I will be working hard to elect her to a full term."
Ricardo Arroyo praised Janey as a "strong progressive partner in our work to address racial and systemic inequities."
"I know she shares my values," he said. "As our Mayor, she has met the moment and shown a commitment to ensuring that Boston is a city that works for everyone — whether by increasing accountability and transparency at the Boston Police Department, joining forces with the Council to create a participatory city budget process or standing for equity in all of our public schools."
The endorsements come at a pivotal time in the race ahead of the Sept. 14 preliminary election. The support from the well-known and connected political family could help sway Latino voters towards Janey, just as the race's sole Latino candidate, state Rep. Jon Santiago, dropped out earlier this week.
The senior Arroyo was the first Latino to serve on the Boston School Committee and Boston City Council, and is the only Latino elected to a county office in Massachusetts.
Ricardo Arroyo is the first person of color elected to represent Boston's District 5.
"Felix is a legendary and groundbreaking leader who has, for decades, been a steadfast champion for every resident of the city," Janey said. "Ricardo has brought his passion, his commitment and his advocacy for those who are too often unseen and unheard in Boston to the City Council — fighting for them every single day.
"I thank them both for their service and their support of my campaign to build a more equitable, just and resilient Boston."
Acting Mayor Kim Janey and City Councilor Annissa Essaibi George recently returned donations from Anwar Faisal, one of the Boston area's largest — and most infamous — landlords for student apartments, their campaigns confirmed Thursday.
The returned donations were first reported Wednesday by the Boston Herald.
Campaign finance records show that Faisal, who has a long record of complaints for failing to address health and safety issues in the apartments he leased, gave $1,000 each during the last fundraising quarter to Janey and Essaibi George, who are leading the pack in donations from the real estate industry.
"Upon realizing who this was and what they stood for, Annissa returned the donation because it does not align with her values," Essaibi George's campaign told Boston.com in a statement Thursday.
Janey's campaign also confirmed that they returned the donation, but declined to elaborate.
Faisal, a major landlord in the Fenway and Allston neighborhoods, has been the subject of dozens of lawsuits and criminal complaints, as well as hundreds of code enforcement tickets, according to a 2014 Boston Globe Spotlight investigation. The complaints have ranged from rat and bedbug infestations, to broken locks, to leaks near electrical outlets, to dysfunctional heating systems.
A Boston magazine profile in 2013 dubbed him "Lord of the Sties." The city's former housing inspection commissioner called the issues they had with Faisal "systematic."
Official campaign swag is entering the Boston mayor's race, a little too early for some.
Acting Mayor Kim Janey's campaign recently launched a webstore selling T-shirts, hats, tote bags, buttons, and stickers in her distinctive purple and tangerine colors. Emblazoned with Janey's portrait and phrases like "Madam Mayor," the store is capitalizing on the city councilor's quick ascension to become the first woman and person of color to lead Boston, after former mayor Mary Walsh stepped down to become U.S. labor secretary, as The Boston Globe reported Wednesday.
Janey is the first candidate in the 2021 race to launch such an expansive store (Michelle Wu's campaign has a store offering a single item: buttons).
"The merch is beautiful," Janey said at the opening of her campaign headquarters in Jamaica Plain last weekend, according to the Globe. "I'm very proud of the merchandise. It's been received well."
Not by everyone.
In a tweet Wednesday afternoon, fellow mayoral candidate Andrea Campbell knocked Janey for "launching a merch store before a policy platform." Campbell, who has released a dozen detailed policy plans, ticked off schools, police reform, and the opioid crisis as higher priorities.
Janey says she is taking action on those subjects as well, as she recently detailed in a speech marking her first 100 days as acting mayor. However, beyond a one-page webpage outlining her vision, Janey's campaign has yet to release detailed policy proposals like her competitors.
The new webstore also comes after Janey recently debuted yellow Converse sneakers with her portrait and campaign logo (which aren't for sale in the store). After she took office this past spring, sneakerheads were quick to notice Janey's impressive array of Converse and Nike footwear.
At the time, Janey said her clothing and accessories gave her great pride and joy, while also noting that women in politics often face increased scrutiny for their appearance.
"I want to remind folks that it's also important to focus on the substance of the work that we are doing in the City of Boston for our recovery, reopening, and renewal," she said.
Upon launching his campaign to be Boston's next mayor, John Barros said that "all measures" were on the table to address the city's housing affordability crisis.
Well, there is one idea now off the table.
In an opinion piece Wednesday in CommonWealth magazine, Barros ripped rent control as a "disastrous" and "outdated housing strategy that would harm those who need relief the most" and "put an immediate damper" on the construction of new housing.
The former Boston chief of economic development pointed to cities like San Francisco, citing research showing that while rent control — which has been banned in Massachusetts since 1994 — limited the displacement of renters in the short term by protecting them from rent increases, it also led to long-term decreases in housing supply that ultimately drove up prices.
"Rent control would be great news for the highest-income Boston renters, who would avoid annual rent increases on their luxury apartments," Barros wrote.
"However, rent control would freeze rents at a level that is too high for most Bostonians; it's not a real solution for the many families in Boston who currently struggle to afford already too-high rents," he said. "It's not a real solution for future immigrants and other new arrivals in our city who would be stuck paying much higher rent when they arrive here."
The piece by Barros elicited a rebuke from Boston City Councilor Michelle Wu, the only candidate in the mayoral race who supports rent control.
"This not only misunderstands the policy tools of rent stabilization, but is disconnected from the reality across our neighborhoods—and the urgent displacement crisis that so many Boston families are facing," Wu told Boston.com in a statement, arguing that pursuing both rent control and policies to create more affordable housing could be done together.
Barros said the better option would be for the city to build new housing with deed restrictions requiring owners to keep their rents affordable, as well as more housing in general.
"Rather than pursuing a disastrous housing strategy that would reward some of our city's residents at the expense of others, with no consideration of who actually needs rental relief, we should focus on increasing housing production at all levels — affordable, middle-income, and market-rate — and on increasing opportunities for homeownership and wealth creation in our neighborhoods," Barros wrote, pivoting to his broader housing plan and record under former mayor Marty Walsh creating affordable housing.
While he did not mention Wu in the article, the essay by Barros leaning into the lightning rod debate comes as a direct rebuke of one of the city councilor's distinctive policies.
While fellow candidates Andrea Campbell, Annissa Essaibi George, and Kim Janey also oppose rent control, Wu argues the policy is necessary to provide short-term stability and relief to those at risk of being forced from their homes.
In response to Barros's opinion piece, Wu said Wednesday that "it insults Bostonians' intelligence to say that rent control will mean higher rents" at a time when rising prices are forcing families to move out of the city.
"Instead of the shortsighted view of new affordable housing and pathways to homeownership in opposition to other stabilization tools, we need to see them as connected policies to stop families from being pushed out of their homes," Wu said. "Boston deserves leadership that challenges shortsighted, tired approaches, and I stand with the supermajority of residents in supporting rent control as a tool to stabilize our families and build a Boston we can all afford to live in."
Jon Santiago, a South End state representative and a Boston Medical Center emergency room physician, has ended his campaign for mayor of Boston.
Tuesday's announcement, shared in a video posted to social media, came about five months after the Democrat and U.S. Army Reserve captain launched his bid to seek the city's top executive seat.
"I announced my campaign not far from here, along my walk home after shifts in the ER," Santiago said. "It was with a sincere desire to serve Boston in a greater capacity that I jumped in this race, and today, still filled with energy and optimism for Boston, I'm ending my campaign for mayor."
State Rep. Jon Santiago put forth his "Climate Change, Environmental Justice, and Resiliency" plan on Wednesday, vowing to bring Boston to carbon neutrality by 2050.
The candidate for mayor of Boston unveiled his vision while standing with supporters at the Chinatown Gate, where he cast a light on a neighborhood that faces significant health concerns exacerbated by climate change and carbon emissions from nearby highways.
"This is a neighborhood without adequate tree canopy. It is surrounded by highways and exhaust fumes, and it has heat islands on almost every corner," Santiago, a South End Democrat and emergency room doctor, said. "For the folks here, environmental justice is an issue that cannot wait.
"But this story isn't isolated to Chinatown," he contined. "What's happening here is reflective of what I see across the entire city of Boston."
Santiago called for getting Boston to carbon neutrality ahead of the deadline outlined under the Green New Deal in part through expanding public transportation options.
Creating more dedicated bus and bike lanes and encouraging micro-mobility options will help lower reliance on cars, he said. Electrifying city vehicles and providing more electric vehicle infrastructure will also help to meet the goal.
Santiago also set a goal of net zero emissions in new development by 2035. He said through a retrofit fund, the city could additionally "decarbonize current buildings, expand renewable energy sources, and support our small landlords who want to go green but can't because it's currently cost prohibitive."
"A part of these funds will be dedicated to supporting communities facing environmental justice issues," he said. "We must be sure that they have real access to capital, and take part in the Green Revolution."
Santiago's plan also seeks to launch climate-resilient standards for new development and make certain Boston is a "global green economic engine."
The city could partner with local schools to "create green credentialing programs for students, workforce retraining, and re-entering citizens," according to the proposal.
Santiago intends to address problems surrounding environtal justice and to reverse "decades of harmful policy decisions," his plan says.
"As mayor, I'll invest in our environmental justice communities and make sure that they are at the center of any discussion regarding new development that poses any environmental concern," Santiago said. "They must be at the table when decisions are being made because it is precisely from them not being there in the first place, nor in power, that we ended up with today's situation."
Acting Mayor Kim Janey brought in more cash than any other candidate seeking the mayor's seat last month.
According to the Boston Herald, Janey raised $257,065 over the course of June — far ahead of City Councilor Annissa Essaibi George, who followed Janey's amount with $182,194.
In June, Janey spent $77,941, primarily on consultants, legal advice, and staff payroll, and ended the month with $537,250 in savings, the newspaper reported.
Essaibi George, meanwhile, spent $86,915, mostly on consultants and staff, and was able to save $665,822.
City Councilor Michelle Wu, who changed banks last month, appeared to have raised $154,000, with $1,068,415 saved away. She spent approximately $130,000, largely on her staff, but also $40,900 on a poll, the Herald reported.
Here's what other candidates reported for June, according to the newspaper:
City Councilor Andrea Campbell: $100,295 raised; $111,356 spent; $1,024,881 saved
State Rep. Jon Santiago: $89,796 raised; $197,421 spent; $410,048 saved
Former Boston economic development chief Jon Barros: $59,972 raised; $81,932 spent; $319,868 saved
City Councilor Annissa Essaibi George and her husband have been late to pay property taxes on their Dorchester home every year since at least 2014, according to the Boston Globe.
The couple's taxes are currently up-to-date. But the newspaper reviewed eight years of property and motor vehicle tax records for the six leading mayoral candidates and found that while most had "relatively few" issues, Essaibi George and her husband had a pattern of late payments over the years.
In 2015, during her successful campaign for City Council, Essaibi George and her husband paid more than $30,000 to get their business and property taxes up to date after late payments, according to the Globe. In both 2018 and 2019, the couple did not pay their motor vehicle excise taxes on time, prompting two bills to eventually be sent to collections.
Essaibi George, who holds an at-large seat, declined an interview request with the Globe on Wednesday, according to the newspaper.
Read the full report at the Globe.
Michelle Wu has scooped up another endorsement.
Progressive West Roxbury/Roslindale, a local chapter of the grassroots organization Progressive Massachusetts, has backed the Roslindale resident and at-large city councilor, Wu's campaign told Boston.com on Thursday.
"I'm delighted and deeply moved to earn the endorsement of my friends, neighbors, and fellow organizers in Progressive West Roxbury/Roslindale," Wu said in a statement. "These incredible activists have helped reshape what's possible in Boston politics and policy. Now's the moment to organize for bold vision and urgent action, and I know this partnership will supercharge our grassroots momentum for City Hall and the mayor's office to be a platform for activism all across our city."
Formed in 2011, Progessive Massachusetts is a network of activists committed to pushing for "shared prosperity, racial and social justice, good government, and environmental sustainability in Massachusetts," according to its website. The group, which endorses candidates at various levels of government in select races, wants the Bay State to serve as a leader and laboratory for the nation when it comes to bold progressive initiatives and policies.
Rachel Poliner, chair of the Progressive West Roxbury/Roslindale Steering Committee, said candidates had to secure at least 60 percent of the vote from the chapter's voting members to gain the endorsement, which she noted was "very high in a multi-candidate race."
Wu received 80 percent, a campaign spokesperson confirmed.
"Michelle has been working to find solutions to Boston's challenges citywide for eight years, and has been a consistent voice for progress as a City Councilor At-Large," Poliner said in a statement. "She is the leader for this moment, with vision, practical and thorough plans, and she understands the interconnected and systemic nature of the challenges we face as a city."
Poliner added that Wu "has stood out as the candidate who does the research, builds the coalitions, and crafts the policies to address issues throughout Boston.
"No matter the issue we've raised, from schools to housing, racial equity to climate, transit to policing, we've found Michelle has thought about it, and has a plan," she said.
Thursday's announcement builds on a string of endorsements Wu has secured, including most recently from state Sen. Sal DiDomenico, assistant majority leader of the Massachusetts Senate, on Monday.
Michelle Wu and Kim Janey are the current frontrunners of Boston's mayoral race, according to the results of a new poll released Tuesday, June 29.
Only a few percentage points separate Wu, the 36-year-old at-large city councilor, and Janey, 56, who has served as acting mayor since March, a Suffolk University/Boston Globe survey of 500 likely voters shows.
Wu garnered support from 23.4 percent of those surveyed, while Janey amassed the backing of 21.6 percent. Notably, 21.6 percent of voters were still undecided, with about two-and-a-half months to go before the Sept. 14 preliminary election narrows the race to two final candidates.
But both Wu and Janey appear to be out ahead of their other opponents by a significant margin. Annissa Essaibi George, also an at-large city councilor, polled at 14.4 percent, followed by District 4 City Councilor Andrea Campbell at 10.8 percent.
Read the full story and see the complete poll here.
In the race to be Boston's next mayor, Michelle Wu picked up the endorsement Monday of one of the Senate's top leaders in the form of state Sen. Sal DiDomenico.
DiDomenico — an Everett Democrat whose district includes Charlestown, Allston, Brighton, and the West End — has been the Senate's assistant majority leader since 2018 and first assumed office in 2010, shortly before Wu was first elected as a Boston city councilor.
"Having served alongside her for nearly a decade, I know Michelle always shows up in the community and stands up for working families with a bold vision and a track record of getting things done," DiDomenico said in a statement released by Wu's campaign. "She'll be the leader we need to support our public schools, make Boston more affordable, and create opportunity in every neighborhood."
In a press release, Wu's campaign pointed to DiDomenico's work on community development, education, children's health, economic development, social and human services, and food insecurity. Wu is also the only candidate in the mayor's race who supports legislation backed by DiDomenico to remove the statewide prohibition on rent control.
"Sal has been a friend and partner for many years in the fight against poverty and to deliver change across the Commonwealth through showing up for the constituents and values we share," Wu said Monday.
Jon Santiago wants City Hall to back mortgages for some first-time homebuyers (June 24)
The City of Boston has a pretty good credit rating — AAA for seven straight years.
Now, Boston mayoral candidate and state Rep. Jon Santiago wants to leverage that credit — and the city's resources — to help residents buy their first home.
As part of a sweeping housing plan released Thursday, the South End Democrat pledged to create an apparently first-in-the-nation program in which City Hall would act as a mortgage guarantor for low-income, first-time homebuyers.
Read the full story here.
Boston's mayoral candidates are committed to empowering resident voices in the development process and establishing robust planning to streamline that process.
From environmental justice and homelessness to historic preservation and affordable housing, the five present candidates covered a lot of ground at the June 22 Downtown Neighborhoods Mayoral Candidate Forum hosted by several civic organizations. Acting Mayor Kim Janey was absent — apparently double booked — and City Councilors Michelle Wu and Annissa Essaibi George were present for only part of the event.
Candidates noted a number of institutional changes they would implement within the Boston Planning and Development Agency.
"I would reorient the BPDA, reorganizing it to make sure it serves our neighborhoods and not just private development," said John Barros, former city economic development chief. "Planning needs to be — in the new hierarchy of the BPDA — running the agency, and development needs to respond to planning, not the other way around."
City Councilor Andrea Campbell and Essaibi George committed to increasing transparency.
"We should be putting out information on when the meetings are, the proposals, the development plans…release this information proactively," said Campbell. "I also have in my plan establishing a civic engagement office — we don't do that well and need human capital to do a better job of that.
Wu advocated for an overhaul of the zoning code and emphasis on long-term planning.
"We need to move away from a system when we're deciding things on a one-off, case-by-case basis, negotiations parcel by parcel…we need to get to a place where we have true planning in the city of Boston," she said.
State Rep. Jon Santiago proposed three specific changes he'd make to ensure powerful engagement in the development process.
"I'm committed to overhauling the whole process, it has to be modernized and we have to provide for better public engagement," he said. "I'll do three things: I want to make sure we finally codify public engagement will be a part of it, I want to implement pre-file requirements to make sure developers are engaging with communities before filing, and I want to establish a determined, defined permitting processes to lay out the transparent benchmarks."
Though each candidate noted there's work to be done across the board, they all had a different answer for the question: "Which city department needs the most improvement?"
Wu: Boston Public Schools
Barros: Inspectional Services Department
Campbell: Boston Police Department
Santiago: Boston Planning and Development Agency
The moderator followed up by asking how soon each would commit to making changes in these departments, and all four candidates present said that work would begin "immediately" or within the first 100 days.
Andrea Campbell will vote against acting Mayor Kim Janey's proposed $3.76 billion operating budget for the 2022 fiscal year, which, she said Tuesday, falls short of adequately addressing key issues, notably reforming Boston's police force.
"What matters the most is that we're putting forth a budget that not only aligns with our values, but is responsive to what we've been hearing from our constituents," Campbell said during a press conference. "And right now, this budget is not responsive to the thousands of emails and calls that we've gotten with respect to policing reform.
"And if anything, this is more important now than it was before given all of the issues that continue to come out of this department," she added.
As she submitted her initial budget proposal in April, Janey said she would roll back police overtime spending by about $21 million of what the agency is expected to spend this year. The department has struggled to keep costs down as the department's officers battled COVID-19, saw a large number of retirements, and worked extra shifts to cover numerous protests in a year of civic unrest, officials have said.
Janey's plan calls for increasing the department's sworn force by 30 officers while also increasing the number of cadet recruits by 20, which officials have said will help curb overtime spending by reducing the need to pay other officers to work longer hours to cover empty shifts.
Janey's resubmitted proposal also earmarks $1.3 million for the city's new Office of Police Accountability and Transparency, $1.75 million to study alternative policing models, and more funding to support officers on sick and injured leave, according to her office.
Both Janey and Campbell were among the minority that voted against last year's budget submitted by then-Mayor Marty Walsh, amid calls for more drastic cuts to police budgets and more sizable investments in anti-violence and public health initiatives.
"The council is being asked to consider a police budget that does not look a whole lot different," Campbell said Tuesday.
Janey's budget "provides no strategy whatsoever to actualize … promised reductions to overtime" and "does not answer the calls for change and I still feel and hear every single day," Campbell said.
The calls have gained urgency lately as Boston police have faced a growing number of controversies that have continued to erode public trust, she said.
Campbell instead called for reallocating and restructuring the department to provide "adequate coverage" in the city's neighborhoods and for "major changes" to the union contracts that govern the city's police force.
Her platform seeks to cut $50 million from the police department budget and funnel those savings into economic justice, public health, and youth programs necessary to tackle the "root causes of violence," she said.
On Tuesday, Campbell also expressed frustration over being met with silence from Janey's office regarding letters she sent and ideas she raised around several issues, including on how the city responds to the concerns and problems in the Massachusetts Avenue and Melnea Cass Boulevard area.
"Every time I meet with constituents, we're doing the work with respect to Mass. and Cass, we're putting forth ideas on how to respond to the rising uptick in sexual assaults and human trafficking we're seeing, and other public safety, public health concerns, I have gotten zero response" Campbell said.
Annissa Essaibi George's mayoral campaign released a sweeping housing platform Tuesday, with a focus on increasing homeownership to close Boston's racial wealth gap.
The plan calls for greater investment in local homebuyer assistance programs, such as the city's Boston Home Center and the Massachusetts Affordable Housing Alliance's STASH program, as well as other "innovative efforts to specifically target and engage communities impacted by Boston's history of discriminatory homeownership policies."
A recent analysis by Zillow found that the homeownership among Black residents in Boston is less than half the rate for the city's white residents.
Essaibi George's plan also includes measures to ramp up housing production, particularly affordable units. Among other actions, her campaign is pledging to create an expedited zoning approval process for projects centered on increased affordability, increase the required number of income-restricted units in large developments from 13 percent to 20 percent, and offer incentives to lenders and developers involved with the creation of larger affordable units.
"Increasing our housing stock, prioritizing affordable housing, and building generational wealth are all critical components to ensure we don't just recover from the past year but work towards a stronger, more resilient, more equitable city for all," Essaibi George said in a statement.
The at-large city councillor also said she would create an additional planning office — independent of the current Boston Planning and Development Agency — that would be "dedicated to the forward-thinking and inclusive development of our city."
The plan Tuesday also pledges to marshal resources to address homeslessness in Boston, including investments of social support services, preference for families experiencing homelessness in the city's housing programs, and more robust data collection on the state of homelessness in Boston.
Read the full plan here.
State Rep. Jon Santiago wants to return the Boston School Committee to its roots.
During a press conference Thursday morning, Santiago became the first and only candidate in the Boston mayoral race Thursday to declare support for a fully elected School Committee, calling for more "accountability" in the governing body of the city's public schools.
"It will no longer be a rubber stamp for City Hall," Santiago told reporters outside the Blackstone School in the South End.
"Over the past few weeks in conversations with families all across the city, it has been clear that BPS families do not feel heard, do not feel engaged, do not feel taken seriously," he said. "Overcoming this lack of trust is central if we're ever going to create real change for our students. And therefore, let me say adamantly that the days of the appointed school committee are over."
Santiago's call — as part of his larger education plan — comes after the resignations of three School Committee members within the last year over controversial remarks made during a meeting to temporarily change the admissions process for the city's exam schools. This week, acting Mayor Kim Janey kicked off the process of replacing the two most recently departed members.
Santiago would abolish that process, giving Boston residents a chance to again weigh in.
Boston did have a fully elected School Committee — like every other city in Massachusetts — up until 1992, when it move to appointing members following a home rule petition backed by then-Mayor Raymond Flynn (Flynn has since changed his mind and also wants to return to electing members).
Just as it did then, switching back to an elected School Committee system would require a home rule petition, meaning the City Council, State House, and the governor would also have to approve the change.
Recent polling has shown that a majority of Boston voters would support returning to the old way. However, most candidates in the race to be Boston's mayor aren't fully on board.
Santiago's new position puts him directly at odds with City Councilor Annissa Essaibi George, the only candidate in the mayoral race who is firmly behind keeping the appointed system. And the rest of the field has only gone so far as to say that they would explore a hybrid model, in which some School Committee members are appointed and others are elected. Until recently, that was Santiago's position, too.
But on Wednesday he said that the appointed School Committee "works to appease whatever the mayor wants to do."
"Their sole focus should be addressing the needs and desires of students and families," Santiago said.
In 2019, the Boston Herald found that the School Committee unanimously approved all 111 action items put before it that year, with a total of four abstentions and zero no votes.
From education and police reform to re-precincting and climate workforce development, all six mayoral candidates have plans for addressing systemic racism in Boston.
On June 16, Acting Mayor Kim Janey, Michelle Wu, Annissa Essaibi George, Andrea Campbell, John Barros, and Jon Santiago gathered at Boston's historic Museum of African American History for a forum on systemic racism hosted by the local Alpha Phi Alpha chapter.
While all candidates had the chance to answer the same audience questions at the end — each committed to supporting the re-precincting of Boston's neighborhoods — most candidates were asked individual questions.
Newsletter Signup
Stay up to date on all the latest news from Boston.com