Politics
Amid criticism, Charlie Baker defends proposed 2-month sales tax holiday
"I think we owe some of this to the people in Massachusetts and to the small businesses. They've had a terrible year."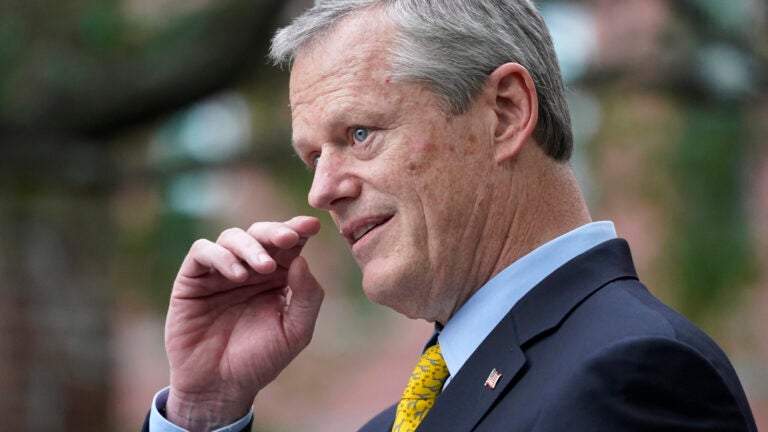 Gov. Charlie Baker has some significant persuading to do if he wants to make his splashy two-month sales tax holiday proposal a reality this year.
The Massachusetts governor was on the defensive Thursday, after his bill to expand the typical two-day break from the state's 6.25 percent sales tax to the entire months of August and September collided with a chorus of criticism from the overwhelmingly Democratic state legislature.
With tax revenue this fiscal year exceeding usual benchmarks by more than $4 billion, Baker argued that the state owed it to residents and businesses to return some of that money back in the form of an unprecedentedly elongated tax holiday, especially after such a difficult year.
"The people in Massachusetts, despite the pandemic and everything else, managed to generate a lot more tax revenue than we thought they would generate, and I think a deal's a deal," the Republican governor said during a radio appearance Thursday afternoon on GBH. "We should give that back to them."
However, many tax experts and state lawmakers — whose approval Baker's legislation would need — say it's actually not such a great deal.
While legislators made the annual August sales tax holiday permanent in 2018, tax policy analysts have generally derided such tax-free breaks as "political gimmicks" that mostly shift — rather than boost — consumer spending.
"Sales tax holidays are definitely well intended as a way to provide tax relief to consumers, but they are not a good use of revenue," Katherine Loughead, a senior policy analyst he Tax Foundation's Center for State Tax Policy, told Boston.com, adding they "don't promote long term economic growth."
Baker argues the two-month holiday would put an estimated $900 million back into the pockets of Massachusetts taxpayers. But many Democratic leaders argue the money would be better invested in things like housing, infrastructure, and education to close disparities exposed and exacerbated by the pandemic.
House Speaker Ron Mariano's office said Thursday that they were still reviewing Baker's proposal, but Senate President Karen Spilka told reporters Thursday that she thought the current two-day holiday — set this year for Aug. 14-15 — was "sufficient."
"There's a lot of need in the state," Spilka said, according to the State House News Service.
Others were less diplomatic.
Senate Ways and Means Chairman Michael Rodrigues and Economic Development Committee Chairman Eric Lesser both called the sales tax holiday a "political gimmick," and other lawmakers enumerated the various ways they hoped to spend surplus dollars.
"Whether it's investing in childcare, emerging workforce needs, K-12 education, public health, or families in need, there are no shortage of ways to responsibly invest to support an equitable economic recovery," said state Sen. Michael Rodrigues, the chair of the Senate Ways and Means Committee, according to the News Service. "However a short-term political gimmick is not one of them."
State Sen. Sonia Chang-Diaz, a Boston Democrat who launched her campaign for governor Wednesday, also spoke out in opposition to the proposal.
"It's easy to create a surplus on paper when you don't budget to fix our state's biggest challenges in the first place," Chang-Diaz told Boston.com in a statement, calling for "bold action, not band-aids, to fix our broken systems and generate economic activity across the state."
"We have a maintenance backlog in our transportation infrastructure that is decades long," she said. "Kids in low-income school districts are sharing one school psychologist with 700 other kids, and are sitting in 90-degree classrooms with just box fans. And that's just scratching the surface of problems we've left to simmer for too long."
Pressed on the issue during his GBH appearance, Baker said the state had an "overage" of revenue. And while the governor said the state's so-called "rainy day" Stabilization Fund — which will reach an all-time high of $4.4 billion with a portion of the surplus that must legally be transferred — will be "very important at some point when we have a rainy day economically," he said the two-month sales tax holiday would immediately benefit consumers and small businesses.
Asked about concerns that his proposal would mostly benefit big businesses, Baker said a GBH caller's suggestion that the holiday should apply only to small businesses was "interesting."
"We'll talk to the legislature about that," he said, adding that officials "would have to figure out how complicated that would be."
"I think we owe some of this to the people in Massachusetts and to the small businesses," Baker added. "They've had a terrible year."
Business groups have rallied behind Baker's idea.
"Tax cuts are not gimmicks to those who want to keep more of their own money," Paul Craney, a spokesman for the conservative Massachusetts Fiscal Alliance, said in statement, suggesting that State House leaders would otherwise spend the extra revenue in a "a self-centered and reckless way."
Some even framed the sales tax holiday as a "progressive economic incentive."
"It's not so much about what it would do or not do for retailers," Jon Hurst, the president of the Retailers Association of Massachusetts, tweeted Thursday," it's what it would do for taxpayers, particularly lower income families."
While the state sales tax has exemptions for food, most clothing, and certain necessities, Hurst repeatedly made the point that the flat 6.25 percent tax means lower-income individuals pay a larger percentage of their income compared to more well-off residents.
"This tax cut is all about temporarily suspending the most regressive tax on the books, just as their children are heading back to school," he said in a statement.
The left-leaning Massachusetts Budget and Policy Center agreed that "shifting our state tax system away from taxes like the sales tax, that fall most heavily on low-income households, makes good sense."
However, the think tank said such a move would preclude initiatives with more long-term impact.
"Unfortunately, spending the surplus this way forecloses the ability to make investments that will transform opportunities for everyone in our Commonwealth – particularly for our low-income and BIPOC communities," MassBudget president Marie-Frances Rivera said in a statement, adding the $900 million could be infused into the state's efforts to close education funding gaps, provide affordable childcare, or eliminate bus fares.
The presidents of the state's top teachers unions — Massachusetts Teachers Association President Merrie Najimy and AFT Massachusetts President Beth Kontos — echoed the call for investment in education and transportation, following a historic year of disruption and traffic returning to pre-pandemic levels.
"With so many facing incredible hardship, Baker's billion-dollar giveaway is the wrong move," Najimy and Kontos said.
Loughead, a former Republican aide in the House and Senate, also noted that a two-month sales tax holiday — which no other state has done before — could create unintended consequences at a time when "demand is already high."
"Supply chains have already been really disrupted by the pandemic and employment has been disrupted and businesses are still trying to re-hire their employees and find people to fill the existing jobs that are open," she said. "Increasing the demand beyond what it already is, when businesses are short staffed could create a lot of frustration for businesses and for consumers."
Loughead added that it would be "understandable" if Massachusetts wanted to lower its sales tax to compete with sales-tax-free states like New Hampshire. But if so, she said the state should consider more permanent changes than forgoing what would amount to a sixth of its annual sales tax revenue.
"Nine-hundred million dollars is a lot of revenue," Loughead said.
Newsletter Signup
Stay up to date on all the latest news from Boston.com