Politics
Charlie Baker says he has 'zero' interest in being a national star. What about a third term?
Baker says it's "obviously" something he's thinking about.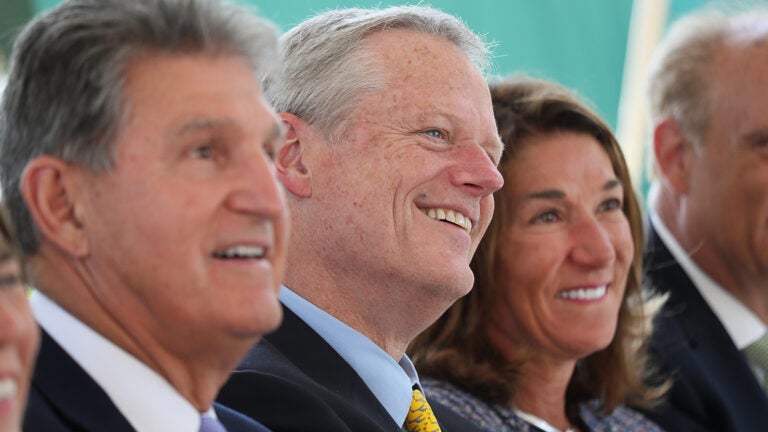 To take Gov. Charlie Baker's word for it, he won't be following in the footsteps of his many Corner Office predecessors who sought higher office in Washington, D.C.
"The shiny ball of national [stardom], I have like zero interest in that," Baker said Thursday on GBH, when asked why he has repeatedly turned down interviews on national Sunday morning TV shows.
"People ask me when Senate seats have come up, or something like that, you know, 'Any interest in running for federal office?' No," Baker added.
But what about running for an unprecedented third term? The popular Republican governor has said repeatedly this spring that he hasn't decided, even as the number of Democratic gubernatorial candidates has swelled to three.
"My wife and I will make that decision, in conjunction with the lieutenant governor," Baker said on GBH, adding that it is "obviously" something he has thought about it.
While his official decision remains forthcoming, Baker did resume in-person fundraisers this month. According to the State House News Service, he and Lt. Gov. Karyn Polito held a joint fundraiser Wednesday at the UMass Club in Boston. Hosted at one of the 32nd-floor social club's small private rooms, the fundraiser was more focused on how nice it was to be back at an in-person event, as opposed to politics, one attendee told the news service.
The event comes after Baker's remarkable slowdown in political fundraising during the pandemic raised speculation about his future intentions. His campaign reported a total of six donations totaling $3,555 during the month of May. And while the governor was understandably occupied with the response to COVID-19, the pandemic didn't stop Polito — who some expect to run for governor if Baker doesn't seek re-election — from fortifying her campaign account. At the end of May, Polito reported more than $2 million in cash on hand, compared to the $484,228.88 reported by Baker.
Still, some fellow Republicans think — or at least hope — that Baker will run for a third term, under the assumption that it would be difficult for other GOP candidates to retain the governorship in deep blue Massachusetts.
After launching a campaign for lieutenant governor earlier this year, former Barnstable County commissioner Ron Beaty says he switched to run for state treasurer when "it became rather clear" that Baker and Polito would run for their current seats.
"It would be a losing proposition for anyone running against them," Beaty recently told Boston.com.
That hasn't quieted some of the intra-party critics of Baker, who polls have shown to be more popular among Democrats than Republicans.
Conservative leaders of the Massachusetts Republican Party briefly entertained a proposal this spring aimed at removing Baker from the the group's leadership committee. And former Senate candidate and state representative Geoff Diehl has floated his name as a possible primary challenger — to the consternation of some fellow Republicans.
"Our best shot at getting a Republican elected as governor is Charlie Baker," MassGOP committeewoman Amy Carnevale recently told Politico.
The moderate Republican governor reiterated Thursday that he remains committed to his political party, despite his local detractors and personal disapproval of many national GOP leaders. An increasingly harsh critic of former president Donald Trump in the wake of the 2020 election, Baker also has had a contentious relationship with the leaders of the MassGOP and recently called for the resignation of a MassGOP committee member who made anti-gay remarks.
During his GBH interview, Baker additionally criticized the vote by all 50 Republican senators to block debate on a Democrat-backed elections reform bill.
"Any situation or circumstance where people just flat out deny the right or the opportunity for people to engage on a discussion about an issue that's really important to the public — and certainly this one is — no, I don't support that kind of behavior at all," Baker said.
"I've said many times that the complete and utter great breakdown in collaborative behavior in Washington is hugely bad for the country," he said.
Baker has had similar words for the MassGOP, calling politics a "team sport."
"I don't think the way to solve the problems that you point to in the Republican Party is to run away from it," Baker said Thursday, adding that he intends to fight for his brand of "very New England Republican."
Baker's self-described "practical" approach has also taken on increasing criticism from local Democrats who say it lacks the urgency needed to address racial and socioeconomic disparities that have been exacerbated by the pandemic.
However, the governor says his administration is overseeing "lots of bold transformational change," from transit-oriented housing to offshore wind to addressing the opioid epidemic.
"Most of the things we do we believe are important and transformative; we wouldn't do them if we didn't," he said. "But there is this thing called the process that we all have to work our way through, and everybody who participates in it, including us, needs to recognize and understand that the process sometimes take a little longer to become transformative than we might like."
Newsletter Signup
Stay up to date on all the latest news from Boston.com