Politics
Is Mitt Romney giving the 'Big Lie' backers too much credit?
The former Mass. governor says even Donald Trump's supporters know the claims are not true.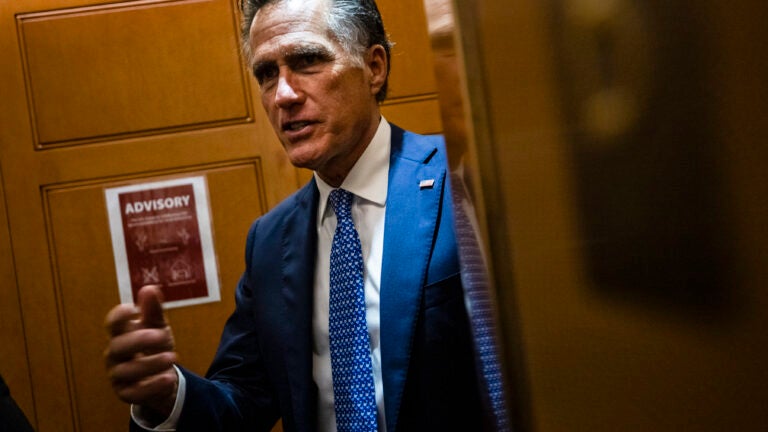 Once again, former Massachusetts Gov. Mitt Romney is sounding a little different from most of his fellow Republicans in Congress.
The subject is the so-called "Big Lie," the evidence-free claims of 2020 election fraud espoused by former President Donald Trump and many of his followers. There's been no shortage of elected officials who've backed the idea, and some pundits have even described fealty to the belief as a new "GOP litmus test."
But that's not something that Romney has embraced in his current role as senator representing Utah. One of just seven Republican senators who voted to convict Trump during his second impeachment trial (and the only one who found him guilty in his first), Romney has admonished members of his party who continue to shout fraud when there's nothing to indicate it exists.
"The courts laughed them out of court," he said of Trump's campaign back in January, according to Utah's Deseret News, imploring elected Republicans to go on Fox News and declare, "I was really pulling for Donald Trump, but he lost fair and square."
And now, speaking to Jake Tapper on CNN's "State of the Union" over the weekend, Romney went as far as to say many of those touting Trump's voter fraud claims don't even actually believe them.
"There's a growing recognition that this is a bit like [World Wrestling Entertainment]," Romney told Tapper, comparing Trump's pronouncements at his recently-restarted rallies to the notoriously phony antics of professional wrestling. "It's entertaining, but it's not real … I think people recognize that it's a lot of show, and bombast. But it's going nowhere."
With 56% of Republicans saying they believe the election was rigged or the result of illegal voting, and 53% saying they think Trump is the actual president, according to an Ipsos/Reuters poll just last month, it might be comforting to think that a sizable portion of those folks are just pulling our collective leg. But is our former governor giving them too much credit?
Let us know by answering the Boston.com poll below (or emailing [email protected]). We'll feature your responses in a future story.
Newsletter Signup
Stay up to date on all the latest news from Boston.com