Politics
The Supreme Court rejected New Hampshire's tax lawsuit against Massachusetts, and N.H. officials are not pleased
"No one working in New Hampshire should ever pay Massachusetts income tax."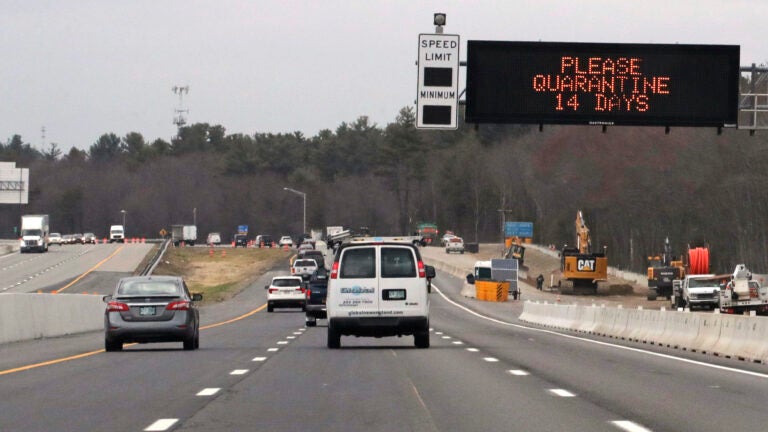 With just one sentence and no further explanation Monday, the Supreme Court rejected New Hampshire's bid to take its income tax dispute with Massachusetts straight to the nation's top judicial body.
However, elected officials in New Hampshire, which sued Massachusetts over the state's move to tax the income of local workers from the Granite State who began telecommuting due to the COVID-19 pandemic, had plenty to say about the decision.
"People working full-time in New Hampshire should not have to pay another state's income tax," New Hampshire Sen. Maggie Hassan said in a statement.
Gov. Chris Sununu's administration sued Massachusetts in October, after fellow Republican Gov. Charlie Baker's administration said it would continue to subject out-of-state residents, who had commuted into Massachusetts for work up until the pandemic, to the state's 5 percent income tax. Those who previously telecommuted for Massachusetts companies from outside the state were not affected, and out-of-state commuters who worked from home on some days could continue to deduct that portion of days from their taxable income.
The policy was met with vocal protest in New Hampshire, which has no state income tax and where around 15 percent of workers commuted to Massachusetts for work.
And the Supreme Court's decision Monday united the state's Republican governor and all-Democratic congressional delegation (including potential 2022 rivals) in varying levels of disappointment.
"By siding with the Biden Administration and allowing inappropriate taxation of NH citizens, the Supreme Court is setting a costly precedent," Sununu told Boston.com in a statement. "This decision will have lasting ramifications for thousands of Granite State residents."
Sen. Jeanne Shaheen tweeted Monday that she was "very disappointed" by the Supreme Court's decision, which she says "punishes NH workers, particularly since so many put the health of their families & communities first to work from home amid the pandemic."
Rep. Ann Kuster said she was "extremely disappointed," calling the Massachusetts policy "an unconstitutional violation of state sovereignty." Rep. Chris Pappas was also left "incredibly disappointed" by the decision Monday.
"To not even hear a case that impacts so many Granite Staters' and Americans' pocketbooks is disappointing and short-sighted," Hassan said.
Massachusetts, which contended that the emergency rule provided clarity for tax collection and minimal disruption for employers and their workers, wasn't the only state to implement such a cross-border taxation policy in the wake of pandemic. Others, like New York and Pennsylvania, have similar laws. And fourteen other states, including New Jersey, Connecticut, and Ohio, filed motions in support of New Hampshire's request to take their lawsuit straight to the Supreme Court, bypassing lower judges.
"What is happening to New Hampshire residents goes beyond New England and has a far-reaching impact on citizens across this country who are being forced to pay taxes for a state where they don't even work or live," Hassan said Monday.
President Joe Biden's administration, however, had sided with Massachusetts, arguing to the conservative court that taking up the case would set a precedent that could result in the nine justices getting overwhelmed by future interstate disputes.
Two justices — Clarence Thomas and Samuel Alito — said they would grant New Hampshire's request. But apparently the other seven justices disagreed.
"Motion for leave to file a bill of complaint DENIED," said a statement on the court's website Monday.
Sununu's office didn't immediately say what their next steps would be. However, New Hampshire's congressional delegation says they'll pursue a legislative solution at the federal level. While the Massachusetts law expires in September, Hassan, Shaheen, Kuster, and Pappas are leading the charge on a bill that would permanently establish a uniform federal taxation standard based on a worker's physical presence, prohibiting states from imposing an income tax on compensation an out-of-state resident earns while physically in another state.
"No one working in New Hampshire should ever pay Massachusetts income tax," Pappas said Monday. "At a time when telework is increasingly common and when every dollar counts for New Hampshire families recovering from this economic crisis, I will continue to fight to protect Granite Staters' hard-earned money from unfair, out-of-state taxes."
The Baker administration declined to say how much tax revenue was at stake in the dispute. Officials were also less verbose in response to the news Monday.
"The Administration appreciates the Supreme Court's decision," Patrick Marvin, a spokesperson for the Executive Office for Administration and Finance, said.
What's your take? Respond to the Boston.com poll below and we'll feature your answers in a future article.
Newsletter Signup
Stay up to date on all the latest news from Boston.com