Politics
Michelle Wu and Kim Janey are frontrunners in Boston's mayoral race, a new poll shows
At-Large City Councilor Wu is leading the pack, but many remain undecided, according to the latest voter survey.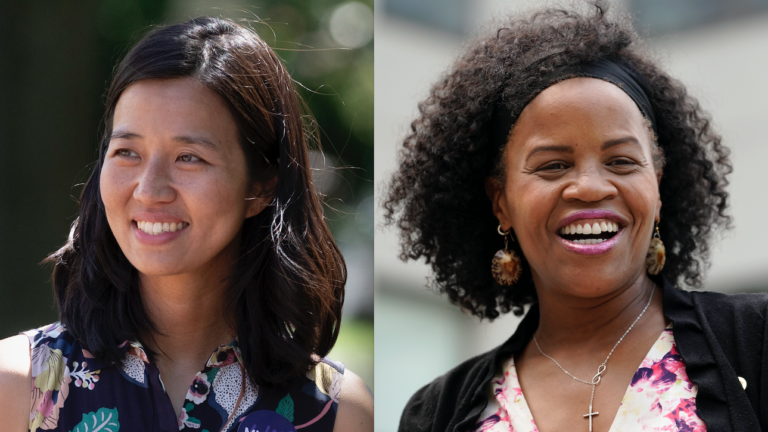 Michelle Wu and Kim Janey are the current frontrunners of Boston's mayoral race, according to the results of a new poll released Tuesday.
Only a few percentage points separate Wu, the 36-year-old at-large city councilor, and Janey, 56, who has served as acting mayor since March, a Suffolk University/Boston Globe survey of 500 likely voters shows.
Wu garnered support from 23.4 percent of those surveyed, while Janey amassed the backing of 21.6 percent. Notably, 21.6 percent of voters were still undecided, with about two-and-a-half months to go before the Sept. 14 preliminary election narrows the race to two final candidates.
But both Wu and Janey appear to be out ahead of their other opponents by a significant margin. Annissa Essaibi George, also an at-large city councilor, polled at 14.4 percent, followed by District 4 City Councilor Andrea Campbell at 10.8 percent.
The latest poll is somewhat of a shakeup. A survey conducted by two local political consulting firms in late May and released earlier this month showed Essaibi George held a measurable lead at 22 percent, ahead of Wu with 18 percent and Janey with 16 percent.
Of the voters polled in the latest survey, the majority — or 20 percent — said housing is the top issue that will influence their vote, followed closely by another 19.2 percent that indicated "racism/justice/equality" was top of mind, and an additional 17.8 percent that picked schools and education issues.
The survey was conducted between June 23 and 26. The margin of error is 4.4 percent.
Here are a few key takeaways from the survey results:
Nearly 62 percent of voters see Wu favorably — a higher percentage than any other candidate.
Wu has received more votes than any other councilor twice in recent elections — and her popularity definitely remains with voters this cycle.
Out of those surveyed, 61.8 percent said they say their opinion of Wu is generally favorable, more than any other candidate.
For Janey, 57.6 percent of respondents said they see her as favorable, followed by Campbell with 48.8 percent, and Essaibi George with 41.8 percent.
The poll also showed that despite controversies in the city that erupted just as he left office, former mayor and now U.S. Secretary of Labor Marty Walsh is still well-liked in his hometown: 67.8 percent of voters polled see him favorably.
Most of the voters polled believe it's important the candidate elected is a person of color and a woman.
As voters consider their pick among the diverse field of candidates, most indicated they find it important the city elects a candidate of color and a woman to helm City Hall.
Just over 37 percent of respondents said it was "very important" to them that Boston "elects a Black mayor or another person of color," with another 26.8 percent indicating it is "somewhat important."
Asked a similar question about how important it is to each voter polled that the city elects a woman for mayor, 35 percent see it as "very important," with another 30 percent indicating it is "somewhat important."
Some candidates are still struggling to attract voters.
Boston Medical Center emergency room doctor and South End state Rep. Jon Santiago and John Barros, the city's former chief of economic development, are continuing to poll low among voters.
Santiago garnered support from 4.6 percent of those polled, and Barros was the pick of 1.8 percent of voters surveyed.
About 37 percent of voters surveyed said they had not heard of Santiago before, while nearly 31 percent said they had not head of Barros.
Other candidates Richard Spagnuolo and Robert Cappucci received 0.4 percent and 0.8 percent of voters, respectively, when voters were asked about who they would support.
Voters say housing will be the issue that makes up their minds. Here's what they want to see candidates do about it.
Most voters surveyed indicated housing is the most important issue that will affect their vote.
Other results included:
Racism/justice/equality: 19.2 percent
Schools/education: 17.8 percent
Economy/jobs: 14 percent
Crime: 11.2 percent
Police reform: 6.6 percent
Another 7 percent of voters surveyed indicated they were undecided, 3.4 percent selected "other" as a response, and 0.6 percent refused to answer.
Asked about housing and affordability priorities for the next mayor, about half of those polled, or 48.2 percent, said the mayor should "focus on developing affordable housing even if that means less new housing overall."
Another 17.6 percent said the mayor should "accelerate the building of new housing at all price points," while the responses that the mayor should either "slow down the new development in the city" or "maintain the current pace of housing development set under the previous administration" both received 13.2 percent.
Approximately 7 percent of respondents were undecided about the question.
Read the full poll results:
6_29_2021_marginals_pdftxt by Christopher Gavin on Scribd
6_29_2021_tables_pdftxt by Christopher Gavin on Scribd
Newsletter Signup
Stay up to date on all the latest news from Boston.com