Politics
Here's why Boston city councilors voted for — and against — the city budgets
"This budget is not perfect — it's far from perfect."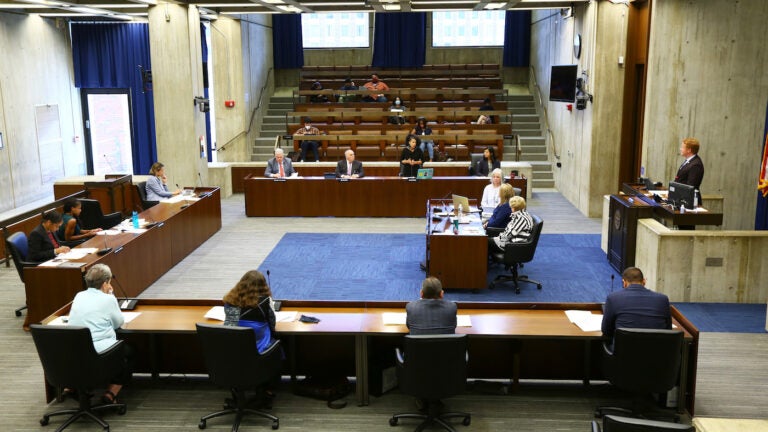 Satisfaction was in short supply Wednesday as the Boston City Council considered the city's $3.76 billion operating budget and the nearly $1.3 billion school budget, but councilors, admitting their own disappointments in both allocations, still passed each one.
Taken on the last day of the 2021 fiscal year, the passing votes, along with the approval of the city's $3.3 billion capital budget — its largest ever — avoided a standoff with acting Mayor Kim Janey, as many councilors indicated they were inclined to vote down the city budget only last week.
Councilors voted 10-2 in favor of the operating budget, with Michelle Wu and Andrea Campbell, two mayoral hopefuls, rejecting the proposal.
Campbell and Councilor Frank Baker voted down the school department proposal, which also passed 10-2.
Many described both budgets as imperfect packages that contained necessary investments, but acknowledged that, in some areas, did not fully meet the moment of a city exiting a devastating global pandemic and facing deep-seated racial inequities.
Some councilors lamented the process did not promote more collaboration with the Janey administration.
"If we all had an opportunity to fully collaborate with the interim administration, we could have gotten more done," said Councilor Annissa Essaibi George, who is also running for mayor against Janey in the September preliminary election. "Ultimately, we need to step up and stop playing politics with our kids' futures in particular, the livelihoods of our dedicated City of Boston employees, and the services that are a lifeline for our residents."
Councilor Lydia Edwards, in her opening remarks, assured the council the budget would pass.
"Like a kidney stone, but it will pass," she quipped.
What apparently tipped the scales was last-minute consensus around $31.5 million in federal relief funding the Janey administration pledged to set aside for several causes championed by councilors.
The supplemental allocations included $4 million for substance use disorder services and digital access to city services; $4.6 million for green jobs, jobs for young adults, the COVID-19 High Roads Kitchen Restaurant Relief Fund, and WiFi in public housing; and $22.9 million for the city's land acquisition initiatives, Boston Public Schools social and emotional supports and parent resources, pedestrian safety, child care and early education, and green buildings.
"People have become polarized, and what we are seeking to do here — and what I think the chair has helped facilitate — is a budget, a balanced budget, that seeks to find common ground," Council President Pro Tempore Matt O'Malley said.
The operating budget itself is a $152 million increase over the 2021 fiscal year budget. Janey's administration had touted numerous investments, including in job creation and training, particularly for the city's youth; road safety issues; and allocations for Janey's so-called "Joy Agenda," which makes Boston Centers for Youth & Families memberships free and waives late fees on Boston Public Library books, among other elements.
Still, councilors had lingering worries that Janey's budget did not go far enough to meet calls for significant police reform through re-allocating parts of the Boston Police Department's budget to support other public initiatives and programs, by reining in overtime spending.
Janey's refile set aside $1.3 million for the city's first Office of Police Accountability and Transparency, $1.75 million to study alternative policing models, expanded the department by 30 officers and 20 cadets, and enhanced support systems for officers who are out sick and injured.
The budget builds on cuts to the police overtime budget as initiated last year. The police force, however, has struggled to keep a grasp on those costs.
"This budget is not perfect — it's far from perfect," said Councilor Kenzie Bok, chairperson of the Ways and Means Committee. "I think members of the council harbor significant concerns about whether we are actually on track to achieve the overtime savings, budgeted for in the police department, not least because we struggled so much to achieve those last year."
Under the city charter, the council can vote to approve the budget and can reduce its scope, but it cannot add money to it. Only the mayor can request a transfer of funds.
Should the budgets have been rejected, the city would have operated on a 1/12 budget for July, in which city operations would have continued on level funding based off last year's appropriations until councilors recached agreement on a new budget.
Why councilors voted for the budgets
Councilor Ed Flynn admitted the operating budget had its flaws. But within it were necessary commitments to improving pedestrian safety — an issue he has championed in recent years as he's pushed to lower Boston's speed limit.
Flynn also noted the budget will allow the city to hire more inspectors to review construction sites in a city brimming with new development, as well as short-term residential rental units popular on sites such as Airbnb.
"Although … the budget is not perfect, it does put us on strong fiscal stability, but also making sure that we provide the necessary basic city services, and quality of life, to our residents — and that includes pedestrian safety-related issues, infrastructural improvements," Flynn said. "Our streets and sidewalks are dangerous. A speeding car is a public health emergency."
Councilor Julia Mejia touted the budget set aside $800,000 for youth job development for residents 19 to 24 years old, as well as millions for job creation programs for low income workers, green jobs, and artists.
Another $300,000 will ensure outdoor dining, which gained popularity during the pandemic, can remain permanent, and councilors have also received Janey's word that the city will study what a city-managed broadband network could look like, she said.
Mejia, however, said the lack of further cuts to the police budget was "the elephant in the room." She vowed officials would keep pushing for further re-allocations.
Still, councilors have to be realistic about where things stand, she said.
"We have an appointed mayor and no police commissioner," Mejia said. "What we are achieving here, and what we'll be achieving in the coming months, is due to the leadership of the community and our commitment to respond to the needs of the people, and not the limits of our broken system."
The majority who supported the $1.3 billion school budget made clear their concerns about various issues facing the district, including declining enrollment.
But after students and teachers faced a most unusual and challenging school year, most of it held remotely during the COVID-19 health crisis, the need for proper funding was crucial, some said.
"We've got 53,000 kids who need to show up to well-supported classrooms in September, and they need the financial support on that from this body," Bok said.
According to Councilor Michael Flaherty, the cost per pupil will be close to $25,000 in the 2022 fiscal year.
"There is still much work ahead of us to provide students with the education and opportunities that they deserve, but I am not willing to walk away from those past investments," he said.
Why councilors voted against the budgets
Campbell was the sole councilor to vote down both the operational and school department budgets, marking the second year she voted down the former and the third year she rejected the latter.
"I want to make it clear that this isn't political. … For me, this is about doing the job, and making sure that you're standing up most importantly for those who are unseen, unheard, and who do not feel as though their voice is given the weight it deserves and that their budgets reflect what they're demanding of us," Campbell said during lengthy remarks on the chamber floor.
The District 4 city councilor had been sharply critical of Janey's proposal, saying the operational budget fell short of meeting calls to re-allocate police funding and address the opioid and substance abuse crisis that has enveloped the area around Massachusetts Avenue and Melnea Cass Boulevard.
"If not in the moment and after (the murder of) George Floyd, then when — when do we push for a (police) department to become more transparent, more accountable? For a budget to be reined in because even the department itself agrees it is not sustainable?" Campbell said.
Wu, who also rejected last year's budget, said the proposal before the council did not meet the moment.
She characterized the operating budget as "a collection of small categories with seed funding in different places that checks boxes on a lot of very important categories and topics and issues, and the beginnings of solutions."
"I'm glad that we're moving towards identifying these and having it on the table, but in a moment when we need vision, and we need most of all to ensure that we can deliver on that, I can't support checking the box on small initiatives without the plans to deliver that — and without the connections and the intersectional vision to be able to ensure that this fits together," Wu said.
Regarding the school budget, Campbell said declining enrollment makes clear families are unhappy with the status of public schools in Boston.
And the budget does not adequately address a number of those pertinent, related issues, especially access inequalities, what's needed for special needs and English learner programs, and infrastructure problems.
She pointed to the Sarah Greenwood School, which she said has asbestos but lacks sufficient play spaces.
"No family, none of us, would send our children there," Campbell said. "These families are demanding better infrastructure. I don't think that they should have to wait."
Baker, meanwhile, lamented much of the recent discussion in the district has centered on Boston's three exam schools, not issues facing students in elementary grades that could set the course of their education. (The School Committee is in the process of considering a permanent change to how students are admitted to exam schools).
He was also frustrated about the uncertain future school police officers now face. Under the state police reform law passed last year, the school districts are no longer required to have at least one officer and officers now must be specifically certified by the state, not the city.
"I'm not hearing about how we're investing in low performing schools, and we're pitting neighborhoods against each other, and quite frankly the neighborhoods that look like me look like they're going to lose," he said.
"I want to vote for this budget, but I'm not sure we're spending our money wisely," Baker added.
Councilors on Wednesday also voted to pass a $3.3 billion capital budget for fiscal years 2022 through 2026, with Campbell voting "present."
Newsletter Signup
Stay up to date on all the latest news from Boston.com