Politics
Massachusetts Republicans are trying to put a voter ID law on the 2022 ballot. Here's what we know so far.
"We're taking this question straight to the people."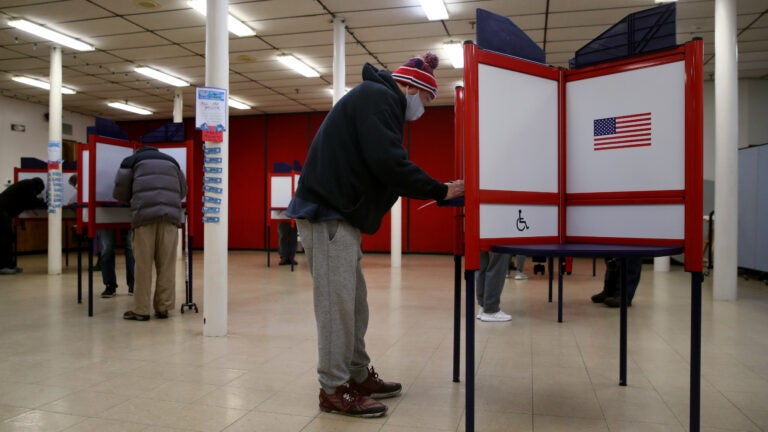 Seeing no path forward on Beacon Hill, leaders of the Massachusetts Republican Party are moving to put a voter ID law on the 2022 ballot.
MassGOP Chairman Jim Lyons sent an email to supporters Sunday announcing a campaign to put a proposed law requiring voters in Massachusetts to present identification at polling places on next year's ballot.
"What's clear to me, after serving eight years as a state lawmaker, is that Beacon Hill will never so much as debate the merits of voter ID laws, and that's why we're taking this question straight to the people," Lyons wrote.
In the email, Lyons said the party's goal is to register at least 2,000 volunteers to collect signatures for the effort.
Supporters must first file their proposed ballot question with Attorney General Maura Healey's office by Aug. 4. If it meets the state's constitutional requirements, the next hurdle is collecting at least 80,239 signatures by Nov 17.
With some exceptions (such as for first-time voters), Massachusetts does not ask voters to present any form of physical identification in order to cast a ballot. The new MassGOP ballot campaign also comes as the state's Democrat-controlled legislature considers reforms to make last year's pandemic-induced changes to expand voting options — such as mail-in voting and additional early voting — permanent.
Those changes contributed to record-breaking turnout in last year's election and received support from Republican Gov. Charlie Baker.
However, MassGOP leaders, who backed former President Donald Trump's unfounded claims of voter fraud, contend that voter ID laws are also popular. Lyons linked to a recent Monmouth University poll that found 80 percent of voters nationally support laws requiring voters to show a photo ID in order to cast a ballot.
Voting rights advocates generally argue that such laws risk discouraging eligible voters from casting a ballot and disproportionately affect people of color and low-income citizens.
According to the ACLU, more than 21 million Americans do not have any government-issued photo identification, and obtaining such identification can be burdensome and costly for lower-income residents.
According to the National Conference of State Legislatures, 36 states — including Connecticut, New Hampshire, and Rhode Island — ask voters to provide some form of identification, ranging from a driver's license to a bank statement. Half of those states accept forms of identification that do not include a photo. Twenty five of the 36 states have "non-strict" voter ID laws that allow individuals without accepted identification to still vote if they sign a form under oath.
MassGOP vice chair Tom Mountain told Boston.com that their ballot question would require voters to have a government-issued photo identification, though he said exceptions would be made for certain non-photo IDs, "such as college or employment IDs with the date of birth indicated."
With less than a month to go to file their initiative, the party is still working out some of the other details.
According to Mountain, they're learning toward proposing a "non-strict" version of a voter ID law, in which those without accepted identification would still be able to vote if they sign an affidavit attesting to their identity (similar to Connecticut's voter ID rules).
Mountain said the state or municipal governments should also be able to issue free photo IDs to those without one (currently, in Massachusetts, the typical driver's license costs $50 to get or renew, while non-driver's ID cards cost $25).
"We must emphasize that voter integrity should be a non-political issue, yet the Massachusetts Republican Party has been forced to resort to a ballot initiative to ensure voter integrity in the Commonwealth because our Democrat run State Legislature has failed to do so, and Secretary of State Galvin has refused to heed our very public requests for voter-ID requirements," Moutain said in an email.
Secretary of State Bill Galvin's office noted that he generally opposes photo voter ID requirements "because many voters, such as senior citizens who give up their drivers licenses, do not typically carry photo identification."
"Secretary Galvin does not want those eligible voters to be unable to exercise their right to vote," Deb O'Malley, a spokeswoman for Galvin, said Wednesday.
At the federal level, some Democratic leaders have signaled a willingness to accept some voter ID requirements in exchange for other election reforms, such as expanded early voting, automatic voter registration, and a prohibition on gerrymandering. And according to the Monmouth poll, 62 percent of Democrats, as well as 91 percent of Republican, said they support requiring photo IDs to vote.
However, it's unclear if such rules do what supporters — or detractors — say they will.
Multiple studies have found that even strict voter ID laws do not have much effect on voter fraud — which is already exceedingly rare — or voter turnout. One review of new voter ID laws from 2008 to 2018 released this past May said that whatever "modest effects" the laws had on the participation of minorities may have been offset by efforts of voting rights groups that mobilized in response.
"Our findings suggest that efforts to improve elections may be better directed at other reforms," the authors of wrote.
Newsletter Signup
Stay up to date on all the latest news from Boston.com