Politics
What the Purdue Pharma settlement means for Massachusetts
"It's a big deal."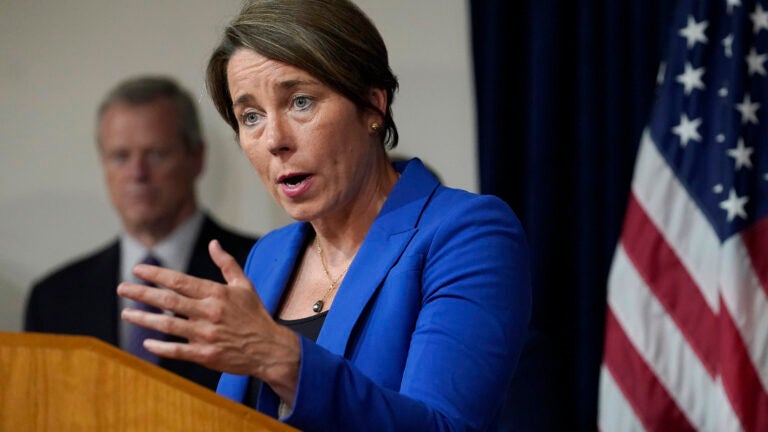 In a settlement with 15 states this week, the Sackler family and their company Purdue Pharma agreed to pay more than $4.5 billion to bring an end to a multi-front legal fight over their role perpetuating the opioid crisis.
According to Massachusetts Attorney General Maura Healey, the Bay State is expected to get $90 million from the deal, which she called a "meaningful" amount to support prevention, treatment, and recovery.
"It's a big deal," Gov. Charlie Baker said during a press conference Thursday.
The settlement, which was filed in bankruptcy court Wednesday night, resolves the lawsuit led by Healey and 14 other state attorneys general, as well as more than 600,000 individual claims against Purdue for aggressively marketing its painkiller OxyContin and misleading doctors and patients alike about the drug's addictiveness, as it wreaked havoc across the country. According to federal officials, nearly 500,000 Americans died from opioid overdoses between 1999 and 2019.
In exchange for the state dropping opposition to Purdue's bankruptcy plan (which the attorneys general said the Sacklers hoped to use to shield them from liability), the family is paying $4.3 billion and relinquishing control of $175 million in foundation assets to fund efforts to address the opioid crisis. Their company must also be completely shut down or sold in the next three years.
"Purdue is gone," Healey said. "In 2024, it is wound down. Gone. It will cease to exist."
The Sacklers are also permanently banned from doing business in the opioid industry and prohibited from having their names placed on any buildings, hospital wings, museums, or any other organizations in exchange for donations through the end of the decade. Purdue will also be required to turn over 33 million documents — 20 million of which were previously concealed — to investigators to be published on a public, online database.
According to Healey, the $4.3 billion settlement figure is believed to be the most that individuals have ever paid in a law enforcement investigation. The money will be divided among states, cities, and the thousands of individuals with claims against Purdue.
Healey said that Massachusetts will work to "dedicate every dollar" of its $90 million sum to opioid prevention, treatment, and recovery efforts through a remediation fund, which Baker called a "tremendous asset."
The governor also noted that an advisory board of "affected families and individual experts in the space" with lived experience will have flexibility to decide how to use the money.
"They're in a position where they can create an approach to things that typically can't get funded through a traditional medical approach, or things that don't get funded through the way we handle residential services currently, or things that we typically don't put money into that have to do with prevention, or they can augment stuff we knew in certain areas where people raise issues about whether we have enough," Baker said.
"It's a lot of money," he added. "They have a ton of other opportunities, which I know they'll pursue aggressively. But the important thing to remember here is they have far wider flexibility to figure out how they can be most effective than you typically have when you're dealing with what I would describe as sort of the programmatic resources that we have available through a traditional appropriation process."
The new deal this week comes after Healey and other Democratic attorneys general rejected a multi-billion dollar settlement Purdue made with 23 mostly Republican-led states in 2019. Baker said Thursday that "it took tremendous courage" for Healey and her staff to say no the deal.
"It was one of those moments when all the momentum, all the push, that's coming from the people who are 'on your team' is to just get this done," the Republican governor said, praising the Democratic attorney general who's seen as a potential 2022 candidate for governor (Baker also hasn't said if he'll run).
"Her team looked at the deal and said, basically, it's not enough," he said. "They were right. And they forced people back to the table. I'm sure that made a lot of people unhappy when they did it. It was absolutely the right thing to do."
Healey says the money still is "not enough."
She had also pushed for more than the $4.3 billion figure announced this week, noting that the Sackler family made over $10 billion from OxyContin sales.
"I know that today isn't everything that we would have liked to have seen in terms of justice," Healey said Thursday. "I do believe it is the most we could expect and get under the law as it currently exists."
While the dollar figure may be what grabs headlines, officials say the disclosure requirements — forcing Purdue to turn over tens of millions of documents, including attorney-client privileged communications about the original federal approval of OxyContin and tactics to promote opioids — is unprecedented.
"The way to stop dangerous illegal behavior is to expose it," Healey said.
Officials say information can help inform policy changes to prevent similar events from playing out in the future.
Healey recently testified in a congressional hearing for the need to change bankruptcy laws so that leaders of companies cannot "game protection." She said the settlement this week came ahead of a scheduled bankruptcy hearing, in which a judge could resolve all the claims against Purdue and stop the state from pursuing its lawsuit against the company.
"The question was: What could we do before the judge entered an order?" Healey said.
Dr. Charles Anderson, the president and CEO of the Dimock Center in Boston, said Thursday that — in addition to the increased financial resources— the documents Purdue will make public could help de-stigmatize addiction treatment by showing how outside forces contributed to the crisis.
"Part of what we're seeing on our campus is that there are people who have a challenge showing up because of the stigmatization," Anderson said. "And my hope is that — by understanding clearly that people don't wake up one day and decide that this is the condition that they want to be in, but that there are forces, like those of Purdue and the Sacklers, that have put people in these positions — this is an opportunity to really lift those individuals up who are seeking treatment."
Baker noted how Purdue was able to settle a less-prominent criminal case with the federal government in 2007, at a time when fewer people were willing to speak out about addiction.
"The Sacklers benefited from the shame that came with addiction, and then they doubled down on everything they knew was wrong," he said. "And what was a crisis became a national catastrophe."
Newsletter Signup
Stay up to date on all the latest news from Boston.com