2021 Boston elections
Jon Santiago ends Boston mayoral campaign
"The people of Boston have made it clear, and I look forward to supporting the first, elected woman of color to lead Boston."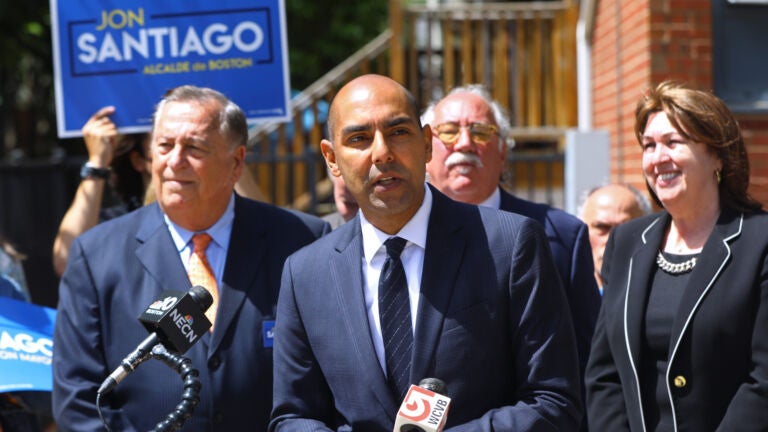 Jon Santiago, a South End state representative and a Boston Medical Center emergency room physician, has ended his campaign for mayor of Boston.
Tuesday's announcement, shared in a video posted to social media, came about five months after the Democrat and U.S. Army Reserve captain launched his bid to seek the city's top executive seat.
"I announced my campaign not far from here, along my walk home after shifts in the ER," Santiago says in the video. "It was with a sincere desire to serve Boston in a greater capacity that I jumped in this race, and today, still filled with energy and optimism for Boston, I'm ending my campaign for mayor."
Santiago's departure is the first major shake-up to the race since former mayor Marty Walsh stepped down from the office to become the U.S. secretary of labor.
Polls had shown Santiago, 39, struggled to gain traction with voters in the contentious six-way race.
A Suffolk University/Boston Globe survey of 500 likely voters late last month indicated Santiago garnered support from 4.6 percent of those polled — second to last among the six major candidates, ahead of only John Barros, the city's former chief of economic development.
That poll also showed City Councilor Michelle Wu and acting Mayor Kim Janey as the current frontrunners, with Wu collecting support from 23.4 percent of respondents and Janey seizing 21.6 percent.
City Councilors Annissa Essiabi George and Andrea Campbell polled with 14.4 percent and 10.8 percent, respectively. About 21.6 percent of voters were still undecided.
Santiago, in the video, said he was proud of the campaign he ran.
"But the people of Boston have made it clear, and I look forward to supporting the first, elected woman of color to lead Boston," he said.
Several candidates quickly commended Santiago for his contributions soon after his announcement.
"From his military service to his lifesaving service at the ER, (Jon Santiago) took his lived experience & story to build a stronger recovery at a time of crisis," Wu said in a tweet. "I'm grateful for his contributions to this historic mayoral field & to our city."
Janey described Santiago as "a passionate, smart, and thoughtful public servant whose unique personal and professional experiences added so much to this race."
"I know this decision was not easy for him, but Boston is lucky that it will continue to benefit from his leadership," she said on Twitter. "I also know that I can rely on him to work with me to create a more equitable, just and resilient Boston."
When he launched his campaign in February, Santiago described how both his upbringing as a Puerto Rican immigrant in Boston's subsidized housing and his experience as a doctor treating the diverse array of patients who enter Boston Medical Center gave him an intimate understanding of the inequities facing residents on a daily basis.
Santiago assured supporters he will "be in touch soon about what's next" but made clear he intends to continue focusing on the issues.
"Our campaign for mayor may be ending today, but the work to address our systemic inequities and crises like Mass. and Cass has never been more urgent. You have my commitment to remain a tireless advocate on these issues as we move forward," Santiago said in the video.
"But for now, my message is simply, thank you," he continued. "I'm full of gratitude and optimism."
Newsletter Signup
Stay up to date on all the latest news from Boston.com