Politics
Elizabeth Warren and Ed Markey say student loan companies aren't ready for payments to resume, either
The two Massachusetts Democrats are urging Joe Biden to postpone the federal pause on student loan payments through at least next March.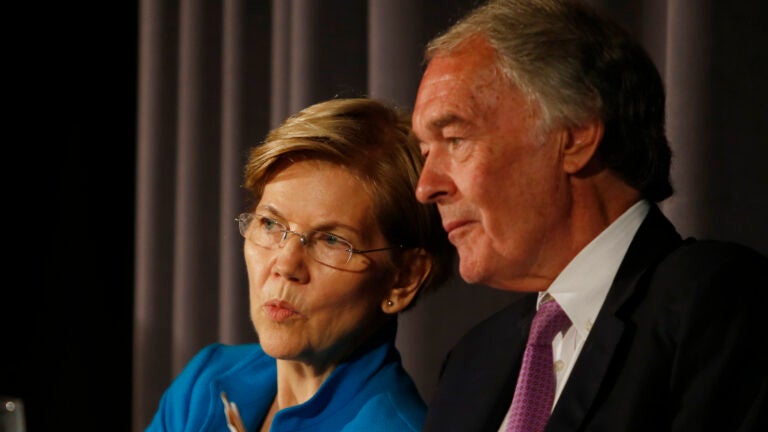 Advocates say that the vast majority of student loan borrowers aren't ready for their payments to resume this October, when the COVID-19 pandemic-induced federal pause on student loan payments, interest, and collection expires.
According to Sens. Elizabeth Warren and Ed Markey, student loan companies aren't ready, either.
In a letter Tuesday to President Joe Biden, the two Massachusetts senators urged their fellow Democrat to extend the pause until at least March 31, 2022, citing responses they've received from leaders of federal student loan servicers suggesting the companies weren't prepared to simultaneously resume payments for roughly 30 million borrowers.
"As the economy recovers from this unprecedented crisis, borrowers should not be faced with an administrative and financial catastrophe just as they are beginning to regain their footing," Warren and Markey wrote to Biden.
"We strongly urge you to extend the pause on student loan interest and payments in order to allow time to begin to repair the broken student loan system," they added.
The senators released 56 pages of responses from student loan servicers, like Nelnet and Navient, acknowledging that borrowers will need help "navigating the myriad of complex repayment options" in order to avoid defaulting.
While virtually all companies said they were preparing to make sure the potential resumption of payments this fall goes smoothly, some conceded that there were concerns around adequate outreach to borrowers and customer service staffing.
Since the pause began in March 2020, the companies had been directed by the Education Department to not contact borrowers about their loans, and several said they were waiting for additional guidance before doing so. Five of the seven companies said they were working to hire more employees ahead of the Oct. 1 date.
"Time is quickly passing and with less than three months now until the currently stated restart of repayment date, our concerns over being best prepared to provide a smooth transition for FSA borrowers continues to grow," Stephanie Martella, a senior vice president at one of the country's largest student loan servicers, Pennsylvania Higher Education Assistance, wrote in the company's response to Warren and Markey.
An additional complication is that PHEAA recently decided not to renew its loan servicing contract with the Education Department, meaning that more than 8 million borrower accounts will have to be transferred to other companies, which Warren and Markey say will require additional time.
In their letter to Biden, the senators noted that the payment pause has saved borrowers $72 billion in student loan interest alone.
"Borrowers – especially public servants – should not be left struggling under the burden of unaffordable payments while loan servicers work with the Department of Education to navigate multiple major transitions at the same time," Warren and Markey wrote, adding that an extension through next March would give them "enough time to plan for an orderly transition that supports and protects student borrowers."
Warren and 22 other Democrats followed up with a letter Wednesday to Education Secretary Miguel Cardona asking what his department was doing to protect borrowers if payments begin as scheduled, amid concerns about a wave of defaults.
However, there's a very real possibility the pause will be extended past Oct. 1.
The Education Department reportedly recommended earlier this month that Biden extend the pause, though it's unclear for how long. Several servicers wrote in their responses Tuesday that they were operating under the assumption that the repayment date may again move. Biden's administration first extended the pause, which was originally slated to expire at the end of this past January, on his first day in office.
The renewed pressure by Warren and Markey comes amid their efforts to get Biden to use executive action to forgive up to $50,000 in individuals' student loan debt. The president has expressed support for waiving up to $10,000 per borrower, and has asked lawmakers in the narrowly divided Congress to pass a bill doing so.
Newsletter Signup
Stay up to date on all the latest news from Boston.com