Politics
Building boomed under Marty Walsh. But what about Boston's next mayor?
"We should never do development in such a way that we are creating whole neighborhoods and not making sure that there is housing for everyone at different levels."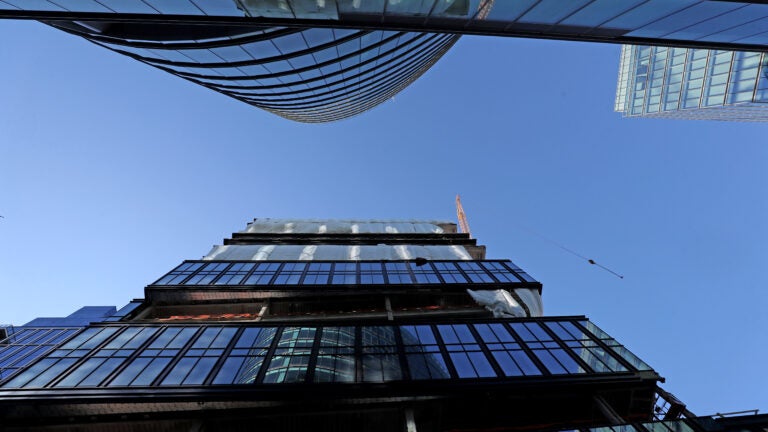 Boston saw a historic building boom during the seven years that former mayor Marty Walsh, a former construction union leader, occupied City Hall.
The city's skyline transformed, and continues to do so. Tens of thousands of new units of housing were created. An entire neighborhood rose from the ground.
"We had a lot of work out there," says Joe Byrne, the executive secretary-treasurer of one of Boston's biggest construction unions, the North Atlantic States Regional Council of Carpenters.
"From a construction standpoint, I would say we were extremely pleased to work with the Walsh administration," Byrne recently told Boston.com.
Now, with Walsh serving as U.S. labor secretary and housing a central issue in the race to replace him, Byrne is leading a coalition of developers and construction groups looking to exert influence on the election to replace him.
The group — dubbed the Responsible Development Coalition — has dropped $500,000 on TV and radio ads, and got all five candidates to sign onto a pledge expressing support for unobjectionable items like good wages, equal pay, more affordable housing, community input, environmental sustainability, and safety.
"They all seem to acknowledge the positive aspects of responsible development," Byrne told Boston.com after his coalition hosted a forum with the five candidates last week.
However, while the field largely agrees on the need for development to address the area's housing shortage, some are pushing for a shift from Walsh's more development-friendly approach in order to prioritize residents who are increasingly struggling to afford the high costs of living in Boston.
"Responsible development, first and foremost, is about doing right by our people," Boston City Councilor Michelle Wu said during the forum last week.
Wu, in particular, has struck a critical note of the previous administration, pledging to "abolish" the Boston Planning and Development Agency in favor of a planning department with clear rules and a focus on a long-term master plan.
"We need to get to the root of the issue, creating a planning department — creating a process — where we are setting rules that are accountable, not letting developers get away with it on a handshake, and then putting workers at risk and not paying the benefits and trying to catch them later," she said.
Wu isn't alone; even if they stopped short of calling for a complete overhaul of the BPDA, other candidates said that more community outreach and transparency are necessary.
"Reform is needed," said City Councilor Andrea Campbell.
"We certainly need to streamline our processes, not in a way that was everything all through, but in a way that makes things clearer and moves things forward so they don't get backlogged," Acting Major Kim Janey said. "We have to make sure that the city continues to grow, but grows in a way that benefits the people in Boston."
John Barros, the city's former economic development chief, suggested restructuring the BPDA to create community coordination in the planning process. City Councilor Annissa Essaibi George also called for increased community engagement in support of comprehensive master planning.
"Planning needs to happen before development," Essaibi George said.
Byrne, who forefronts the construction jobs supported by development, disagrees to some extent.
"I think Mayor Walsh was fair," he said.
"I know there are some candidates saying they want to change the process," Byrne continued. "There was a process. And neighborhoods got to speak up, one way or another. But we were still able to build buildings."
Byrne also sounded some caution that policies intended to encourage affordable housing could be counterproductive.
Every candidate in the race has called for increasing Boston's recently expanded inclusionary development policy to require at least 20 percent of units in developments of more than 10 units be income-restricted (the current policy sets the limit at 10).
While he points to a specific number, Byrne said there's a sweet spot that, if exceeded, could make Boston less appealing for projects.
"If we do overdo it, unfortunately, people will just stop building in the city," he said. "There is a fine line."
Byrne also came to the defense of the Seaport, which faced criticism from all sides during the mayoral forum Thursday. Now roughly a decade into development, the neighborhood quickly became the priciest and whitest in Boston, according to a Boston Globe Spotlight report in 2017.
During the forum, Wu called the Seaport a "playground for the rich" and an "end result of a system that is broken." Essaibi George dubbed it "Anywhere, USA." According to Janey, it was a "missed opportunity."
"For folks who can afford the Seaport, I'm sure it looks great," she said. "But the reality is that there are a lot of folks who have been left out of that, and we should never do development in such a way that we are creating whole neighborhoods and not making sure that there is housing for everyone at different levels."
Byrne acknowledges that the Seaport could have been "more inclusive," but also stressed that there was "a process."
"We had about 150 carpenters in the building last night at the forum, and I'd be willing to bet 90 percent of those people worked at some point down at that Seaport," he said.
While the city has generally fallen short of its construction diversity hiring goals, Byrne said there "was a lot of diversity and inclusion" building the Seaport.
Still, mayoral hopefuls question why the same strategy can't support neighborhoods that are actually diverse.
"If we in the city of Boston can create a whole new neighborhood, like the Seaport, why can't we do the same on the Blue Hill Ave corridor? Why can't we do the same on Washington Street?" Campbell asked during the forum.
"Why can't we do that with the same intentionality, the same resources, and a better vision?" she said. "Once we do that, we become the best city in the country."
For now, the Coalition for Responsible Development isn't backing a candidate. Byrne says his union may make an endorsement, but it's an open question whether it will be before or after the Sept. 14 preliminary election, if at all.
While developers initially appeared to be hedging their bets in the race, Janey and Essaibi George have pulled away from the pack in donations, as the Boston Herald reported last week. Byrne mainly attributed that to the fact that Janey currently serves as mayor (Essaibi George's husband is also a real estate developer).
"Is there potential for those candidates being a little more pro-development? I don't know," he said. "I don't know, but I think that's a possibility."
Newsletter Signup
Stay up to date on all the latest news from Boston.com