Elizabeth Warren
How Elizabeth Warren wants to remove offensive names across the country, from streams to bridges to forests
"This is about ending egregious expressions of systemic racism and bigotry," Warren said.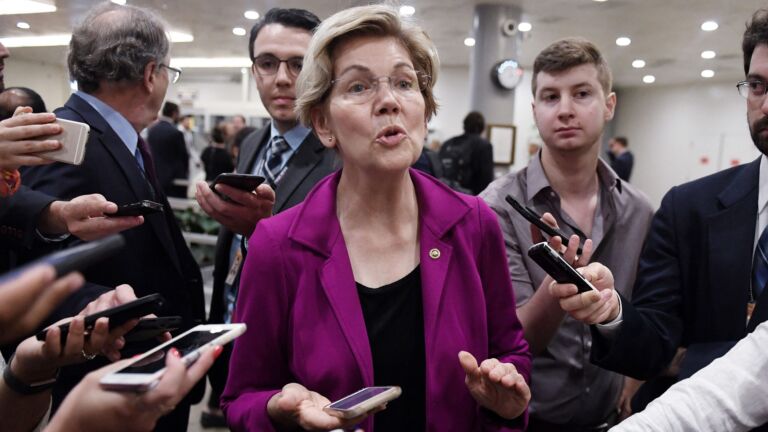 There are over a thousand public places — from bridges to forests to monuments to islands — in the United States with racially offensive or questionable names.
Sen. Elizabeth Warren wants to kick-start the effort to change them.
The Massachusetts senator introduced a bill Friday with Texas Rep. Al Green, a fellow Democrat, to create a national panel charged with identifying and recommending geographic features across the country that should be renamed.
"This is about ending egregious expressions of systemic racism and bigotry, and taking a step toward dismantling white supremacy in our economy and society," Warren said. "It's about building an America that lives up to its highest ideals."
According to Warren's office, there are "thousands" of forests, wilderness areas, and other public lands with offensive names that celebrate people who upheld slavery, committed atrocities against Native Americans, or led Confederate war efforts. Additionally, a 2015 review by Vocativ found 1,441 federally recognized places in the United States that had slurs in their official name — most commonly the words "squaw" and "negro."
Some have since been changed; for example, Squaw Peak in Massachusetts was just recently renamed "Peeskawso Peak." But many others remain.
The current process for name changes is overseen by the U.S. Board on Geographic Names, a 12-person panel that meets once a month to review name change proposals (which can be submitted by any member of the public).
However, Warren's office contends that the process is time-consuming, and also lacks transparency and public involvement. The board's own website even concedes that the process "may seem lengthy." And the vast majority of name change proposals are unrelated to offensive language, Vocativ reported in 2015.
Warren's bill — the Reconciliation in Place Names Act — would create an advisory committee specifically to deal with offensive names.
Comprising experts on civil rights and race relations, as well as tribal citizens, the board would solicit renaming proposals from tribal nations, state and local governments, and members of the public, and then would provide an opportunity for the public to comment on the suggestions.
The committee would then make recommendations to the Board on Geographic Names on geographic features to be renamed. It would also make recommendations to Congress on federal land units — such as national forests or any part of a national park or refuge — that should be renamed.
The bill comes after Warren successfully led an effort last year to begin the process of removing Confederate names and symbols from Defense Department property — such as military bases, buildings, and ships — within the next three years.
The Reconciliation in Place Names Act was first introduced last September by Deb Haaland, a former New Mexico congresswoman and Warren ally who now serves as U.S. interior secretary. Green says he took up the bill this session with Haaland's "blessing."
Support has since grown from 15 cosponsors in the House to 25 members, as well a six Senate co-sponsors, including Sen. Ed Markey.
However, it does not have any Republican cosponsors, making its future murky in the narrowly divided Congress. Warren's measure to rename Confederate bases did receive bipartisan support and even overcame a veto by former president Donald Trump as part of a larger budget bill.
"These terms are harmful relics from the era of invidious yet lawful discrimination that must be removed from public property," Green said.
"I have been an outspoken proponent of reconciliation for the vestiges of our nation's seminal sin – slavery," he continued. "Racism, even in geography, cannot be tolerated in a country that strives for liberty and justice for all."
Newsletter Signup
Stay up to date on all the latest news from Boston.com