Politics
Tom Brady returns to the White House — and gets a little political
"They started calling me 'Sleepy Tom.'"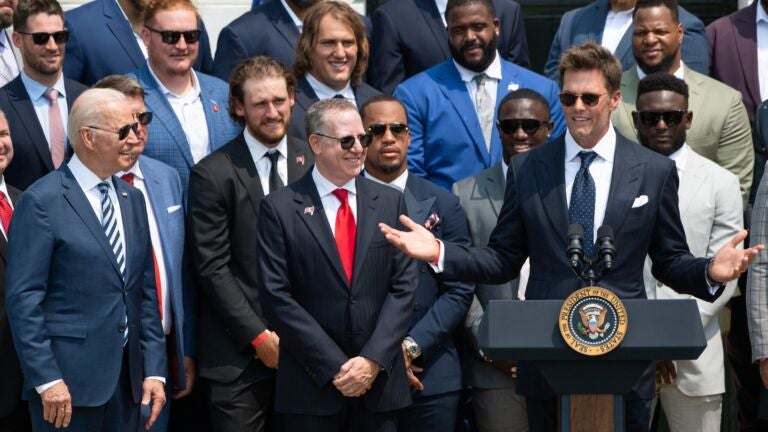 After skipping the traditional White House visits following the New England Patriots' last few Super Bowl wins, Tom Brady returned to the South Lawn on Tuesday to celebrate the Tampa Bay Buccaneers' title-winning 2020 season.
And not only did he return, Brady also stepped up to the microphone — and even cracked a few jokes at the expense of former president Donald Trump.
Recalling the Bucs' run to upset the Kansas City Chiefs in the Super Bowl next to President Joe Biden, the 43-year-old quarterback jokingly compared the team's doubters to the strikingly large percentage of Americans who believe Trump's unfounded claims that widespread voter fraud swung the 2020 election.
"Not a lot of people, you know, think that we could have won," Brady said. "And in fact, I think about 40 percent of the people still don't think we won."
"I understand that," Biden said, eliciting laughs from a number of Bucs players and audience members.
"You understand that, Mr. President?" Brady said, holding back a smirk.
"I understand that," Biden repeated, grinning.
And yet, Brady wasn't done with the political humor.
"It's nice for me to be back here," Brady continued, going on to recall a game last October during which he later admitted he lost track on what down it was.
"I lost track of one down in 21 years of playing, and they started calling me 'Sleepy Tom,'" Brady said Tuesday, making fun of Trump's attempted "Sleepy Joe" nickname for the 78-year-old Biden.
"Why would they do that to me?" Brady asked Biden.
"I don't know!" the president replied, gamefully throwing his hands in the air.
Brady's appearance Tuesday, which he called an "honor," marks his first celebratory White House visit since 2005, after he successfully avoided the South Lawn following the Patriots' last three Super Bowls — two of which came while his "good friend" and former golfing buddy Trump was in office.
Brady missed the team's visit in 2015 while former president Barack Obama was in office due to what the team called a family commitment.
Then, a few months after Trump took office in 2017, the quarterback unexpectedly pulled out of the Patriots' visit to spend time with his parents on their anniversary. The last-minute news reportedly angered Trump in what a former official described as a "chaotic" scene aboard Air Force One, and the famously vindictive Republican president subsequently never even mentioned the Super Bowl MVP's name during his speech honoring the Patriots (which was boycotted by roughly a third of the team).
The New York Times would later report that Trump grew disappointed by Brady's efforts to apparently distance himself from the lightning rod president, after offhandedly expressing support for him as a candidate in 2015.
And after the Patriots won the Super Bowl in 2019, the White House trip was repeatedly postponed and ultimately never happened, despite Trump's close relationship with team owner Robert Kraft and coach Bill Belichick.
This year, however, the Bucs and the White House were able to find the time.
During his own speech, Biden noted that "a lot is made about the fact" that Brady and Bucs coach Bruce Arians, who is 68, became the oldest quarterback and coach ever to win the Super Bowl.
"You won't hear any jokes about that from me," said Biden, who himself became the oldest person to assume the presidency earlier this year.
"As far as I'm concerned, there's nothing wrong with being the oldest guy to make it to the mountaintop," Biden said, adding that Brady looked like he had "about 20 more years left" in the NFL.
Somewhat similar to his GOP predecessor, the Democratic president was not short on compliments for Brady, who he called "just about the best ever to play."
"Making it to 10 Super Bowls in the last 20 years — that ain't bad, man," Biden said. "I tell you what, we've never seen anything like it in the game."
Biden also praised the Bucs as one of the "most well-rounded teams in recent memory," with a pair of "All-Pro linebackers," "star pass rushers," a "dangerous secondary" and "dominant" offensive line.
He also even gave a shout out to Brady's fellow former Patriot-turned-Buccaneer, Rob Gronkowski — who was not among the over 100 members of the organization at the White House Tuesday — joking that the "legendary" tight end "gave up what I'm told was a promising … acting career to return to the game."
Before he got into his jokes, Brady also praised his teammates for what he called a "very challenging season for a lot of reasons" in the midst of the COVID-19 pandemic.
"We come from a lot of different places across the country, a lot of different schools, a lot of different backgrounds, but we love each other, we're committed to one another, and when you do that, amazing things happen," he said.
Newsletter Signup
Stay up to date on all the latest news from Boston.com