Politics
Why some Mass. communities are moving to decriminalize psychedelics
Cambridge, Somerville, and Northampton have passed resolutions decriminalizing entheogenic plants.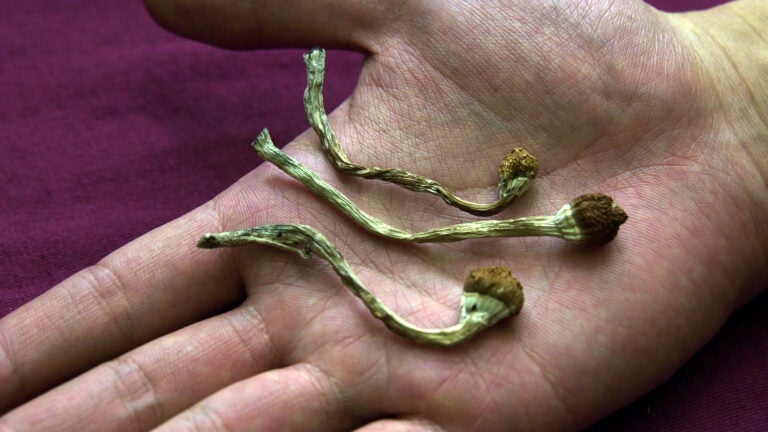 As evidence of the medicinal value of psychedelics grows, advocates and legislators are pushing to decriminalize and eventually legalize these long-used natural substances.
Since February, Cambridge, Somerville, and Northampton have passed resolutions decriminalizing entheogenic plants, a family of natural sources containing certain psychoactive compounds. In Somerville's resolution, entheogenic plants are defined as the "full spectrum of psychedelic plants, fungi, and natural materials containing indole amines, tryptamines, phenethylamines, including psilocybin mushrooms, ayahuasca, cacti, and iboga."
Oakland, California, did it first: in 2019, the City Council passed a resolution effectively decriminalizing entheogenic plants. In 2020, Oregon voters passed a ballot measure giving the state health authority two years to develop a program where adults can purchase and consume psilocybin products under supervision at a service center. Massachusetts' resolutions were written by Bay Staters for Natural Medicine, who have also led advocacy across the state.
Though in the U.S., these substances famously grew in popularity in the 1960s and 70s, indigenous cultures across the Americas have used them for remedial and spiritual purposes for hundreds of years. Now, these substances are undoubtedly having another moment: in the last few years, the FDA has approved several studies into natural psychedelic compounds, and advocacy groups across the country are lobbying for decriminalization.
Exactly when and how these substances will go mainstream — whether for recreational or medicinal use — remains to be seen.
Pioneering research for medical use
When Somerville approved its decriminalization resolution in February, local resident Sarah Hinzman shared her experience of microdosing to treat depression and chronic pain, the Somerville Journal reported.
"These pharmaceuticals are financially driven Band-Aids and they often lead to the addiction we then criminalize the user for," she said. "I was privileged enough to access the practice of microdosing psychedelics, and since I've stopped taking stimulants daily my mood has stabilized and my chronic nerve pain has been reduced."
COMPASS is one of several companies which received breakthrough therapy status from the FDA for a proposed study on psilocybin therapy for treatment-resistant depression. The company's mission is to "accelerate patient access to evidence-based innovation in mental health."
"There is huge unmet need in treatment-resistant depression: it affects 100 million people who aren't helped by existing medications," a COMPASS spokesperson told Boston.com. "Psilocybin therapy has shown promise in early academic studies and COMPASS wants to bring this innovation, if it works, to help people who are suffering."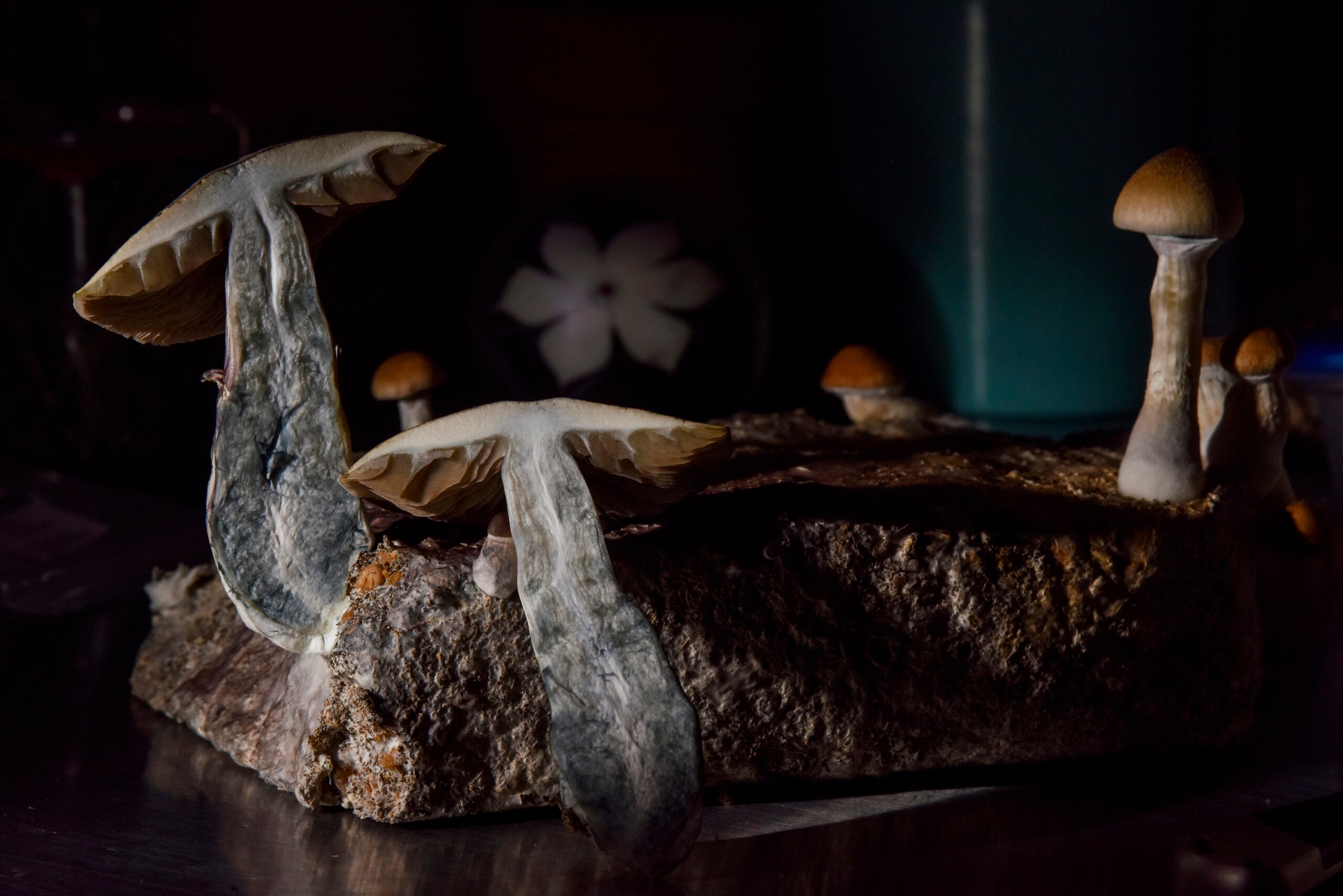 The therapy COMPASS is developing would look like just that, therapy. Patients would receive a dose under the supervision of a trained mental health professional. Right now, COMPASS is studying the proper amount, and how long its effects last.
"In developing that medicine, we give it once, it is something that is a profound experience for many people," George Goldsmith, COMPASS CEO and co-founder, told Boston.com. "They are supported by a therapist who prepares them for that experience, sits with them during the experience, and helps them make sense of it after."
The goal, Goldsmith said, is to create new options for people who haven't found success with other treatments. The study is in its second phase and, pending results, the final phase could begin in early 2022, after which COMPASS could seek regulatory approval. COMPASS is also developing training for mental health professionals to be able to coach people through this treatment.
"It's an experience where people often see things differently," Goldsmith said. "If you think about our lives as stories we create about how the world works…some people create a story that tends to be a bit negative…tend to get wrapped up in internal thinking and imagining all the worst that can happen, they become kind of disconnected from others. What psilocybin seems to do is interrupt that cycle of thinking and interrupt that negativity, and that gives people an opportunity to get back to their life and be more connected to their life."
Though some promising studies are underway, the criminalization of certain entheogenic plants and psychedelic substances has complicated research. A 2002 article noted there are many articles "on uses of psychedelics by Westerners in the 1950s and early 1960s generated prior to their prohibition and, some might say, profanation."
Though research into LSD and mushrooms surged in the 1950s and early 1960s, LSD was banned in 1967, and the 1971 Controlled Substances Act listed psilocybin alongside heroin as a schedule 1 drug, meaning it has a high potential for abuse. In a 2020 Drug Enforcement Administration resource guide, natural psychedelic substances like ibogaine, DMT, peyote, psilocybin, and psilocin were listed as schedule 1 drugs alongside LSD, fentanyl, heroin, and marijuana.
"The question is do we have the skills right now to not repeat what happened in 1967…1966 looks really familiar right now," Goldsmith said. "People were writing about how exciting this was, how promising it was…you had celebrity endorsements — kind of sound familiar? And then you had people who probably shouldn't have taken it getting into trouble, and a few of those cases can really turn the tide."
From where he stands, Goldsmith said decriminalization makes all the sense in the world, but advised patience in advance of broad legalization until more is understood about the substance's impact on mental health.
"The Nixon administration categorized psychedelics as having no medicinal value to criminalize Black people and Vietnam War opponents," James Davis, a lead organizer with Bay Staters for Natural Medicine, told Boston.com. "So now corporations are taking advantage of the flawed scheduling system to get monopolies through the FDA. Even though evidence shows they are safe and effective, corporations play up fears and spend millions trying to get the exclusive rights to sell these compounds."
Pushing for decriminalization and legalization
In Massachusetts, the legislative fights are already happening at the state and local levels. On the local level, national groups like Heroic Hearts Project, which supports psychedelic therapies for veterans, and Decriminalize Nature, a campaign to inform people of the value of entheogenic plants and support their decriminalization, are organizing for decriminalization.
"Entheogenic plants and fungi have long improved my spiritual relationship with nature and art and the legal advocacy that has defined my career," Richard Guerra, co-founder of Decriminalize Nature MA, told Boston.com. "It's time others in the community can use them safely and equitably without fear."
The immediate impact of these town-by-town resolutions depends on the community. For example, Cambridge only made one arrest in 2020 for possession or distribution of hallucinogens, and seven from 2017 through 2019.
"Overall, it is rare that our Special Investigations Unit encounters such drugs or seeks criminal charges for psychedelics," Cambridge Police spokesperson Jeremy Warnick told Boston.com. "Officers will most commonly seek medical attention/treatment for an individual if they are reportedly under the influence of a hallucinogen rather than place them under arrest."
Davis said focusing on the low number of past arrests misses the point of the resolutions.
"More and more people are learning about these plants and growing them," he said. "Our resolutions are to permit this community of healers and counselors to continue growing without fear of arrests going forward. Our resolutions also end possession arrests for all controlled substances: there's thousands of those charges filed every year across the Commonwealth."
Boston attorney and entrepreneur Shanel Lindsay, who led the cannabis legalization fight and helped write the ballot question, is excited to see further exploration of entheogenic plant therapies and believes the emerging legislative advocacy should learn from the cannabis fight.
"Corporate greed will always be an enormous force, especially in markets that hold new and novel commodities that could be regulated in a way that creates concentrated wealth or corporate monopolies," she told Boston.com. "The true purpose of the entheogenic movement — the desire to provide relief and enlightenment — is already being co-opted by corporate forces, just as we see in the cannabis industry."
There are two bills at the State House, both filed by Rep. Mike Connolly (D- 26th Middlesex), that could have an impact: one effectively decriminalizes possession of certain drugs, and the other establishes a task force to ensure equitable access to entheogenic plants once they are decriminalized.
"No matter where you are on the political spectrum, people can appreciate…we have such major issues with mental health and wellness in our country, we are pouring untold billions into different efforts to address it, and yet when you take a step back… it's not clear we've made much progress," Connolly told Boston.com. "[We're] hearing health experts say we need new tools…and even though it could be perceived as unconventional, at the end of the day, people looking at the data are saying this can't be ignored."
Newsletter Signup
Stay up to date on all the latest news from Boston.com