Politics
What, exactly, is going on with the Transportation and Climate Initiative?
Massachusetts needs other states to officially join in order to launch the effort to reduce vehicle emissions. And for now, that's somewhat of a waiting game.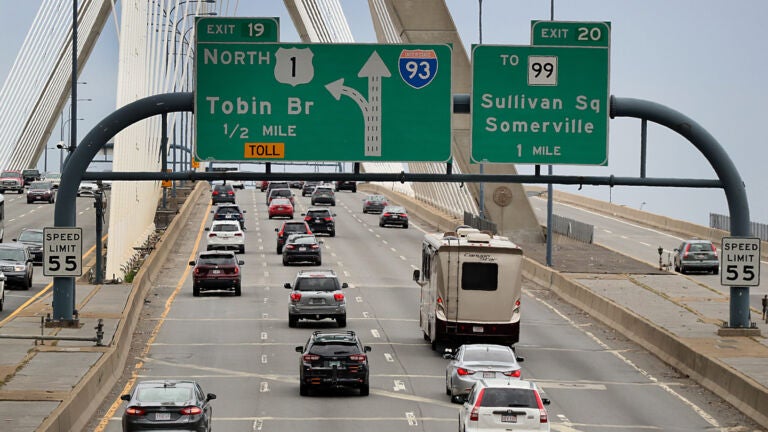 Over a year-and-a-half ago, Gov. Charlie Baker's administration unveiled a "bold," regional plan to cut down greenhouse gas emissions from vehicles and invest in more environment-friendly transportation.
The hallmark, interstate compact — named the Transportation and Climate Initiative — originally included a dozen states, from Maine to Virginia, as well as Washington, D.C.
However, a year passed, a pandemic hit, and by last December, the number of states actually committed to the program had dwindled to three: Massachusetts, Connecticut, and Rhode Island, along with D.C.
Then, it seemed to dwindle further. Lawmakers in Connecticut and Rhode Island recessed this summer without passing legislation to adopt TCI. Opponents seized on the developments to declare the initiative "dead."
That's not quite true. But the program doesn't exactly have the wind at its back, either. And while the Baker administration remains committed to it, officials say Massachusetts will only take the jump if other states do, too.
Remind me again what TCI would do?
TCI is known as a "cap-and-invest" program, under which participating states would place a limit on the total amount of emissions allowed from cars and trucks.
Then, states would auction off "allowances" to vehicle fuel suppliers for the portion of emissions they contribute to under the cap. In essence, fuel companies would pay for the right to sell a certain amount of gas and diesel.
Over time, the overall limit on emissions would gradually decrease; according to the ultimate TCI language, the states agreed to reduce vehicle emissions by 26 percent by 2032 (overall, the transportation sector is estimated to account for over 40 percent of all greenhouse gas emissions in the 13-state TCI region).
That's the "cap" part.
States would then get to decide how to "invest" the revenue from the allowance auctions into more sustainable transportation. Each state would get to decide for themselves how exactly to do that, as long as at least 35 percent of the proceeds benefit communities that have been overburdened by pollution and underserved by the current transportation system.
Massachusetts is estimated to get $1.8 billion from the program over its first 10 years. Baker's administration lists a number of different ways to spend the money, aimed at both rural and urban residents, such as:
Expanding public transportation;
Zero-emission buses, cars, and trucks;
Electric vehicle charging infrastructure;
Development of interstate electric vehicle charging corridors;
Improving high-speed wireless internet in rural and low-income areas to allow for teleworking;
Repairing existing roads and bridges;
And providing safer bike lanes and sidewalks.
Proponents say those investments could also result in increased health benefits, such as fewer chronic respiratory diseases from reduced air pollution and fewer injuries and deaths due to safer transportation systems.
The flip side, however, is that fuel suppliers could pass on the costs they pay for the emission allowances to consumers. According to final estimates, TCI could result in the price of a gallon of gas increasing by five to nine cents.
Proponents say that increase is modest — less than regular variations in the price of gas — and worth the benefits.
Critics say the program effectively equates to a gas tax, with the price increases hitting lower-income residents who rely on cars the hardest. And in addition to conservative opponents, some left-leaning groups say TCI wouldn't do enough; the Sierra Club, which was initially a supporter, announced last year it no longer backed the program, calling the 26 percent emissions reduction "too weak."
Waiting on Connecticut and Rhode Island
The leaders of Massachusetts, Connecticut, Rhode Island, and D.C. have pushed forward to launch TCI, even if the other eight states involved in the program — Delaware, Maryland, New Jersey, New York, North Carolina, Pennsylvania, Vermont, and Virginia — are taking a wait-and-see approach in the wake of the COVID-19 pandemic before formally signing on.
Supporters noted that the Regional Greenhouse Gas Initiative — the multi-state cap-and-invest effort to reduce power plant emissions, which TCI was modeled on — grew to include more members after beginning with just seven founding states.
The four jurisdictions that formally signed have aimed to begin requiring emissions reporting from fuel companies beginning next year, with TCI becoming fully operational in 2023.
However, the agreement also contains a big asterisk: A total of at least three jurisdictions must complete the legal processes required to implement their individual programs for TCI to begin.
And right now, that hasn't happened.
In Massachusetts, the Baker administration says it has the authority to enter the program under a state law passed in 2008 to address climate change (similarly, D.C.'s mayor, Muriel Bowser, was able to unilaterally move to enter the compact).
However, the governors of Connecticut and Rhode Island don't have that same authority; rather they need state lawmakers to pass legislation adopting TCI.
Even with Democratic trifectas in those states, it's not quite clear when that may happen.
In Connecticut, Gov. Ned Lamont "remains committed to the program," according to his spokesman, Max Reiss, who stressed the need to cut down transportation emissions in order to meet the state's "legislatively established" goal to reduce overall emission by 45 percent from 2001 levels by 2030.
That goal was passed by Connecticut lawmakers in 2018. However, legislation to enact TCI faltered this summer amid pushback from opponents and was ultimately not included in the budget deal passed before lawmakers recessed for the year.
Connecticut House Speaker Matt Ritter "has been a supporter and continues to support TCI" and "hopes to see it as a priority for the 2022 legislative session," the Hartford Democrat's spokesman, Todd Murphy, said in an email.
However, there seems to be less appetite in the General Assembly's upper chamber. Connecticut Senate President Pro Tempore Martin Looney has pushed the more moderate Lamont to support increased taxes aimed at the wealthy and knocked TCI as a regressive tax on the poor. While the New Haven Democrat expressed openness to TCI, he suggested this spring that it would be on the condition of Lamont's willingness "to take a new look at progressive taxation."
"If we're not talking revenues, then we're not talking revenues," Looney, whose office did not respond to a request for comment, told the CT Mirror in June.
Meanwhile in Rhode Island, Gov. Dan KcKee — who took the reins of the state after former governor Gina Raimondo was appointed U.S. commerce secretary — has also said he'll continue his predecessor's work on TCI.
Alana O'Hare, a spokeswoman for McKee, said Thursday the governor continues to support the effort.
"The Department of Environmental Management continues to reach out to legislators, environmental and equity advocates, and other stakeholders to discuss the benefits of TCI and why putting the brakes on air pollution and accelerating innovation in cleaner transit and healthier communities are so important to Rhode Island," O'Hare said in an email, adding that the state's entrance into TCI "would depend on when the legislature takes it up."
The state's Senate did pass legislation to enact TCI in June. However, that wasn't followed by any action in the House.
Emily Martineau, a spokeswoman for Rhode Island House Speaker Joe Shekarchi, suggested the reason was partly due to a busy end-of-session to-do list. However, she also said the Warwick Democrat was undecided on TCI.
"The legislative session was unusual this year – since last year's legislative session was cut short due to COVID-19, this year really packed in a lot of important bills," Martineau said in email, listing the Legislature's achievements, including another broader climate law committing to net-zero emissions by 2050.
She noted that the TCI bill is "still being considered," though a hearing has yet to be scheduled.
"It was a very full agenda and not all legislation made it to the finish line," Martineau said. "Speaker Shekarchi is keeping an open mind on TCI and will be monitoring the testimony at a public hearing to be conducted by the House Committee on Environment and Natural Resources, which will be scheduled."
Until then, Massachusetts is in somewhat of a waiting game.
Craig Gilvarg, a spokesman for the state's Office of Energy and Environmental Affairs, noted that the Baker administration won't move forward with TCI implementation unless multiple states are participating. Even amid criticism from a potential Republican primary opponent, the governor is standing by the plan.
"The Baker-Polito Administration understands the challenges in developing an ambitious multi-state program like the Transportation and Climate Initiative Program, but continues to believe the program's capacity to combat climate change and build better, cleaner transportation infrastructure is unmatched," Gilvarg said.
Newsletter Signup
Stay up to date on all the latest news from Boston.com