Politics
Boston.com readers submitted questions for the mayoral candidates about Mass. and Cass. We got their answers.
The overlapping crises of substance use, homelessness, and mental health have emerged as one of the race's urgent issues.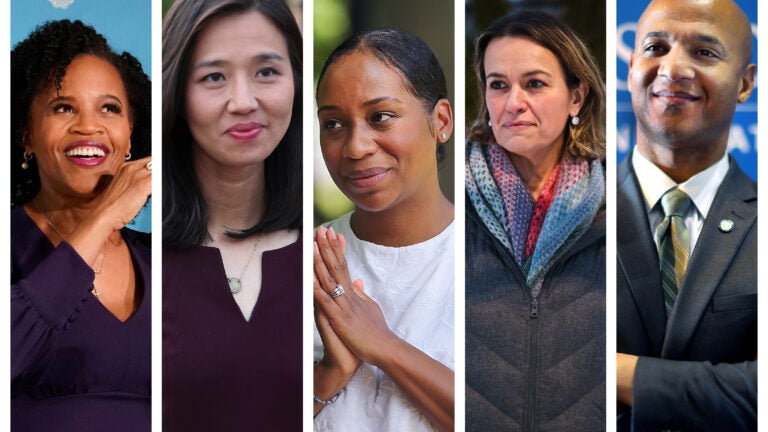 We asked Boston.com readers back in May what questions they had for the candidates facing off in the 2021 mayor's race related to the opioid epidemic and the worsening conditions around Mass. and Cass in the city.
How the next mayor of Boston will address the overlapping crises of substance use, homelessness, and mental health has emerged as one of the race's prominent issues.
Most of the candidates have posted plans detailing how they would address the issues around Mass. and Cass, the stretch of streets in the South End and Roxbury that has become the epicenter of the opioid epidemic's impacts on the city and region. In recent years, more and more people navigating substance use disorder, mental illness, and homelessness have gathered around Massachusetts Avenue and Melnea Cass Boulevard to seek services from the providers concentrated in the area.
Residents of the surrounding neighborhoods have been calling on city officials to address worsening conditions on the street, saying they are unsafe and inhumane both for the people who are struggling with addiction and homelessness and for the local communities. Residents regularly report dealing with individuals overdosing on sidewalks and in alleys, human waste and refuse left on private and public property, and improperly discarded needles in parks and on playgrounds.
The situation around Mass. and Cass, known disparagingly for years as "Methadone Mile," has only been exacerbated by the COVID-19 pandemic. The number of people in the area increased over the last year as individuals came to Boston, drawn by services that largely remained open during the pandemic when providers across the state and region shut down or altered operations due to the spreading virus.
The city opened what they called "comfort stations" in 2020 to cope with the surge in demand, but neighbors and advocates say more still needs to be done to address the crisis.
The questions we received from readers in May touched on housing, whether candidates plan to interact with individuals struggling with addiction, and how the city can meet the surging demand for services when most of the people seeking assistance are arriving in Boston from other municipalities.
We posed those questions to the candidates during a series of one-on-one phone interviews focused on the opioid crisis and Mass. and Cass. See the answers to the reader-submitted questions below:
Note: Acting Mayor Kim Janey asked to provide her answer after hearing all the questions read together, rather than provide responses one by one. Her answer is listed below.
The responses have been lightly edited for clarity.
Do you support "housing first" initiatives as a solution?
Andrea Campbell: Yes. The short answer is yes. And actually I've been engaging with folks who have been doing a lot of work in this space and who also are providing supportive housing. And in my plan, [I] speak to, not only the City of Boston building and constructing more supportive housing quickly, but also the importance of having a Mass. and Cass chief or someone owning this and coordinating this. Because there are actually units available right now. And what I heard from providers is the City of Boston must take the lead to ensure that folks who need this housing don't have to navigate the complexities of the state system, city, or all of the various stakeholders in order to get placed in this housing. So the short answer is yes.
Annissa Essaibi George: Certainly as part of the solution, yes. There is not one single answer that will solve and help us solve the crisis around Mass. and Cass and those experiencing homelessness. It's got to be a coordinated approach of lots of different things. … And housing first is certainly one of them.
John Barros: Absolutely. There is no question that transitional, supportive housing — moving people into permanent housing situations — is the way to go. Shelters should be used as transitional space until we can get people permanently housed.
Michelle Wu: Yes, absolutely. We know there are models across Boston that work and that have been changing lives, and we need to amplify and expand the success. I was just out at Brighton Marine [in May] visiting and learning about their housing first approach. The network's delivery of services has housed somewhere in the range of about 30 veterans who formerly were experiencing homelessness, as well as about 200 veterans at 30% AMI, 50% AMI, and 90% AMI housing, to match the supportive housing with long-term housing at income-restricted levels, with onsite health care and medication-assisted treatment for opiates, with case management, with access to support for transportation and job search and child care. There's great work happening at St. Francis House, at Rosie's Place, at the Pine Street Inn. Pine Street — they're operating more transitional and long-term beds than emergency overnight beds. And we know this is effective — that stable housing is the foundation for everything else.
Do you consider those using drugs at these comfort stations your constituents, and if so, will you spend time personally interacting with them onsite? — Joe, South End
Andrea Campbell: Yes, and I've actually already done that. Before I actually developed my plan, I did several walk-throughs, had conversations via phone, of course some Zoom meetings as well. We were engaging with folks, my team and I, who were personally going through issues related to substance use disorder. It's always been important to me, whether it is this issue or any other issue, that the folks who are living and experiencing the problem absolutely be at the table providing solutions. So their voices are also reflected in this, including my plan around decentralizing services where individuals actually said, "Andrea, I'm down here to get support for recovery. It's difficult to do that when you have a location that is there, that encourages you — " he was talking about the facility where not only you go for recovery but where you can go and possibly use. So he was saying these facilities are situated near each other, and that's not smart and definitely does not encourage folks to get the support and help they need. So in decentralizing for example, this individual was stressing that we also have to be smart on where we place facilities and the type of facilities we are placing in these neighborhoods.
Annissa Essaibi George: Yes. Anyone and everyone who is a resident of the City of Boston, whether housed or unsheltered, is a constituent of mine. I have spent time in the Mass. and Cass area, I've spent time in our city's shelters, I've spent time in our comfort center and our engagement center.
John Barros: Yeah, I've been there. I consider them constituents, I consider them neighbors. I'm only a few blocks away from the site. So I've walked those streets. I was just there talking to people, and it is important that we continue to see the humanity of those who are looking for help and treat them with dignity and respect. And right now, the conditions on the streets are not doing that.
Michelle Wu: I have been to the comfort station many times and spoken with patients who are seeking treatment and people who are in that area, as well as the case managers and city workers who are there. [In June] I was just walking around Atkinson Street and the area around Mass. and Cass and stopped by the comfort station. We've been formulating our plan for addressing homelessness, mental health, and the opioid crisis, been in close contact with service providers, with neighbors and abutters, and with advocates who have been organizing on the ground.
Boston.com: So just to clarify, you do consider those using the services, people who are living unhoused, to be your constituents?
Wu: Yes.
How do we offer help to those in need, but maintain basic standards of community behavior? And how do we make sure city services are provided to city residents? The Mass./Cass area has become a destination for non-Bostonians. — Jamie, South End
Andrea Campbell: In my very first letter on this issue, after I did my walk-through, I sent a letter to both the previous mayor and the governor. And it stressed that while the City of Boston needs to take the lead and to have a plan that involves dealing with this issue, I was pushing for, one, decentralization of services, hiring a Mass. and Cass chief at the cabinet level to own this, creating a responder unit. While pushing for the city to do that, I was also pushing the governor and his team to take a more hands-on approach and to say, this has to be regional and the state absolutely has to step up, to support the City of Boston, which is bearing the brunt of solving this issue, even though many of the residents are not from the City of Boston. So I will continue to push the state to do its part, along with our neighboring municipalities to do theirs.
Annissa Essaibi George: First, when I think about the work around improving quality of life, when I think about the work around improving access to services and public health and public safety, it is certainly about the experiences that our residents are having. Those that are housed, those that live in the South End and Lower Roxbury in particular, if we're speaking to Mass. and Cass specifically. Although this is a problem that we see in all of our neighborhoods and in many parts of our city. It's also about the impact that it has on our small businesses.
But when we have a low quality of life, when we have the sort of outcomes and the implications of people who are in crisis, it also impacts those who are unsheltered in that area. It also impacts those who are dealing with substance use disorder, it also impacts those that are looking for help. So when I do this work, I'm thinking about everyone. And the impact of what's happening at Mass. and Cass, since we're talking about Mass. and Cass, the impact that it has on everyone. Even those who are dealing with homelessness deserve an improved quality of life. They do not deserve to be experiencing aggressive behaviors, they do not deserve to be dealing with trash and human waste and improperly discarded needles. They do not deserve to be confronted daily with their disease and their addiction and with those who are dealing drugs, with those that are taking advantage of them. And the residents of the South End and Roxbury, just because we're speaking of Mass. and Cass, it's the same for them. Those who are doing business and building business and coming to work in the area — nobody should be living this experience.
John Barros: Yeah, it is sad that anywhere between 67 to 72% of those on the streets on a given day do not have an address that originated in Boston. We need a regional approach, we need a regional conversation. As mayor, I would convene the towns and cities around us and make sure that the state is at the table so that we can have a conversation about the services that are needed statewide. We need more recovery dormitory beds, we need more mental health beds throughout the state. Recently, we've closed them, and it's not acceptable. But at the same time we need to have medical professionals, health professionals, on the ground to direct people to services. And that's the problem. There is a lack of services for the people on the street. But they didn't come to the streets to find services. The services that we provide need to be made available by increasing these beds, we need to be able to make sure that people are directed to the appropriate services.
Michelle Wu: We need to tackle the root causes of this crisis. The city and partners in the local business community and advocacy community have been pouring resources into the area. And city workers are working incredibly hard to deliver faster and more services. But, we can keep improving the speed of needle pickup after requests, we can keep adding shifts where the street sweepers come through now three times a day in some parts of the area, but it won't ever stop the situation. As long as we are still managing the mitigation of the symptoms, we won't be getting to truly changing the situation. So we need to do both. We need city services that are responsive, but we need a new approach with urgent leadership to change the situation.
Why can't there be 24/7 bathrooms on the Common and at Copley Square? Why not keep the Frog Pond bathrooms open 24/7? … [Comfort stations] should be open 24 hours a day, especially the bathrooms. … People really need bathrooms 24/7 in these areas. — Maria, Roslindale
Andrea Campbell: I absolutely agree and will continue to push for that. In addition, I got some complaints from residents who said that when they were calling 311 for needles to be picked up and various things that they were told in response that the service was not 24/7. Which is ridiculous. So continuing to push for services in these comfort stations to be open 24/7, which will help our city employees of course, who have been doing the work for some time in the area.
Annissa Essaibi George: I agree with Maria wholeheartedly. We need to get to a place where we've got mobile bathrooms and bathrooms that are available. Bathrooms that also keep in mind the safety of individuals who are using them and making sure we've got the proper precautions in place. Because when we have individuals who are experiencing the intersection of homelessness, mental health, and substance use disorder, oftentimes the bathrooms are also used as a private place to use and we have to worry about the risk of overdose and death. So there has to be precautions in place. But I support 24-hour bathrooms. We need a restroom answer and response to the needs of individuals who are experiencing homelessness across the city. It's our job as a city to respond to that need.
John Barros: I agree with Maria 100%. In fact, my plan calls for that. We need 24-hour bathrooms, we need a 24-hour operation center in the Newmarket area to make sure that there are bathrooms, to make sure we're cleaning the area, to make sure that we're addressing any issues at night around maybe any kind of vandalism that happens. We need to keep people healthy, safe, and in good dignified areas.
Michelle Wu: I think that's right, I would agree with that. We were just in the Frog Pond area a couple weeks ago with friends, watching our kids play on the playground. And a little one needed to use a restroom, and it became a stressful dash to restaurant after restaurant in the area, begging to unlock their bathroom to head that off. Because the visitor center was closed at that point on the Common. It is a conversation that the City of Boston can lean into with resources, to partner with organizations in the area. We know this is a basic need that impacts the cleanliness of our spaces and the experience of everyone in the area.
Kim Janey (in response to all the reader questions): I would suggest that people need bathrooms and need them beyond the Common. … In all of these, it's going to be a question of siting. People have said, 'Yes, let's get more treatment, but don't put it here. Let's have public bathrooms, but don't put it here.' So I think if we are going to truly treat this issue with compassion and deal with people with compassion, then we do need to talk about access to bathrooms and where you put it, and housing and where we put it. That doesn't just trigger, 'We want it, but we just don't want it here.' And so I think we will continue to look at, and have been looking at, public restrooms and how and where to locate them. We'll continue to do that, again, with supportive housing.
I think it's well known, to the other question that came up around are these residents of Boston/are not residents, I think it's well known that many individuals originated from other communities. They're here now. This is where they live now. And so yes, they are Boston residents, and we do need … to have a regional approach, which is why I work closely with other mayors in the region in lifting this up as a priority. So it is not just left to Boston. Because this burden, to the reader's point, the burden is falling largely to Boston. And we do need other communities to be part of the solution and to help move this forward in making sure that individuals have every opportunity to rebuild their lives and rebuild their relationships and get the housing that they need and hopefully employment and really be able to live productive lives. But the immediate need is for treatment that hopefully brings them to recovery.
But it's a very complex issue, and I certainly understand many of the frustrations that residents have, particularly those who live in the area, like I do. It can be frustrating when they see this day-in and day-out, that people are dealing with illness. It's tough. And so making sure that there's support there and that people are being connected and that we are getting people into housing and that we are getting people into treatment and that we are reversing ODs and saving lives. That's important work. But it doesn't mean that this suddenly doesn't look the way it looks, that people just disappear. We have to continue to help. And we need for, not just the other municipalities to do their part, we're working with a lot of different nonprofits, too. … The nonprofits have also been doing incredible work and have been important partners in this space. So that's also what is happening and may not always — it doesn't look pretty, but the work is happening. And we do have to have the short-term and the immediate day-to-day, along with the longer-term plans around [Long] Island. And you know we also have to acknowledge that addiction doesn't know any boundary. But yet Boston disproportionately has been dealing with this, as well as this specific geographic area within our city, even though we know there are folks with substance use disorder all across our neighborhoods, not just in one neighborhood.
So there's also work — these programs are licensed by the state, so we do have to look at where we're putting things or where the state is putting things, if in fact we're going to decentralize or de-densify the concentration of services in one geographic area. That's going to go back to, where do we put them and whether or not there's going to be strong pushback from residents. Because I think most of our residents understand that people are ill and they need help and they need treatment and they want them to get it. But the question is where do they get it.
View the plans candidates have released for tackling the opioid crisis and/or Mass. and Cass below:
Newsletter Signup
Stay up to date on all the latest news from Boston.com