Politics
Former leader of No Boston Olympics joins race to be Massachusetts auditor
Chris Dempsey is joining state Sen. Diana DiZoglio in the race to be the state's "chief accountability officer."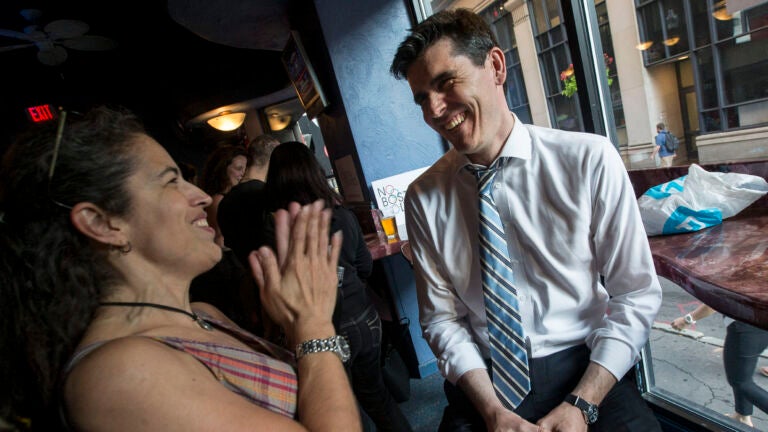 Chris Dempsey, a former leader of No Boston Olympics and transportation advocate, officially launched his campaign Tuesday to be Massachusetts state auditor.
He joins state Sen. Diana DiZoglio, a fellow Democrat, in the race to replace State Auditor Suzanne Bump, who announced in May that she would not seek a fourth term. Known as the state's "chief accountability officer," the auditor's office is tasked with inspecting government agencies and contractors to ensure taxpayer money is being well spent.
"The State Auditor must stand up to special interests to protect the public interest, must have a track record of making state government work better for the people it serves, and must be able to offer cutting edge and creative solutions to our Commonwealth's most stubborn public-policy challenges," Dempsey said in a statement. "That's what I've done throughout my career."
A 38-year-old Brookline native, Dempsey graduated from Pomona College in 2005 and Harvard Business School in 2012. In between those stints, he served as assistant secretary of transportation in former Gov. Deval Patrick's administration, where he helped create the MassDOT Open Data Program and facilitated the sharing of real-time MBTA bus and subway tracking with riders.
After business school, Dempsey went to work as a consultant at the Boston-based firm Bain & Company, before co-founding No Boston Olympics, the grassroots opposition group to Boston's bid for the 2024 Summer Olympics, along with Kelley Gossett and Liam Kerr. After the bid collapsed in 2015 amid flailing public support, Dempsey was named one of the The Boston Globe's Bostonians of the Year.
He most recently worked as the director of Transportation for Massachusetts, a coalition of environmental, community, and business groups, where he called for making the state's transportation systems more reliable and sustainable and for greater state investments in the MBTA amid service cuts due to the COVID-19 pandemic.
In his statement Tuesday, Dempsey said the pandemic "exposed shortcomings in our state government" and said that a "proactive, experienced State Auditor is essential to ensuring that the next four years prioritize accountability, effectiveness, and equity for every resident of this state."
"My record across the public, private and non-profit sectors makes clear that I will fight to ensure state government answers to the people, not the powerful, as we rebuild," Dempsey said.
DiZoglio has similarly called for more accountability and equity, as well as speaking "truth to power."
After announcing her own campaign in early June, the Methuen Democrat took particular aim at the "powerful Beacon Hill establishment" and Republican Gov. Charlie Baker's administration, promising to audit no-bid contracts awarded in the vaccine rollout and the state's response to the deadly COVID-19 outbreak at the Holyoke Soldiers' Home.
"Massachusetts people have too often been left in the dark due to the secretive and inaccessible culture of centralized power on Beacon Hill," DiZoglio said at the time.
Dempsey's announcement Tuesday doesn't come as a huge surprise. Shortly after Bump announced she wouldn't run for reelection, he signaled interest in the office. Dempsey subsequently filed campaign finance paperwork and stepped down from his Transportation for Massachusetts post in June (he also got engaged earlier this month).
Dempsey currrently lives in Brookline, with his fiancée, Anna, where he is an elected Town Meeting member and chair of the town's transportation board.
Newsletter Signup
Stay up to date on all the latest news from Boston.com