Politics
Boston mayoral candidates call for a COVID-19 vaccine requirement for city workers
"We have a responsibility to make sure they're protected from COVID exposure in the workplace."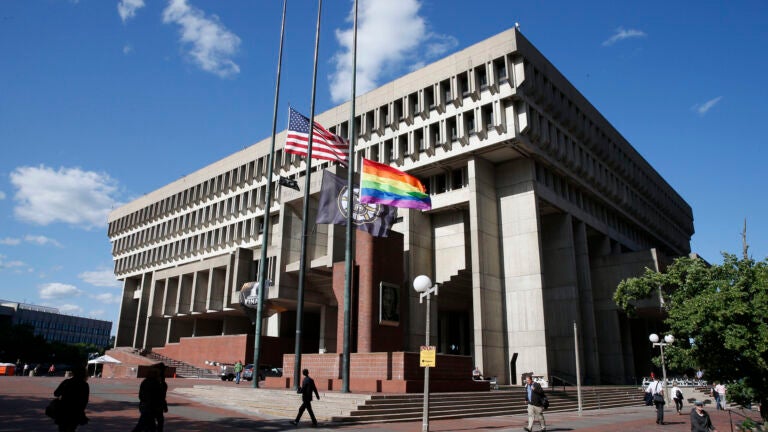 New York City and California announced this week that they will require their government workers to get vaccinated against COVID-19 or face weekly testing.
Should Boston follow suit?
Most of the city's mayoral candidates think so.
In separate statements released Tuesday afternoon, John Barros and Andrea Campbell called on Acting Mayor Kim Janey, who is also running for a full term, to require the City of Boston's roughly 18,000 employees to be vaccinated or receive weekly COVID-19 testing, citing the increasing infection rates — both nationwide and in Massachusetts — driven by the highly contagious Delta variant.
"City employees have been doing incredibly heroic work throughout the pandemic, and we have a responsibility to make sure they're protected from COVID exposure in the workplace," Barros, the city's former chief of economic development, said in a statement released by his campaign.
"We also have a responsibility to protect members of the public who interact with city employees," he added.
Less than an hour later, Campbell echoed that call — noting that Boston City Council President Pro Tempore Matt O'Malley issued a memo Tuesday requiring all in-person council staff to show proof of vaccination or get a weekly test beginning on Aug. 30 (O'Malley became the acting City Council president when Janey, as the elected City Council president, took over for former mayor Marty Walsh).
Campbell applauded O'Malley's move Tuesday and said Janey should issue the same rules for all city workers by the end of July.
"As COVID-19 continues to spread with a deadlier variant, the City of Boston must show leadership in ensuring we slow the spread of the virus by requiring all City employees to either be fully vaccinated or tested for COVID-19 on a weekly basis," the District 4 city councilor said.
Annissa Essaibi George and Michelle Wu also backed the calls Tuesday by Barros and Campbell. Essaibi George's campaign said the city councilor agrees with the push for vaccine requirement, while Wu said the mandate should be paired with her proposal to provide additional sick days for city workers to take after getting their shots.
"Leadership requires taking action to stay one step ahead of the virus, and I support the City Council's actions to set the tone for the administration while waiting for citywide protections," Wu told Boston.com in a statement.
In response, Janey's office noted Tuesday that the city requires employees and visitors to wear masks inside municipal buildings, but indicated no plans to impose a vaccine requirement.
"The City of Boston and the Boston Public Health Commission will continue to use data to drive our decision making and will adjust employee and public health guidance as necessary," Emma Pettit, a spokeswoman for Janey's office, told Boston.com in an email.
The acting mayor previously expressed hesitancy about the idea of a vaccine mandate for city workers.
In an interview in early May, she told WBUR that she'd rather focus on providing accurate information about vaccines, making shots accessible, and providing paid time off so employees can recover from possible side effects.
"I want to do everything possible to make sure that people can make informed decisions and that this isn't forced upon them," Janey said at the time.
However, since then, the rise of the Delta variant has fueled a significant uptick in COVID-19 cases, though hospitalizations and deaths in Massachusetts have remained low, which officials attribute to the state's high vaccination rates.
The calls Tuesday came in the midst of the Centers for Disease Control and Prevention's new guidance recommending that even vaccinated individuals wear masks in indoor public places where COVID-19 transmission rates are high.
During a press conference Tuesday afternoon, CDC Director Dr. Rochelle Walensky said the highest levels of COVID-19 transmission, hospitalizations, and deaths were occurring in places with low vaccination rates and primarily among unvaccinated individuals.
"This moment — and most importantly — the associated illness, suffering, and deaths could have been avoided with higher vaccination coverage in the country, " Walensky, the former infectious diseases chief at Massachusetts General Hospital, said.
President Joe Biden said later Tuesday afternoon that a vaccine requirement for the federal workforce is "under consideration."
Barros also expressed support Tuesday for "continued vaccination education and outreach," in addition to mandatory shots or testings. He also suggested that private sector employers, particularly in the health care field, should require workers to get vaccinated.
"As we prepare for the return of students to school this fall, this strategy must be just one element of a comprehensive plan to protect our students and our communities from a pandemic that is still with us," Barros said.
Janey also announced last week that Boston Public Schools students and staff would be required to continue wearing masks in school buildings through the fall.
Newsletter Signup
Stay up to date on all the latest news from Boston.com