Politics
Boston.com sat down with each major candidate for mayor. Here's what they think about everything.
What you need to know about the people vying to lead Boston into the future, from their plans for affordable housing and police reform to their regular Dunkin' order.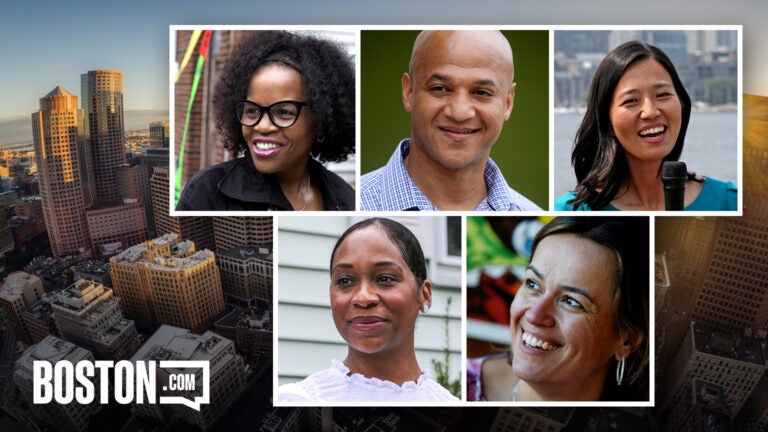 It seems like elections are often referred to as "historic" these days, but it's hard to argue with that description when talking about the race for mayor of Boston this year.
For one thing, of the five major candidates vying to replace newly minted Secretary of Labor Marty Walsh in City Hall's corner office, all are people of color, and four are women — no matter what happens this fall, that will represent a marked change for a job that, to this point, only white men have been elected to.
City Councilors Michelle Wu, Andrea Campbell, and Annissa Essaibi George, former city economic development chief John Barros, and acting Mayor Kim Janey — who as president of the City Council was tapped as Walsh's temporary replacement — will compete in a preliminary election Tuesday, Sept. 14, with the top two finishers facing off on Tuesday, Nov. 2.
In recent weeks, Boston.com met separately with each candidate to ask them about such serious issues as housing, education, and public safety; put them through a "speed round" of questions about personal topics, from their typical Dunkin' order, to their favorite Boston-set movie, to whether they prefer Fenway or TD Garden; and even asked them questions submitted by Boston.com readers on topics like gentrification and climate change.
Individual Q&A's are linked below in order of the candidates' official entries into the race. Make sure to visit this page regularly for additional coverage of this important race as the primary draws closer.
Annissa Essaibi George (read the Q&A)
Community:
• Who will you be voting for in Boston's preliminary mayoral election? (Sept. 13)
• Interactive guide: How to find out where Boston's mayoral candidates stand on major issues (Sept. 7)
• Where Boston's mayoral candidates stand on renaming Faneuil Hall (Aug. 22)
• Here's where Boston's mayoral candidates stand on COVID-19 vaccine passports (Aug. 13)
• Here's how each candidate for mayor plans to tackle gentrification (August 12)
• We asked the mayoral candidates about exam school admissions. Here's what they said. (August 11)
• Here are the best Boston movies, according to the mayoral candidates (August 10)
• Should Boston have a junk food tax? Here's what the candidates for mayor said. (August 9)
• Here's what the mayoral candidates think of Boston's polarizing City Hall (July 30)
• Boston.com readers submitted questions for the mayoral candidates about Mass. and Cass. We got their answers. (July 26)
Prior coverage:
Check back for additional coverage as the primary approaches.
• Live blog: Updates on the Boston mayor's race (ongoing)
• Here's what mayoral candidates said about the economics and equity of Boston's future (Sept. 10)
• 2 takeaways from the second Boston mayoral debate (Sept. 9)
• 3 takeaways from the first Boston mayoral debate (Sept. 8)
• Andrea Campbell and Kim Janey spar over 'lies' and 'hypocrisy' in the wake of negative super PAC ad (Sept. 7)
• Janey leads fundraising battle in Boston mayor's race (Sept. 5)
• 4 candidates for mayor were asked to reveal their least favorite places in Boston. Here's what they said. (Aug. 30)
• Boston's preliminary mayoral election is just around the corner. Don't miss these important dates. (Aug. 24)
• Facing blowback from candidates, Janey administration will address polling place disparities (Aug. 18)
• Here's where Boston's mayoral candidates stand on safe injection sites (Aug 3)
• Boston mayoral candidates call for a COVID-19 vaccine mandate for city workers (July 27)
• Is the Long Island bridge key for addressing the issues of Mass. and Cass? Here's what the mayoral candidates think. (July 22)
• Building boomed under Marty Walsh. But what about Boston's next mayor? (July 19)
• Boston mayoral candidates lay out plans for tackling systemic racism in the city (June 17)
• Here's how the candidates for Boston mayor graded Charlie Baker's COVID-19 response (April 21)
• Here's how Boston's mayoral candidates would expand affordable housing (April 21)
• Most of the Boston mayoral candidates want to reallocate money from the police budget. One does not. (April 20)
• Nearly everyone in the Boston mayor's race wants to eliminate some MBTA fares. The question is for whom. (April 19)
Newsletter Signup
Stay up to date on all the latest news from Boston.com