Politics
Mass. gubernatorial candidate Ben Downing presses Charlie Baker for mask mandate that 'mirrors' CDC guidelines
Baker says his administration's new statewide advisory is "much more appropriate for what we're dealing with at this point in time."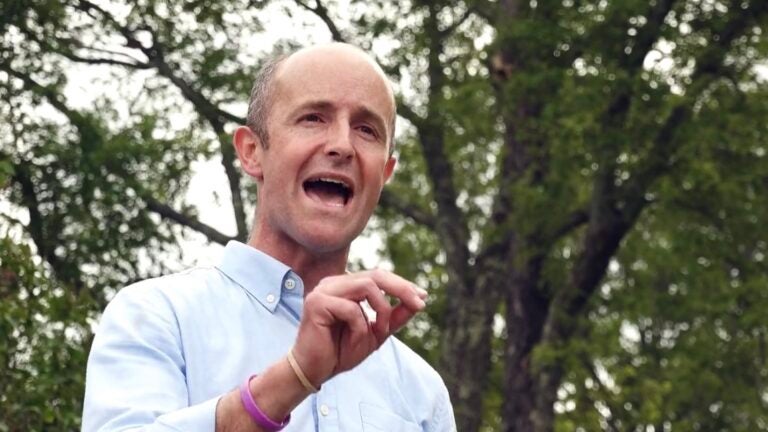 Amid concerns about the highly contagious Delta variant of COVID-19, Massachusetts Gov. Charlie Baker's administration released new face covering guidelines for both the general public and schools last Friday.
But according to one of the Democrats running to replace the Republican governor, recommendations are not enough.
Ben Downing, a former state senator and 2022 gubernatorial candidate, is urging Baker to impose a "mask mandate that mirrors" the recently updated Center for Disease Control and Prevention face covering guidelines.
"As the highly transmissible Delta variant continues to spread, the people of Massachusetts need clarity and consistency on how to best approach protocols for vaccination and mask mandates in schools, employment, and social environments throughout the Commonwealth," Downing said in a statement Monday. "When Governor Baker fails to put forward and implement a coordinated response, we end up with patchwork that exacerbates inequity and allows the pandemic to persist."
In light of evidence showing that the Delta variant can infect and be spread by even vaccinated individuals, the CDC recommended last Tuesday that everyone — regardless of vaccination status — in counties with "substantial" or "high" COVID-19 transmission rates should wear masks in public indoor places. The health agency also recommended universal masking in schools nationwide this fall.
Three days later, Baker's administration took a different approach, which the governor argues is more "simple" and "straightforward."
Rather than base their recommendations on local transmission, state officials issued a statewide advisory saying that — in addition to unvaccinated individuals — fully vaccinated individuals who have a weakened immune system, face an increased risk from COVID-19 due to their age (though it does not specify what age) or an underlying condition, or live with someone who is high risk or unvaccinated should wear masks when indoors outside their home.
In a separate memo Friday, state education officials "strongly" recommended that all students in kindergarten through sixth grade, who largely remain ineligible for the COVID-19 vaccines, as well as any older students, staff, or visitors who are unvaccinated, wear masks in school buildings this fall. However, the Baker administration did not go so far as to issue a mandate and said schools should "allow vaccinated students to remain unmasked."
In his statement, Downing argued the guidance was the latest part of a COVID-19 response that has "lacked clarity and left the most vulnerable communities across the state behind."
"The Baker-Polito Administration's latest suggested guidance both leaves school district administrators on their own to decide best practice on mask mandates and ignores the CDC's updated guidance that vaccinated people should return to wearing masks indoors in parts of the country that are experiencing substantial or high COVID-19 transmission," the East Boston Democrat said.
Asked why he didn't align with the CDC's guidelines, Baker told reporters Friday that statewide guidance targeting individuals who are personally more vulnerable to COVID-19 would be easier than recommendations based on constantly changing transmission metrics.
"What if you live in one county, work in another? What if you work in one county, live in another way? What if you decide to go to vacation or out to dinner in one county, and live in another?" he said Friday afternoon in Boston.
"And by the way, how is anybody supposed to keep track — given all the stuff that's going on in their daily life — with a rolling seven-day average, in which one of four elements is going to determine, based on whichever one is highest, whether or not a district is substantially at risk or significantly at risk," Baker added.
Between late last week and Monday, the number of Massachusetts counties where the CDC recommends indoor mask wearing had increased from four to nine.
Baker said his administration's view is that all residents who are elderly or have medical conditions that might put them at an increased risk to COVID-19 should "take extra precautions and wear masks and maintain some degree of distance when you're indoors."
'"And the same goes if you live with a family members, work with or have friends who have similar kinds of medical conditions," he said. "That guidance, I believe, is a lot simpler and a lot easier and … a lot more straightforward, and much more appropriate for what we're dealing with at this point in time. And also, if you have any of those medical conditions, you should get vaccinated."
Newsletter Signup
Stay up to date on all the latest news from Boston.com