Politics
Michelle Wu: The Boston.com interview
The candidate for mayor on the need for rent control, the intersection of public safety and public health, and how to make the MBTA fare free.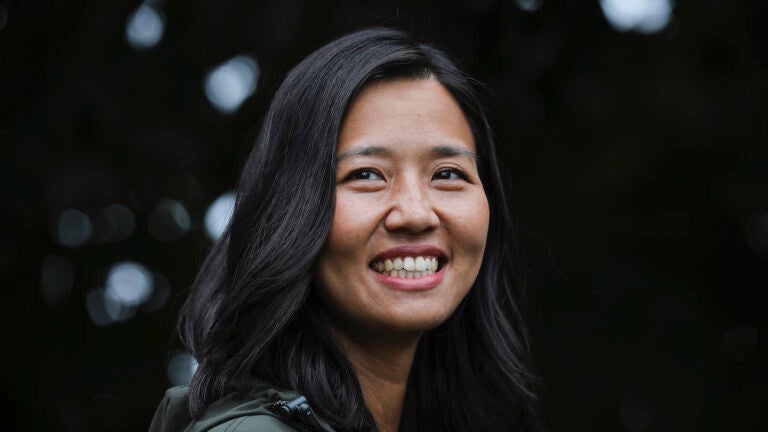 In the last two city councilor at-large elections, Michelle Wu logged more votes than any other candidate.
Voters know Wu: A poll last month revealed she held higher name recognition than any of her four fellow candidates for mayor.
The 36-year-old, Chicago-born Roslindale resident has also made headlines since she secured her council seat nearly eight years ago.
The progressive made news with her proposals like making the MBTA fare free and scrapping the city's planning and development agency to bring about substantial reform.
In 2019, one forward-looking headline in The Atlantic for a profile of Wu even posed a question now facing local voters: Is the popular city councilor the next mayor of Boston?
Asked what the average voter doesn't know or understand about her that she wants them to, Wu acknowledges there's often "a gap" between what constituents see in press releases and policy proposals and what she has already been able to accomplish.
In 2015, the city adopted the Wu-sponsored policy for paid parental leave for city employees. Wu also spearheaded a health care equity ordinance, which prohibits insurance discrimination based on gender identity — among several laws on the books Wu touts in her track record.
"I'm proud that on so many of the major pieces of legislation that the council has passed throughout my time in office that my team and I have been driving the conversation," Wu says. "I've been responsible for a very significant portion of what city government has gotten done over the last eight years."
Wu sat down with Boston.com over two recent Zoom calls to chat over her vision for where the city should go next. Here's what she said.
---
This interview has been edited for length and clarity.
Housing & Development
Boston.com: What do you think is the median price of a condo in Dorchester?
Michelle Wu: OK, there's a lot of pieces to Dorchester. The median price of a condo… I would say my guess would be $800,000.
According to the Warren Group, the median sale price for a condo in Dorchester was $587,500 in June.
I have some questions for you throughout this interview that were sent to us by readers with questions for candidates. So the first question is from Rían, who's from Southie, and they asked, 'What do you plan to do about the gentrification of Boston? There's not one neighborhood left in the city that is majority working class, and Boston is slowly losing its culture.'
The strengths of our city historically have been connected to being a home for residents from all backgrounds: immigrant residents, residents who represent a diversity of race and economic situations and perspectives. And if we don't address our housing crisis, and the dramatically rising cost of living, we will lose that core of our city.
And so this is connected to a couple different strands of policy. It's needing a housing plan where the city government leans in and takes responsibility for the rising cost of rents and housing prices. It's transportation policy, which, when we have an unreliable, clogged system on the roads and in public transit, it exacerbates those racial and economic inequities. It's schools and families feeling like they — and needing to make it so that families can have a foothold to raise their kids in the city. We need to be focused on this moment that we have a generational historic investment of resources from federal relief packages with the urgency of how we stabilize our communities today.
And so for me, that means really leaning in to use city funds and authority and resources to dramatically increase the amount of affordable housing in Boston, as well as stabilizing students in our communities today. That is why it is important to both push for increasing the supply of housing and to push for the tools of rent stabilization or rent control, so that in the transition, our families are not pushed out of the city and we are taking action to address the displacement crisis as well.
And then on the small business side, it's a very similar — you know we just talked about culture and who feels welcome and who can stay, it's also what are the amenities in a neighborhood? What are the businesses like? What are the price points of restaurants and grocery stores and the cultural opportunities that are in our city? We need to support our small businesses through this recovery as well. I found my way into government through opening a small business and being very frustrated with that process and city government where we were and working through city hall, under Mayor (Thomas) Menino, to do something about that. We know that commercial gentrification is accelerating as quickly as residential displacement. And so really thinking about our recovery in terms of an equitable recovery for small businesses and how we think about the vacancies that we see across the city now and use this opportunity to push to close the racial wealth gap and support locally-owned businesses and entrepreneurs, being able to help revitalize our economy and set the foundation for our recovery.
You've been the most outspoken candidate in favor of rent stabilization or a rent control policy. And I was curious because it seems like the research shows that it can, like you said it can help make sure that existing tenants don't get displaced because of rising rents, but there are also concerns that it can kind of undercut efforts to increase the housing supply. You mentioned sort of having to strike that balance, and I was curious, how exactly do you approach that?
Yeah, so that's, that's a perfect summary of the academic research, which I have gone through in detail.
Rent stabilization is not a generator of affordable housing, and over the long run, it has the opposite impact. But it's very important that, if we want to be a city where all income levels are represented, where we are not displacing families of color at an accelerating rate out of Boston, we need to take steps for immediate relief for families and ensure that we're managing both the increase in supply and the transition period where our residents shouldn't be facing double-digit rent increases, year after year after year.
And so it really is, it's about having the full set of tools, policy tools, available at the city level. We, through city government, can add protections and regulations and have policy conversations about so many aspects of what affects our residents' daily lives. This one issue, because of the statewide referendum several decades ago, we are in some ways arbitrarily prohibited from having that nuanced policy conversation about how to deploy every possible mechanism to support our residents and shape the city on one of the most fundamental issues that people are struggling with, which is housing prices and housing stability. And so this is about advocating and organizing with other municipalities as well, to get the tools that we need to have a multifaceted approach to keeping our residents in the city while we are working hard to increase housing and ensure that there's affordability.
I was going to ask about that process aspect of it, too. Obviously, we need a home rule petition (to change city law), and … it doesn't seem like there's been a ton of appetite at this point in the State House to pass the home rule petition to allow Boston to pursue some of those policies. So how do you advocate for that?
In all my years on the council, there's been one rule petition that we originated and sent up that got passed in its existing form, and that was my 'right to charge' petition. … Anyway, it took two years to do that and it was the only one. There were others that sort of got, you know, we'd send up home rule petitions on a general topic and the state ended up acting on it, sort of statewide anyway. But, you know, one out of many, many, many that were sent up actually went through.
And the key is to change the dynamic of the conversation. Boston is more limited than many cities, in terms of what our home rule authority allows us to implement without permissions and approvals from the state Legislature and state governments.
But we shouldn't be continuing to just hit our heads against the wall by throwing things up there without advocacy and without coordination from other municipalities. So I intend to have strong relationships with our state delegation, and to push and ensure that the mayor and governor are clear on what Boston's priorities are relative to state action, but it's about regional coordination as well. And it would be incredibly powerful for Boston, and our surrounding cities, to send up a regional local petition, because often we hear the concerns are, 'Well, if Boston did this, then what happens when everything just flows beyond the borders, and this will have ripple effects on surrounding cities?' Well, that's why it's important for all of us to organize city government to city government, to be on the same page and address our regional issues: housing affordability, transportation access, the opiate crisis, climate change. So many of our deepest challenges really are regional issues that we should be coordinated on a vision and plan.
Public Safety & COVID-19
There was a recent Boston Globe poll showing about half of Boston residents have generally a positive view of the city's police force. Would you count yourself among that group?
We are proud to have the oldest police force anywhere in the country to have been known nationwide for innovations that focused on community, building community trust, and shifting the dynamic away from arrests and punitive measures and more towards community relationships.
We need deep reforms in the Boston Police Department on a number of angles, and so I've put forward plans and have been leading the charge to shift our crisis response towards a public health lens, a public health-led response. For example, we know that in some precincts, the vast majority of calls that come in are for situations where sending armed law enforcement to respond, not only doesn't provide the service that residents need help with in that moment, but introduces risk and harm. And so, we should be following the lead of other cities that have created alternative crisis response mechanisms.
We should be demilitarizing the Boston police in weapons and tactics, and interactions with community. We should be reining in ballooning overtime for the police — a part of the city budget that has been eating into other necessary investments. And we know this is tied to the underlying contract, and it's not just about slashing a line item because that has failed. It has been a show, a political statement, but then ended up setting up the city to overspend, because overtime hours must be paid out by contract and by law, no matter what the budget line item is.
And we also need accountability for misconduct or misuse of force, and again, this is tied into the underlying police contract.
The issues that we have seen highlighted in the recent task force recommendations include many of the same recommendations that were included in the city's 2015 audit of the police department, which echo concerns that residents and advocates have been lifting up for decades. We need to get to root causes here, in terms of how to change the structure and culture of policing in Boston, and that is tied into the underlying collective bargaining agreement.
As of June 30, just a couple of weeks ago, we are now more than a year with an expired police contract. And so the next mayor will not only have to make the very important decision of running a search and community engagement to choose a prudent police commissioner, but to negotiate a contract that embeds this accountability and these changes into the underlying document.
I want to go back to something you said a moment ago, obviously ballooning overtime costs — you're also talking about other reforms that would obviously require investment. You recently voted down the city's operating budget for the second consecutive year, based in part on your concerns the budget did not meet the public's calls for reallocating the police budget. You have said, just as you did a minute ago, you want to reallocate money from Boston police. How much exactly, and from what portions of the budget would you do so?
We should be increasing our investment in the infrastructure for public safety and public health. But when we talk about those as two distinct and separate departments or budgetary items, we're missing out on the ways in which we should be most effectively using our resources and serving our residents.
And so overall, we need an increase in investment in how we respond to the needs of our communities related to public safety and health. They're very much intertwined. Just picking a number is arbitrary and leads us to the kind of budgetary sleight of hand that we have been in for two years now, where we say that we are cutting and picking a number but without plans and without a vision to deliver those cost savings, or to have an impact with the funds that have been put elsewhere. We are left spinning our wheels and continuing to fuel the breakdown of trust between residents and the police department because we're falling short of the commitments that were made.
And so, as with most departments in the city, the vast majority of dollars that are allocated through the budget are for salary and positions. It's 95 percent plus are for that and/or sort of contractual items that are tied to positions such as equipment or uniforms, etc. And so if we're talking about structural change of the department's budget, we're actually talking about structural change to the roles and the responsibilities that police are taking on relative to other departments.
One point is that we should be civilianizing some roles. There are dozens of positions in the police department that are largely administrative roles being performed by uniformed or sworn officers that if we civilianized would free up resources for where we actually need them.
We also know that the shift from how we think about crisis response now to a vision of a public health-led crisis response would mean investing in trained, community safety officers, who are skilled in de-escalation and responding to instances where residents are living with substance use or mental illness or homelessness — and that kind of investment should be in the context of how public safety and public health are intertwined.
With the emergence of the Delta COVID-19 variant that we've seen circulating, and with a lot of health experts expecting that there's going to be a small surge in cases … this fall or winter as a lot of seasonal coronaviruses tend to do, what do you think the city should be doing in the meantime to prepare both the community at large but also the school system, just in preparation if there is any resurgence in COVID-19? (Editor's note: This question was asked on July 12 when case counts were considerably lower in Massachusetts than they are now.)
The pandemic really just deepened and revealed the fragilities of our status quo before. And the reason why we saw school reopening so delayed in Boston is because long before COVID-19, our students and educators were already in buildings that were outdated and overcrowded and couldn't accommodate safe ventilation or social distancing. And so whether it's the Delta variant or heat waves in the future or more intense precipitation that affects our built environment, we should be investing in healthy infrastructure to begin with, to tackle the root causes of environmental injustices and to create the best possible learning environment for our students.
So I think the window of time and opportunity and funding that we have from the federal relief packages should very much go to solving the underlying challenges that the district had long before the pandemic. And we have a window of time this summer, to be able to do it, to get a big start on it.
I have put forward a specific facilities plan for the Boston Public Schools as part of our larger schools plan — it's chapter two of our plan — which ties together, not just how we address basic health and safety issues — we are still talking about school buildings where kids don't feel comfortable using the bathroom because at some schools there were no doors on the stalls or they were so rundown. Many schools still don't have safe drinking water in the fountains because there are lead pipes still connected. Schools in neighborhoods closer to the airport, or highways, really needing air filtration as part of basic health and safety. But even that should not be what we settle for as the goals to solve these very urgent and necessary gaps.
We should be aiming to create the learning environments for all of our students to feel valued, inspired, excited to come to school — performing arts spaces and science labs, and all they will need to step into the jobs of the future through the education that we should be providing here.
Education
Your education plan calls for matching students and their families to a 'Family Corps. guide.' What would that system look like and how would it work?
This is fundamentally about recognizing that what happens in the classroom is deeply connected to what our families are experiencing at home and in the community, and that city government, across all of our departments, often has services that are much needed, but feel inaccessible behind so many barriers and silos.
And so this matches with our Children's Cabinet, which would coordinate action and accountability among all those departments, and then wrap those services around each one of our young people with a streamlined point of contact for an adult who would be ideally a consistent contact all the way through their education, who's thinking entirely about what that young person and their family needs outside the classroom. Is it food access, housing assistance, help keeping the utilities on, or mental health supports for a family member? We often have those supports in other parts of city government, but we need to ensure that we are making that barrier-free, and proactively connected to our families.
(Another) question from a reader, and this is from Ward McCarthy, who wants to know: 'Rather than changing the admissions for the high quality Boston exam schools, why not improve the quality of the schools in the sections of the city that are underrepresented at the exam schools?'
We need to do both. It's not an either or. We need equity reflected in every part of our school system, and we need quality and resources and opportunity in every part of our school system as well.
I've been involved as a legal guardian and now parent for a decade in the Boston Public Schools, raising my sister and now with my two boys who will be in K-1 and first grade at (the Charles) Sumner School in September in Roslindale. And as a city councilor, I have visited every single Boston public high school and most of our elementary and middle schools to see firsthand and hear from educators and students what the conditions are and what the challenges are.
What stands out most of all is the huge disparities across the district — such concentration of opportunity and resources in some of our schools and such disinvestment in other schools. And so we need to make sure that every single seat in our Boston Public Schools is nurturing, high quality access to a whole child's education and opportunities — rigorous academics, arts, sports, extracurriculars — and that we are also ensuring that we are equitable in how we think about admissions to the exam schools as well.
Transportation
I know Acting Mayor (Kim) Janey announced that her administration is working on a pilot to make the 28 bus free, and as someone who's called for eliminating fares on the MBTA, do you think this is a good first step?
We should be taking every possible step to boost ridership and to remove barriers for people to get where they need to go. In this moment of recovery that is even more important. We need leadership that can use all the tools at the city level, especially around closing gaps and inequities in our bus system to pushing for transformational citywide and regional infrastructure projects to reflect Bostonians' needs.
Obviously you've called for (eliminating) fares on much more than just one bus. What would you say is the best way to provide funding for that?
We can start with city-funded pilots of specific bus lines. We had been looking at cost estimates for what a small number of bus lines would look like in partnership with the MBTA, and the big picture is that using the authority that we have at the local level, we could transform the bus system as a starting point.
And so focusing on bus fares, as the first place where we are really breaking down barriers for residents would be a relatively small investment because buses are the place where the transit system is already most heavily subsidizing passengers. It would result in operational cost savings when routes can move faster, passengers can board from all doors and speed up the time at each stop, and it would be the most impactful way to address racial inequities across the system as we see those really played out across our bus system.
And, you know, this is a moment where we need collaboration across all levels of government. We have a historic investment of federal funds, energy at the state level with legislation to make buses, to make the bus system free. And so, the city level can close gaps to make sure that our residents' daily lives actually connect to the funding and programming that is being created, and to keep driving the conversation so we're building urgency for action, among all levels of government.
Speed Round
On a normal week how often do you take the T?
Well, post pandemic or pre-pandemic? Because it got a little bit different, but let's just say right now. Pre-pandemic, it was probably, I would say 10 to 15 times a week. Post pandemic, where a lot of the, you know, City Hall isn't fully open, child care has been complicated back and forth with different situations in schools. As of right now, it's maybe four to six times a week.
What's your typical Dunkin' order?
I'm not a coffee drinker actually so it will be, you know, sometimes just plain iced tea with sausage, egg, and cheese on a croissant — or probably just as frequently a box of a dozen Munchkins.
Favorite Boston movie?
Someone else was asking this very recently, too. I picked 'The Departed' over 'The Town,' but I just, you know, we need some more options and show a different side of Boston.
Let me think. There was a — I haven't seen (it), is it called City Hall? That four-and-a-half-hour-long (documentary)? But I haven't watched it, otherwise that might be an option.
And there are documentaries here and there. You know, there was one that a local farm had put together … I can't remember the name, but I suppose for now, begrudgingly, put me down for 'The Departed,' but (I'll) try to come up with something that is more reflective of what I actually like.
Favorite Boston band or musician?
I am a now a decade-long groupie of the Boston Gay Men's Chorus. I have been to so many of their concerts, served on their board. So I'm a huge cheerleader for what they represent in our city and when they represent our city abroad.
Would you rather go to a game at Fenway or a game at TD Garden?
Depends what it is at TD Garden. You know, Fenway's beautiful, there's nothing like it.
If I have to choose a sport to watch live, you know, (it's) basketball. I grew up in Chicago in the '90s — basketball, there's no, there's no comparison there.
What are your thoughts on Boston City Hall, the building itself?
I love City Hall. I will fight anyone who says it's not a beautiful building. I'm ready and prepared to take anyone on a tour who disagrees with the architectural beauty of this building and just the humanity, you can feel in the structure, it's down to earth, it's accessible. The way that the windows are cut at angles for the light to come in is really gorgeous.
Anyway, I know I'm in the minority here, but it's OK.
How do you plan to vote in Boston's at-large city council race this fall?
I feel a little bit more disconnected than usual because every other year I've been part of every single one of the large candidate forums. So to be honest, I haven't done all of my research yet. I've had the chance to run into most, if not all, of the candidates, and I'm really excited at this field. But I haven't made up my mind yet.
Environment
So we have another one of those reader-submitted questions for you. This one is on the topic of the environment, and it's from a reader named Richard Schultz who wants to know: 'In a recent poll of likely voters, climate change and sea level rise did not rank as a major issue. What will you do to raise public awareness on this issue?
There are so many crises that our residents are facing all at the same time that it's overwhelming to ask people to choose what feels most pressing or urgent when clearly all of these challenges are interconnected.
And as I've done for several years now, I'll make sure that Boston prioritizes the urgency of our climate crisis, but contextualizes it as the foundation for so many other challenges and stresses that our residents are living through.
Climate change is public health. It's air pollution, and it's heat that makes our summers more and more dangerous. It's heavy rain that causes our homes to flood and exacerbates unhealthy living conditions. It's missing out on the jobs that are possible when we lean into the green economy and really create opportunities and pathways for our residents to build wealth and close the racial wealth gap. So I have put out the most comprehensive city-level vision for a Green New Deal anywhere in the country and, as mayor, will organize and build the coalitions to implement this, always remembering that climate justice is racial and economic justice, so … we're not only talking about devastating long-term impacts of climate change, but the very pressing and daily reminders of how our lives are being impacted right now.
We have one last reader question for you. This is on the topic of food justice, and … is from Brian, who's from East Boston, and the question is, 'Food injustice is driving an obesity and mental health crisis in our Black and brown communities. Junk food is cheap and easy to access while nutrient-dense, quality food is hard to find in our neighborhoods. Would you consider a soda or junk food tax to help invest in neighborhood farms, fitness and mental health facilities, and outdoor playgrounds?
I've put out a food justice plan actually … a little under a year ago at this point to emphasize that food justice should be at the heart of our recovery. The very first impacts, the most visible reminders of the pandemic, were all food related: empty grocery store shelves and food workers who had lost their jobs, and food insecurity and hunger across our communities. And this is very much about connecting health and well being and climate to economic opportunity, and the huge potential to create jobs in this space that serve our communities.
And so, you know the City of Boston's revenue raising authority is limited compared to other cities so in fact we would not be able to, you know, unlike other cities that have done this, we wouldn't be able to implement this on our own. I think it's important to have conversations that will go through the state Legislature about generating the funds to address the impacts of our issues. So I'm happy to explore ways that we can better match the impacts of corporatized action and the push towards commercialization and unhealthy food choices, with the day-to-day impacts in our communities.
But there are many, many other policy options that we have, and I've laid out a number of them in our plan. It's everything from connecting our local restaurants and food businesses with the resources to address our gaps in food assistance and hunger. It's coordinating farmers' markets across the city to ensure that there's local access to fresh food that is also affordable, and removing any barriers to using SNAP and SNAP dollars and public support for that.
And it's also ensuring that as we are thinking about our food systems, every action from city government and from our institutional partners can push towards driving that opportunity and health and sustainability through our food systems. So I think I referred maybe last time we talked to the food justice ordinance that I had authored and passed in 2019, which attached requirements for Boston Public Schools food purchasing. We should be expanding that and working with every major institution and city to localize our food production and spending, which also naturally creates healthier options and access to our residents.
If there's one change you could make tomorrow, what would it be?
This could go in so many different directions.
I think many of these changes require organizing and significant planning, community engagement, and funding. At the heart of all of that is how people feel connected to their government and how much our communities believe that it matters when residents get involved. And so this feels small in some ways, but it is something we could do tomorrow and it would be hugely impactful, which is for every single block in the City of Boston to have a block party to build that community and to build momentum for us to deliver housing justice and transportation justice and climate justice, and schools that our kids deserve.
We can't choose just one important need in our residents' lives, but what we need to get all of it done, in an intersectional way, is for every single person to be connected to our communities and to civic engagement.
Editor's note: Candidates for mayor of Boston will compete in a preliminary election Tuesday, Sept. 14, with the top two finishers facing off in the general election on Tuesday, Nov. 2. To keep track of the news of the race as it happens, follow along with Boston.com's election live blog and make sure to visit our candidate information page regularly for candidate Q&As, along with additional coverage of the race as the preliminary election approaches.
Newsletter Signup
Stay up to date on all the latest news from Boston.com