Politics
Kim Janey clarifies references to slavery and Trump in response to question about vaccine passports in Boston
"These hurdles should not be excuses, but we must consider our shared history as we work to ensure an equitable public health and economic recovery."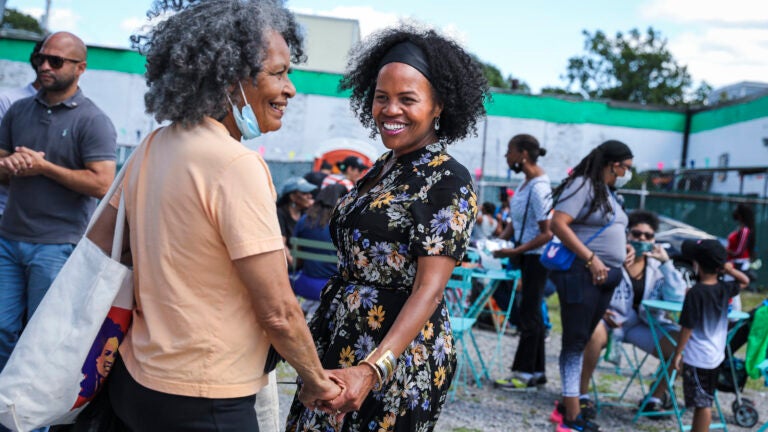 Acting Boston Mayor Kim Janey says the city has no plans to mandate the COVID-19 vaccine for workers and customers at local restaurants, gyms, and other indoor venues, after New York City became the first American jurisdiction to announce such a requirement Tuesday.
However, Janey did create a minor stir Tuesday afternoon when she brought up the era of slavery and former President Donald Trump, when asked about Boston requiring so-called vaccine passport.
"We know that those types of things are difficult to enforce when it comes to vaccine," Janey said, according to the Boston Herald, adding that, "there's a long history in this country of people needing to show their papers — whether we talking about this from the standpoint of, you know, as a way to, after — during slavery, post-slavery, as recent as, you know, what the immigrant population has to go through."
The apparent reference to slavery-era "freedom papers" that free African-Americans were required to carry in many places was followed by the mention of Trump's years-long insistence that Barack Obama, the country's first Black president, show his birth certificate proving he was born in the United States.
"We've heard Trump with the birth-certificate nonsense," Janey said. "Here, we want to make sure that we are not doing anything that would further create a barrier for residents of Boston or disproportionately impact BIPOC communities."
Her remarks come as vaccination rates among Black and Latino residents — nationally, in Massachusetts, and in Boston — have lagged behind their white counterparts. Those disparities have raised equity concerns that vaccine passports could have a disproportionate impact on communities of color, and even result in racially biased enforcement.
Still, at a time when city officials, including Janey, have been urging residents to get vaccinated in order to stave off the highly contagious Delta variant of COVID-19, the indirect comparison was met with criticism from at least one fellow mayoral candidate.
"When we are combating a deadly virus & vaccine hesitancy, this kind of rhetoric is dangerous," City Councilor Andrea Campbell tweeted Tuesday afternoon. "Showing proof of vaccination is not slavery or birtherism. We are too close to give ground to COVID. Science is science. It's pretty simple – Vax up and mask up."
According to her campaign, Campbell supports reinstating a mask mandate for indoor dining and large venues, as well as the vaccine mandate New York City announced Tuesday.
City Councilor Matt O'Malley, who effectively took over as City Council president when Janey became acting mayor this past March, also voiced support for a New York City-style vaccine passport requirement Tuesday afternoon.
"If we want to get serious about addressing vaccine hesitancy, slowing the spread of the Delta (and subsequent) variants, and keeping our families, friends, and neighbors safe, then we need to take bold and effective action," O'Malley tweeted. "We should be doing this in Boston."
In a series of follow-up tweets, Janey said her administration isn't looking to take that step and is instead focusing on increasing vaccine access in the hospitality sector. She also said that her earlier comments Tuesday were meant to point out "several hurdles facing communities of color with lower vaccination rates."
"These hurdles should not be excuses, but we must consider our shared history as we work to ensure an equitable public health and economic recovery," Janey said.
"While there are no current plans for business sector vaccination mandates, we are using data to inform targeted public health strategies," she continued. "This includes meeting with restaurants and bars to discuss overlaps between their clientele and new COVID-19 case trends."
While coronavirus rates in Boston have ticked up in recent weeks, Janey also wrote that the city is "still well below threshold levels that have guided policy decisions throughout the pandemic."
Newsletter Signup
Stay up to date on all the latest news from Boston.com