Politics
Here's where Boston's mayoral candidates stand on safe injection sites 
Proponents of supervised consumption sites say the facilities would save lives as the city continues work to address the opioid crisis.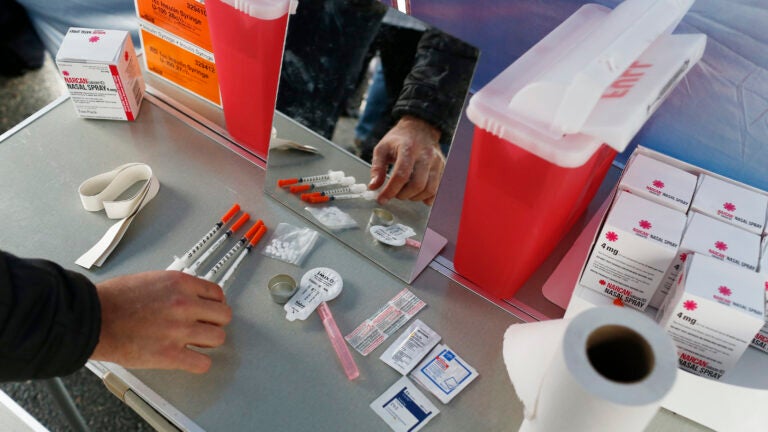 There is a push to establish supervised consumption sites, facilities where people struggling with addiction could inject drugs under medical supervision, in Massachusetts.
State lawmakers are proposing a 10-year pilot program that would establish two supervised injection sites in Massachusetts, and Somerville officials are forging ahead with their own plans to open a facility in the city.
The topic is one that has come up during the 2021 Boston mayor's race, as candidates have fielded questions about how they plan to tackle the ongoing opioid crisis and worsening conditions in the area of Mass. and Cass.
Recently, we asked the mayoral candidates to share their positions on safe consumption sites. The responses ranged from definite support, to undecided, to in favor contingent on improving other services, and opposed.
Advocates for the sites believe the facilities would do the most to help reduce the suffering and challenges being experienced in the area of Mass. and Cass, by both those struggling with addiction and the residents raising concerns about the impacts to the neighborhood.
Jim Stewart, a steering committee member for the group SIFMA NOW, said it is clear urgent action is needed to address the situation around Mass. and Cass, which has become the epicenter of the overlapping crises of substance use, mental health, and homelessness in Boston.
He said any opportunities for the discussion of safe injection sites to be in the public eye are a good thing. But watching the conversation around the facilities in Boston, he said he remains concerned that officials are not using opportunities to discuss and advance the issue in a way that will make a difference to the lives of people dealing with substance use disorder right now.
A safe consumption site would save lives, reduce infections related to injection, and the area would see a reduction in drug-related crime, Stewart said.
"It's a place where people can address their challenges and have access to services," he said. "It'd be an obviously significant solution to the problem. The more people keep talking about Long Island or decentralization, the worse things are going to get where the problem actually is."
Safe consumption sites remain illegal at the federal level, but there are efforts to establish the facilities in multiple states and cities across the country. In recent years, U.S. Attorney Andrew Lelling had promised that any effort to open the sites in Massachusetts would "be met with federal enforcement." But Suffolk District Attorney Rachael Rollins, who has been nominated by President Joe Biden to become the new U.S. attorney for Massachusetts, has been a vocal supporter of bringing the sites to Massachusetts.
Stewart said it is time for officials in Massachusetts to push forward on the facilities.
"Massachusetts has in the past always been willing to exercise its constitutional authority on issues that affect the community and to do so even if it puts them in conflict with federal law," he said. "There's no reason why we can't have safe consumption sites and facilities."
See what the 2021 Boston mayoral candidates told Boston.com about safe injection sites below.
---
Boston.com: Would you work to establish safe consumption sites, also known as safe injection sites, in Boston? Please explain your stance.
Michelle Wu: We need to take every action to save lives, and the opiate crisis has been claiming more and more lives. During the pandemic, we saw opioid-related overdose deaths jump by 20% in that one year alone, and the greatest increase has been among Black men. So this is dire, and we need to ensure that people have every way to get on a trajectory to treatment, stability, and opportunity. Health care providers are clear that this is an action that would save lives, so we need to be thoughtful about the siting of these facilities and make sure this is integrated into a larger plan, citywide and regionally. Not just one more reactive step, which we've seen for many years now.
Boston.com: So you would support establishing one in Boston?
Michelle Wu: Yes, I support taking every step we can to save lives in the opioid crisis.
John Barros: I believe that appropriately stationed safe consumption sites are part of a continuum. That is, when creating a safe space for people to consume drugs we also have to provide the resources for them to stop using those drugs. So they've worked throughout the world, but worked only within a larger continuum of services and help. So, in-and-of themselves, they just encourage people to use drugs. That's not good enough. We can do it in Boston, but we've got to create a more robust system that helps to provide services. And right now we don't have that in Boston.
Andrea Campbell: Right now there continues to be discussion on this very issue, and I think we actually have to continue to engage more residents, including residents in my home district, for example, who are wanting to know, 'How have other cities implemented these? What are the pros and the cons?' I do know that if they were to be implemented in the city of Boston, they would have to be dispersed throughout the city and not located at Mass. and Cass, at that one particular area. And that continues to come up. So it's an ongoing conversation as one possible solution to the crisis. But we need to engage more stakeholders and definitely residents.
Boston.com: So would you say you are still undecided on the issue at this point?
Andrea Campbell: Yes.
Kim Janey: They're illegal, as I think we all know. I am a big believer in trying to get treatment to folks that leads to a path of recovery. We are doing life-saving work, so we have seen the numbers of [overdoses] decrease dramatically because of the work that we're doing. I will certainly continue to keep an open mind as I hear more about safe consumption, but I don't think it's anything that is coming to Boston in the immediate, as we do this day-to-day work. Because it is still illegal here, and we're still hearing from the experts in this space to determine whether I think that is the path forward for Boston. But our work, just to be clear and succinct here, is focused on treatment and on saving lives.
Annissa Essaibi George: I have actually visited a number of safe consumption sites in Toronto and in Vancouver and through that work and my work on the council over the last almost six years now, I've spent a lot of time researching them and looking at their utilization and their success rates — both for keeping individuals alive while they're dealing with their illness and their substance use disorder. I've also looked at the ability to get individuals to utilize safe consumption sites or safe injection sites into longer term recovery.
And I am not a proponent of them. I think about that those who are suffering from substance use disorder aren't traveling a far distance in order to utilize them. Studies have been done around safe consumption sites, that individuals who are going through withdrawal and are not well and looking to use won't travel more than a quarter of a mile to utilize a safe consumption site. So we find ourselves just — we'll need very many of them. And when I think about the cost and the investment it would take to open very many of them here in the city of Boston to respond to the need that individuals have, I would much rather spend and invest that money in helping individuals find recovery, find detox opportunities, and find wellness.
The one thing I would add is that Philly has been working — a number of places have been working to open safe consumption sites. But the federal government has continued to strike them down. And I have not seen that success that we need to help our residents find-long term recovery. We need to invest dollars in programs that will help them find recovery and wellness.
View the plans candidates have released for tackling the opioid crisis and/or Mass. and Cass below:
Newsletter Signup
Stay up to date on all the latest news from Boston.com