Politics
Annissa Essaibi George: The Boston.com interview
The Boston mayoral candidate and at-large city councilor on improving public schools, mental health, homelessness, and why she occasionally puts a hyphen in her name.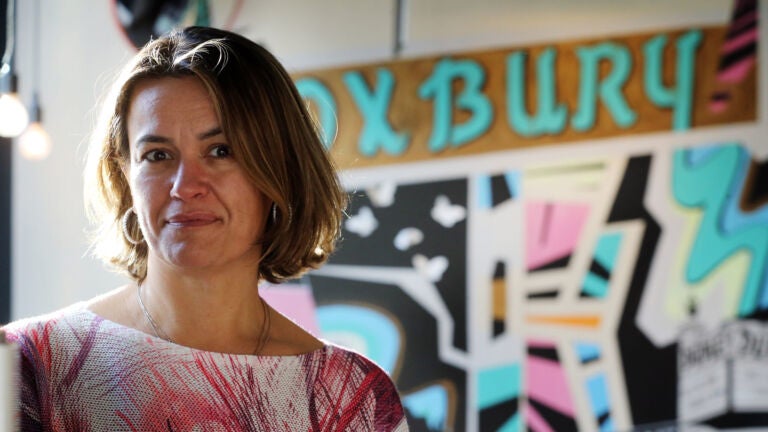 In the crowded field of self-identifying progressive Democrats running to be Boston's next mayor, Annissa Essaibi George is often defined in contrast to her opponents.
The third-term at-large city councilor gets labeled as the "centrist," the "moderate," the "cops' candidate."
She frames it differently.
The daughter of immigrants and a lifelong Dorchester native, Essaibi George emphasizes her focus on the most pressing struggles faced by the city's most vulnerable, like homelessness and mental health — issues that she saw up close as a former East Boston High School teacher.
"I'd like to be the teacher candidate," Essaibi George says, calling her classroom experience as an "invaluable" part of her bonafides as a mayoral candidates.
At the same time, the 47-year-old has a sprawling resume; she's also a mother of four, the owner of the Dorchester yarn shop Stitch House, and the former president of the Columbia-Savin Hill Civic Association. After narrowly losing her first City Council bid in 2013, Essaibi George ran again — and won — in 2015. There, she's developed a reputation for digging in on education, homelessness, and substance abuse. She points to her work to get the city to increase the number of social workers who help Boston police respond to 911 calls involving people with mental health issues from four to 19.
Even if less ideologically progressive, Essaibi George says her "commitment to doing the work" is "unmatched" in the five-way mayoral race.
"I'm very much committed to the grind," she said.
She's also unafraid to lob criticism at the contest's progressive standard bearers, whether its over the reorganization of a City Council committee on homelessness and mental health or ambitious calls to eliminate MBTA fares. Her focus, she says, is on what's "practical."
"I like to dream of the impossible," she said. "But in the meantime, people need to get to work today."
Essaibi George sat down with Boston.com for a recent hourlong Zoom call to discuss her candidacy for mayor. Here's what she said.
---
This interview has been edited for length and clarity.
Education
For part of this interview, what we did was ask readers to submit questions to us that they wanted us to ask the candidates directly. And one of those questions is on education.
This first one is from Ward McCarthy, who wants to know: "Rather than changing the admissions for the high-quality Boston exam schools, why not improve the quality of the schools in the sections of the city that are underrepresented at the exam schools?"
Not surprised at all that one would be around education. I'm sure there were many of those submitted.
When we think about education in this city, when we think about the debate that's happened this year in our city, when we think about the work of the task force that was formed last year, I was very vocal then and remain vocal today saying we charged, as a city and as a school district, a very smart group of people … with looking at the exam schools admissions process, certainly through COVID and beyond.
And where I think we missed a true opportunity is because we focused all of their efforts and all of this time and all of this energy on three schools.
We have 125 schools in our portfolio.
And for less than 10 percent of our student population, we focused all this time and effort. We have 10 percent of our student population experiencing homelessness — almost the same number of kids that attend the three exam schools are also experiencing homelessness.
Our missed opportunity to focus on early literacy, the missed opportunity to get grade reconfigurations right. We have started some of that work. I've been an advocate and a proponent and someone who has pushed the school district since I joined the council in 2016 to make sure that grade configurations make sense so [for] kids across the city, and in particular are communities that don't have a high-quality school, that coming into the Boston Public Schools and navigating through the Boston Public Schools is one that is logical, sensical, and helps nurture a student and their learning, and support a kid throughout their time in the Boston Public Schools.
We've missed opportunities to focus on those pieces. We've missed aligning our curriculum across all of our schools. But in particular our elementary schools, we've missed any sort of serious focus on fourth-grade MCAS scores, because when we look at fourth-grade MCAS scores, we can determine — almost in a very specific way — the likely trajectory of a student's academic success.
And yet we're focused on something that happens in the sixth grade, when we know what's happening in the fourth grade. I think we've missed so many opportunities to truly support and help our kids academically succeed, close the achievement gap, support them socially and emotionally, and do the pieces that we need to do to make sure that not just all kids have access to high-quality schools, but that every seat a kid sits — every classroom, every school building, every school community — is high quality.
Those are the things that we should have been focused on. Instead we took mind power and manpower and political power, and just time and energy, to debate what's happening during a moment in time for entrance to three exam schools. That, to me, is a missed opportunity for sure and a failure of the system.
Speaking of curriculum, in your education plan, you support continuing to require an entrance exam for the city's three schools.
Yes.
But you also call for changes so the tests "more accurately reflect our students' current curriculum." What do those changes look like?
Until last year — or two years ago now — we were using the ISEE, which didn't align to our late elementary, early middle school curriculum.
And for me that was a real missed opportunity to make sure that kids, as they were preparing to take the test in the classroom or if they were participating in either private tutoring or community-based tutoring — and part of why so many kids find it necessary to participate in tutoring is because what they were learning in the classroom wasn't aligning with what they would see on the test.
One of two things needed to change — and I've always been very vocal about this, and sort of firm and consistent in my opinion. One of two things needed to change. Either, the test needed to change so that it did align with the Boston Public Schools curriculum, or the curriculum needs to change so that it aligns with the ISEE. The easier thing to do is to change the test that we are offering, and we've done that.
Also, creating more opportunities for kids to access that test. We moved to an in-classroom, across-the-district test, in which students had an opportunity to take the entrance exam tests, the tests used as the exam in sixth-grade classrooms and eighth-grade classrooms across our district, with the option for a Saturday test if you missed school or if you don't attend one of the Boston Public Schools during that time. That creates certainly a wider net to make sure that students have access to that test. We were finding, across the district, that many of our students and their families weren't showing up on test day, even if they were registered. So closing that loop was an important step.
Now, also making sure that, on the curriculum piece, as our kids across our district might be moving from school to school — they may be experiencing homelessness, they may have a change of address, they may have different needs that the school department can only meet at one school not another school
But what we're finding as kids move from school to school, if you're going from second grade in one building in November, December — Christmas break happens, and you show up in a new school in January, or wherever that break might happen, when you step into that new classroom, it should be a fairly seamless transition on the academics, because what we should be focused on is supporting a kid, connecting with their school community, thinking about their social and emotional wellness through that transition.
Where we shouldn't have worry is that there's going to be a break in their ability to learn and engage in the content. The content should be seamless.
Of course, there's some nuances within a classroom or within a school building. But what a kid is doing when they're hitting the books shouldn't matter what school building they're in across the district.
And when we have a misalignment of curriculum, that hurts our most vulnerable students. That time it takes to catch up to engage, especially in the content, while also dealing with maybe what could be a difficult transition is, I think, very irresponsible for us as a school district.
We can identify some of the major areas that have what I think, in many ways, are simple fixes that make a tremendous difference for our kids. Aligning curriculum is one of those for sure.
And I think that's one of the opportunities when we think about the ESSER funding, some of the federal funding that's coming in for the school department. Those investments should be investments in things that are sustainable, that will be long lasting, far beyond when that money dries up and runs out. Professional development around curriculum design is something that is I think a worthwhile investment and one that will reap benefits for years to come for our kids.
And when we think about decisions we're making as a district and as a city, we should always be answering the question, "How does this impact our children?"
So, when we invest $1.3 billion in our school system — and that's what we just passed in this most recent budget cycle — plus the several hundred million dollars coming in from the feds, when we talk about that spending, we should be able to answer the question, "How does this $1 directly impact our kids?"
Think about when you're choosing to invest in a nonprofit. One of the promotional facts they say is 100 percent of every dollar raised goes into whatever that cause is or 90 percent of the dollar goes into direct services or even 80 percent of this $1 goes to help do a particular action.
When we're talking about $1.3 billion that we as a city, through the residents of this city, when we think about how we're investing those dollars into our school system, into public education here in the city of Boston, we've got to be able to answer the question how does this $1 impact our kids.
There's been a lot of concern about the Delta variant of COVID-19, and many health experts have said they expect an increase in infections in the fall — obviously not something like what we saw last fall, but an uptick like you see with seasonal coronaviruses. Is there anything you think the city should be doing right now to make sure the community is prepared and to make sure schools in Boston can stay open? (Editor's note: This question was asked on July 14 when case counts were considerably lower in Massachusetts than they are now.)
There's lots of things that we could do. Broad brushstrokes, we need to make sure that our city's residents have information that's easy to access around testing, around vaccination, and around access to just general health care.
Making sure I'm working in partnership, I'm a big believer in our community health centers, in particular, making sure that those relationships are strong, and supporting our community health centers, in particular with the work that they're doing to make sure that our residents and in particular our more vulnerable residents — our more disconnected or isolated or disenfranchised residents — have access to the health care and the services and the information that they need to make thoughtful decisions about whether or not they should be tested, whether or not they need the booster if the booster ever really comes to fruition, if they need to think about isolation.
As it relates to our schools, we need to — and I've suggested this to the school department — that the federal funds, the ESSER funds, that we are going to be allocated should be used in preparing our schools for the new year.
Making sure that we have clean environments, making sure that we have HVAC systems and that we have the tools in place to create safe learning environments for our kids and for our educators.
And making sure that we've got protocols in place that if there were an outbreak in a particular school that we have the protocol outlined very clearly, that everyone involved understands what that protocol is, because oftentimes decisions are being made in the mayor's office or decisions are being made in the superintendent's office, but not being shared with school communities, with parents, with educators, with school leaders, with kids, with young people. Sharing information is so critically important.
We need our schools reopened fully come September for our kids. It's certainly about the academic loss that our kids have faced over this last year-and-a-half, but it's also about their mental health, their mental stability, their mental wellness, isolation, illness, poverty, trauma, food insecurity, homelessness. All of those pieces have really worn out. I know the impact it's had on my own mental health.
When we think about our young people, they are in greater degrees of distress, greater degrees of isolation, and our schools should be a place where our kids can access those support services.
Long before COVID, I was working to have a mental health professional — a licensed health professional — in each one of our schools to support kids because our kids come with trauma, with poverty, with food insecurity, with mental health illness and challenges. And now we know that that's like settled science. That exists. I worry very much about our kids returning back to their classrooms and being re-traumatized by the loss that's happened over this last year-and-a-half.
When the community comes back together, there will be a period of mourning, as they fully return to the classroom, to "normal life." And the trauma and challenges that that will really expose for our young people in particular, I really worry about that crisis, and we see it playing out today. It will exist in a significant way in our classrooms and in our schools.
We need providers on hand supporting kids and supporting the adults, the educators, in our buildings so that they can better support kids during what's going to be a difficult time of transition back to full time in the classroom.
And then also understanding the implications of any small breakouts that we will experience. There's no need to pretend it's not going to happen, because it will. How we choose to respond to those outbreaks will, I think, really determine the success in creating safe schools, building confidence, rebuilding trust when we think about school communities and the school department and the city. All those pieces are really important, but having support people in place to help is critical to our hopeful success.
Housing & Development
What do you think is the median sale price of a condo in Dorchester?
I'd say 600 — about $600,000.
So the last number we have is from April, and it's $545,000. [According to the Warren Group, the median sale price for a condo in Dorchester was $587,500 in June.]
Ah, I almost said $550,000 actually [laughs]. Let the record show, in my mind, I said $550,000. But we see the trend — the growing cost of housing here in the city of Boston. It's expensive to live here in the city, and families are struggling to make ends meet.
A few months ago you wrote about how growing Boston's housing supply would be critical to creating affordable housing at all levels. In the same piece, you also wrote that you want to make sure that residents have more voice in the process. Given how community opposition can often be a big barrier to the efforts of trying to build more housing in the city, how do you strike a balance between those two goals?
That's a great question, because I found my political voice, or my desire to be politically engaged, especially at the municipal level, when I was in high school, and I realized at a very young age that the levers that can be pulled at the city level, especially through the mayor's office, are ones that can really control the destiny of the city's residents, whether you're young high school student activists or families, senior citizens, older Bostonians living in the city. Throughout the years, I continued my civic engagement and eventually became the president of a local civic association in which we talk a lot about the important role that community voice has in the process of a growing city.
We just need to make sure that we're continuing to create opportunities for those that have made Boston home, for those that have helped build Boston literally and figuratively, those that have grown their families here in the city, [to] have an opportunity to stay. And that's about creating more housing that is both affordable on the rental side and the ownership side.
I am so committed to a priority in creating pipelines to homeownership for our families. When we think about the wealth gap, the wealth gap is something that we regularly talk. You think about the average wealth of a white family at $250,000, a Black family at $8, a Latino family at $0, and in almost every one of those cases, it is your investment in your home. It's that asset. It's the equity that you build in your home that is the difference maker. I actually had a meeting with some community members earlier this week, and one young man — Black man — said, "My family has been here for generations, and it is impossible to imagine — and yet I'm living it — that a family that's here for generations has nothing to show for it, has no ownership, has no formal stake in the ground," which homeownership provides for so many of our families. It creates stability for kids, for families, and for community, so ownership has to be a priority and will be one of my priorities as mayor of the city.
We've been asked by one of the advocacy groups to double the city's investment in downpayment assistance for first-time homebuyers. The request was to go from $325,000 to $650,000. I'm committed to building a fund, called STASH, to $1 million, because homeownership has to be a priority.
And yes, it's about supply, because we know the impact of supply on the marketplace. But it also has to be the right supply. When we think about an aging population, we think about the housing stock that some of our older Bostonians occupy but are sort of stuck in that place because there isn't something within their community, within their neighborhood, within their sort of social circles for them to be able to continue to age in place, but maybe in an appropriately sized place and maybe freeing up some of that housing stock for growing families.
And it's also about making sure that the unit diversity — we held a hearing on this earlier this year — that we have the unit diversity to respond to the needs of the city. And recognizing sort of the interesting dynamic that, "If you build it, they will come." But it also depends on what we build. We know that that luxury market will take care of itself. And we know that on the extremely low-income marketplace, we've got work still to do, but there are many programs and efforts to sort of take care of that ELI, that extremely low income part of the housing market. It's everything in the middle that's like, when we talk about affordable housing, but then we talk about like really affordable housing — like actually for-real affordable housing. And it's that middle market — some would call it workforce, middle-income family housing. We use all these different terms to describe it, but as mayor my focus will be on that middle market, and we have to do that as a city, and with an added emphasis on ownership opportunity.
So our next question is also from a reader. This one is from Rían from Southie, and they want to know: "What do you plan to do about the gentrification of Boston? There's not one neighborhood left in the city that is majority working class, and Boston is slowly losing its culture."
Yeah, I mean, it goes back to my answer on this other question. It's making sure that we have the unit diversification across our city, that there are opportunities for this unit diversification in all of our neighborhoods, and that we, again, are creating opportunities for homeownership, that we are creating opportunities for workforce housing, like that truly affordable housing.
And you know there's a lot of conversation around the "area median income" and how we have to look at reformulating that area median income and how it's calculated. But we also can just, while we're doing that, focus on using a lower AMI, and working with those that are building our city and growing our city — whether on the public side, the nonprofit side, the private side — using, where we can, city resources, using a lower AMI number, so that does truly reflect the needs of our families.
I've done a lot of work on the City Council around ending family homelessness. It's something I'm very proud of. It's something that we've put in, I'd say, for my first re-election — so four years ago — but even my second re-election that I felt a little bit more confident about that. My worry was always that no one would continue with the work that I started around family homelessness. It wasn't a conversation topic. It was something that we barely measured when it came to the Boston Public Schools. And we had no one truly focused on it, whether it was in the Walsh administration and through DND, not on the City Council at all. I changed that. I'm very proud of that work and of those accomplishments. We started this special commission to end family homelessness. For me, I know, whether I'm a sitting city councilor — and I had anticipated just running again for re-election — whether I'm the next mayor or not, that that work would have a place, and a place to continue, because we have to make sure that we're creating opportunities for families to be stably housed here in the city of Boston, and ideally, that our families with kids in the Boston Public Schools are also housed close to home because we see, as costs rise in the city, as forces of gentrification come into play, that families are getting pushed and pushed further out from the core of the city, their economic cores, their public transit, their social centers, social circles, social networks, and their cultural centers as well.
When we think about the impacts of gentrification, we are breaking up and sometimes shrinking — when we think about shrinking Chinatown, when we think about the impacts of changes in the downtown, what it's had on our Chinese community. When we think about the impacts of changes within some of our more traditional Latino communities, when we think about the impacts it has on some of these cultural centers across our city, doubling down and supporting each one of our neighborhoods to prevent that. When we think about what makes Boston special and not 'Anywhere USA,' those are the pieces that make Boston special, and we've got to continue to embrace it, support it, strengthen it, and grow it.
Speed Round
On a normal week, how often do you take the T?
On a normal week, zero times.
What's your typical Dunkin' order?
Large iced, just cream.
On a Sunday morning, I might add like a dozen doughnuts for the kids.
Favorite Boston movie?
Oh, there's some really good ones. The first one that comes to mind maybe is like "Fever Pitch" — lots of great Boston scenes.
Although, I will say the one where Kevin James does the slam dunk thing; he's the teacher. What's that movie? Just because they filmed part of that movie at East Boston High School, where I taught, in the gymnasium. Someone Google it. [Editor's note: We Googled it; the movie is "Here Comes the Boom."]
We'll go with Fever Pitch.
Favorite Boston band or musician?
I love New Edition. I love New Kids on the Block. That was all my genre, too, growing up in the city.
Would you rather go to a game at Fenway Park or a game at TD Garden?
Fenway, especially if it's a nice day. I prefer the sunshine.
What are your thoughts on Boston City Hall, the building?
It's a building that great things happen inside of. I think we could maybe open it up a little bit more, but I'm OK with the building. I'm not a City Hall hater.
How do you plan to vote in Boston's at-large city council race this year?
So, I am actually welcoming all the at-large councilor [candidates] to my home for meet-and-greets. I did three last weekend; I'm doing another three this weekend. And at some point I'll make a decision and select who I think would be colleagues I'd like to work with, as mayor and them as councilors. So, that is yet to be determined.
Why has there been so much confusion over whether there's a hyphen or no-hyphen in Essaibi George?
I love that question, because I know it's been debated heavily and widely.
Technically, there is no hyphen. Essaibi actually became my middle name, and I took George on as my [last] name, but I insist that it be used. And when someone refers to me someday, I hope, as mayor, it'll be Mayor Essaibi George. But oftentimes, the papers like to save a little bit of ink and will remove the Essaibi. And so we insert the hyphen to make it very clear that it is to be part of my last name.
I actually don't care whether or not someone uses the hyphen, just as long as Essaibi's there. It goes back — I mean, that's my last name. Essaibi is my last name. When I was a kid and expressed an interest in running for office someday, my father said to me, "An Arab girl with an Arab name will win nothing in this city." So it's really important to me to maintain my name in my work as a city councilor, and it is important to me that it be included.
Some people that knew me before I was married sometimes will say, "Oh, this is Annissa Essaibi" or "Councilor Essaibi." I prefer that vastly over leaving the Essaibi out and calling me Councilor George. It's nothing to do with my husband; it's just my name is Annissa Essaibi, and it is important to me that it be included. So we've added the hyphen to encourage people to not cut it out.
Public Safety
There was a recent Boston Globe poll showing about half of Boston residents have a generally positive view of the city's police force. Would you count yourself among that group?
Yes.
You're the only candidate who opposes reallocating portions of the Boston Police Department budget, but you have also called for investments in community programs centered on issues, such as homelessness, mental health, and substance abuse. As mayor, how would you increase funding for those initiatives?
I've actually been the only candidate — and for most of my time on the council, I've spent time making sure that we have significant investments in mental health clinicians who are acting as co-responders, when we think about our residents who are in a moment of crisis. And when we think about mental health in particular in our city, any resident or loved one who is calling 911 looking for help during a time of crisis for a loved one that's having a mental health crisis, they've gone beyond sort of the early stages of other services.
We need to make sure that we have appropriate responses ahead of time, that we are much more proactive. So my work on the City Council to increase the number of clinicians who are supporting our city's residents during their greatest time of need, that we're not just responding simply to the 911 call, that we are being proactive. Now, I've been able to help with some of the planning as we went from two-and-a-half, three-and-a-half social workers, clinical providers to five-and-a-half, six providers to now 19 providers. I've been critical on that work. I've played a critical role, not just in advocating for the funds and the dollars, but also for the roles and the work that they're doing day in and day out, not just co-responding alongside a police officer but being proactive. Working with EMS, who responds to most of our emotionally disturbed persons calls. Working with Boston police and their 911 call center. Working in partnership with other community-based organizations who know who the high utilizers of 911 for mental health calls are and getting them proactively the services that they need. They are often missing a primary health care doc. They are often in unstable housing. They are often dealing with so many other things that the systems that have failed them now have resulted in the 911 call.
Helping them further upstream — or downstream, I guess I don't know which way we would be going — but helping individuals get the services they need long before they ever call 911 has got to be a priority for us.
And yes, it's a revenue problem. There's a few things at play, and there's a few different pockets of people that need additional services, and all of those additional services come with a price tag.
First and foremost, when I think about what's happening at Mass. and Cass, when we think about what's happening with the challenges of opioid abuse and substance use disorder and now stimulant use disorder as we see the changing drug on the street that is impacting someone's physical well being, their mental well being, their ability to be employed or housed or in strong and healthy relationships. When we think about the increase in sexual exploitation, sexual violence, human trafficking — like all of those pieces there that are playing out for us on Mass. and Cass exist across our city, but Mass. and Cass is where we've become hyper-focused on it. The federal money that's coming in from [the American Rescue Plan] — and I'm sorry to be all over the place with this — but the ARP money that's coming in, we have lost focus on what's happening at Mass. and Cass.
When I joined the council in 2016, I was chair of a new committee on homelessness, mental health, and recovery. I chaired that for four years until then-Council President Janey came in and dissolved that committee, much to my disappointment and to the point where I actually voted against the rules because I thought that was a huge misstep. I think it was a tremendous mistake, and one that really took us away from focusing on what we now see today as one of the most critical issues facing our city and really burdening us financially as a city, breaking us. When we think about our shelter system, we think about our ability to deliver along the continuum of care that we are bound to do, when we think about human health and human services — so lowercase health and lowercase human services — when we think about our responsibility to take care of others and take care of each other, we have really failed. And COVID became a significant distraction from that work. And for me, I think that we should be investing $30 million of that American recovery money specifically on what's happening around the opioid crisis, and mental health and homelessness as it relates to it all there.
I've offered a 30-day public health surge. We've seen it work in a few other places to varying degrees of success. But now that we are on the other side of COVID in many ways, we have an opportunity to get people into detox programs, because they were at a very lessened capacity over COVID. We have, for one moment in time — we've never had this moment for a very long time — we have access to recovery beds because of COVID. We've lessened the capacity because of COVID. Now, as everything's coming back online at 100 percent with some additional supports around workforce because we've also lost some of that workforce, the delivery of care and that workforce. We have an opportunity to actually help people find recovery and find wellness. And it's going to take hard work. It's gonna take some very direct and specific investments. I'd much rather spend $30 million focused on one particular effort to help several hundred people who are in the midst of crisis, and by extension, impacting thousands and thousands more. We've got work to do. We've got to do it there, and I'm committed to do it. And it is a way to invest money in a very sustainable way, when we think about long-term success for individuals and helping them find recovery.
Transportation
You've obviously advocated for improving the T, expanding access to public transit, and making streets safer for pedestrians and cyclists. That's something I think most of the candidates in the race would agree that they would like to do, too. Is there anything on the issue of transportation that you think sets you apart?
I think we do need to have a very practical approach to this work. Painting with broad brushstrokes, this field of candidates along sort of an abbreviated spectrum all feel the same way about lots of things, right? But it is about the broad brushstrokes. For example, one colleague talks about freeing the T. That's a wonderful idea, right? But how practical is it? There are portions of the line, for sure, that we should be looking to free. We've got a couple of bus lines in particular that really do connect some of our lower-income communities or poor communities to economic centers that are also disconnected by faster rail. That's an opportunity for us, for sure, to do something that's meaningful.
I also think that it's important to think about what the Boston Transportation Department, for example, can and should be. That should be a hub of innovation, of creative thinking, and of connecting with communities to truly understand what it is they need, because as a city, we've got certain responsibilities and certain public goods, when you think about the role of municipal government that we need to invest in, that we are responsible for. And certainly the T is under the direct care and custody of the state, but we as the city — as the capital city, as the economic engine of the commonwealth, of the region, and as someone who spends $90 million a year on the T — we deserve a little bit more of a say. And I think that we can pull a little bit harder on some of the levers that we hold, as a city, on the state to hold them more accountable to some of the work.
But for a public good to be good, it has to be invested in and to just say we're going to free the T and find billions of dollars magically out of thin air, to continue to make the investments on a system that continues to fail our city's residents, I just don't think that that's practical. And you know, I like to dream of the impossible. But in the meantime, people need to get to work today. People need to get home today. People need to get to appointments today. Freeing the T outright is not going to solve those problems.
Environment
Moving into the environment section, obviously climate change is a global issue, but we have readers who are concerned about how it'll affect our communities on a local level. And so this question from Richard Schultz asked, "In a recent poll of likely voters, climate change and sea level rise did not rank as a major issue. What will you do to raise public awareness on this issue?"
I think that a big part of why it didn't rank is because people in our communities — and in particular are most impacted communities — don't ever have a seat at the table to articulate and share what is important to them, and where it should rank.
I got a little bit of heat a couple of weeks ago, participating in a forum specific to our climate and our environment, and I was asked the question, like "Where does it rank out of 10?" And you know every candidate was a 10, but me. And I said, of course it has to be critical. Of course, when we think about the climate and we think about the impacts of environmental injustices, it has to be central to all of the work that we're doing as a city, or the city won't exist. But it's not a priority because we've spent so much time letting often wealthy white suburbanites tell us what we should be doing here in the city.
When I coached softball in East Boston — I coached at the high school and I coached at a community youth program — at the high school with the teenagers our field was the City Yards, and we'd have suburban teams come in and play. And the most fun I'd have sometimes as a coach, and I was young, so I was kind of cool, coaching, third base or wherever I was. And if the airplanes are using the right runway, they were low. They would come right on top. And these kids from the suburbs, would be just like absolutely in awe, because you can almost see people's faces through the windows. The planes were low. When I would practice, the field I used was Constitution Beach in East Boston with the younger group of kids, we'd be looking at the ass-end of a runway all day. And then you say, "Well, why are asthma rates so high?" And we think about just the heat island effect, the lack of enough trees, especially in our more inner-city neighborhoods. If we don't have a seat at the table as city people, we're not going to get the things that we need in that. We're not going to own it. We're not going to buy into it. We're not going to believe in it, and it's not going to be a priority.
We need to create opportunities for our city's residents to talk about the impacts of climate change, to talk about the challenges of environmental injustice on them. We've seen success in some of our smaller Moms Demand Action groups. We've got a pretty activated group of Moms Demand Action in East Boston, and they've been hyper-focused on air quality, because of the airplanes and the airport, and on tree coverage and tree canopy in East Boston. And when they've created the table for them in East Boston, they've engaged with a very diverse community making sure that there are multiple voices at the table, multiple experiences at the table, multiple income levels at the table, having a discussion about the impacts on their family, that's where we see real change — when that happens.
But if we're also worried about the quality of our schools, if we're also worried about public safety and violence in our neighborhoods, if we're also worried about whether or not we have a job tomorrow, we can put food on the table for our family, climate is not going to be a priority. And as mayor, I certainly will surround myself with the experts and those that know this field like no one else knows it. But if it doesn't include the voices of our residents who feel it and live it and have the impacts of it on themselves every single day, it's not going to be meaningful to the people of Boston.
You talked a lot about environmental justice in East Boston, and we have a question from someone from East Boston, not about environmental justice, but about food justice. So this is from Brian from East Boston, and they say, "Food injustice is driving an obesity and mental health crisis in our Black and brown communities. Junk food is cheap and easy to access, while nutrient-dense, quality food is hard to find in our neighborhoods. Would you consider a soda or junk food tax to help invest in neighborhood farms, fitness, and mental health facilities and outdoor playgrounds?"
I don't think we need a tax on junk food. I think we need education. We need to make sure that it is easier than ever for families to get healthy food. We've seen again over this last year-and-a-half, it's amazing what a terrible crisis has demonstrated to us as a city, and as a world, what we can actually do with willpower and making sure that we're very much focused on farm to table from local farm to local table, making sure that we are supporting, especially our young people, in accessing food. One of the reasons why we delayed closing school last year is because we knew so many of our kids who depend on school meals for nutrition weren't going to get it, but we quickly figured out how to get them food. And the initial response was food, but over a quick period of time we said, "OK, we've got them food. We've got the calories. Now let's figure out the nutritional value. Let's make sure that we're able to get those fresh fruits and vegetables, higher quality meats, the necessary proteins for our families." That's where we've got to focus our energy. A tax doesn't do it.
And then our final question, and this is pretty open ended: If there's one change you could make tomorrow, what would it be?
I hope to have a day where no young person, no student, is experiencing homelessness. Because when we think about all the other challenges, the trauma, the impacts of poverty, the drama, the instability that homelessness creates for young people in particular, that's something that I'd like to change and make sure that we continue to work on. It's underway, but we haven't had 100 percent success. We're not even close to 100 percent success, creating opportunities for kids to live close to school, to be connected to their school community, to be able to be supported in their school community. Working to truly end family homelessness in our city is where I would focus, focus my energy, and want to see an immediate change.
Candidates for mayor of Boston will compete in a preliminary election Tuesday, Sept. 14, with the top two finishers facing off in the general election on Tuesday, Nov. 2.
To keep track of the news of the race as it happens, follow along with Boston.com's election live blog and make sure to visit our candidate information page regularly for candidate Q&As, along with additional coverage of the race as the preliminary election approaches.
Newsletter Signup
Stay up to date on all the latest news from Boston.com