Politics
John Barros: The Boston.com interview
After spending seven years in Marty Walsh's cabinet, the Boston mayoral candidate says he would "lean in" on improving neighborhoods in a way his former boss didn't.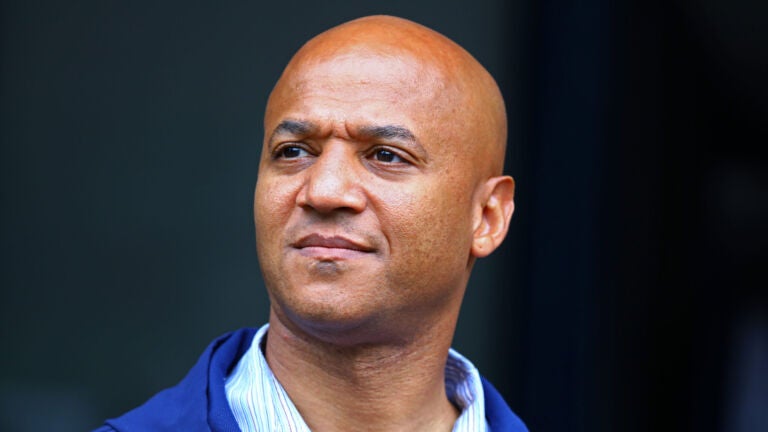 John Barros spent the past seven years as the City of Boston's chief of economic development under former mayor Marty Walsh.
But his record goes far deeper than that.
The son of Cape Verdean immigrants growing up in Roxbury and Dorchester, Barros began his civic life at the age of 14 when he became a community organizer with the Dudley Street Neighborhood Initiative, a local revitalization nonprofit that he would ultimately lead for 13 years. He also co-owns a small business, Restaurant Cesaria, and spent several years on the Boston School Committee.
But now, as a second-time candidate for Boston mayor, it's that neighborhood-based approach, rooted in his time as a community leader, to addressing issues in a city where a few miles can make all the difference in one's life path that Barros says he would "lean in on" in a way his former boss didn't.
From housing to environmental justice to junk food, the 47-year-old says the city should be devoting more time and resources to focus on neglected neighborhoods. More funds to support affordable housing, business, green space, he says, offers a direct way to improve residents' lives. And more engagement to bring people along in the process.
"It's a place-based transformation approach that a lot of people have written about," Barros says.
At the DSNI, Barros said he's seen the approach in action. Leading City Hall, he argues he could take it further.
Barros recently sat down with Boston.com for an hour-long zoom call to discuss his approach to a wide variety on issues facing the city. Here's what he said:
This interview has been edited for length and clarity.
Housing & Development
Given the fact that you did just spend about seven years as a part of Marty Walsh's administration, what would be the most noticeable way that a Barros administration would be different?
I think the most notable way that a Barros administration would be different is a lot of my work has been in neighborhood improvement, it's been in improving the lives of poor people in our neighborhoods.
I was born and raised in Roxbury at a time when crime in Boston was at its high point, when the crack epidemic — and the work I did was work to help poor families, often poor Black and brown families. And it was not just about the single individual, but it was around the idea that if you improved the place that we live in — if you increase jobs, if you increase homeownership, if you increase small businesses, services, places where people can meet, parks, playgrounds, local food production — if you can have a comprehensive approach to improve and add resources to where people live, you can improve the lives of people. It's a place-based transformation approach that a lot of people have written about. There's a lot of words about the path of people's lives based on zip codes, and much of that has to do with depressed neighborhoods where you find poor people.
So, in many ways, I will lean in on that space in a way that Marty Walsh didn't. I tried to lead a conversation at the city as chief of economic development, as the co-chair of the Imagine Boston 2030 plan, and put in the, through a series of conversations — some conversations that were happening in the neighborhood — and proposed a pilot in Uphams Corner to show in fact that the city can be a partner — a robust partner — in helping to implement the planning process that a neighborhood has gone through and that the city should be an active development partner to help create the kinds of subsidies, frankly, and bring the tools to the table that create the kind of innovation and creativity that typically is needed for what residents are asking for.
Unfortunately right now — I used to say this to the mayor all the time — the [Boston Planning & Development Agency] is planning for what the private sector can build, and that is limited. So what you start with is you start with a community planning process. The community is typically asking for more greenspace, more local ownership, more diversity in participation and ownership, more affordability, deeper affordability. All of this, from a development standpoint, creates this huge gap in cost between what the developer can pay for in the development and then what the community is asking for. That's where the city comes in. The city needs to bring in all types of tools. We used city tools at the Dudley Neighborhood Initiative, like the eminent domain authority, to assemble land and then hold land so that land would not be factored in the costs of a development. We also use a 121A agreement to assemble a community land trust. On the community land trust, we were able to stabilize taxes. And so, in fact, an increase in taxes are not used as a displacement tool in our neighborhood, even though we continue to improve the neighborhood, so that you can in fact make an argument of improving a neighborhood, improving even real estate values of a neighborhood, and not displacing people who live there. Those are tools that the city has at its disposal that it should make available.
And then simply we need to be able to subsidize, when we can, deeper. And what we did in Uphams Corner is we assembled about three-and-a-half acres of land where we're asking, based on the community plan, developers to come in to build arts and cultural space for small businesses and artists, and then to build artists living space, so that we can actually keep and attract more artists. They want to create an arts and innovation district. So we're trying to bring all the city tools to do that. We even put the Strand Theatre in the RFP and said that if a developer can come up with a way to redesign the Strand Theatre, and even add housing to the Strand Theatre above it or beside it, that we would be willing to look at that to help think about how we can subsidize the division and help bridge the costs.
The single biggest thing we did though was the mayor put a $25 million capital line item [in the budget] for a new library in Uphams. That $20 million library could be the base of a new mixed-use building that could have housing on top, and then we would subsidize for deeper, more creative, affordable artists housing in Uphams. There really are creative ways that the city can join the neighborhood in building.
So I would be a mayor that's actively involved in neighborhood development, I'd want to bring all the city's tools to that, including land banking in our neighborhoods' properties that might be empty, might be causing blight, that we're going to take off of the hands of developers and those who are holding them as speculators and invest in them and make them active today.
When it comes to those neighborhood development initiatives, how much more funding does the city need to be investing there?
I haven't done an analysis on the cost, so I won't be intelligent until I give you a number. But when you think about it, in most of our neighborhoods where you're not seeing active development, what you can do — and actually [BPDA research director] Alvaro Lima and I played with this a little bit and I do have some numbers but he'd kill me if I released it because he's such an economist and we have to really look at it first.
But what we did is we said, "OK, let's look at Mattapan. Mattapan is not growing. Mattapan Square is not growing. But the residents would like Mattapan Square to grow. Well, for every year we don't grow Mattapan, we're losing taxes on the rolls. What if we pay forward and put money now upfront to stimulate economic growth in Mattapan? We would probably be able to collect taxes earlier than we would if we just allowed the market to do it. What's that number? And what it would take to stimulate it?" That's what tools like [district improvement financing] and [tax increment financing] were meant for. That's what the pilot agreement should be used for. We should be providing Mattapan the kind of capital upfront, and incentives, to bridge the gap of what the residents want to see and what the private development can pay for.
The other thing we should do in neighborhoods like Mattapan is to use vehicles like the neighborhood investment fund. As the city comes in and leans in with some subsidies, neighbors should be able to invest in those real estate properties. Neighborhood investment funds allow Mrs. Jones down the street to put in $200 in a real estate deal. It allows then me to put in $50. It allows the next person to put in $100. And before you know it, you're putting it in a fund with social impact money, with [Community Reinvestment Act] money, with city money to help create a larger impact. Then all of a sudden the neighborhood is not just having a voice and stewardship of the development because the city is going to allow them to, but because they're owners. And so for all of the improvements that happen and real estate [value] increase that happens, residents can take part of that and be part of the wealth creation, and not just stand by and watch it happen.
One of the issues that you've recently been really outspoken against was the idea of rent control. And I think you've made your policy concerns pretty clear. This is more of a politics question. Given how far rent control is from becoming a reality given — it doesn't seem like the State House is poised to pass any home-rule petitions — I was wondering why you feel it was so important to speak out about now?
Great question. I haven't been to a forum where the question hasn't been asked. And it's always asked in a rapid fire way, right? They say, "Oh, now we're gonna do our rapid fire questions. Who's for rent control?" And then I'm always putting, "No," and I'm like, "Crap, we got to get into this policy." I just can't say no when so many families are having a hard time buying in Boston, so many families are being displaced in Boston. And here I am like, "Hey, I'm for neighborhood development without displacement; no rent control."
I had to find a platform where I can say to people: Here's why I'm a no on rent control. And then I found myself explaining it to residents everywhere I went: "Hey John, can you explain to me why you're a no on rent control? Boston's too expensive. What's going on?" And I'd have great conversations with people and explain to them what I'm in favor of is building housing that you can afford, not freezing the rent at levels you can't afford. And people were like, "Yeah, that makes sense. That's what I'm for, too." But if you don't explain the policy, because it's been so long since we've had it in Massachusetts, people are like, "Yeah! Let's bring in rent control. S*** is too expensive." And then it's like, let's talk about the policy side, about what it means. Let's talk about how it's been used in the past and how it actually hasn't been favorable for poorer people, or people of lower income.
In fact, it's actually been more favorable for upper-middle class and wealthy families. I mean, imagine Seaport renters right now, right? You bring in rent control, they're like, "Yeah, here it is." I once had a gentleman in a meeting tell me that rent is out of control in Boston. And I said, "Yeah, it is very expensive. We got to figure out what to do about it." And he said, "You know, I thought $3,500 a month was fine. Now, it's at $4,500 for my son in the Seaport." And I said, "My goodness, that's exactly right." There are people who are paying $4,500, and they thought $3,500 was affordable. And most of the families I'm talking about, if you froze it at $3,500, this gentleman would have been like, "Yes, Boston's great. Let's keep going." Families would have still been leaving. You have to have those conversations. You got to talk to people. And you got to be able to express what we need to do is be able to build more homes where the rent is at $1,200, $1,400 for three bedrooms, and not do $3,500-a-month units for one bedroom, which is what you have in the Seaport, which — it's ridiculous.
This is a question we're asking everybody: What do you think is the median sales price of a condo in Dorchester?
Probably something like $800,000.
[Editor's note: According to the Warren Group, the median sale price for a condo in Dorchester was $587,500 in June.]
You mentioned the Seaport a second ago. The Seaport's lack of diversity came up at a recent candidates form. As chief of economic development in the previous administration, is there anything you wish you had done differently in hindsight?
Yeah, so here's the challenge. We have done a lot of work in the Seaport to diversify the Seaport. Like yesterday at a forum, a candidate said there's only one Black-owned business in the Seaport, there's only one Black mortgage in the Seaport. Those are all false numbers. We have deed-restricted affordable units in the Seaport. We've worked with — I have personally worked with — Black-owned businesses that we have funded that's now in the Seaport. And so I know those numbers are bigger. We have a Black-owned business fair that we do in the Seaport once a month.
We have tried and actually made some gains in the Seaport. I'm not gonna sit there and defend this Seaport. Why? Because I agree with the basic value statement that we did not design it for diversity, we didn't design it well in terms of transportation, there are a lot of things that are missing in the Seaport. So in a campaign forum, I'm not the guy who's going to be like, "Well, here's what we did and why I think the Seaport is a success." It's not, right? But we did a lot of work there to make sure that it could be more inclusive.
The Seaport is the only place in Boston where, if a building is being built, a certain percentage of that building needs to have an arts and cultural public space. And we worked with artists of color to make sure that they had an opportunity to go into those spaces. And so yeah, the regret is — and I wouldn't even say being part of the Menino administration; I'd love to be mayor in the era when we first master-planned the Seaport. And it's not about being chief of economic development when I'm sitting in someone's administration arguing this fact. I'd love to be mayor to make sure in fact that we were leaning in on diversity.
Right now, because of the disparity study we just finished, we can have mandates and goals, as we master-plan another neighborhood, on participation in ways that we could defend it in court. Would love to do that right now.
What should the next mayor be doing in the Seaport?
I think the next mayor needs to be aggressive in participation in the Seaport. We still have about 2 million square feet to be built out in the Seaport. The Seaport is not done. We need to make sure that we use the disparity study that was recently created by the city to have participation goals, to have goals on businesses and diversity of the types of businesses that will be put into the retail space in the Seaport.
And then we need to think about how those developments can in fact impact transit. The most important thing the next mayor can do is have Boston be ready with shovel-ready projects to apply to the Biden infrastructure program that hopefully will be passed by Congress. If we're not shovel ready, we're gonna miss a historic once-in-a-lifetime opportunity, I believe, and that would be a shame.
And the Seaport should not be the only neighborhood that we focus on. But Track 61 is an opportunity, and being able to work on Track 61 that allows us to connect to Widett Circle and creating a transit hub at Widett Circle that allows us to make the Fairmount Line an electrified line that is clean, fast, with expanded service, with consistent service — and then to go west, the Needham Line, and make sure that we've connected. There's a lot of ways to make sure that neighborhoods are connected by using the infrastructure that we have in place that we will need to invest in. And that's something that I would do that would provide some capacity and infrastructure in the Seaport, but also connect neighborhoods that need to be connected throughout the city in a more rapid way and with some consistency and better service.
We've reached out to our readers and asked them to submit questions that they have for the candidates, and this question is from Rían, who's from Southie, and they want to know, "What do you plan to do about the gentrification of Boston? There's not one neighborhood left in the city that is majority working, and Boston is slowly losing its culture."
So gentrification is a major issue. It's an issue I've been working on since I was 14 through the Dudley Street Neighborhood Initiative. It was the main reason that DSNI came together. It was around this value that we can improve our neighborhood, develop our neighborhood, and still live there.
Now, the way you do that is by creating affordable living, affordable small business spaces that allows the people in that neighborhood to be owners — both from a homeownership standpoint and a small business standpoint. And it allows those who want to rent to be able to rent. I think it is important that we create infrastructure that allows people to feel like they can improve their neighborhoods. It is sad when I hear a neighbor say, "Maybe we should stop improving. Maybe we don't need that park. Maybe a little crime is OK, because then we're not so attractive, and I can continue to live here." That should not be the attitude of anyone.
We can improve our neighborhoods, and we should improve all of our neighborhoods, and yet keep the people who are there and make the opportunity for more people of a similar income bracket to be able to buy there and come there, even as it's improving. And the only way to do that is to create the infrastructure around affordability and housing, jobs and businesses.
Miscellaneous
You're the only candidate in the race whose pledged to bring some form of a guaranteed minimum income to Boston. Who would be eligible for that and how would it be funded?
I've thrown out a couple different ways to do it for eligibility. I'll share a couple here that I think I've been talking about recently. The first is, when talking to elders, one of the things that comes up often is the tax increase recently.
There was an evaluation — a new evaluation — on Boston real estate, and there was an increase in most people's taxes, and elders have felt it, because they're on fixed income.
And they're like, "What do we do? What do we do?" And most people will say, "Well, we can maybe increase the exemption, but it's controlled by the state." So we should have a conversation with the state, and I would put in legislation that gives the city control over its exemptions. The city should have control over exemptions. But I agree, we don't.
What we can do though is have a guaranteed income program for elders who are paying additional taxes, and that is a perfect opportunity. Massachusetts is … too expensive because of housing, primarily. And then in part of that housing equation is the increase of taxes, because our elders work hard to try to stabilize, to be able to stay in their homes, and then here come the taxes. So a guaranteed minimum income program for elders based on tax and tax increases, I think, would make a lot of sense.
The other one that I would do would be a guaranteed minimum income program for early child care developers. They don't get paid enough. It's a problem. We need to make sure that we're growing that industry and attracting more people to that industry. And the increase in wages should be coupled with increases in training and a firm certification program around what the child care developer has learned and is qualified to do. We need to really create a system that's robust, but it has to include better pay. It's a problem. We're talking about it as a problem everywhere, but we're not talking about the financial system that's making it a problem.
Another issue that I think you stand alone on is support for term limits for the position of mayor. Why?
I think we should have a discussion about term limits. I threw out two terms. I had one of my colleagues at City Hall say "John, you know you need at least three terms." And he's probably right. Maybe, it's three terms, but we should have a conversation about term limits. It does take time to make change, so you want to have some consistency or give the people an opportunity to have some consistency, if you're trying to impact, for instance, our transit system. The arc on that is going to take some time. To try to produce enough affordable housing to really begin to catch up with the population growth, the arc on that's going to take some time. The McKinsey report put out that we need to build another 125,000 to 200,000 units. They're probably right, given the population growth trend. That's going to take some time to really get that going and moving, and I get that piece.
But I do think we should have a conversation, because the incumbency in our city is a really difficult seat to lose from. And so a term limit would both incentivize people to be part of the bench — and I think this is the most important part — you would have more people involved in politics, looking at that, you know, "Here comes John on his second term; we know he's leaving. I'm running for this. I'm getting ready. I'm gonna get ready to run." Versus, not knowing when somebody's coming up and not being able to do a succession plan and not being ready for it. I think we have less participation in our civic municipal infrastructure because we don't have term limits.
Education
Another question from our readers. This one is from Ward McCarthy, and they want to know, "Rather than changing the admissions for the high-quality Boston exam schools, why not improve the quality of the schools in the sections of the city that are underrepresented at the exam schools?"
Well, I don't think we disagree.
We have to do both. We need to make sure that there is access to our exam schools. My wife went to Boston Latin, my brother went to Boston Latin, and I can begin to quote other people that went to different exam schools in my family and friends and circles. We all know them. But my wife went at a time when there was a quota. And my brother went at a time when there was a quota. There is no quota now, and we've seen the number of Black and brown folks who are at Latin and other exam schools really take a hit. So we need to address that. There's no question.
At the same time, we need to address the other schools. We need to address the quality of the other schools. It can't be that we are OK with having some good schools. We need to make sure that we have quality schools in all of our neighborhoods. And quality, that means Tier 1 seats in my mind, in my definition. Tier 1 seats in all of our neighborhoods, and we need to do it with some urgency; I'll drop a plan … in maybe two weeks. I'm not saying anything about the plan right now. But I will drop a plan that will at least call for urgency in both scale and speed for how we improve schools in all of our neighborhoods.
Your opponents in this race who serve on the City Council voted both for and against the Boston Public Schools budget for this fiscal year. If you were a city councilor right now, would you have supported it or voted it down?
If I was a city councilor right now, I would have supported it.
I'm looking at [BPS Superintendent] Brenda [Cassellius], who I've worked with very closely, and I think is really smart and gets it and has a lot going up against her. She came in, and as she was trying to get to change, COVID hit her hard in her second year. And let me tell you, she's got all types of ideas, she had all types of ideas, and I feel like we have to give her a chance to implement those ideas. I'm a fan of her ideas. I think we need to support her. And I think we haven't done that, and her staff is lacking, and capacity in BPS is lacking, and that budget began to address some of those things, as she is smarter about what she needs. And so I thought that there was a strategic budget, and I would have voted to approve it.
There's been a lot of news recently about the uptick in COVID cases in Massachusetts with the Delta variant recently, and most health experts said there might be some sort of an uptick in the fall. What do you think the city should be doing to prepare the community, but also schools so that they can stay open? [Editor's note: This question was asked on July 16 when case counts were considerably lower in Massachusetts than they are now.]
Vaccinate, vaccinate, vaccinate, vaccinate. We need to not take our feet off the gas. We need to hit the streets. … We're going to do a vaccination clinic [on a recent] Friday and Saturday. I just got off the phone with some folks, and this has to be a priority. We are going to help push in our neighborhoods, where it is the hardest and where there are the most people who are hesitant, to vaccinate people. It is the best and most important thing we can do.
The other is to make sure that, for our schools particularly, that we … deal with facilities. We have to give people confidence in their facilities, first and foremost. But also follow the science in the best practices on air filtration, HVAC systems, and other things that we know are important. We cannot go from a situation anymore, where the teacher in the classroom is told you need to keep your window open, as part of the measure. That is just not good enough. And it's not sustainable through all the seasons. We've got to do better, and we've got to call this an emergency, a health emergency, and scale and speed up the process of investing in our facilities.
What I've heard from school leaders was that there was a need for both clarity in protocols and practices and assistance to implement in a consistent way at schools the safety protocols for COVID. We need to make sure we do a better job in September, but it also means communicating that to parents here: "Here's what we're doing. Here's what we expect. Here's what's going to happen. And as soon as that happens, this will happen; if that happens, this will happen." Our communication to school leaders, to teachers, to parents needs to improve. I understood the challenges during the pandemic. There's no excuse right now going into September why everybody should not feel confident that we can go in and minimize the infections in our schools.
Speed Round
On a normal week, how often do you take the T?
On a normal week as a father of four, last time I took the T was to a baseball game with my kids. We went to go see my wife, who is a Jackie Robinson scholar, throw out the first pitch. So that was a month ago. That was the last time I was on it.
What's your what's your typical Dunkin' order?
I'm a medium; cream, no sugar.
I shouldn't say this, but I'm actually a jelly stick guy. I should say something else, but it's just true.
Favorite Boston movie?
The one about Blue Hill. I should know the name. … I think it's just "Blue Hill Avenue," right? I just know it as Blue Hill.
Favorite Boston band or musician?
Bill Banfield, of JazzUrbane.
Would you rather go to Fenway or TD Garden?
Good question. Gillette Stadium [laughs].
Normally I would say TD Garden, but the experience I just had with my boys, they just scream, "Play ball," and now they're all about baseball. And I've never been a fan of Fenway — you guys can't repeat that part of this — but all of a sudden, it was magical for my kids and I'm all Fenway.
What are your thoughts about Boston City Hall, the building itself?
It's the ugliest, coldest building in all of Boston, for sure.
And I know it's got historic value, and I know there are people that argue the architectural value, and there's no fight there. No push back. It's a historic building. But let me tell you, if you have any kind of event city hall — ever try to go to an event at the mezzanine and listen to the speaker? It's the worst. It's a bad design, bad building. And yet, I was proud to be in there and work on behalf of the people of Boston because of the historic significance.
How do you plan to vote in Boston's at-large City Council race this year?
Oh man, I need some time on that one. There's a field of 17. Do I got the right number? Yeah, like 17. There's a lot of that. I've got to get back to you guys on that one.
Public Safety
There was a recent Globe poll showing that about half of Boston residents generally half a positive view of the city's police force. Would you count yourself among that group?
Yes, I would. And that's even having a bad history with police. But I'm seeing the police improve. There have been some real improvements, and I think particularly around community policing. As executive director of the Dudley Street Neighborhood Initiative, I was both their biggest critic, but also partnered with them on a number of different things, as we tried to make sure that policing made sense in our community. And I'll say, we have some pretty good people in the police department, and they worked with me.
You've called for reallocating money from the Boston Police Department budget to fund a new public agency with personnel to respond to mental health, substance abuse, and domestic violence matters, among others. What level of investment is needed to create a sustainable agency, and how would you do that?
Good question. … We think that there are some people at City Hall that need to be brought into the agency. We haven't said that publicly, so I'm probably not going to say it here. … We'll be announcing it but just to say, there are some people who are doing some work at City Hall that we think should be part of that agency. What makes it different though is that we think that agency should be part of the 911 distribution system. So when you call 911 today, there are three emergency agencies. It's fire, it's EMS, and it's police. We think we should have mental health clinicians. We should have trauma, intervention, and we should have those who are prepared to deal with very risky, domestic violence issues, substance abuse issues. And we know that there are some professionals at the city that are trained to do this, but they need to be part of that 911 system that is calling in the moment and asking for assistance. What other cities have seen is that when they move to a system like this, only 1 percent or 2 percent of the time, there's a follow-up call for police to join the situation. They typically can address it, de-escalate where it's needed and properly send the individual, if needed, to the proper care.
Transportation
You've advocated for improving public transit, expanding access, and making the city better for pedestrians and cyclists, which are probably things that everyone else in the race agrees on. What sets you apart on this issue?
My approach would be different. I believe we need to engage more. We need a public education campaign to talk about cycling, talk about bike lanes, talk about what's happening in our city. When there is pushback, as there has been in certain neighborhoods, we need to pilot designs, share the designs, change the designs.
I had a conversation in Amsterdam. I had an opportunity to go on a learning trip to Amsterdam, particularly to look at bike lanes, bike lane networks, their culture, their history, which is you know a lot deeper and longer than ours. But the theme essentially is like, "John, it took us a long time to get here. This is hundreds of years in the making. We didn't just decide to design our city this way. You guys got to slow down." I was like "Huh, interesting." But maybe, they're right. And what the lady said to me, she said, "Attitudes matter. The attitude of the person who is driving the car, while the cyclists are using the street at the same time. The attitude of the cyclist who is riding down a street that's designed in a certain way, whether they are gonna follow the rules or not. The attitude of the pedestrian." And if you cross the street in Amsterdam, you know what they're talking about, like bikes are first, so you're looking both ways, not for vehicles, but for bikes, and then you're going across the street.
All of that is a mentality shift. It's a cultural shift. It's a different way of life. And I feel like the more we move on certain policy decisions and changes without proper socialization, proper information, push back, ownership, the more we create divides. And people are going to start organizing, have started organizing — you guys know that better than I do — throughout the city on this issue. And I think we can do better. As Boston, I think we can have better, bigger, bolder conversations, and ask our media to join us in those conversations, ask our journalists to join us in those conversations, create the platforms and allow people to talk about it for a little longer. And then do some pilots —` and maybe some disruptive pilots, right? But then to have some feedback and have people come back and talk about them in that way. As executive director of the Dudley Street Neighborhood Initiative, we did a couple of things like that. Some of them were actually risky, and there are people who are going to come to meetings and disagree, and that's OK. Leave the space, create it, allow it to happen. And at the end of the day, people will feel better that their voices were heard and they'll feel like they better understand other people's positions, as opposed to sitting in their homes and coming up with their own reasons why people want to do this and why it doesn't work, etc.
Are there any riskier or disruptive pilots that you'd like to try?
Yes, but I'm not telling you. That's a risky answer. [laughs]
Let me see, do I say this? Yeah, I say this. I think one that we should — and Taylor [Connolly, his communications director] is gonna try to mute me. Don't make her co-host. I think one we should try is there are parts of cities in the world where the city core doesn't allow vehicles, right? And it's just bikes. It's just people. And I think we should think about that in Boston. We should think about a network of streets that you can't have cars on anymore. And it should probably start somewhere around City Hall. I mean imagine that, right? We're shutting down Congress Street, shutting down Tremont, Cambridge [Street]. That's disruptive, right? But how do we think about that? Do we have a network of streets that we shut down, and we begin with a core and from that core there's a cycling network that comes out. It needs more thinking. I'm not saying it's something I would do, and so I should be clear. But I think those types of ideas should be something we think about
Environment
Moving onto a question about the environment: We've seen a lot of extreme weather events across the country, and here in Massachusetts in the last couple weeks, we've seen flooding after having some intense rain. And so we have a question from a reader named Richard Schultz, who wants to know: "In a recent poll of likely voters, climate change and sea level rise did not rank as a major issue. What will you do to raise public awareness on this issue?"
Yeah, it's a big issue. And I think the way you frame it is right. We need to reframe. People understand their basement flooding because of the rainfall. People understand streets flooding because the rainfall. And oftentimes, we talk about sea level rise. Well, extreme precipitation is here, and we don't have great rain water management systems in Boston. And so, the dumpster shot in the Seaport, floating in the water, is actually not because of sea level rise, it was because of extreme precipitation. And we don't have, in many parts of our city, the right infrastructure to capture rainwater, to hold rainwater, to move it out afterwards.
What I would do anyways, is talk about it in terms of climate change hitting us now and here are the things that are happening, we've got to address right now. And then — comma — here are the things that are gonna happen if we don't do what we need to address now. But you know heat issues. You talk about it; people know it, right? And the fact that we need cooler places. I remember at DSNI, we were talking about that back then, and what we did was with every park we designed, there was a water feature. And that was part of creating some shade, so there were trees, a water feature. We felt that that was about equity, that that was about sort of cooling off, and providing people a way to handle what we — at least at that time, people thought was crazy that there was going to be an increase of heat.
And we have one more reader question for you. This one is from Brian, who's from East Boston, and they want to know: "Food injustice is driving an obesity and mental health crisis in our Black and brown communities. Junk food is cheap and easy to access while nutrient-dense, quality food is hard to find in our neighborhoods. Would you consider a soda or junk food tax to help invest in neighborhood farms, fitness and mental health facilities, and outdoor playgrounds?"
So the answer is yes, I do support a tax. But it just can't be a tax. Why? Because I know how difficult it is to get my kids not to have soda, dammit. I try hard [laughs]. You should see the snacks, right? I know the issues around it, but that's cheap food for a lot of people. It's food that they can buy, that they can afford for their kid. And so we're taxing the poor, because that's who buys it.
And so, if there's going to be a tax, then we've got to figure out who's paying that tax, and we know who's paying that tax actually. And so we've got to figure out, then what we're doing to help as we get rid of the options in schools, as we get rid of the options in camps, as we get rid of the options in different places, and then increase healthy food options.
So maybe that tax is paying for more healthy food options. I know one of the things we did in our neighborhood was work with the different bodegas to make sure they had healthy foods and accessible food. It doesn't move as fast. It doesn't make as much money. It's harder to keep.
So I wonder if we can offset the cost from one to the other, so that way we are in some way making it easier for the same poor Black and brown folks to have healthy foods. So I'm for the tax … because I want to make it that the food is not cheap. So we probably couldn't tax it as high as I'd like to tax it [laughs]. But I want to because one of the things is it's a cheap alternative. And we've got to create cheaper alternatives. That's the biggest thing for me. Let's take that tax money, let's subsidize something that's cheaper, that we could put next to these things or instead of these things, and keep it moving.
So this is our last question: If there's one change that you could make tomorrow, what would it be?
I would immediately move us to 3-year-old seats in the city of Boston.
Right now, we're putting in $15 million into the [Universal Pre-K] system. We need to put in $75 million to fully bring in 4-year olds and fully bring in 3-year-olds to the city of Boston. Early childhood development has shown amazing returns. It is the most important thing when we're talking about decreasing the race achievement gap for brown and Black kids in our schools. Early childhood matters. Beginning to read earlier is critical, so by that time you get to third grade, you're transitioning over from "learning to read" to "read to learn." And so that is a super important place for us to move the equity dial. It is a super important place to move the conversation around quality schools.
I want to go zero, but I'll do 3 immediately as mayor. That, for me, is the big investment I can make in Boston's future.
Editor's note: Candidates for mayor of Boston will compete in a preliminary election Tuesday, Sept. 14, with the top two finishers facing off in the general election on Tuesday, Nov. 2.
To keep track of the news of the race as it happens, follow along with Boston.com's election live blog and make sure to visit our candidate information page regularly for candidate Q&As, along with additional coverage of the race as the preliminary election approaches.
Newsletter Signup
Stay up to date on all the latest news from Boston.com