Politics
Kim Janey expresses regret over vaccine passport comments, but remains opposed to the idea
"That would shut out nearly 40 percent of East Boston, and 60 percent of Mattapan."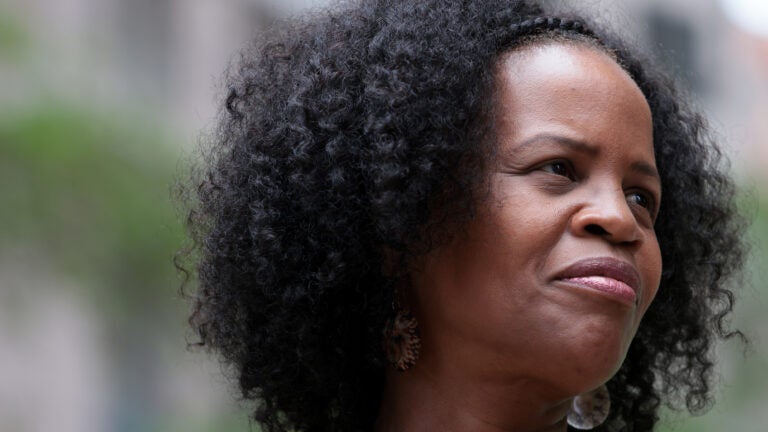 Acting Boston Mayor Kim Janey expressed regret Thursday for her recent comments invoking slavery-era freedom papers and birtherism in response to a question about COVID-19 vaccine passports.
But she also reiterated opposition to the idea, as recently launched in New York City, due to what she said would be a "disproportionate impact on low-income families and communities of color," where vaccination rates are lower.
"I wish I had not used those analogies because they took away from the important issue of ensuring that our vaccination and public health policies are implemented with fairness and equity," Janey said during a press conference Thursday.
"If vaccine passports were imposed today, with a government mandate to ban unvaccinated residents from venues like restaurants or gyms, that would shut out nearly 40 percent of East Boston, and 60 percent of Mattapan," she continued. "Instead of shutting people out, shutting out our neighbors who are disproportionately poor people of color, we are knocking on their doors to build trust and to expand access to the life-saving vaccines."
As of Aug. 2, over 60 percent of Boston residents were fully vaccinated and 67 percent had received at least one dose of one of the three vaccines. While over 65 percent of white Bostonians were at least partially vaccinated, that rate was 51 percent for Black residents and 54 percent for Latino residents (those rates are all likely a few percentage points higher, since the state's racial breakdown does not include data on vaccinated residents whose race was not recorded).
Janey had been asked Tuesday about New York City's first-in-the-nation plan to require proof of COVID-19 vaccination in order to be allowed inside restaurants, gyms, and entertainment venues. Rejecting the idea, Janey said the policy would be "difficult to enforce" and went on to list historical examples in which people of color needed "to show their papers."
"During slavery, post-slavery, as recent as, you know, what the immigrant population has to go through," Janey said. "We've heard Trump with the birth-certificate nonsense. Here, we want to make sure that we are not doing anything that would further create a barrier for residents of Boston or disproportionately impact BIPOC communities."
Janey later added that her comments were meant to point out "several hurdles facing communities of color with lower vaccination rates," but reiterated that she opposed a vaccine passport.
"Rather than going that route, our strategy is to continue to inform and educate and work with community partners who have trusted relationships on the ground," Janey told WBUR on Wednesday.
"We are working hard and successfully increasing vaccination rates in every neighborhood," Janey said Thursday, noting that Boston has a universal mask mandate for inside school buildings and the city is "working with municipal unions toward a vaccine mandate for our city workers."
Her administration has also invested $3 million, partnering with community-based organizations, to boost vaccinations in the parts of the city hardest hit by the pandemic.
However, some of Janey's rivals in Boston's competitive, five-way preliminary race to be the city's full-term mayor say a more forceful push is needed, especially with the highly contagious Delta variant on the rise.
And her comments invoking slavery and birtherism, which ultimately picked up national media coverage, were criticized by most of her opponents for undermining trust in the vaccines. City Councilor Andrea Campbell, a fellow mayoral hopeful, said Janey's language "put people's health at risk, plain and simple."
"There is already too much misinformation directed at our residents about this pandemic, particularly for Black and brown residents in the city of Boston and in the commonwealth," Campbell told reporters Wednesday afternoon. "And it is incumbent upon us as leaders not to give these conspiracies any oxygen."
Campbell, a Mattapan resident, also rejected the notion that vaccine passports would disproportionately hurt communities of color.
"That's not protecting people," she said. "If we are protecting the city of Boston, including those in our communities of color, we are pushing them to get vaccinated because we know that is the number one way to keep yourself, your family, and your community safe against COVID-19 and this Delta variant."
While she acknowledged persisting levels of vaccine hesitancy, Campbell said "this is why we need greater outreach and greater communication with communities, particularly communities of color." She also said Boston should offer $100 incentives for getting vaccinated, like New York City.
In a statement Thursday, Campbell added that Janey's "thinking on this is backwards," noting that New York City saw a 40 percent increase in weekly vaccinations after the city announced the $100 incentives and ordered city workers to get shots (New York only announced the vaccine passport plan this past Tuesday).
"The path forward must include measures to keep people safe and a robust public education campaign to get more people vaccinated," Campbell said, "including in East Boston and Mattapan."
Newsletter Signup
Stay up to date on all the latest news from Boston.com