Politics
'Utter BS': Seth Moulton rebukes Biden's claim that some Afghans 'did not want to leave earlier'
"Don't tell me they don't want to leave when they're literally clinging to airplanes to try to get out of this country."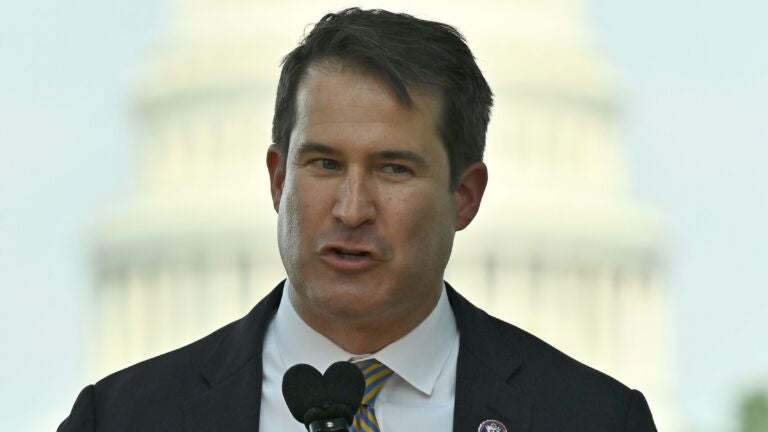 Rep. Seth Moulton says he was convinced by President Joe Biden's speech Monday defending the decision to withdraw American troops from Afghanistan, even as the Taliban surged back to take control of the country over the weekend.
However, the Massachusetts Democrat took exception Tuesday to Biden's argument that the chaotic evacuation of Afghan civilians fleeing their country this week was because some "did not want to leave earlier."
"That's utter BS," Moulton said Tuesday during a press conference in Salem.
"I mean, don't tell me that Afghans don't want to leave when there's been a backlog of Special Immigrant Visa applications for over a decade," he said. "Don't tell me they don't want to leave when they're literally clinging to airplanes to try to get out of this country. That was the single part of the president's speech that I not only disagreed with but I thought was just utter BS."
For several months ahead of the planned withdrawal, Moulton had been calling on the Biden administration to streamline the evacuation of American allies in Afghanistan, noting that it often takes several years to go through the necessary visa process.
According to the Associated Press, the United States had a visa application backlog of 18,000 Afghan translators and others who believed themselves to be in danger from the Taliban as of last month. And as American military planes took off from Kabul airport Monday, videos showed countless civilians crowding the tarmac and even holding on the plane's landing gear in an effort to escape; officials say at least seven people died amid the mayhem.
Biden said Monday that the Afghan government and its supporters had discouraged the administration against organizing an earlier mass evacuation to "avoid triggering, as they said, 'a crisis of confidence'" in the country's future.
While the president had said last month that it was "highly unlikely" the Taliban would sweep back into power, American intelligence officials reportedly released a report in late June that said it was possible Afghan President Ashraf Ghani's government could collapse in less than six months. It happened much faster; by Sunday, the Taliban had seized control and Ghani had fled the country.
"I don't think anybody anticipated the Taliban taking over so quickly," Moulton said Tuesday. "But the president said in his speech that he planned for every contingency. I think it's pretty obvious they did not plan for this contingency."
Moulton noted that he released a plan in June to quickly evacuate Afghan allies to Guam, where they could then complete visa processing.
"The most important thing is getting people out as quickly as possible, and then you sort out the paperwork, then you do the security checks," he said. "And guess what, if there are people who don't deserve to come out and need to go back, then you send them back. But don't try to do that on the ground in Kabul, as the Taliban is bearing down."
Moulton, who endorsed Biden in last year's Democratic presidential primary after ending his own White House bid, said Monday night on CNN that he had tried to sell the president's team on his evacuation plan, but to no avail.
"I still don't understand why the administration hasn't taken us up on that option and, again, why they didn't do it a long time ago," he said Tuesday.
Newsletter Signup
Stay up to date on all the latest news from Boston.com